Who says you can't have soup in the summer? And why wouldn't you, when you have all the fresh and amazing produce around. Summer Chicken Corn Chowder is not a thick and podgy soup. You don't want that for the summer time even when making a chowder. So I "lighten" it up with less cream and more vegetable stock. Even using a vegetable stock as opposed to chicken or beef lightens it up for me.
You can use great fresh corn for this soup. Just cook it beforehand, you can, roast, grill, boil, steam, any way you would like.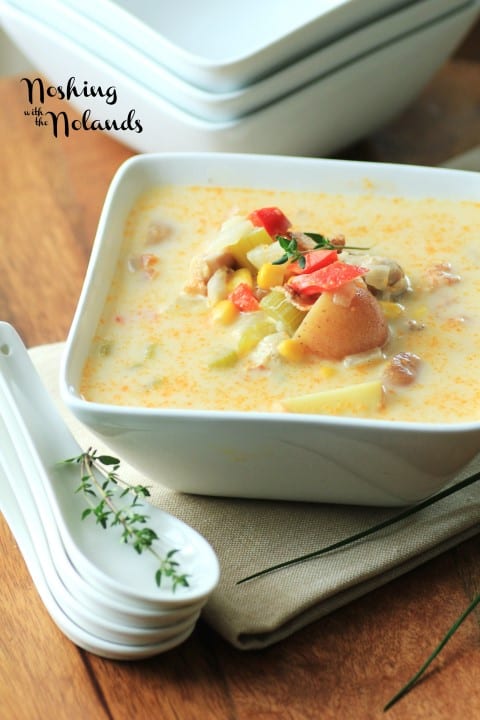 Chocked full of fresh vegetables, chicken and little bits of yummy bacon, you will want to eat this soup at anytime of the year!!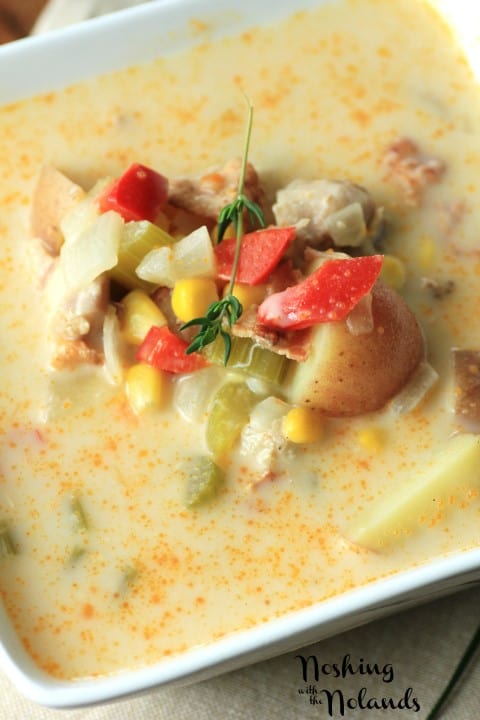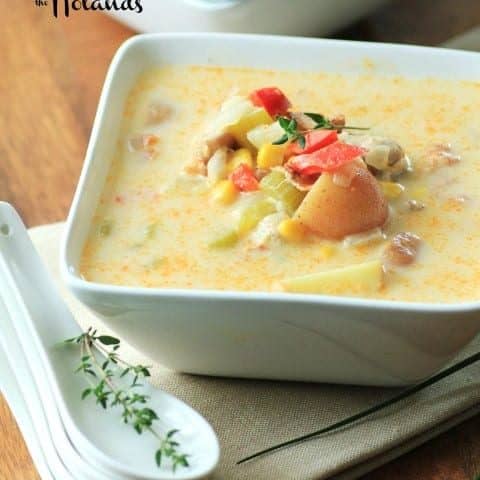 Summer Chicken Corn Chowder
A delicious "lightened up" chicken corn chowder made for the summer.
Ingredients
4 chicken thighs, cooked and chopped
2 medium onions, diced
3 celery, diced
2 Tbsp. butter
1 red pepper, diced
1/4 cup flour
Salt and pepper
2-900 ml. (60 oz.) salt free vegetable broth
2 cups cooked corn
15 small red potatoes, quartered, or sixth
6 strips bacon, cooked and crumbled
1 cup milk
1 cup half and half cream
Instructions
Melt the butter in a large pot and saute the onion and celery for 3 min. Add the red pepper and continue to cook until vegetables are softened. Add the flour and salt and pepper to taste. Cook stirring for one minute.
Add the vegetable broth and bring to a boil. Add the corn and potatoes and bring back up to a boil, add the chicken and bacon and continue to simmer for 15 min. or until potatoes are tender. Add the milk and cream. Adjust season with salt and pepper, heat until hot and serve.