Homemade Pop Tarts
Pop Tarts were something that I was not really allowed to have as a kid. Kind of dessert for breakfast but then doesn't that intrigue you more as a kid? Amber made these very pretty and easy Homemade Pop Tarts as a fun project.
They are made with easy store bought pie dough and jam. Then a simple drizzle of icing and sprinkles and you have something very nostalgic and fun to eat!!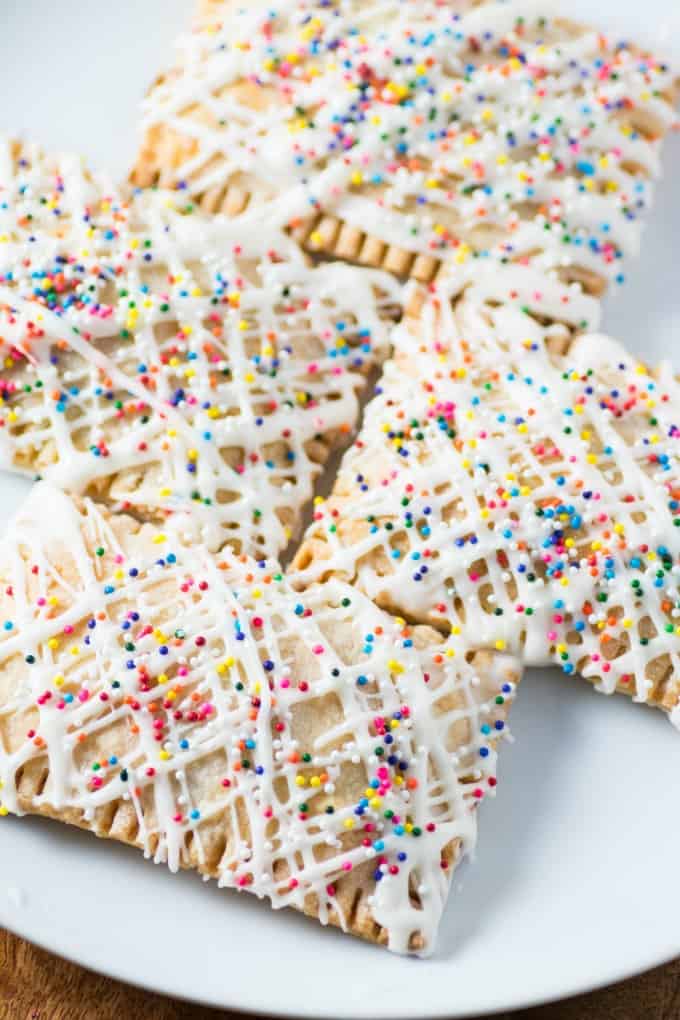 Now this screams childhood to me!! What fun!! Your kids would be thrilled to see a delicious treat like this waiting for them when they come home from school. I love how she criss-crossed the icing and then used simple sprinkles. They make you smile just looking at them!!
Young and old will love eating and making these also as they are very easy. Like I said nothing is complicated when you use store bought pie dough and jam or preserves from the store also!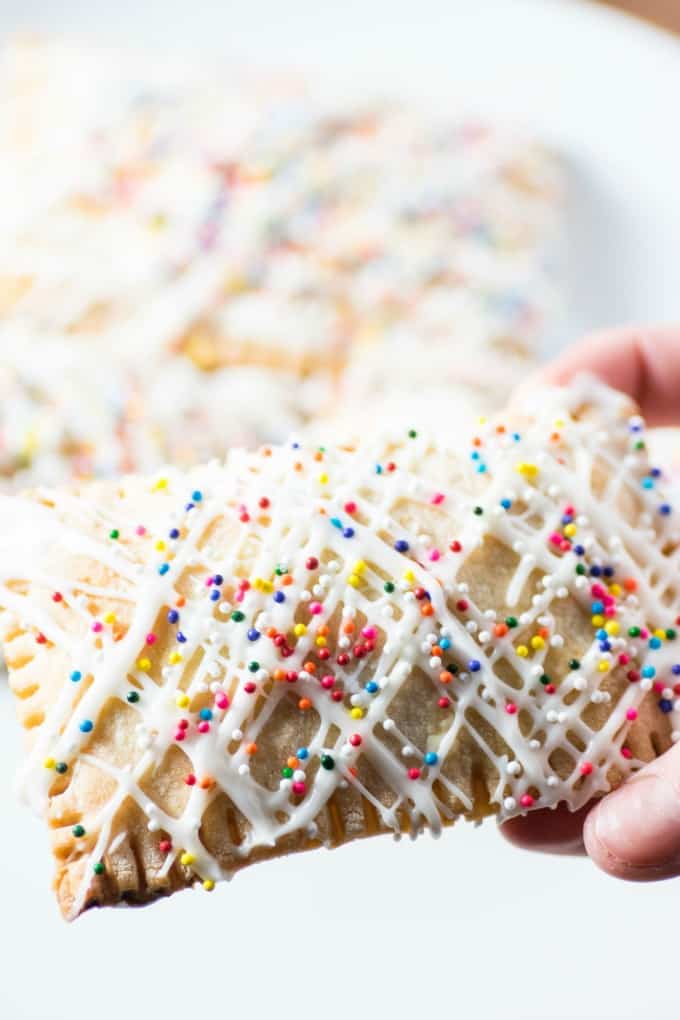 Pop Tarts came about in 1964 by Kellogg's and were meant for your toaster oven or microwave. These pretty Homemade Pop Tarts shouldn't go in the toaster or microwave as your icing will be a runny mess.
Just simply enjoy them after they are decorated or cover and keep at room temperature. They surely won't be around for long!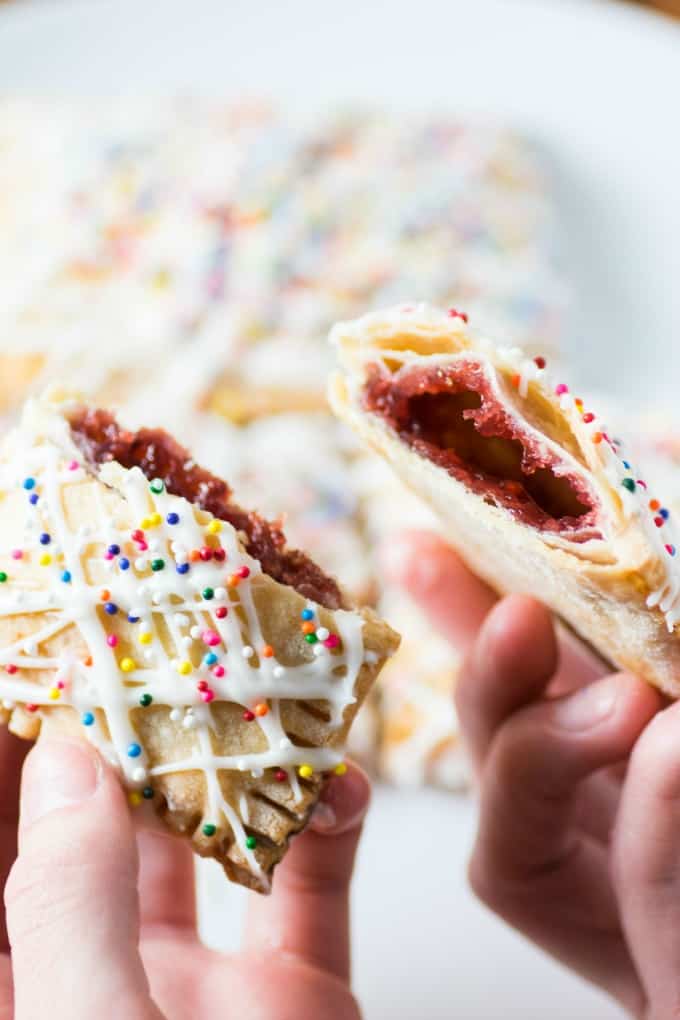 And inside, you can fill it with any jam you love!! She used strawberry jam and kept it quite traditional but you can use whatever you like! There are lots of flavors of Pop Tarts so do a bit of experimenting to find which ones you like the best!!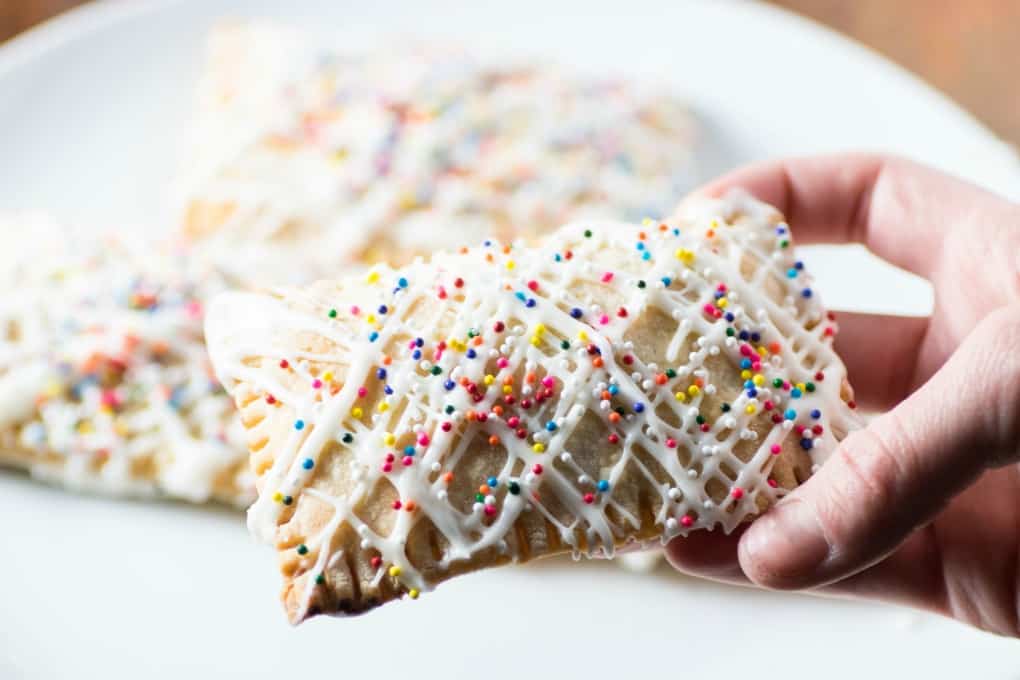 If you are a chocolate lover I can see having a nice layer of hazelnut chocolate spread inside being delicious. Make your own creation today!! Have fun! Enjoy!
The Recipe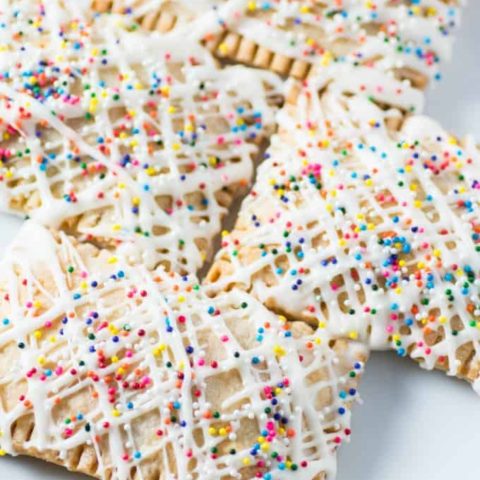 Homemade Pop Tarts
Yield: 6
Prep Time: 15 minutes
Cook Time: 18 minutes
Total Time: 33 minutes
Homemade Pop Tarts will bring back the kid in you! They make the perfect indulgent treat for when kids get home from school!
Ingredients
2 store bought refrigerator pie dough
1/2 cup jam or preserves, we made them with strawberry
1 Tbsp. cornstarch
1 egg
1 cup powdered Confectioners sugar
1-2 Tbsp. half and half cream
Sprinkles
Instructions
Line a baking sheet with parchment paper and set aside.
Mix the jam and cornstarch together in a small bowl and set aside.
Whisk the egg in a small bowl and set aside.
Preheat oven to 400F.
Lay out the pie dough onto a floured work surface. Using a knife or pizza cutter cut off about an inch on the sides, top and bottom to create a 9" square. Cut three 3" strips out of each square.
Place one to two tablespoons of the jam mixture on each strip and spread out on half the dough but not completely to the sides. Brush the egg around the edge of the rectangle. Fold the dry end over the jam end.
Using a fork seal the edges. Place the Pop Tarts on the baking sheet and bake for 15-18 min. until golden.
Remove from oven and let cool.
Whisk the powdered sugar with the cream until you get the right consistency. Drizzle or spread onto the Pop Tart. Immediately add the sprinkles and leave to dry. Serve at room temperature.
Recipe adapted from
The Pioneer Woman
.