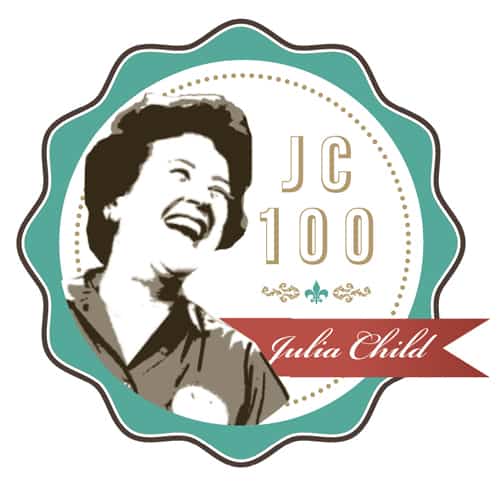 Here we are at week 11 of our JC100 celebration. Only 4 weeks left. She writes about Julia Child's Ratatouille recipe, "Ratatouille perfumes the kitchen with the essence of Provence and is certainly one of the great Mediterranean dishes."
She was exactly right our home smelt so very good as I slowly and lovingly recreated this wonderful dish. I have made Ratatouille before but not Julia's recipe. There is no going back now. This will be how I make it from now on, I loved Julia Child's Ratatouille so much.
It takes a good few hours to get this recipe completed but it is so worth it. The nice part is that you could make the entire dish ahead of time and then just gently reheat it, even the day before. The flavors would just get better. Everyone that tried it couldn't believe how much they liked it having not liked eggplant in the past.
Ken who was a nonbeliever absolutely loved it. Ken has not like eggplant before as it can be bitter with the skin on and spongy when cooked. Well, leave it to Julia to create the perfect Ratatouille. There was no bitter taste but the eggplant was sweet and done to perfection.
Julia suggests that the dish is best when it accompanies plain roast or broiled beef or lamb, pot-au-feu, or plain roast, broiled or sauteed chicken. Join us on the journey to the best Ratatouille you will ever eat!!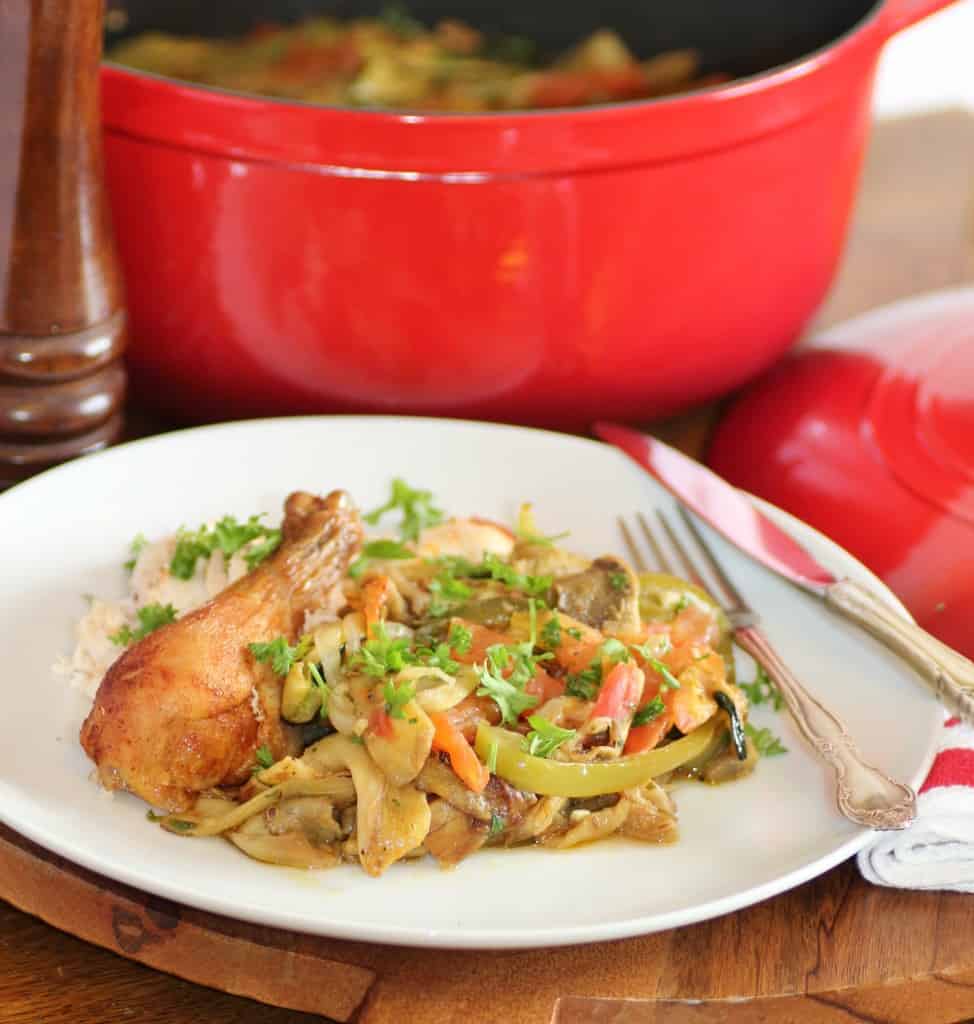 Julia Child's Ratatouille
Yield: 6 Servings
Prep Time: 15 minutes
Cook Time: 45 minutes
Additional Time: 30 minutes
Total Time: 1 hour 30 minutes
ulia writes in her recipe, "Ratatouille perfumes the kitchen with the essence of Provence and is certainly one of the great Mediterranean dishes.
Ingredients
1 lb. eggplant
1 lb. zucchini
1 tsp. salt
4 Tbsp. good olive oil, more if needed
1/2 lb. thinly sliced yellow onion, about 1 1/2 cups
2 sliced green peppers, about 1 cup (I used about 1 1/2 cups)
2-3 Tbsp. olive oil
2 cloves mashed garlic (I used 4 cloves)
Salt and pepper to taste
1 lb. firm, ripe, red tomatoes, peeled, seeded, juiced (makes about 1 1/2 cups of pulp)
3 Tbsp. parsley
Instructions
Peel the eggplant and cut into lengthwise slices 3/8″ thick, about 3 inches long and 1 inch wide. Wash the zucchini and slice off the ends. Cut the zucchini into the same size as the eggplant.
Place the vegetables in a large bowl and sprinkle with the tsp. of salt, I used about 1 1/2 tsp. Toss and let stand for 30 min. Drain. Layout paper towels and dry each slice on both sides.
In a large skillet saute the eggplant first in 1 Tbsp. hot olive oil adding more as needed, in a single layer and in batches. Cook for about 1 minute then turn over so that each side is lightly browned. Remove to a side dish lined with paper towels. Repeat with the zucchini.
In the same skillet, cook the onions and peppers slowly in the 2-3 Tbsp. olive oil for about 10 minutes or until tender but not browned. Stir in the garlic and season to taste with salt and pepper.
Slice the tomato pulp into 3/8″ strips. Lay then over the top of the onions and peppers. Season with salt and pepper and cover the skillet. Cook on low heat for 5 min. or until the tomatoes have started to render their juices. Uncover and baste the tomatoes with the juice and then raise the heat and boil for several minutes until the juice has almost entirely evaporated.
In a 2 1/2 quart fireproof casserole place one-third of the tomato mixture in the bottom. Sprinkle on 1 Tbsp. of parsley. Arrange half the eggplant/zucchini mixture on top. Then add half of the remaining tomatoes and parsley. Put in the rest of the eggplant and zucchini and finish with the remaining tomatoes and parsley.
Cover the casserole and simmer over low heat for about 10 min. Uncover and tip the casserole to get some of the rendered juices and baste. Add salt and pepper if needed. Raise the heat up slightly and cook uncovered for about 15 min. more, basting several times until the juices have evaporated leaving about a spoonful or two of olive oil. Be careful with the heat, do not let the bottom of the casserole burn.
You can now set this aside or refrigerate overnight. Reheat slowly at serving time or serve cold. This would be fabulous on a crusty bread sandwich with cold meats.
Excerpted from Mastering the Art of French Cooking by Julia Child. Copyright © 1961 by Alfred A. Knopf. Reprinted with permission from the publisher Alfred A. Knopf, a division of Random House, Inc.