Maple Syrup Pecan Coffeecake
I was sent a big beautiful bottle of Maddington Farms Pure Canadian Maple Syrup, what a pleasure!!! I could have made pancakes or waffles. That thick, rich, sweet maple syrup would be perfect flowing over top those breakfast delicacies but I wanted something different. I hadn't made a coffeecake forever, so I made this gorgeous, Maple Syrup Pecan Coffeecake!! I really had a hankering for a dense, moist, sweet coffeecake, one that was full of maple syrup goodness. So this maple syrup pecan coffecake was born!!
Look at that amazing colour of Maddington Farms Pure Canadian Maple Syrup, a perfect amber!! I always need a little lick of the pure stuff when making anything. Mmmm such a lovely flavor!! No imitation pancake syrup touch these lips!!!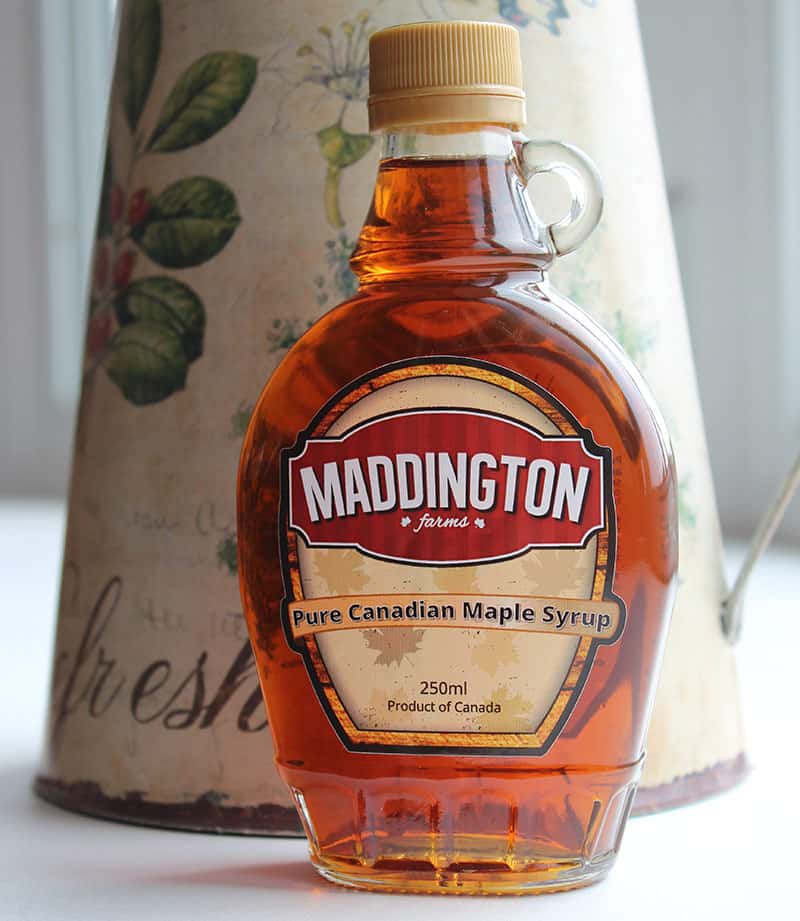 The rich golden colour of the cake mimics that lovely amber colour of the maple syrup.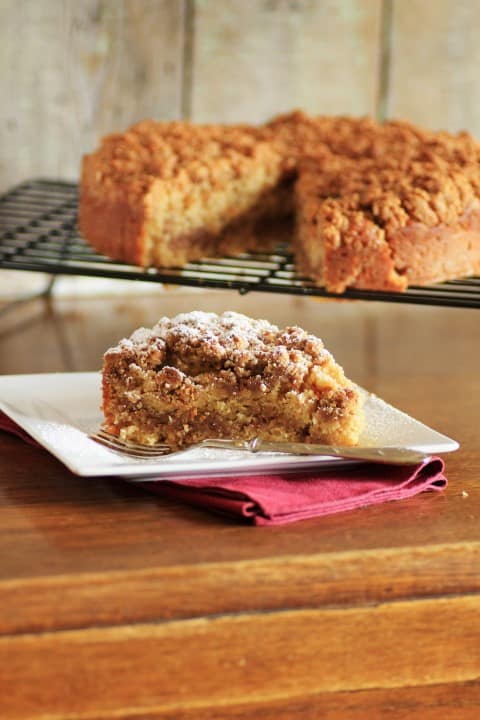 As I looked around, a Maple Walnut Coffeecake from Epicurious caught my eye, it had good reviews and lots of maple syrup added. I had pecans in the freezer not walnuts so I changed it up. It had some errors in the recipe so I have fixed it up for you here today. This cake turned out to be everything I hoped for. A real crowd pleaser!! You have to try making this cake and try the delicious Maddington Farms Pure Maple Syrup!! ENJOY!!!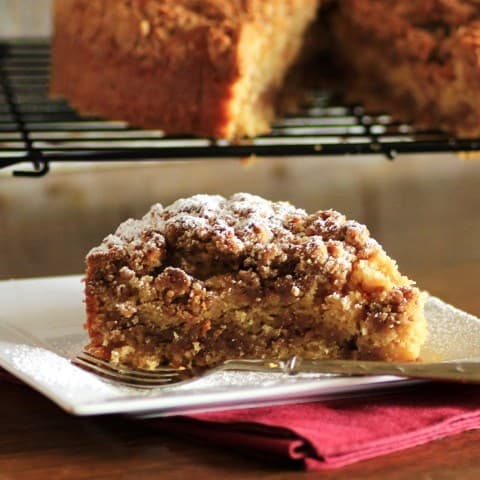 Maple Syrup Pecan Coffeecake
A wonderful, moist, dense, maple flavored coffeecake!!
Ingredients
• Crumble Topping
• 1½ cups flour
• 1 cup pecans
• ⅔ cup light brown sugar, packed
• 6 Tbsp. unsalted butter, softenend
• 1½ tsp. cinnamon
• ¼ tsp. salt
• ¼ cup maple syrup
• Batter
• 2 cups flour
• 1¼ tsp. baking powder
• ¾ tsp. baking soda
• 1 tsp. salt
• ½ cup unsalted butter, softened
• ⅔ cup light brown sugar, packed
• ¼ cup maple syrup
• 1½ tsp. maple extract
• ½ tsp. vanilla extract
• 2 large eggs
• ¾ cup sour cream
Instructions
Instructions
For the crumble topping, place the flour, pecans, brown sugar, butter, cinnamon and salt in a food processor. Whirl until the nuts are ground and the mixture is crumbly. Add the maple syrup and pulse until well combined.
Preheat oven to 350F. Butter and flour a 9" springform pan.
For the batter, whisk the flour, baking powder, baking soda and salt together in a small bowl. In the bowl of a standup mixer with a paddle attachment, cream the butter and brown sugar together until light and fluffy. Add the maple syrup, maple extract, vanilla and mix well. Add the eggs, one at a time and beat after each addition. Add the flour mixture alternating with the sour cream, beginning and ending with the flour, mixing until just combined.
Spread the half the batter into the prepared pan and sprinkle with half of the crumb mixture. Carefully spread the remaining batter over and again sprinkle with the crumb mixture.
Bake in the oven for 50-60 min. or until tester comes out clean. Let the cake cool for 5-10 min. on a cooling rack and then remove the sides of the springform pan. Let the cake continue to cool and when manageable remove the bottom of the pan and let cool completely on a cooling rack.
Sprinkle with confectioner's sugar just before serving. The cake can be made one day in advance wrapped in plastic wrap.
Adapted from Epicurious
Did you know that maple syrup has many health benefits. Well it sure does!! It is a natural sweetener and has a healthy dose of beneficial vitamins, minerals and antioxidants. To learn more click on over here!!