Wor Won Ton Soup
Wor Won Ton Soup – I am dreaming of soup now that fall is coming. Lush thick cream soups, fall pumpkin and squash, meatball, chicken noodle, the list goes on and on. Thick, hearty, stick to your ribs soups or simple delicate ones that can accompany a salad.
Either way or any way soup is a hit here!!! My family loves soup!! Amber simply adores a scrumptious bowl of homemade soup!! They can be so healthy and nutritious too!!
One type of soup that I love is Asian. That list goes on and on also. Today's soup I have made countless times. I have made the wontons and frozen them, so you can have a soup ready in no time. This soup is adapted from Emeril Lagasse, he makes some wicked soups!!!
I like making the wontons into little purses instead of the traditional shaped wonton. The filling stays put and they freeze nice and flat and are easily stored. Kids enjoy making these too as Amber has helped many times!! I hope you try this soup, you will love it. ENJOY!!!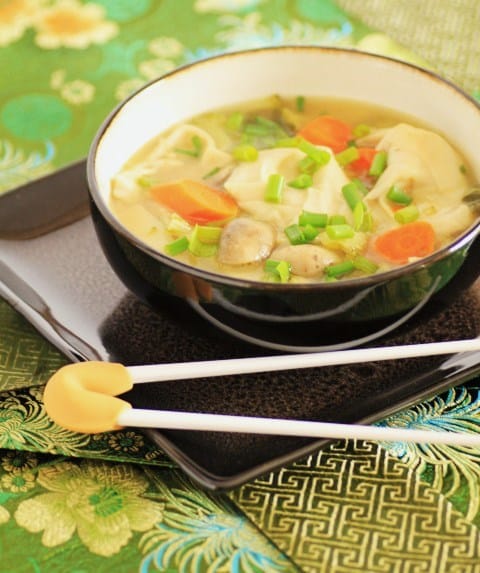 Wor Won Ton Soup
The best won ton soup you will find, better than take out!!
Ingredients
1 tablespoon canola oil
1 tablespoon plus 1 teaspoon minced garlic
2 tablespoons grated fresh ginger
¼ cup thinly sliced green onions, plus 3 tablespoons finely chopped for garnish
10 cups canned low sodium chicken broth
½ pound ground pork
1 egg yolk
2 teaspoons soy sauce
1½ teaspoons rice wine vinegar
½ teaspoon sesame oil
¼ teaspoon crushed red pepper
About 30 wonton wrappers, thawed if frozen
1½ cups thinly sliced bok choy
½ cup sliced white mushroom caps
1 small can sliced bamboo shoots
1 cup carrots
Instructions
In a large saucepan add the canola oil and sauté the 1 Tbsp. garlic and 1 Tbsp. ginger for 2 min. until fragrant. Add the green onions and the chicken broth. Simmer for 20 min. while you make the wontons.
Mix the 1 tsp. garlic, 1 Tbsp. ginger, pork, yolk, soy sauce, vinegar, sesame oil and crushed red peppers together in a small bowl. Working with 2-3 wontons at a time making sure the rest are covered. Fill a small bowl with water. Lay out the wonton and place 1 tsp. of the pork mixture on the lower corner, with your finger run water down two opposite side and fold into a triangle making sure all the air is released. Take the two opposite corners and fold towards the center, dabbing with water to seal and overlapping. Lay the wontons on a floured cookie sheet and continue to assemble the wontons. Once you have a full baking sheet you may freeze them at this point for a later use. Once frozen remove to storage bags.
When all the wontons are made add the carrots to the stock and simmer for 5 min. Add the bok choy, mushrooms and bamboo shoots. Simmer for 2 min. Add the wontons, by hand quickly, one at a time and simmer for 5 min., making sure the wontons float and the center is cooked through. Serve immediately garnished with the remaining green onions. Makes 10 servings.
Adapted from Emeril Lagasse