Mini Griddle Cakes – Yup, it is that time of year again when we all (who have kids that is) start to think of the dreaded lunchbox. #SundaySupper is here to help!
Some kids love the same old thing in their lunchbox but our daughter would not be happy with that at all. Variety is the spice of life for her!!
I actually bought a cookbook called Ready, Steady, Lunchbox which has helped me out a lot with her lunches. When either of us is feeling lackluster towards that little lunch kit I pull out this cookbook for inspiration. That is where I headed when I saw this theme.
Flipping through the cookbook I wanted to try something I hadn't before. I came across a recipe called Junior Pikelets. Hmm, never heard of a regular-sized Pikelet!! LOL!!
They looked like mini griddle cakes so that is what I called them. When Ken made them the batter was super thick so we upped the milk by doubling and it made a nice smooth batter. We tried them for dinner and Amber loved them especially with Apple Butter!!
We freeze pancakes all the time for her breakfast for school days and these would freeze just the same. Super convenient to put into a lunch box. Add a little jam, apple butter, yogurt, peanut butter, whatever your child likes.
They are as good cold as they are warm. A great little side to a nice big fruit salad. I will be making these for sure again and again. ENJOY!!!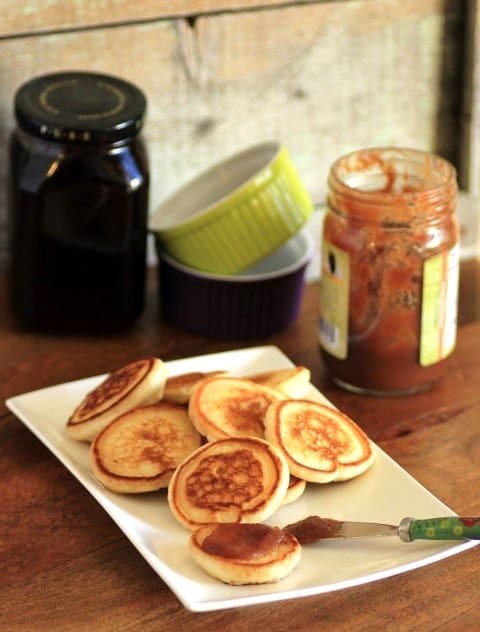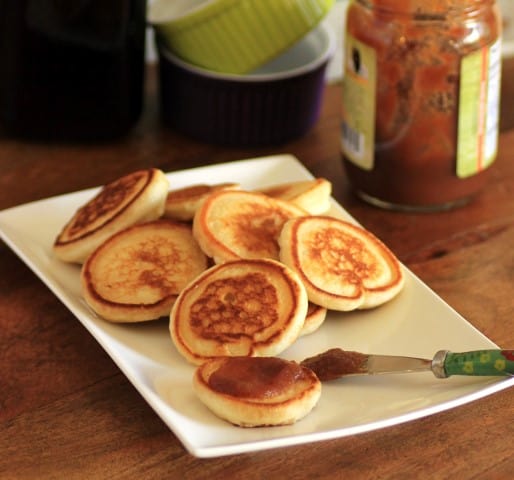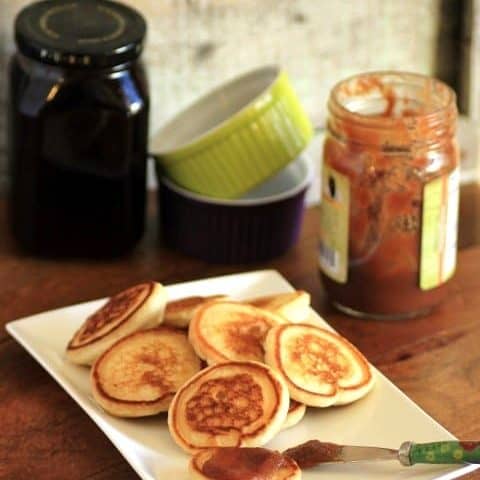 Mini Griddle Cakes for Lunchbox #SundaySupper
Yield: 24 Griddle cakes
Prep Time: 5 minutes
Cook Time: 5 minutes
Total Time: 10 minutes
Great mini griddle cakes to liven up any lunchbox!!
Ingredients
1 cup self-raising flour
1/4 tsp. baking soda
2 Tbsp. berry or caster sugar
1 cup skim milk
1 egg, beaten
2 tsp. oil, plus more for frying
jam, apple butter, yogurt, etc.
Instructions
Whisk the flour and baking soda together in a medium bowl. Whisk in the sugar. In a small bowl stir together the milk, egg, and oil. Make a well in the center of the flour and whisk in the milk mixture. Mix until smooth.
Heat the oil in a non-stick frypan over medium-low heat. Drop teaspoons of the batter into the pan and cook until bubbles form. Flip over and cook the other side until golden.
Serve warm or freeze in layers between wax paper to later put into a lunchbox. Freeze for up to one month. Serve with apple butter, jam, yogurt, or your favorite topping.
Recipe adapted from Ready, Steady, Lunchbox.
Nutrition Information:
Yield: 24
Serving Size: 1
Amount Per Serving:
Calories: 37
Total Fat: 1g
Saturated Fat: 0g
Trans Fat: 0g
Unsaturated Fat: 1g
Cholesterol: 8mg
Sodium: 88mg
Carbohydrates: 6g
Fiber: 0g
Sugar: 2g
Protein: 2g
Recipe calculation was provided by Nutritionix and is estimation only. If you need nutritional calculations for medical reasons, please use a source that you trust.
Look at all the wonderful recipes you have here today to help over those many months of school lunches. I know this will be my new go-to list!!!
Munchies, Salads and Sides:
Sweet Treats:
And remember that we have a #SundaySupper chat tonight at 7 PM. We tweet throughout the day using the hashtag #SundaySupper, then we all gather to share ideas, recipes and answer questions from 7-8 PM ET. Check out our #SundaySupper Pinterest Board for more fabulous recipes and food photos.
Would you like to join the Sunday Supper Movement? You can sign up here: Sunday Supper Movement