Deep Fried Mars Bars
Ken has lost it, completely crazy!! LOCO!! I think the idea of deep-frying things like Deep Fried Mars Bars from the Stampede has lingered on him, taking up valuable real estate in his brain!! LOL
Out of the blue, he came home with a bag of mini mars bars and wanted to deep fry them. I just stay clear of the kitchen when he is in one of his creative moods!!
He does everything, including cleaning up so I say "have at er"!!!
He used the batter that Stacy used from Food Lust People Love when she guests posted over Stampede with her decadent Deep-Fried Oreos. These little treats turned out amazing.
Just like a donut on the outside. Rich, melty, and decadent on the inside. I hope you try them too!! ENJOY!!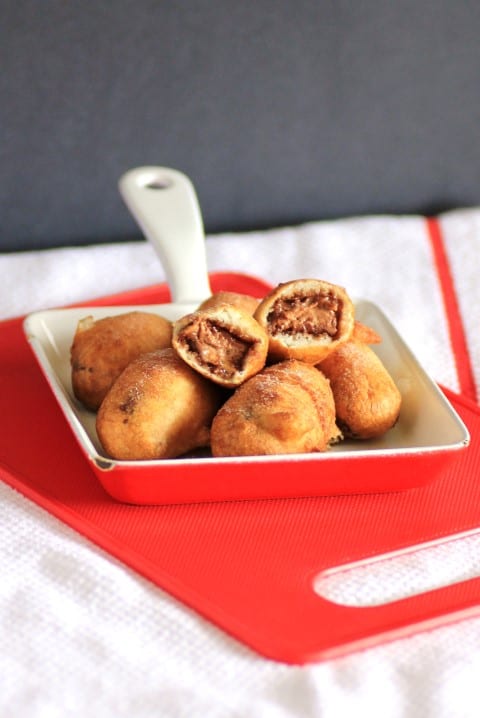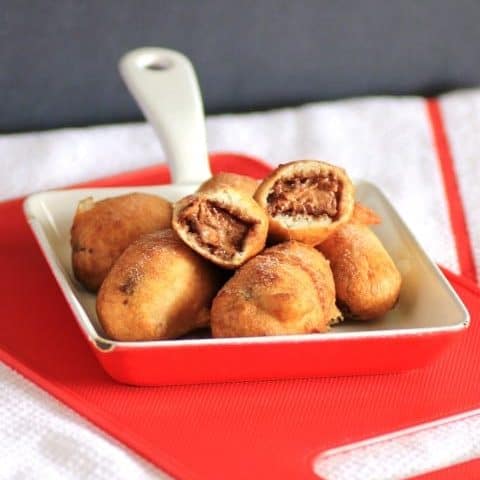 Deep Fried Mars Bars
Yield: 15 bars
Prep Time: 5 minutes
Cook Time: 4 minutes
Total Time: 9 minutes
Ingredients
1 1/3 cups or 170g flour
2 teaspoons baking powder
2 tablespoons sugar
1/2 teaspoon salt
3/4 cup or 180ml milk
1 egg
12-15 snack size Mars bars
1 quart or about 700ml canola or other light oil for frying
Powdered sugar for serving – optional
Instructions
Mix dry ingredients together. Heat the canola oil to 370F. Whisk milk and egg together and add to the dry ingredients. Stir until smooth.
Dip the bars in the batter and carefully place in the hot oil (work in batches 3-4 at a time). Cook until lightly browned and then flip and brown the other side, 3-4 min. in total.
Remove to a paper towel-lined plate. Repeat with remaining bars. Dust very lightly with powdered sugar.
Recipe adapted from Food Lust People Love
Nutrition Information:
Yield: 15
Serving Size: 1
Amount Per Serving:
Calories: 725
Total Fat: 54g
Saturated Fat: 8g
Trans Fat: 0g
Unsaturated Fat: 40g
Cholesterol: 13mg
Sodium: 223mg
Carbohydrates: 57g
Fiber: 0g
Sugar: 40g
Protein: 4g
Recipe calculation was provided by Nutritionix and is estimation only. If you need nutritional calculations for medical reasons, please use a source that you trust.