Did someone say Pumpkin Spice Latte? This creamy Pumpkin Delight has an espresso twist that captures everyone's favourite fall beverage into individually portioned desserts. A mixture of convenience and wholesome ingredients, this easy fall flavoured dessert takes only 30 minutes to prepare. A stand or hand mixer is not required, though it makes things a lot easier if you have one.
The leaves are turning colour and that means it's time for pumpkin everything! We've got a huge selection of pumpkin recipes to choose from, including a thick, decadent Pumpkin Caramel Sauce. Easy Pumpkin Pie Cinnamon Rolls, Pumpkin Coffee Cake, or a Pecan Magic Pumpkin Bar for the sweet tooths in the crowd.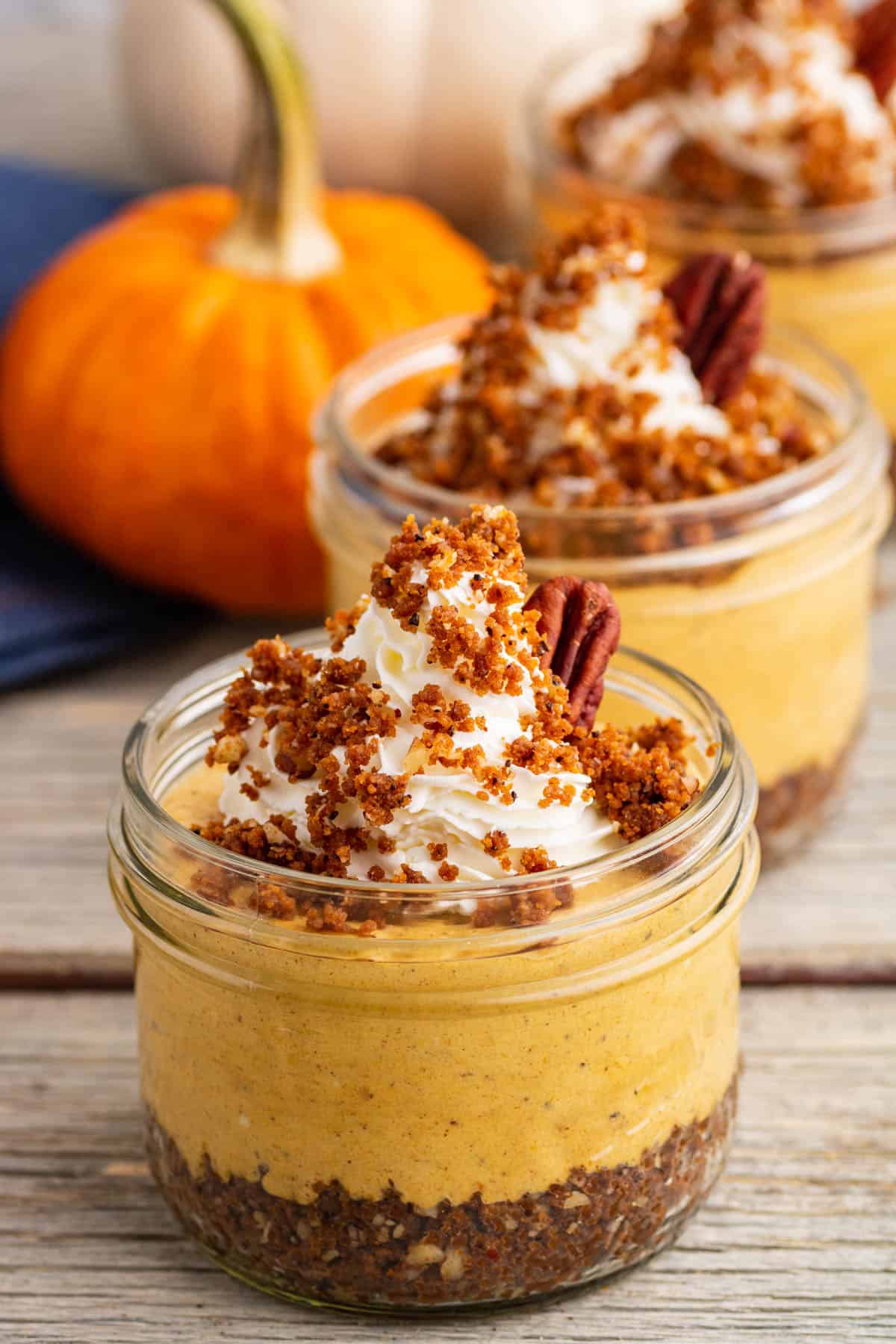 Subscribe To Our Weekly Newsletter
Pumpkin Delight with a Twist
Imagine a creamy pumpkin spice flavoured cheesecake with a smooth mousse-like texture, and you've got a Pumpkin Delight dessert. Add a little ground espresso powder into the mix, and these individually portioned treats are irresistible!
These Pumpkin Delights begin with a decadent crunchy pecan and espresso flavoured gingersnap cookie crumb base. Next comes the creamy mousse pumpkin spice latte layer topped with a swirl of slightly sweet stabilized whipped cream. Finish them off with more of the gingersnap crumbs or chopped pecans for an eye-catching dessert.
The individual servings are great for any family fall gathering, such as Thanksgiving, a baby shower, or even a dinner party. The recipe makes four 250 ml jar desserts or eight smaller 125 ml jar servings for smaller appetites.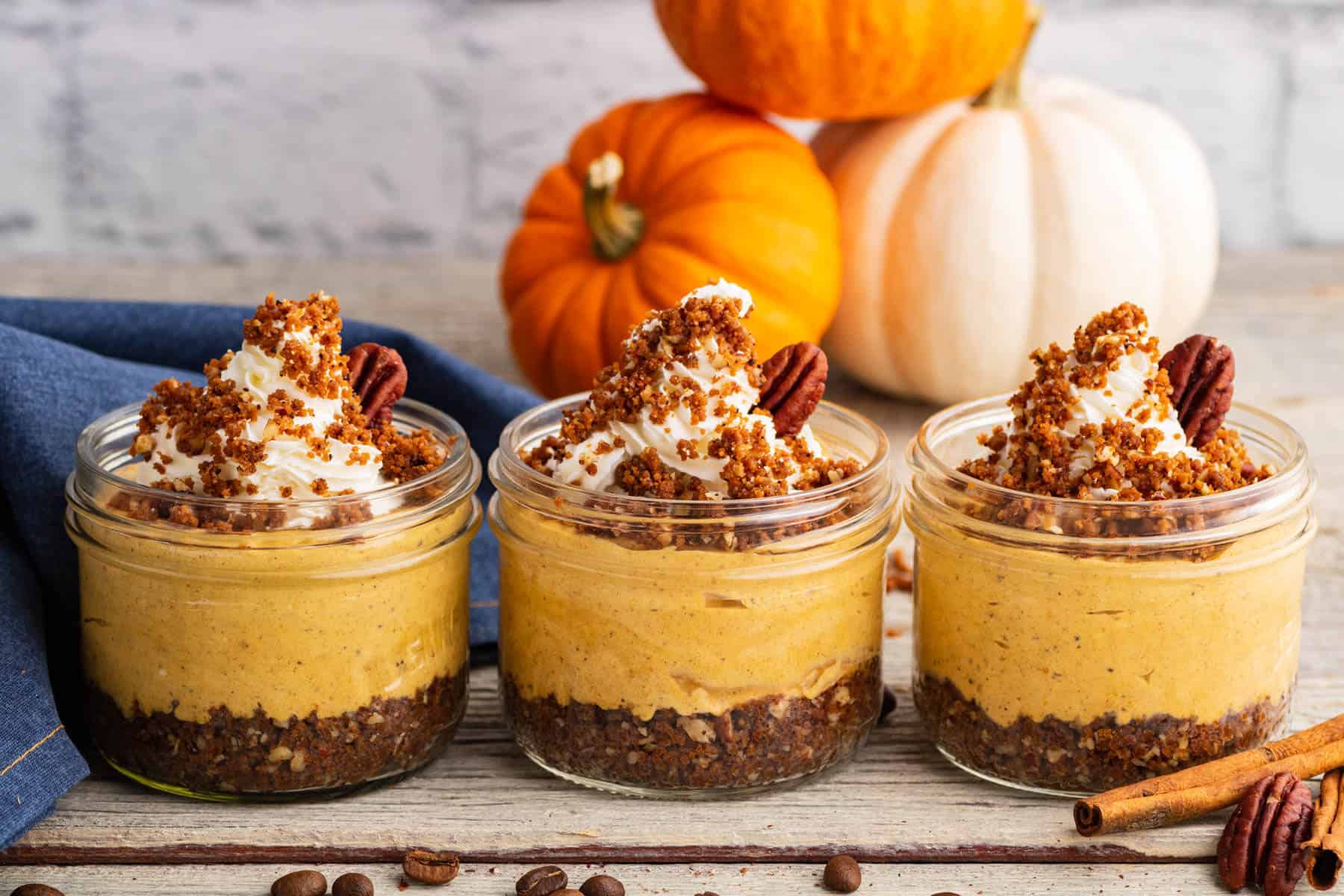 Classic vs. New Style
The group or genre of desserts that are called "Delights" are generally no-bake layered desserts made in a large glass baking dish. They are cut into squares for serving and are great for serving a large crowd.
Delights are sometimes considered vintage recipes that often contain pre-made convenience products such as Jello, Instant Pudding, or Cool Whip. The Pumpkin Delight recipe uses both convenience ingredients and a bit of old-fashioned elbow grease. It also has a gingersnap base instead of a graham cracker crust.
If you want to make this dessert the old-fashioned way, just double the ingredients and layer them out in a pan. Oh, and by the way, this is a great 'make ahead' dessert option because it tastes even better the day after you make it.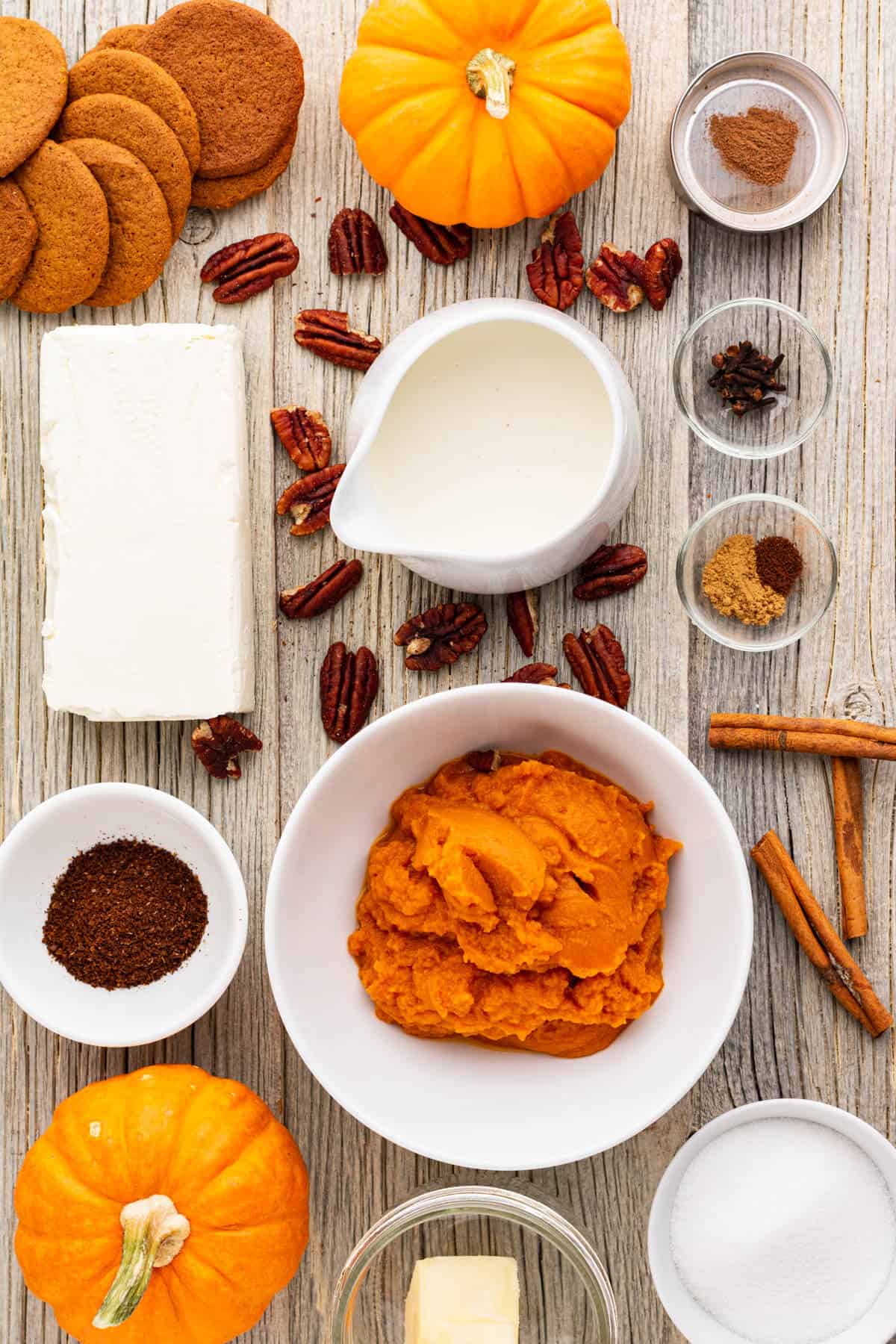 Ingredients for Pumpkin Delight
Pecans
Gingersnap Cookies
Butter
Espresso Powder
Cream Cheese
Pumpkin Purée
Sugar
Heavy Whipping Cream
Vanilla Extract
Ground Ginger
Cinnamon
Cloves
Allspice
Confectioner's Sugar
The pecans add a sweet, nutty flavour and a bit of texture to the dessert's base layer. However, it is very easy to make this dessert nut-free by omitting the pecans. Just replace them with extra ginger crumbs.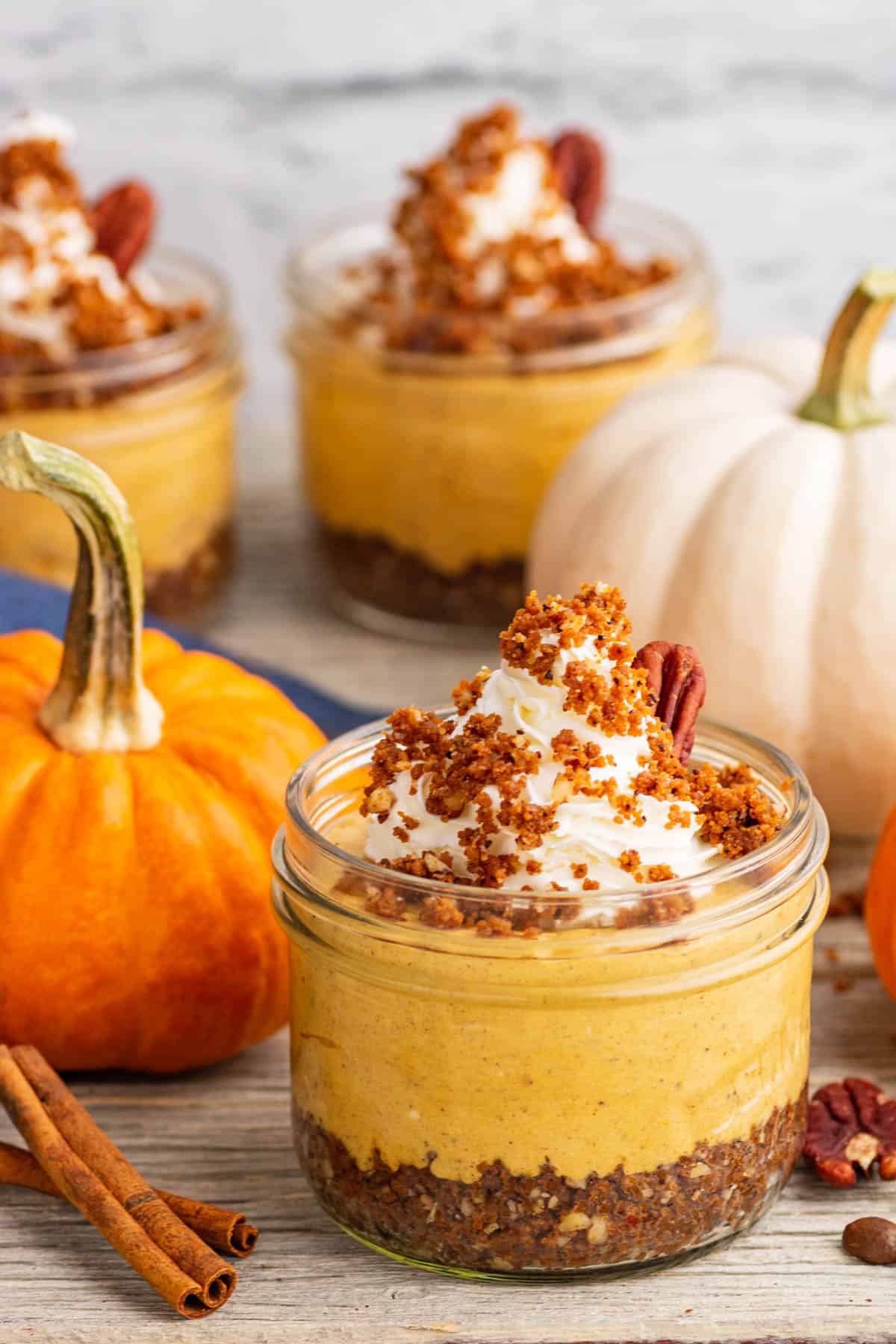 The secret to the extra gingery base layer is store-bought gingersnap cookies. These are your basic, crispy biscuits found in any grocery store cookie aisle. If you prefer, you may substitute regular graham crumbs or graham crackers for the gingersnap crumbs and either add more spices or omit those as well. If omitting the spices, I recommend adding 1/4 cup sugar to the graham crumb base mixture.
The only 'cooking' required for this recipe is melting the butter. I prefer unsalted butter in most baking recipes, but since there is no salt added to this recipe, feel free to use salted butter.
For the espresso powder, you could buy the instant version or finely grind your own beans at home. Note that there is a bit of texture when using home-ground espresso in this recipe.
As always, using fresh spices results in the best tasting results. Buy new ground ginger, cinnamon, cloves, and allspice (or just pumpkin pie spice) on a regular basis for best results.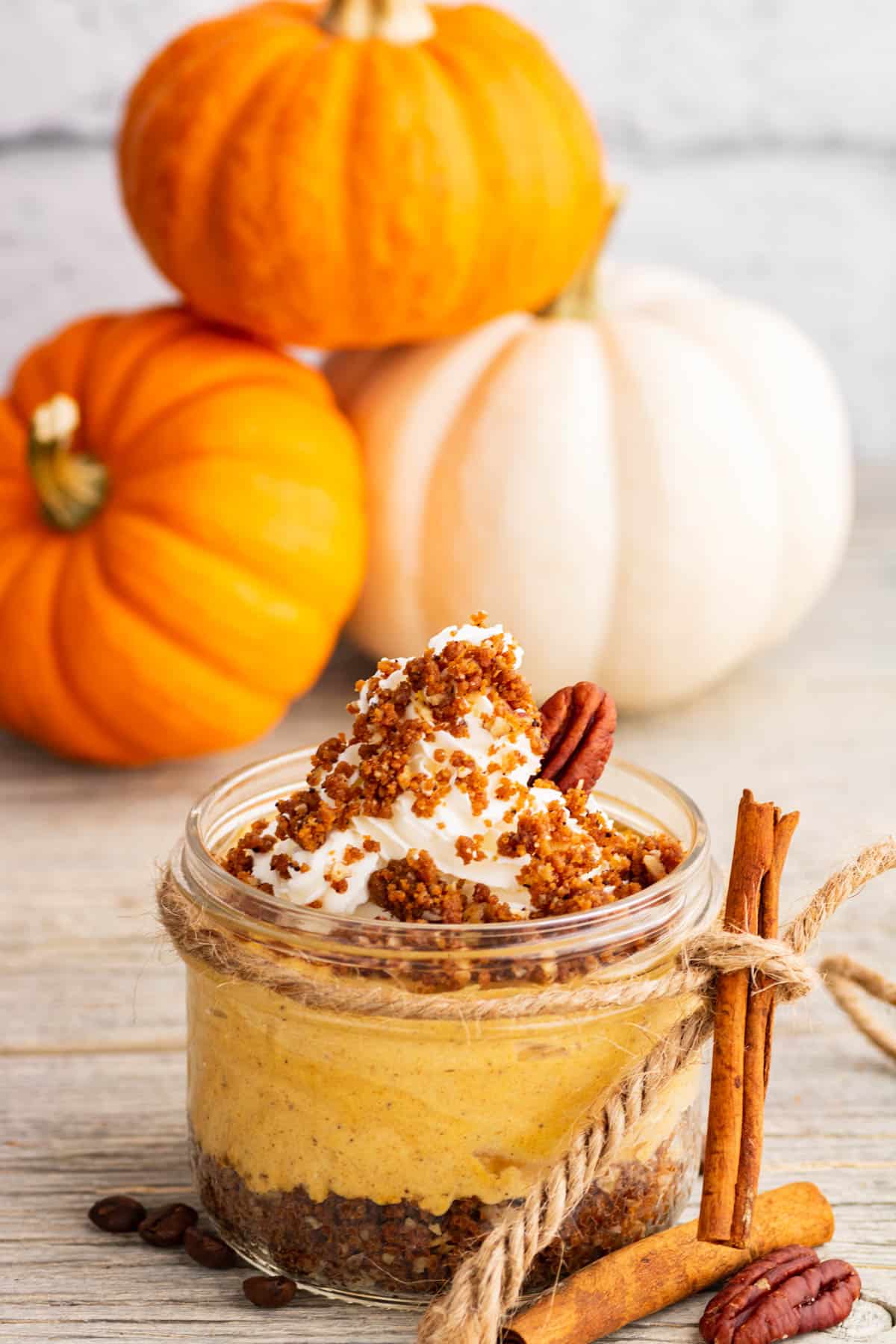 There is no individual cream cheese layer in this Pumpkin Delight. Instead, the cream cheese is softened and mixed into the pumpkin purée to make one single layer of yum. It is absolutely essential to start with very soft cream cheese, or you will have lumps in this layer. I have even microwaved the cream cheese, so it is slightly warm and it whips up quite nicely that way.
A Word About Canned Pumpkin
Not all canned pumpkin purée is created equal. In fact, if you have a look at the ingredients list of many brands of canned pumpkin, you will find that many of them are made from one or more types of Winter squash such as butternut, Boston Marrow, Golden Delicious, or Hubbard squashes.
Not that this is a bad thing. These Winter squash varieties have a similar flavour and sometimes a much better texture than actual canned pumpkin purée. If it matters to you, be sure to read the ingredients list on the can before buying it.
Additionally, please note that this recipe uses plain pumpkin purée and not pre-made pumpkin pie filling. If you buy pumpkin pie filling by mistake, it will already contain the usual pumpkin pie spices. You can absolutely still use it in this recipe; just omit the spices included in this recipe.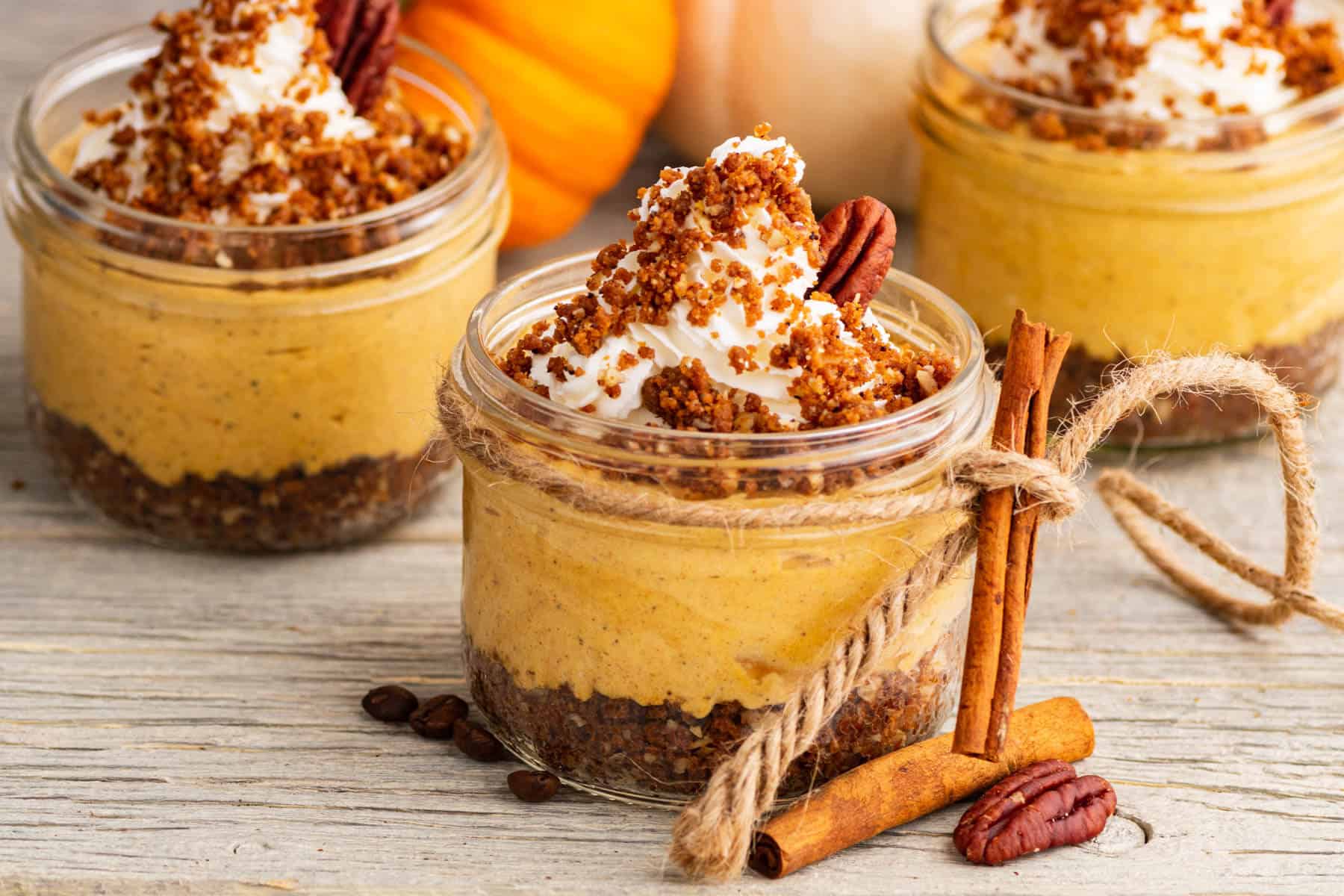 How to Make Pumpkin Delight
The Gingersnap Base
Begin this recipe by mixing up the crumbly gingersnap base layer. Place the gingersnaps in a heavy freezer bag and roll a rolling pin back and forth until they become fine crumbs. Next, chop the pecans until they are almost as fine as the cookie crumbs. Finally, melt the butter and mix the ingredients together (along with the espresso powder) in a medium-sized bowl.
Place an equal amount of crumb mixture in the bottom of each jar. Next, create the base by pressing the mixture downward and together with your hands or a cocktail muddler. Set aside while you mix up the pumpkin layer.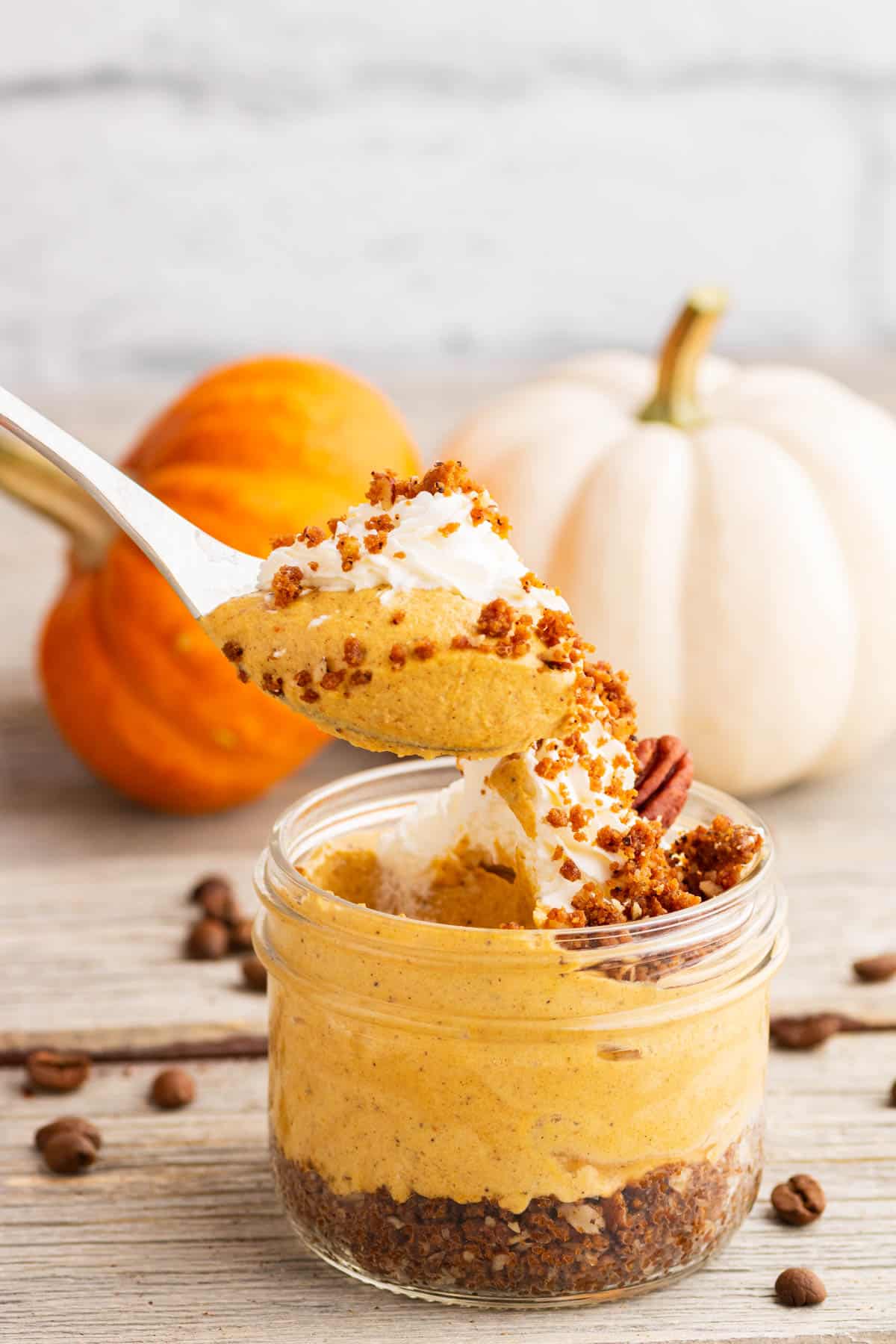 The Pumpkin Layer
In this recipe, the pumpkin layer and cream cheese layer combine together to make one lovely textured layer. To make this layer light and fluffy, soften the cream cheese so that it is just slightly warm. In a large bowl or bowl of a stand mixer, whip the cream cheese and sugar together until no lumps remain.
Add the pumpkin purée, spices, espresso powder, and vanilla extract. Mix well so that no lumps remain. Fold in half of the whipped stabilized cream, then either spoon or pipe the pumpkin mixture into each jar.
How to Stabilize Whipped Cream
Please, don't panic when you hear the words 'stabilized whipped cream'. All that phrase means is that the whipped cream is stable enough to be piped onto desserts. Additionally, it will hold its shape and not melt or liquefy as the dessert sits (for up to 24 hours).
For home desserts and baking, the best way to stabilize whipped cream is to add confectioner's sugar in place of granulated sugar while whipping the heavy cream. The confectioner's sugar contains just a touch of cornstarch which helps to stabilize the cream as you whip it.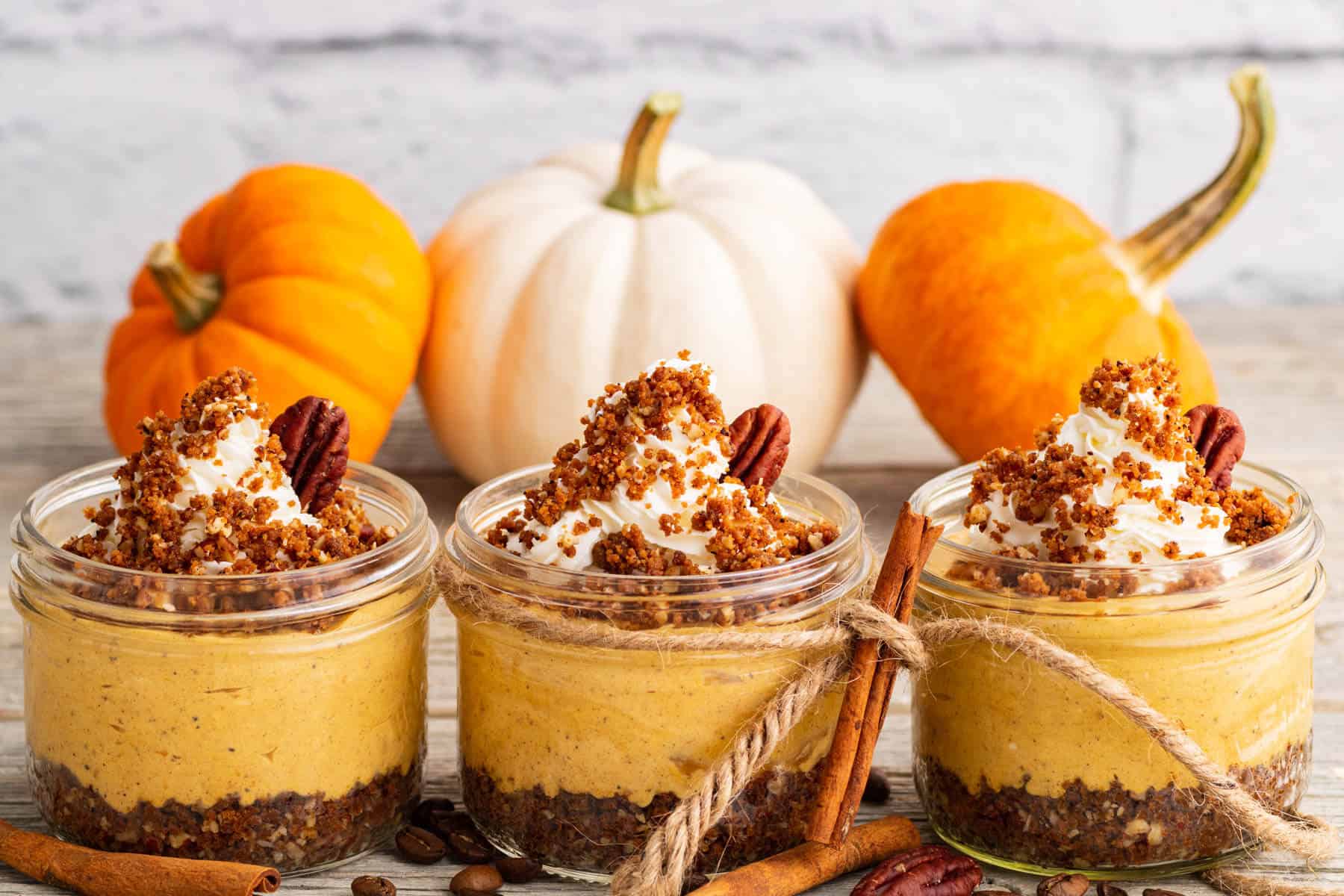 Pumpkin Delight Topping
The last layer of this Pumpkin Delight dessert is the whipped layer. You can either spoon the remainder of the stabilized whipped cream over the pumpkin layer or pipe it on with a flourish.
Finally, sprinkle a bit of the reserved base crumb mixture (or plain chopped pecans) over the whip cream garnish for a sweet finish. Now all that's left to do is to dig in!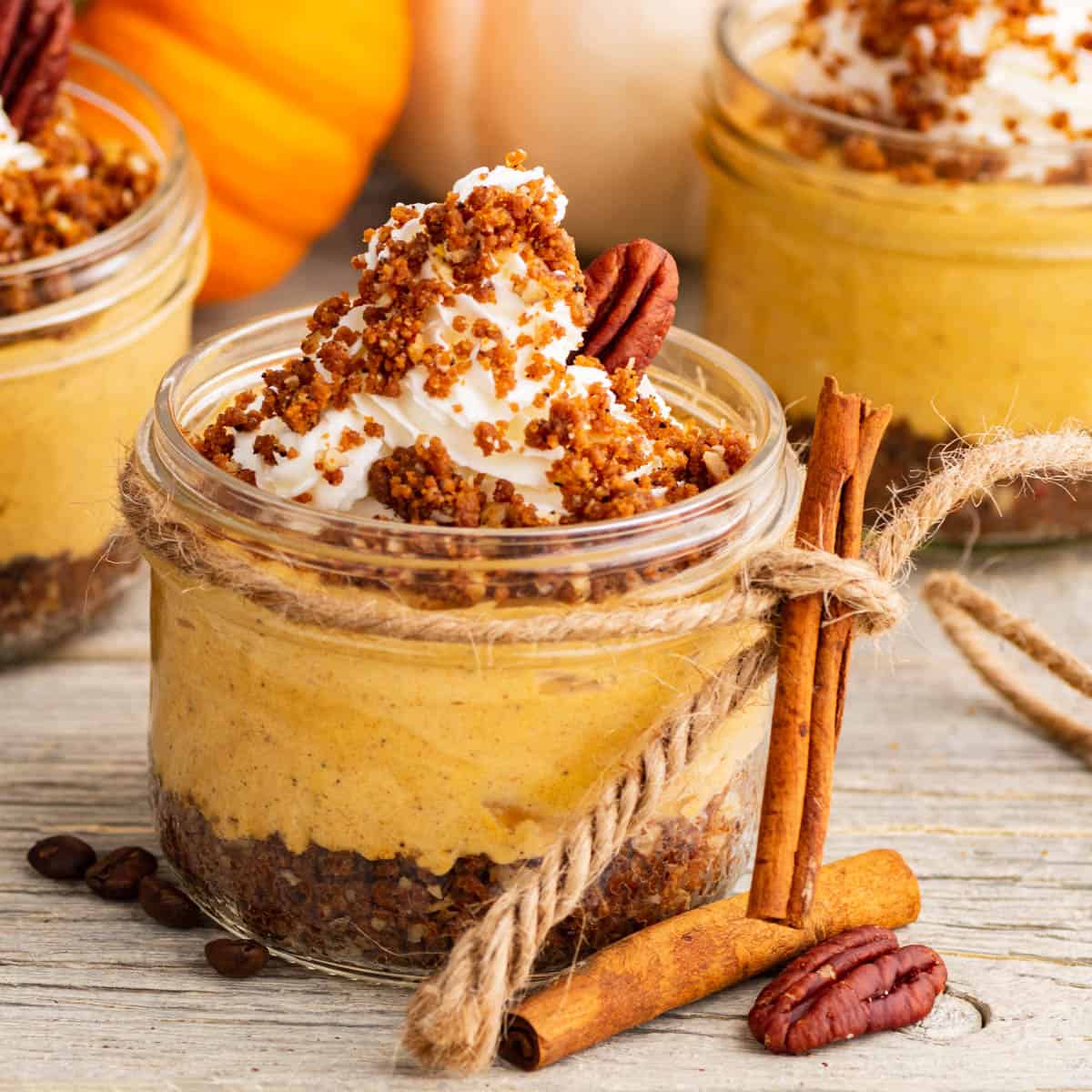 Make Ahead and Storage Pointers
This dessert is a great make-ahead option for dinner parties and gatherings. It always tastes better after the spice flavours have time to meld with the cream cheese mixture. To make these Pumpkin Delights ahead of time, follow the recipe until you are about to top it with whipped cream.
Place the jar lid on and store in the fridge (for up to three days). Store the extra stabilized whipped cream right in a piping bag in the fridge. Then, just prior to serving dessert, pipe the whipped cream flourish on and garnish with the crumbs and/or pecans.
Pin it HERE!!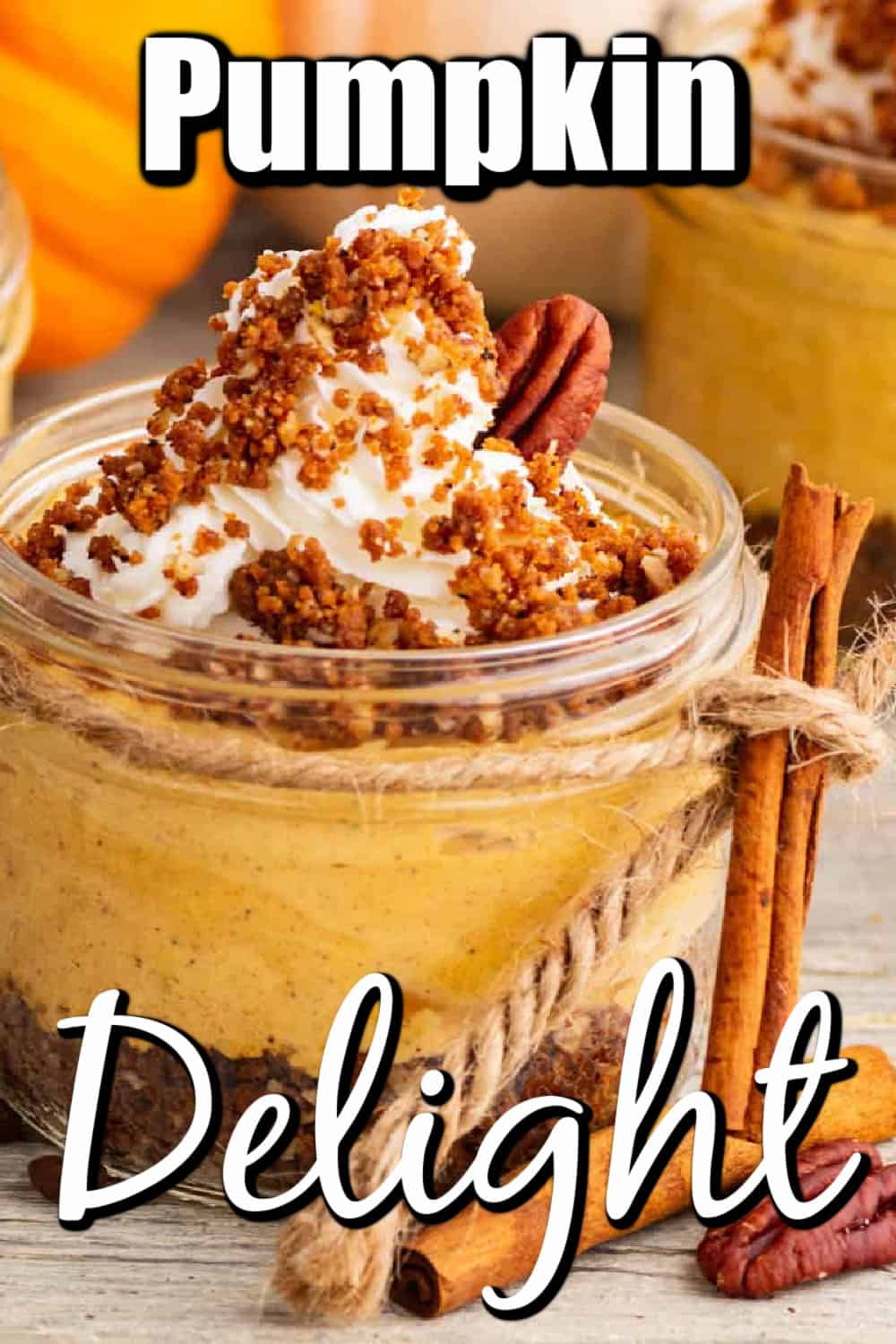 Pin it HERE!!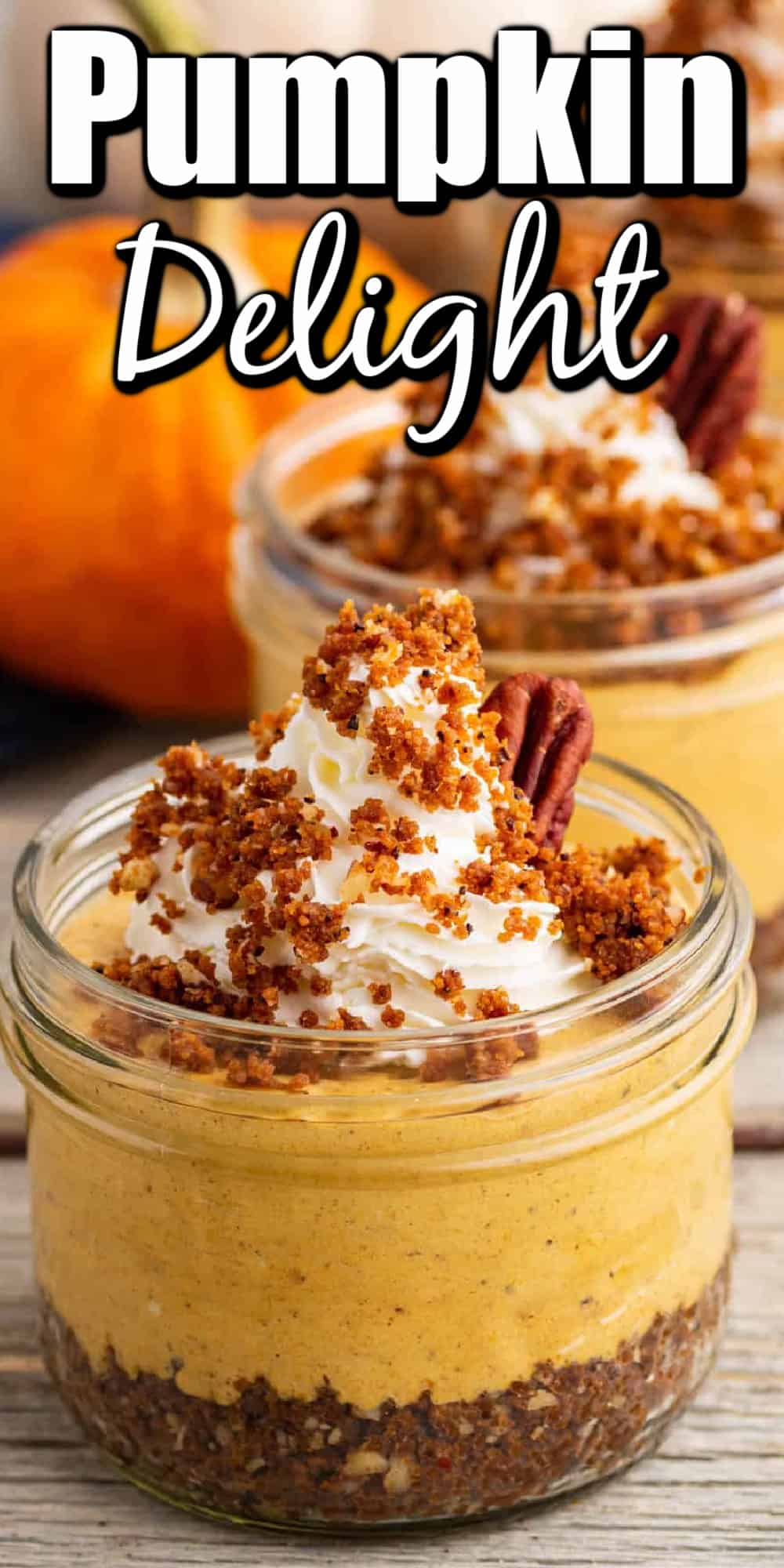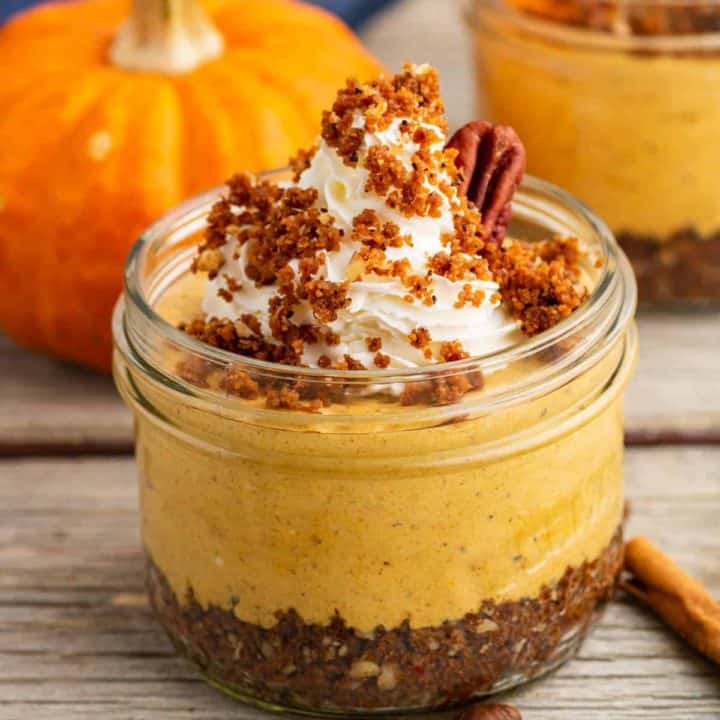 Pumpkin Delight with a Twist
Yield: 4 servings
Prep Time: 30 minutes
Cook Time: 2 minutes
Total Time: 32 minutes
Did someone say Pumpkin Spice Latte? This creamy Pumpkin Delight has an espresso twist that captures everyone's favourite fall beverage into individually portioned desserts.
Ingredients
FOR THE CRUST
1/2 cup pecans; very finely chopped
1 1/2 cups gingersnap crumbs
1/4 cup butter
1 teaspoon espresso powder
FOR THE FILLING
1 block cream cheese (8 oz.)
1/2 cup sugar
1 cup pumpkin puree
1 teaspoon vanilla extract
1 teaspoon espresso powder
1 teaspoon ground ginger
1 teaspoon cinnamon
1/2 teaspoon cloves
1/2 teaspoon allspice
FOR THE WHIPPED CREAM
1 cup heavy whipping cream (use half in the filling and half to top the desserts)
3 tbsp confectioner's sugar
Instructions
THE GINGERSNAP BASE
Place the gingersnap biscuits in a heavy freezer bag and crush with a rolling pin until it becomes fine crumbs.
Chop up pecans until they are a similar size to the gingersnap crumbs.
Place crumbs, chopped pecans, espresso powder, and melted butter in a small bowl. Mix to combine.
Divide the mixture (reserving 4 teaspoons for garnish) evenly among four 250 ml jars. Press the mixture into one solid layer using your hands or a cocktail muddler.
FOR THE CREAMY PUMPKIN LAYER
Mix softened cream cheese and sugar together in a large bowl or bowl of a stand mixer.
Add the pumpkin purée, espresso powder, sugar, spices, and vanilla extract. Mix well until no lumps remain.
Fold in 1/2 of the stabilized whipped into the pumpkin mixture.
FOR THE STABILIZED WHIPPED CREAM
Whip 1 cup heavy whipping cream for one minute. Gradually whip in three tablespoons of confectioner's sugar.
Continue whipping until stiff peaks form. Use 1/2 in the pumpkin mixture and place the remaining half in a piping bag. Pipe immediately or refrigerate for up to one day before use.
TO FINISH
Scatter reserved crumb mixture over the piped whipped cream and add a half pecan for additional garnish.
Notes
You can also make this in an 8x8" pan also.
Recommended Products
As an Amazon Associate and member of other affiliate programs, I earn from qualifying purchases.
Nutrition Information:
Yield: 4
Serving Size: 1
Amount Per Serving:
Calories: 919
Total Fat: 53g
Saturated Fat: 25g
Trans Fat: 1g
Unsaturated Fat: 25g
Cholesterol: 105mg
Sodium: 471mg
Carbohydrates: 106g
Fiber: 5g
Sugar: 52g
Protein: 9g