These Pecan Magic Pumpkin Bars are so easy to make it really is close to magical! The recipe is so easy anyone can make them, and everyone is going to want to eat them! Layers of ooey-gooey goodness from a cookie crust to pumpkin, butterscotch, toffee bits, pecans and more. This combination of ingredients makes an amazing bar that screams fall fun!
These are not the only easy bar recipes we have! If you are looking for some other fantastic dessert bars, you need to check out our Hawaiian Dream Bars, Pineapple Coconut Cherry Dream Bars, or maybe these Rhubarb Dream Bars!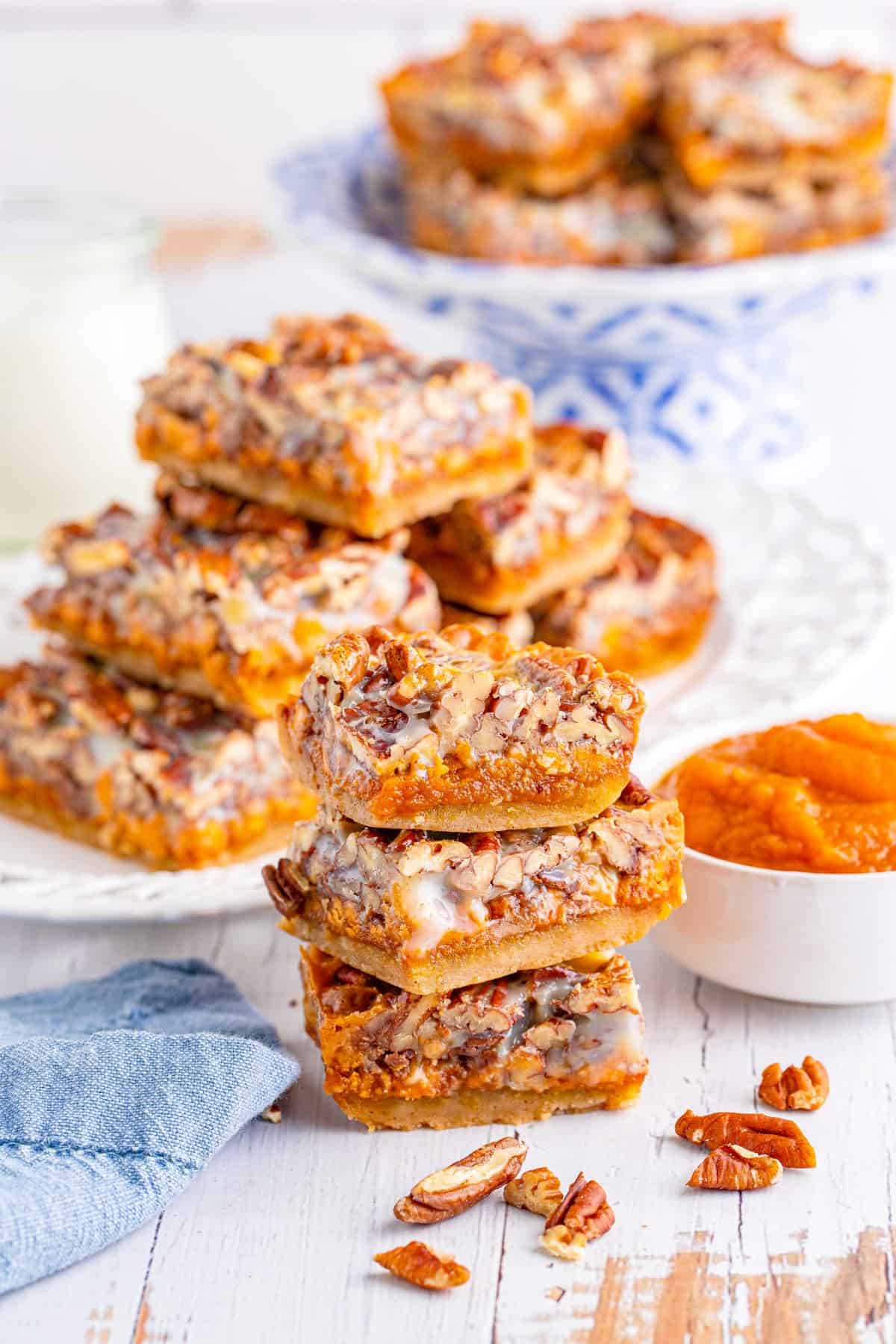 These pumpkin bars differ from the cake-like pumpkin bars with cream cheese frosting that you might have seen. These are nutty, crunchy, creamy, sweet and oh so good. If you are looking for a cake-like pumpkin treat, you may want to try our Pumpkin Cupcakes with Cream Cheese Frosting; they are to die for too!
Helpful Items For This Recipe
This post contains affiliate links. As an Amazon Associate, I earn a small portion from qualifying purchases at no extra charge for you.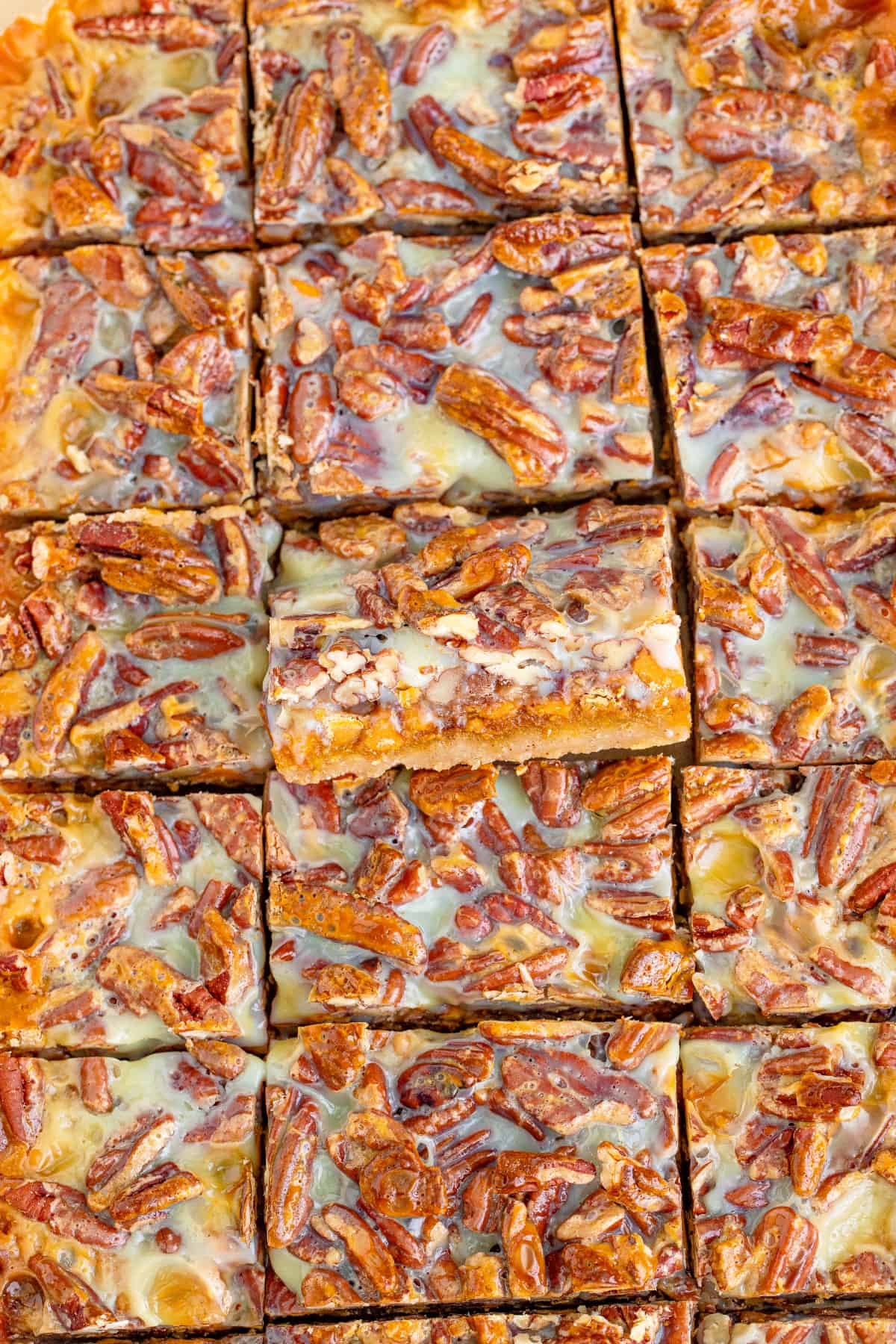 Have you made magic bars before? They are extremely easy to make, and you can also make them your own if you have different ingredients at home that you would like to use up too.
What is in Pumpkin Bars?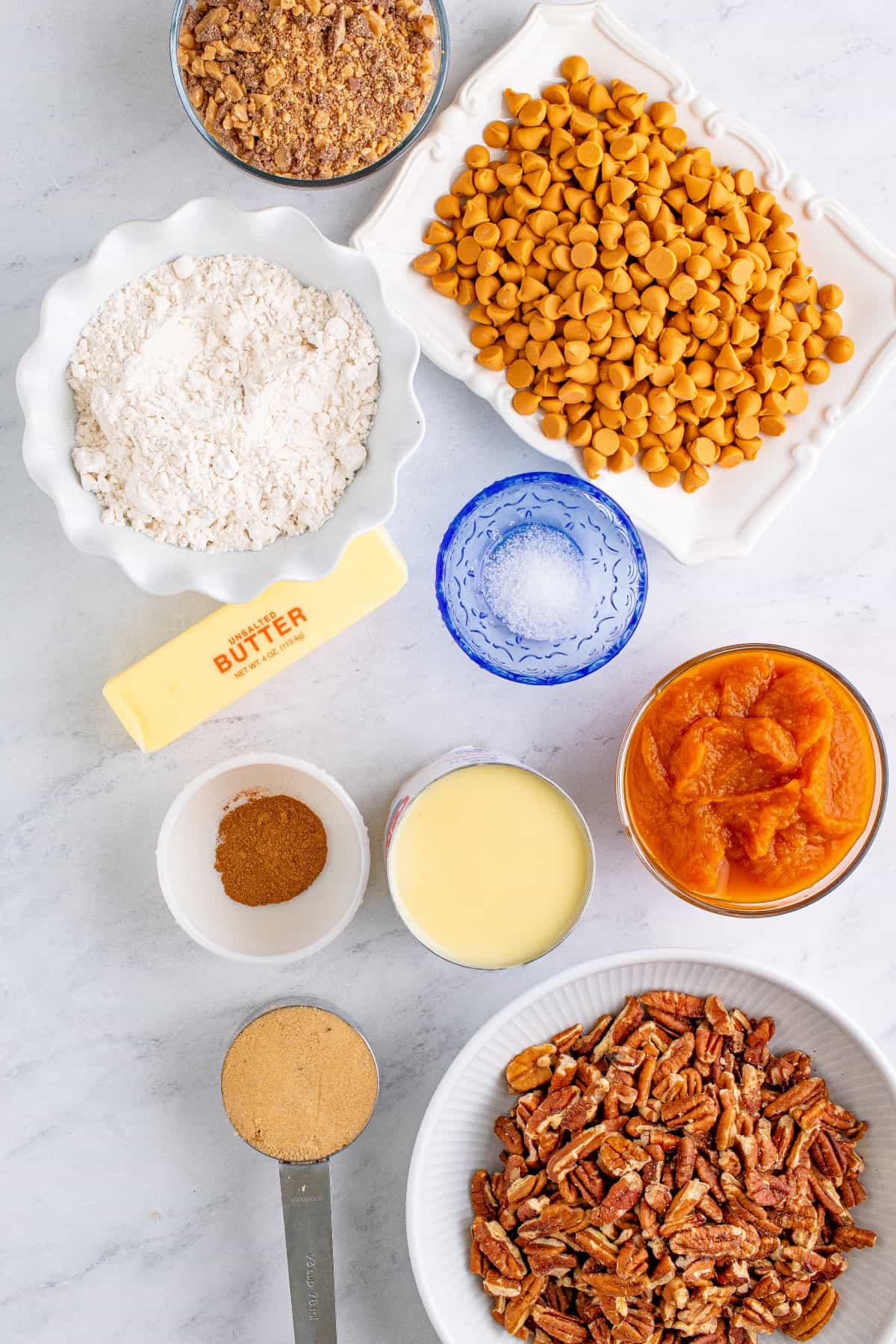 Yes, you guessed, there is pumpkin! Actually, pumpkin pie filling, it super easy because it already has all the pumpkin pie spice mixed in. Really there are only a few other ingredients that you need to make this great pumpkin dessert, and all are easy to find at your local grocery store too!
Ingredients
For the crust:
Butter
Brown sugar
AP flour
Pumpkin pie spice
Sea salt
For the topping:
Pumpkin pie filling
Butterscotch chips
Toffee bits (Skor bar bits)
Pecans
Sweetened condensed milk
How to Make Pumpkin Bars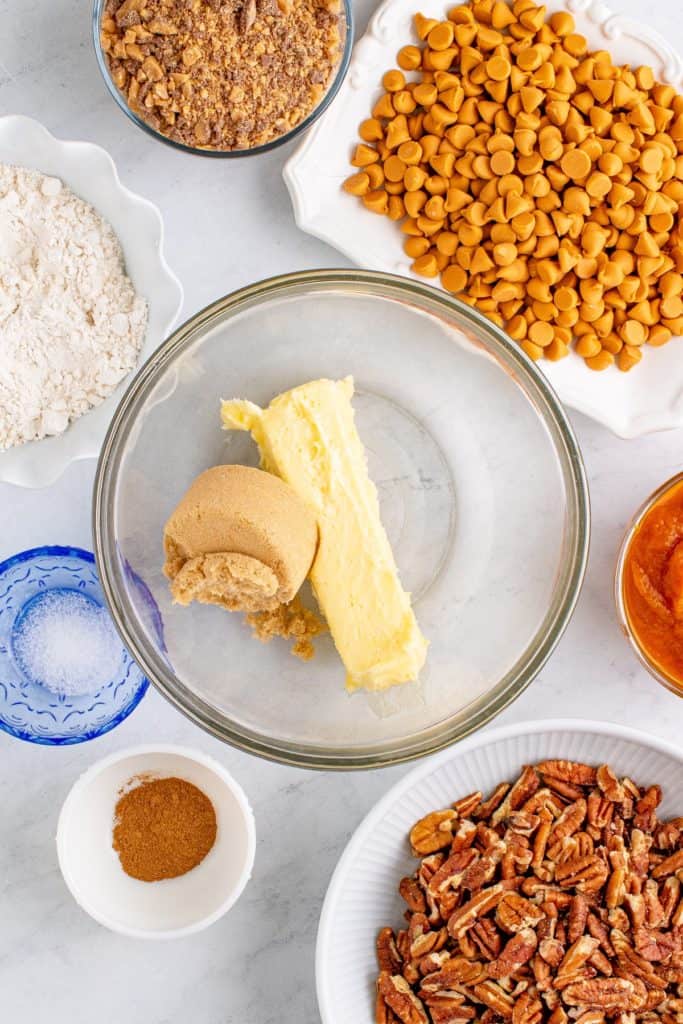 The pumpkin mixture or pie filling with butterscotch, toffee bits, and pecans is a heavenly combination. Let me show you how these easy bars are so easily assembled.
Start by preheating your oven to 350 degrees F. To make the squares easy to remove from the baking pan, line an 11 x 7 oven-safe dish or jelly roll pan with foil and spray it with cooking spray, then set it aside for the moment.
In a large bowl or the bowl of a stand mixer, cream together the room temperature butter and brown sugar until the mixture is light and fluffy. This should take about 2 minutes.
Next, add the dry ingredients, the all-purpose flour, pumpkin pie spice, and sea salt. Continue to mix until it is well combined and there are no dry patches in the mixture.
Press the mixture into the bottom of the prepared baking dish and place it in the preheated oven and allow it to bake for 15 minutes. The crust should be lightly browned.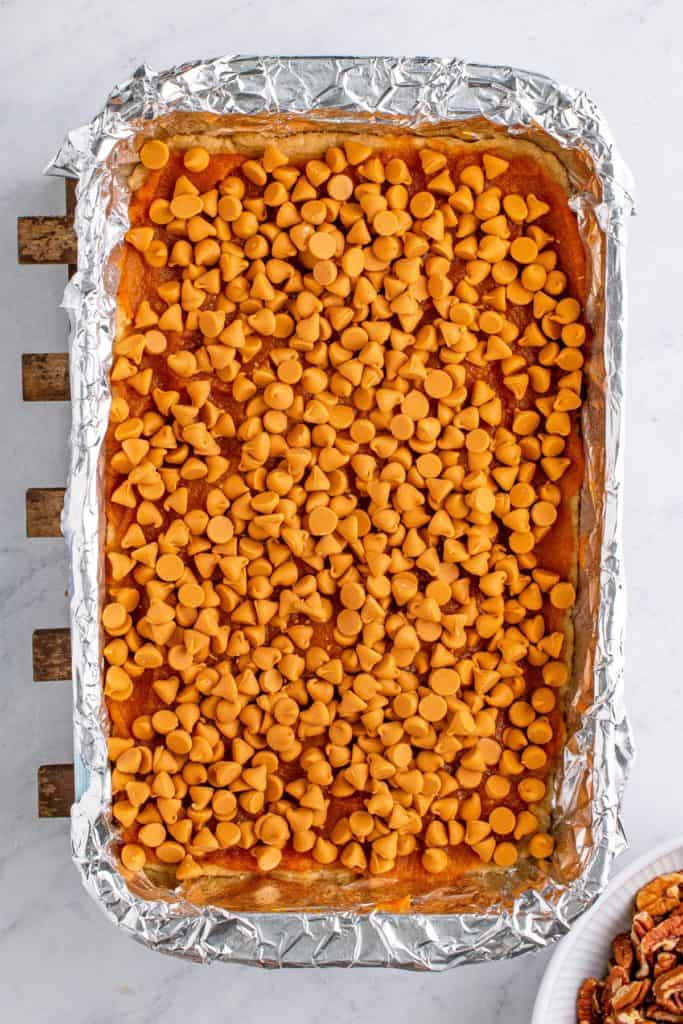 Spread the pumpkin pie filling evenly over the top of the cooked bottom crust. Next, layer the butterscotch chips and toffee bits or Skor bar crumble over the pumpkin pie filling, then add the pecans. Finally, pour the sweetened condensed milk over the top.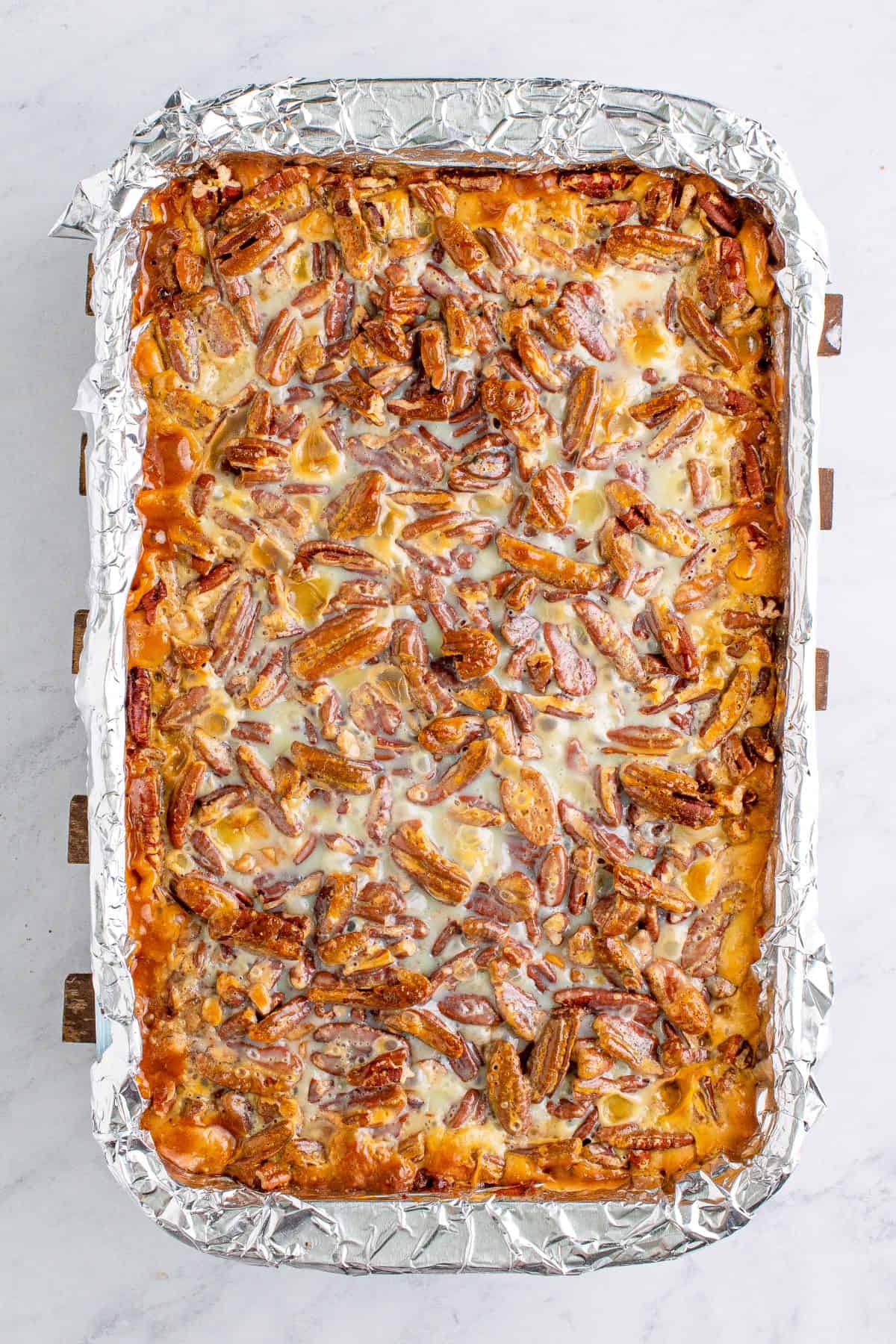 Place the baking pan back into the preheated oven and bake for an additional 30-35 minutes. The top of the pan of squares should be browned on top.
Allow the bars to cool completely in the pan. Once cooled, cut them into bars using a shape knife. Store them in an air-tight container in the refrigerator or freeze them. Thaw before serving.
Can I Use Different Ingredients?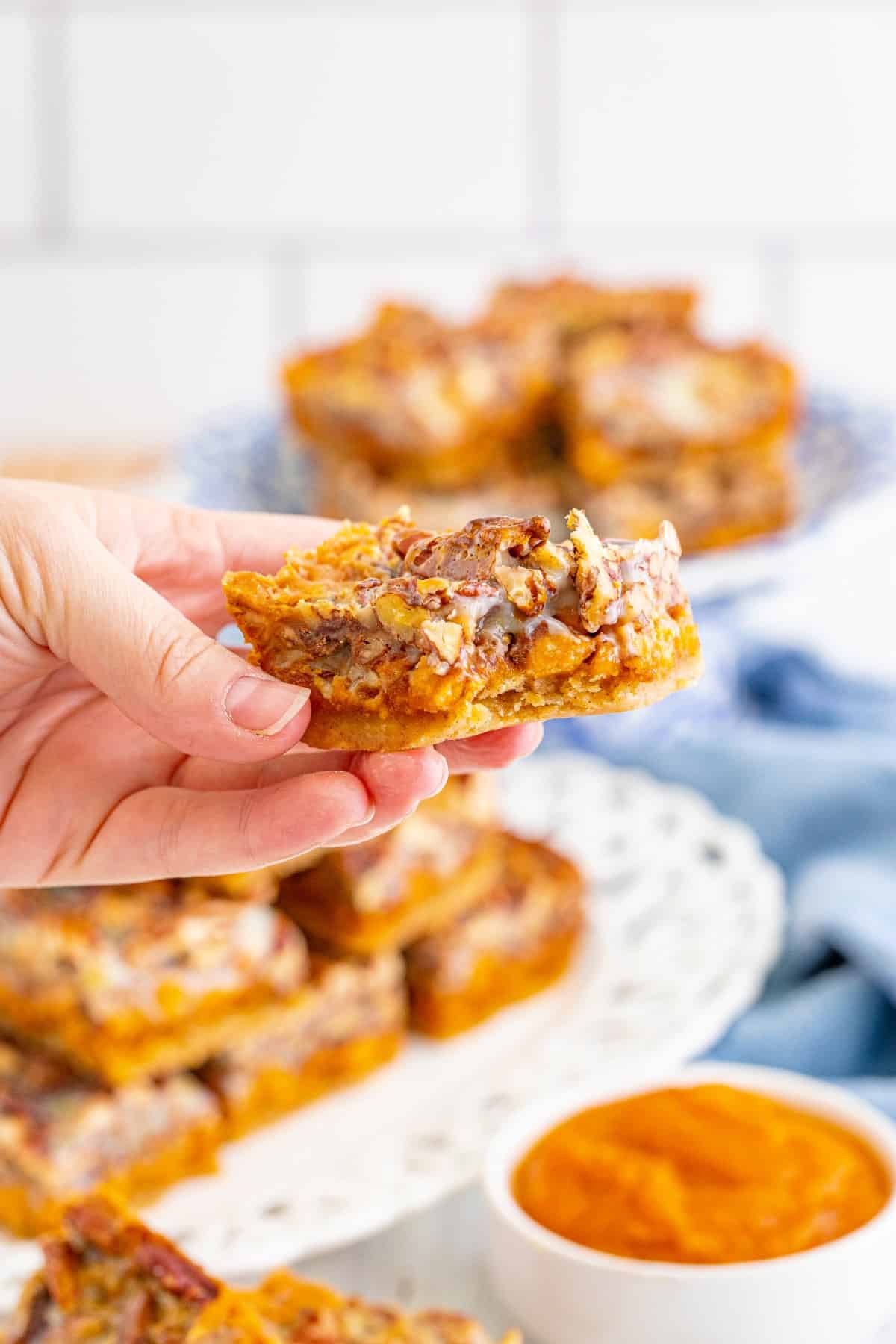 The short answer is yes, of course you can! If you would prefer to use, say, chocolate chips rather than butterscotch chips, feel free. Chocolate and pumpkin make a great flavor combination.
You can even use pumpkin puree in place of pumpkin pie filling. A word of caution, though, remember pumpkin pie filling already has all those wonderful pumpkin spices mixed in. If you choose to use regular pumpkin puree, you will have to add all the pumpkin spices like cinnamon, nutmeg, and clove to the puree yourself. Often times I have an extra cup of pumpkin lying around from other baking projects. This recipe is the perfect use for that extra cup!
Want to add a different nut? Sure! Walnuts would be wonderful in these bars too. Even almonds, macadamia nuts, brazil nuts, etc., would work. But to be honest, the flavor combination in this bar works really well, and we love it. Try it this way first, and then move on to make it your own if you like.
How to Freeze Pumpkin Bars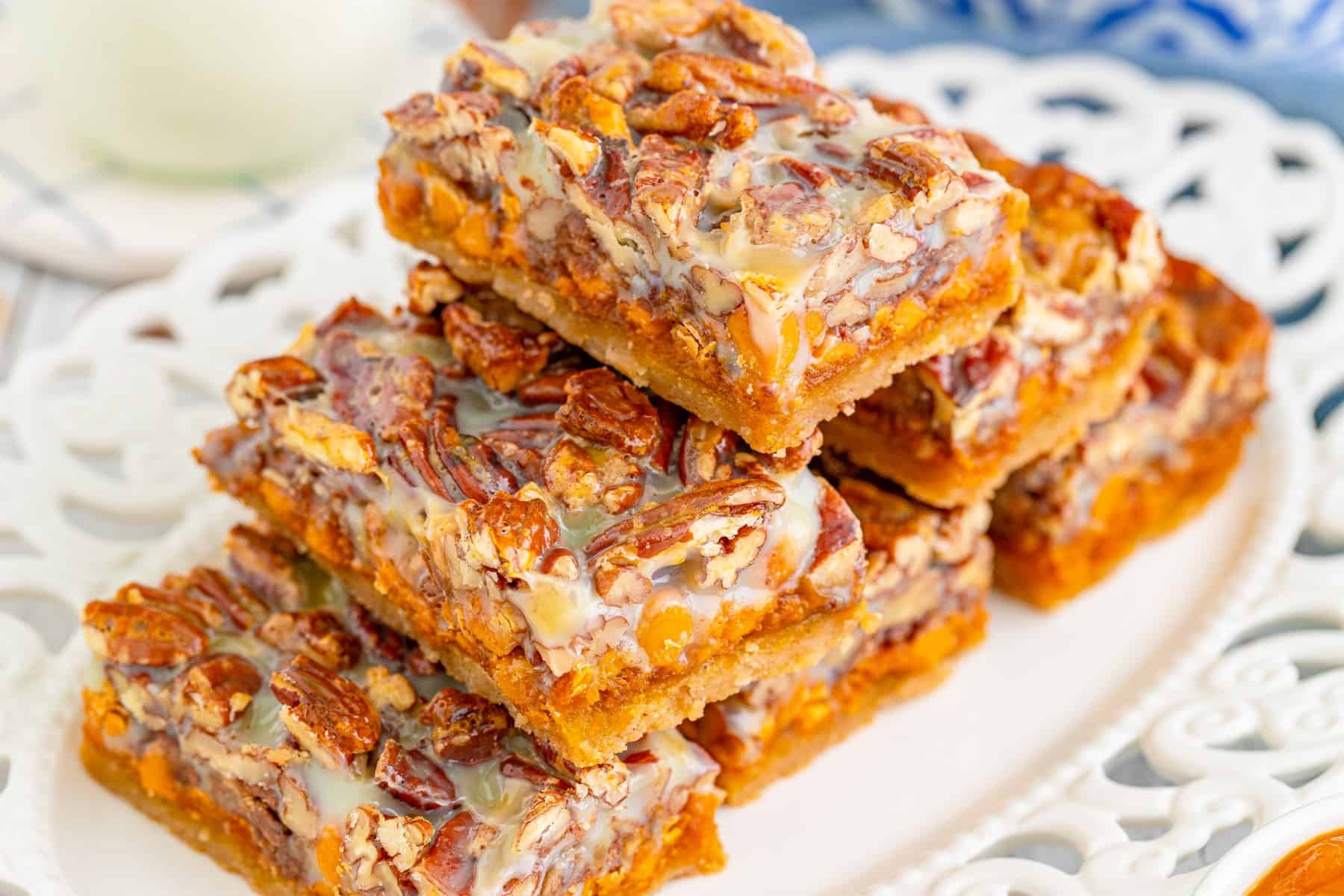 These pecan magic pumpkin bars freeze perfectly. Let me show you how easy they are to do. Because they are a bit sticky, ooey, gooey, there is just one extra step in freezing them.
Cut the pumpkin bars into the size that you want to freeze them, the recipe here calls for 15 squares but you can make them smaller too.
Place the pumpkin bars onto a parchment paper lined baking sheet with sides, larger than the one you initially used.
Place them into the freezer on the tray and freeze them until they are completely frozen, overnight works best.
Now, place the pumpkin bars into a container with a lid. Use the parchment paper again in the containter for the bottom. You can now layer them between parchment paper so they don't stick together.
Cover the container with the lid and freezer for up to 3 months.
Thaw them on the counter and then enjoy them again.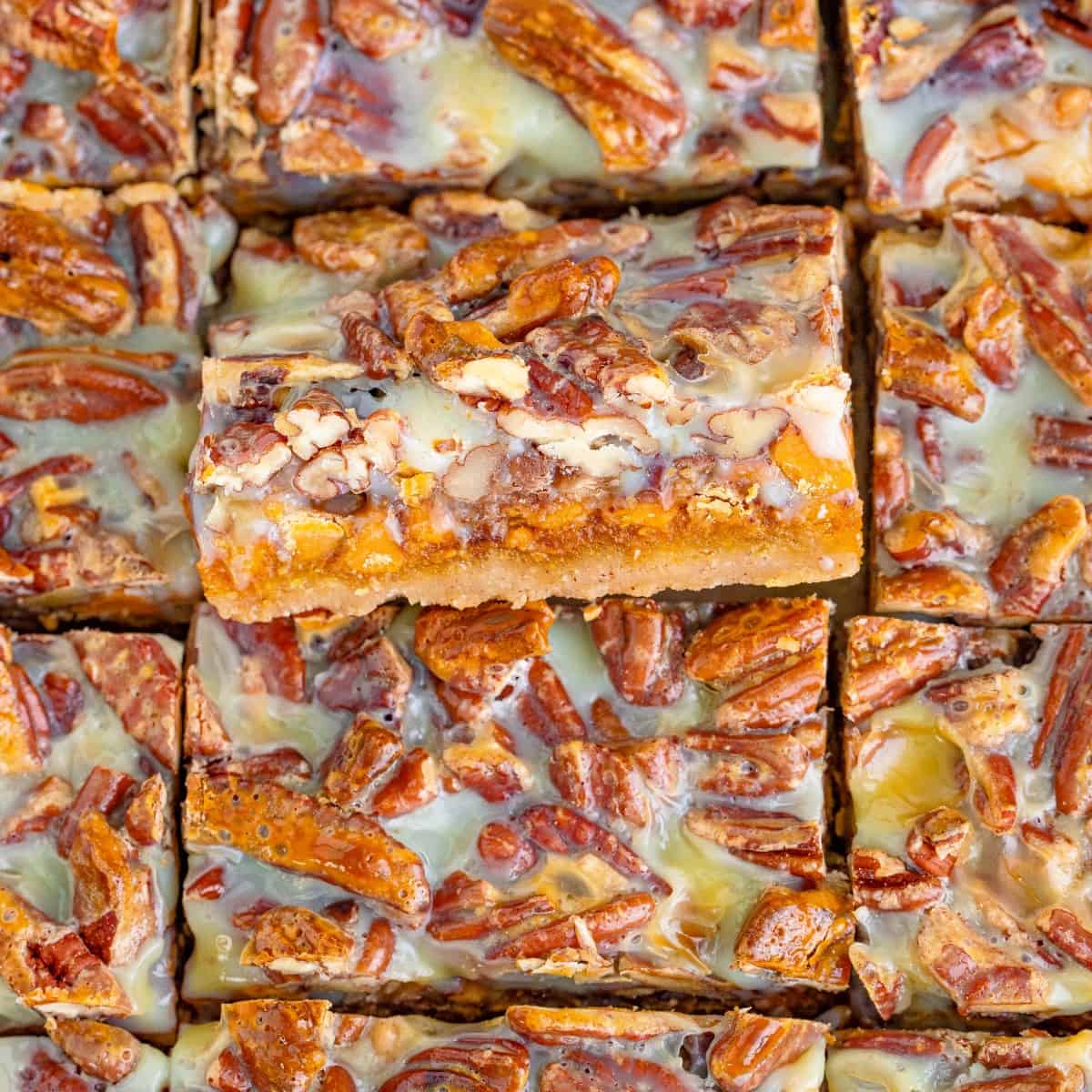 Pin it HERE!!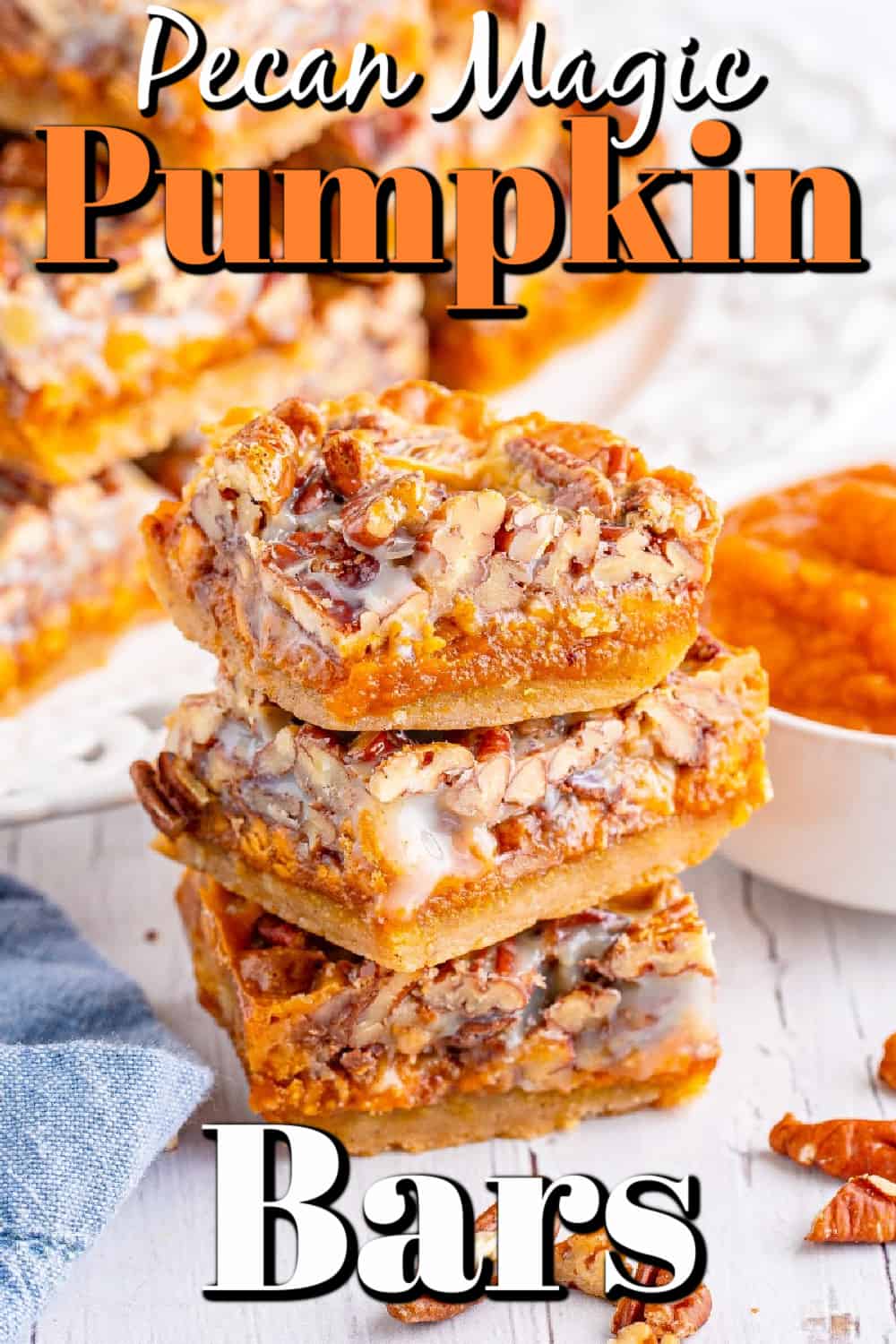 Pin it HERE!!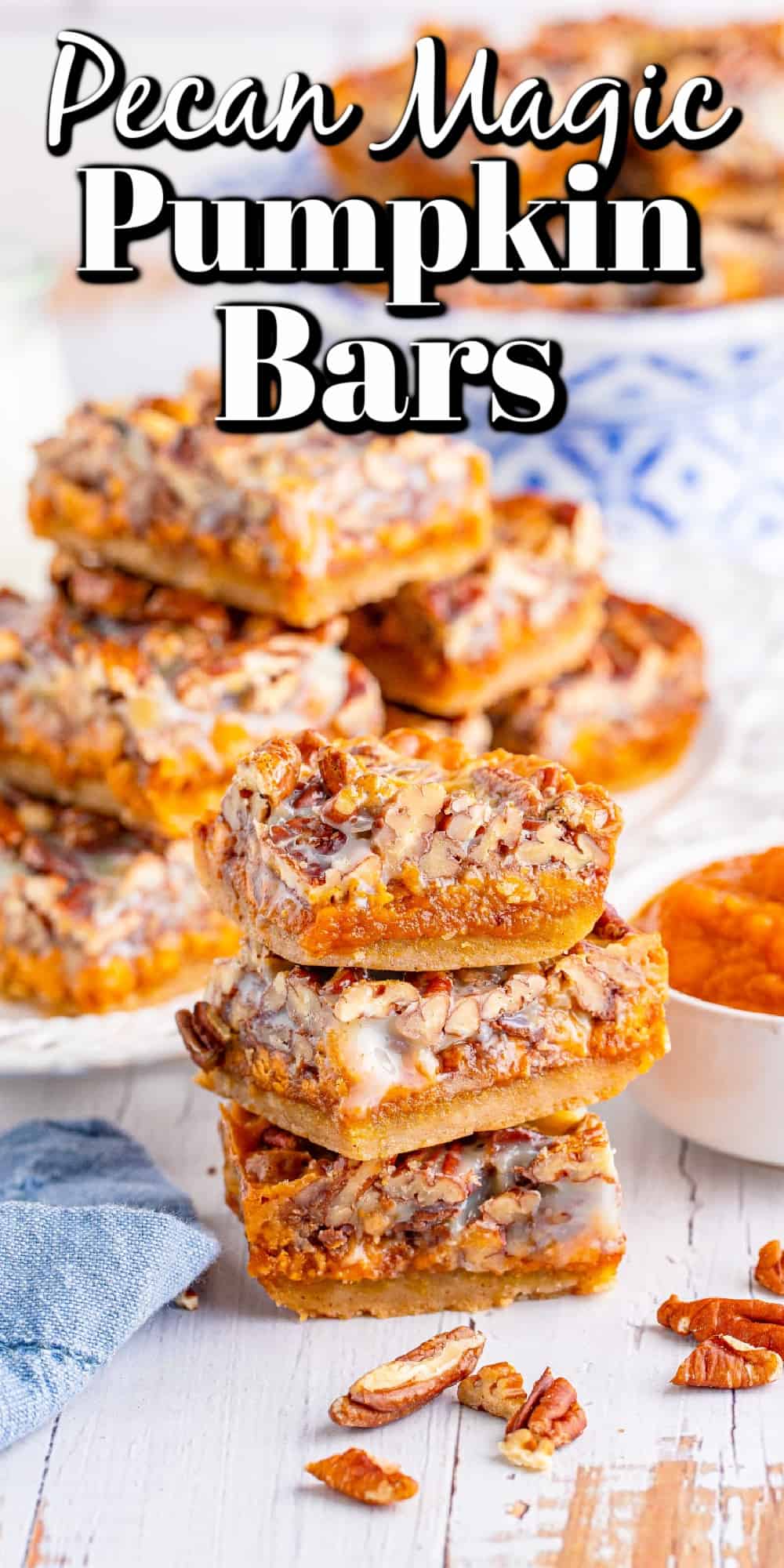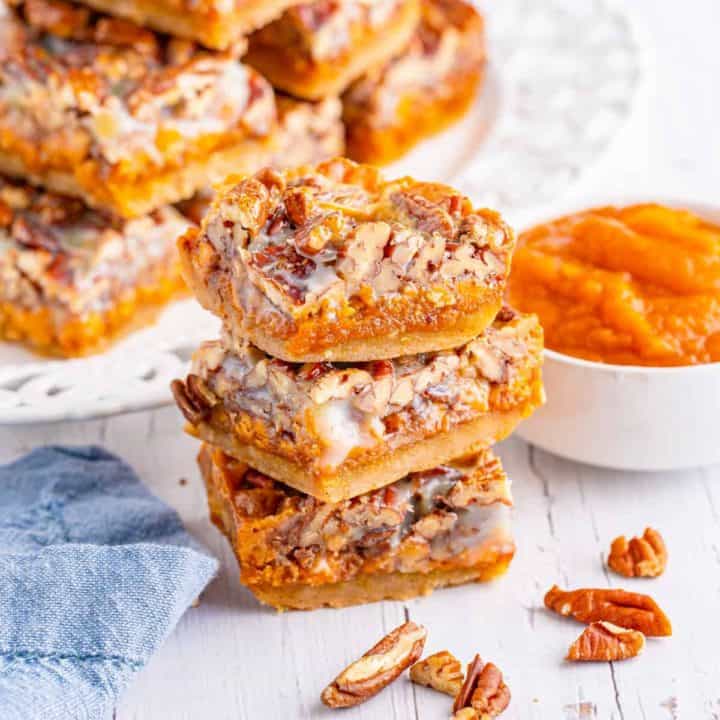 Pecan Magic Pumpkin Bars
Yield: 15 Bars
Prep Time: 10 minutes
Cook Time: 50 minutes
Total Time: 1 hour
These pecan magic pumpkin bars are the perfect fall treat! With the creamy butterscotch and pumpkin flavor and the slight crunch from the toffee and the pecans. Nothing is better!
Ingredients
For the crust:
1/2 cup unsalted butter
1/3 cup light brown sugar, packed
1 cup all-purpose flour
1/2 teaspoon pumpkin pie spice
pinch of fine sea salt
For the toppings:
1 cup canned pumpkin pie filling
11 ounces butterscotch chips
1 cup toffee bits
2 cups chopped pecans
14 ounces sweetened condensed milk
Instructions
Preheat the oven to 350°F. Line an 11x7 baking dish with foil and spray it with cooking spray, set aside.
In a large bowl, cream together the butter and brown sugar until light and fluffy, 2 minutes. Add the flour, pumpkin pie spice, and salt, mix it in until combined with no dry patches.
Press the mixture into the bottom of the baking dish and bake for 15 minutes until it no longer looks raw and is lightly browned.
Spread the pumpkin pie filling on top. Layer the butterscotch chips, then the toffee bits, then the pecans. Pour the sweetened condensed milk on top and bake for an additional 30-35 minutes until browned on top.
Let the bars cool in the pan completely. Once they are completely cool, cut them into bars. Store in an air-tight container in the fridge until serving. These squares also freeze well.

Recommended Products
As an Amazon Associate and member of other affiliate programs, I earn from qualifying purchases.
Nutrition Information:
Yield: 15
Serving Size: 1
Amount Per Serving:
Calories: 535
Total Fat: 31g
Saturated Fat: 15g
Trans Fat: 0g
Unsaturated Fat: 14g
Cholesterol: 45mg
Sodium: 134mg
Carbohydrates: 61g
Fiber: 3g
Sugar: 48g
Protein: 6g
Recipe calculation was provided by Nutritionix and is estimation only. If you need nutritional calculations for medical reasons, please use a source that you trust.