Pumpkin Chocolate Bundt
I am here with another of my favorite things to make, bundt cakes. There will be two bundts I will bring you this week alone but I have not been baking as many as I usually do. But, I am back at it with this Pumpkin Chocolate Bundt to start off with first. This post originally appeared on Real Housemoms. Why do I love making bundt cakes? For me they are a very easy cake to make and one that I can add so many different ingredients into. They are also a cake that isn't fussy. You can have an icing or they are just as good without. They can take you from breakfast right through to dessert and I love packing a slice as a treat in my daughter's lunch box. You can even hide some veggies in them like this bundt with added pumpkin goodness.
I recommend getting yourself a good bundt pan and always butter and flour before baking. Then it will just slide right out. I used to spray them with cooking spray but I find butter is much more superior in taste and ease of removing the cake.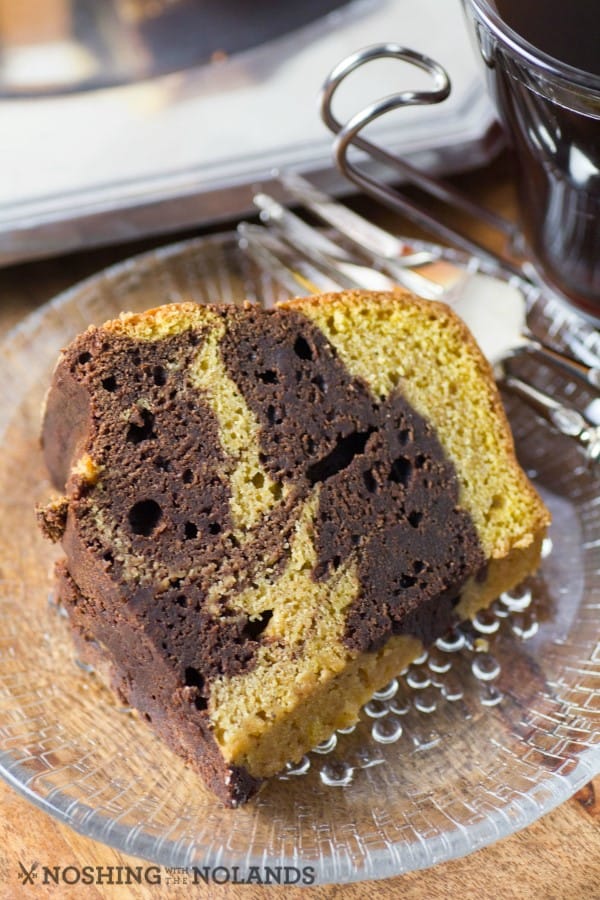 See this gorgeous bundt with its' two different layers. You can tell it is moist just by looking at it. The chocolate layer is a bit fudgy even. I added pumpkin into that also, some of the other recipes I saw just had pumpkin in the one layer but it is lovely added to both and makes the whole cake moist then.
Pumpkin and chocolate with all the wonderful earthy spices like cinnamon, nutmeg and cloves go so nicely together. If you have never tried this combination you have to, it is delicious!!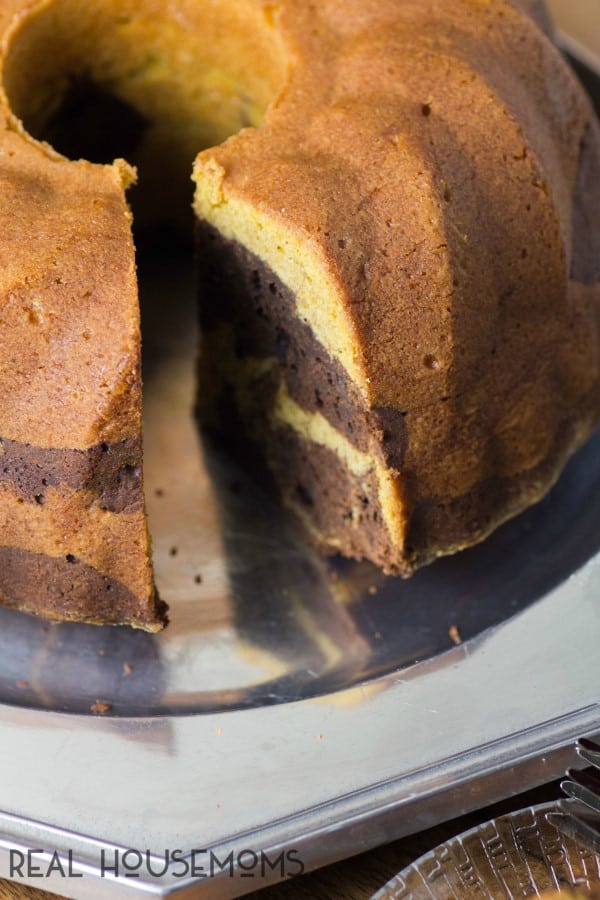 Why hide that cake with an icing, see how lovely it pops out of the pan!! I hope you enjoy making and serving this cake for the holiday season!!
The Recipe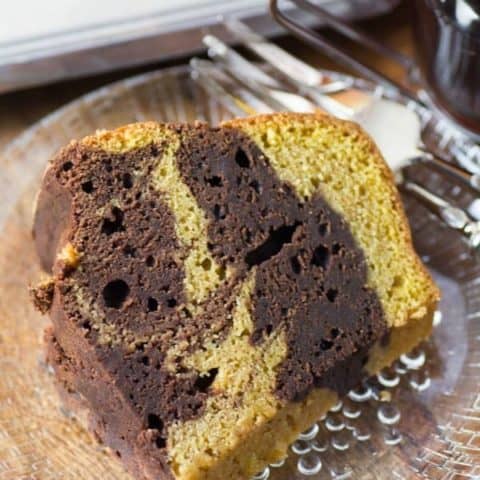 Pumpkin Chocolate Bundt
Yield: 12-16 servings
Prep Time: 20 minutes
Cook Time: 1 hour 10 minutes
Total Time: 1 hour 30 minutes
This rich and moist Pumpkin Chocolate Bundt is a perfect fall dessert bringing you all together to celebrate the autumn season.
Ingredients
1 cup butter, softened, plus extra for pan
2 cups sugar
4 large eggs
2 tsp. vanilla
1 1/4 cups canned pumpkin
2 1/2 cups flour, plus extra for pan
2 tsp. baking powder
1 tsp. salt
1/2 tsp. cinnamon
1/4 tsp. nutmeg
1/8 tsp. cloves
1/2 cup unsweetened cocoa
1/2 cup 3% milk
Instructions
Prepare a bundt pan by buttering and flouring. Preheat oven to 350F.
In a small bowl mix together the flour, baking powder and salt and set aside. In a large bowl of a standup mixer, cream butter and sugar together. Add eggs, one at a time and beat well after each addition. Beat in vanilla and pumpkin. Mix in the flour mixture until well blended.
Divide the mixture in half. In one half of the batter add the cinnamon, nutmeg and cloves and mix well. In the other half add the cocoa and the milk. Blend well.
Spoon half the spiced batter into the prepared bundt pan. Then drop half the chocolate batter in by spoonfuls. Repeat with the remaining batter. Draw a knife gently around the pan to swirl the batters the more you do this the more the batters will be swirled together but don't over mix.
Bake for 60-70 min. or until done and tested with a cake tester, coming out with a few moist crumbs but no batter. Let cook for 15 min. and then invert onto a cooling rack to cool completely.