The theme this month is Tropical March. I immediately went to pineapple and coconut as most of you would but wanted something different. Then I started thinking of cocktails and started to conjure up images of little umbrellas coming out of the drinks that I have seen poolside. Hmmm, there are pina coladas that I love and daquiris of all flavors but then it came to me A BLUE HAWAIIAN BUNDT CAKE!!! Sure why not! That is crazy enough to work I thought. Get all the flavors of a Blue Hawaiian cocktail in a cake and then top it with a big layer of fluffy coconut seven minute frosting. I had visions of Elvis in his white pantsuit holding a piece of my cake. WOW, my mind went nuts with this!!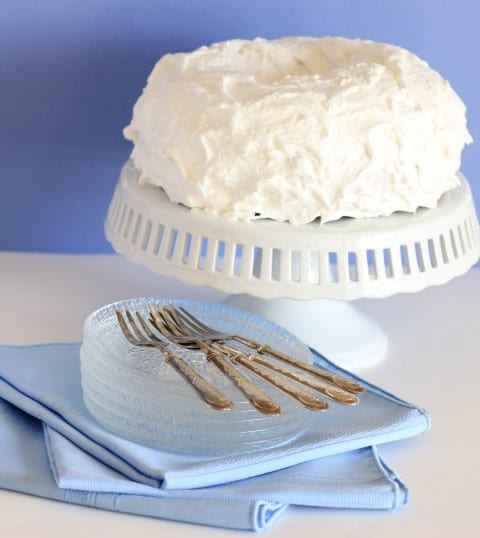 Anyway, so much fun, that's what creating is all about. This cake turned out to be fabulous. I had never baked a blue cake before so I was anxious to frost and finally cut into it.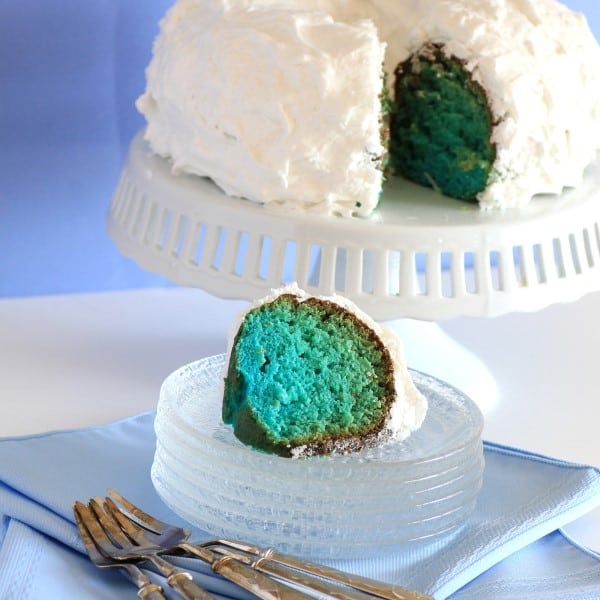 It was so moist and flavorful, I got rave reviews!! Enjoy!!!

Blue Hawaiian Bundt Cake for #BundtaMonth
A wonderfully moist cake that tastes like a Blue Hawaiian cocktail.
Ingredients
½ cup butter
1¼ cups sugar
2 eggs
1 tsp. coconut extract
2¼ cups flour
1 tsp. baking soda
½ tsp. salt
½ cup sour cream
¼ cup Blue Curacoa
¼ cup rum
¼ pineapple juice
Blue food coloring
Frosting
1½ cups sugar
¼ teaspoon cream of tartar
⅛ teaspoon salt
⅓ cup water
2 egg whites
1 teaspoons coconut extract
1 cup coconut
Instructions
Preheat oven to 350F. Grease and flour a bundt pan.
In a large bowl of a standup mixer with a paddle attachment blend butter and sugar together for 2 min. on medium speed until light and fluffy. Add eggs and coconut extract and blend. Mix flour with the salt and baking powder and add to the mixture along with the sour cream. Beat for 2 min. scraping down the bowl often. Stir in Blue Curacoa, rum and pineapple juice. Add blue food coloring to desired color.
Pour the cake batter into the prepared bundt pan.
Bake for 45-50min. or until cake tester comes out clean. Cool completley in pan. Invert onto serving platter.
For the frosting add the sugar, cream of tartar, salt, water, and egg whites in the top of a double boiler or metal bowl. Beat with a handheld electric mixer for 1 minute. Place pan over boiling water, being sure that boiling water does not touch the bottom of the top pan. Beat constantly on high speed with electric mixer for 7 minutes. Beat in coconut extract. Fold in coconut and ice cake.
Frosting recipe adapted from Paula Dean
Here is the amazing line up for this #BundtaMonth, check them all out!!
Bananas Foster Bundt by Anita from Hungry Couple
Blue Hawaiian Bundt Cake by Tara from Noshing With The Nolands
Chocolate Bundt With Coconut Cream Cheese Filling by Karen from In The Kitchen With KP
Chocolate Coconut Bundt Cake by Kim from Cravings Of A Lunatic
Coconut Banana Bundt Cake with Rum Glaze by Lora from Cake Duchess
Coconut Bundt Cake by Holly from A Baker's House
Hummingbird Bundt Cake by Heather from Hezzi D's Books and Cooks
Hummingbird Bundt Cake by Jennie from The Messy Baker Blog
Lime Glazed Bundt Cake by Carrie from Poet In The Pantry
Mini Pineapple Bundt Cakes with White Chocolate Ganache by Alice from Hip Foodie Mom
Pina Colada Bundt Cake by Renee from Magnolia Days
Pineapple Bundt with Kuih Tat Filling by Stacy from Food Lust People Love
Strawberry and Banana Bundt Cake by Veronica from My Catholic Kitchen
Vanilla Orange Bundt Cake with a Hint of Coconut by Laura from The Spiced Life