I was flipping through a cookbook I have that I have found some great recipes in before and came across this St. Patricks's Cabbage and Potato Pie. The cookbook is The Lighthearted Cookbook brought out by the Canadian Heart Foundation.
I thought this pie was a great vegetarian option for St. Patrick's Day. We had it as an entree but could easily be used as a side dish.
As you know if you follow our blog we do a lot of vegetarian options. I enjoy that at least once a week. It seems to take the hassle out of things too! This doesn't taste "heart-healthy" at all. It is rich and creamy with wonderfully mild cabbage flavor.
Perfect with a big salad!! This "pie" was devoured. It will be another of our go-to St. Patrick's Day recipes. I hope you try it too! Enjoy!!
Happy St. Patrick's Day!!!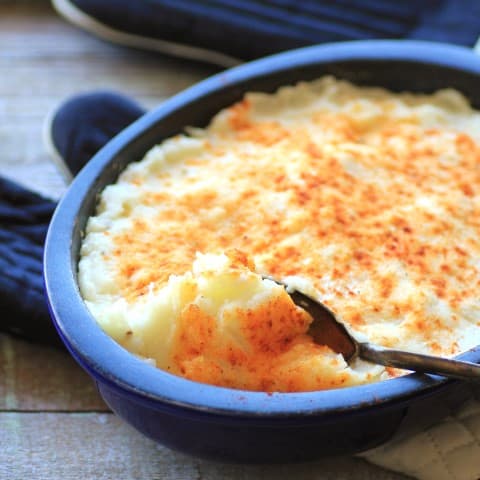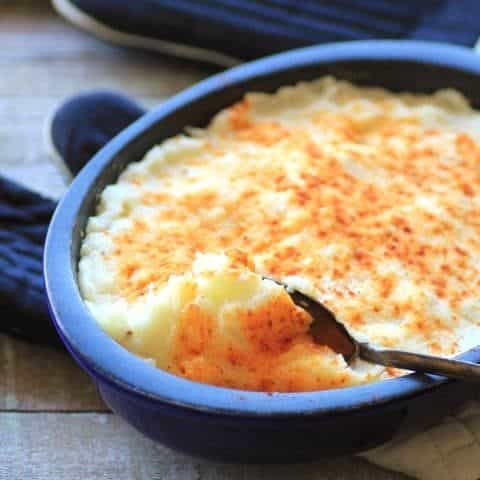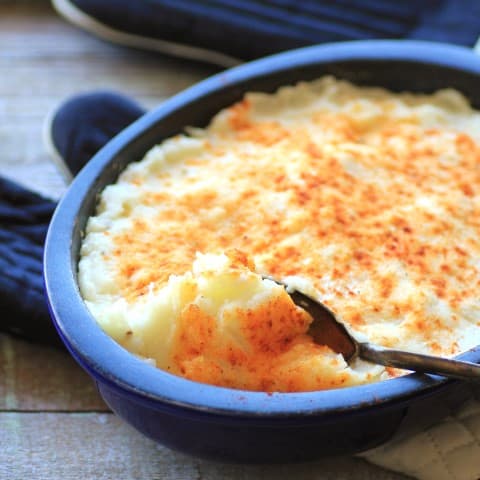 St. Patrick's Cabbage and Potato Pie
Yield: 4 Servings
Prep Time: 15 minutes
Cook Time: 51 minutes
Total Time: 1 hour 6 minutes
An amazingly light and bursting with creaminess entree or side dish.
Ingredients
1 lb. cabbage
4 medium potatoes
1/4 cup skim milk
1 Tbsp. margarine or butter
Freshly ground pepper
Paprika
Cream Sauce
1 1/2 Tbsp. margarine or butter
1 medium onion, chopped
2 Tbsp. flour
1 cup skim milk
Salt, freshly ground pepper, and nutmeg to taste
Instructions
Separate and trim cabbage leaves. Bring a large pot of water to a boil and add cabbage and cook for 5-10 min. or until tender. Drain and chop coarsely. Set aside.
Boil potatoes in a large pot of boiling water until tender. Mash with milk, margarine, and pepper to taste.
Preheat oven to 350F. Meanwhile to make the cream sauce, in a medium saucepan melt the margarine and add the onion and cook until translucent.
Stir in the flour and cook for 1 min. Add the milk slowly and cook stirring for 3-5 min. until the mixture comes up to a simmer and thickens. Season with salt, pepper, and nutmeg to taste. Mix in cabbage.
Spoon the cabbage into a 4 cup baking dish that is non-stick or spray lightly with cooking spray.
Cover with the mashed potatoes and sprinkle with paprika. Bake for 20-30 min. or until heated through. Lightly brown under the broiler before serving.
Nutrition Information:
Yield: 4
Serving Size: 1
Amount Per Serving:
Calories: 359
Total Fat: 14g
Saturated Fat: 5g
Trans Fat: 2g
Unsaturated Fat: 8g
Cholesterol: 17mg
Sodium: 251mg
Carbohydrates: 53g
Fiber: 7g
Sugar: 10g
Protein: 9g
Recipe calculation was provided by Nutritionix and is estimation only. If you need nutritional calculations for medical reasons, please use a source that you trust.
Recipe adapted from The Lighthearted Cookbook by Anne Lindsay