Blueberry Muffins made with Pure Via Stevia
Blueberry Muffins made with Pure Via Stevia – Stevia is a naturally sourced sweetener made from the pure sweet extract of the Stevia plant. I received Pure Via Stevia to sample, use and bake with. I have now used all three of their products. In my morning coffee I  usually use 1/2 packet of sweetener. That was very easy to switch over to Stevia and I found it less artificial tasting and a bit sweeter. So every morning I use 1/2 packet of Stevia in my coffee, yum just the right sweetness for me.
Then I tried the Turbinado Raw Cane Sugar and Stevia blend. This I used in the my Rum and Raisin French Toast and it sure was delicious and you would never have known there was a sweetener added.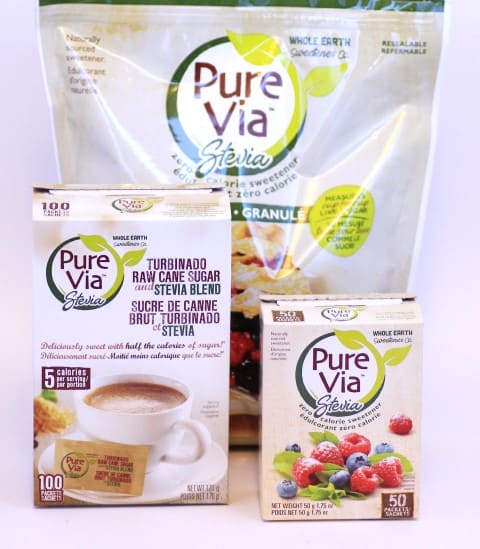 Lastly I wanted to try the granulated Stevia. Included with the product was a little recipe book. In the cookbook was a recipe for blueberry muffins. They are low in calories coming in at 150 each and looked delicious!! So this is the recipe that I will share with you today. Amber loved these for breakfast or for a snack. I did find them a bit dry but with a fresh fruit compote like the strawberry rhubarb one I had recently made they were very good. I love fresh blueberries and this recipe had lots!! The sweetness was just right with using the Stevia, you would have never known there was a sweetener used.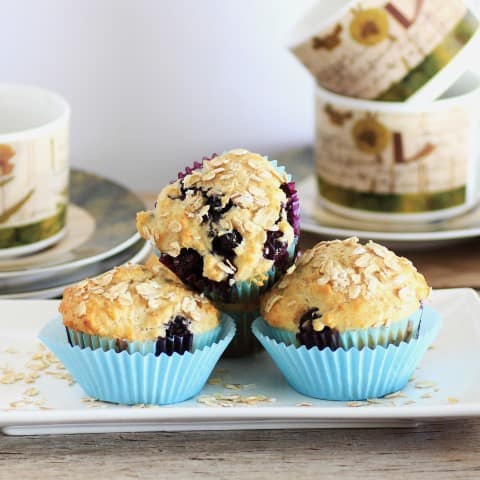 Blueberry Muffin Recipe
Blueberry Muffins made with Pure Via Stevia
A blueberry muffin made with Pure Via Stevia
Ingredients
1 cup whole wheat flour
1 cup all-purpose flour
2 tsp. baking powder
½ tsp. baking soda
¼ tsp. salt
1 Tbsp. grated orange peel
3 Tbps. + 1 tsp. Pure Via Stevia Granulated sweetener
1 cup buttermilk
¼ cup vegetable oil
2 eggs
1½ cups fresh or frozen blueberries
Quick or old fashioned oats (optional)
Instructions
Preheat oven to 400F. Line 12 muffin cups with paper baking cups.
Mix together flours, baking powder, baking soda, salt orange peel and Pure Via Stevia sweetener in a large bowl. Stir in buttermilk, oil and eggs; mix until just moistened. Fold in blueberries.
Divide batter evenly among muffin cups. Sprinkle with oats, if desired. Bake for 20-25 min. or until light golden brown. Cool one minute ; remove from muffin cups.
I will definitely continue to use this product in place of artificial sweetener. A real break through for diabetics and people watching their caloric intake. You have all the benefits of a sweet "sugary" taste with no calories! You have go to love that!!