Here is another segment of celebrating #SundaySupper recipes. Every once in awhile some recipe from our #SundaySupper group grabs my attention for whatever reason. This time we were asked to do the refreshments at church so I wanted a yummy brownie and remembered these from Pies and Plots. Wow, fantastic!! Ken actually whipped these up in no time. They are oh so moist and fudgy almost more like fudge than brownie. They were the first to disappear on the trays. I highly recommend this recipe.
Laura is the proud owner of the site Pies and Plots and she resides in southwest Michigan. She is not only a great cook and baker but also writing her fifth novel, hence the Plots part of the blog. Her site has tons to offer with recipes and adventures!! Another one that caught my eye was Salted Caramel Squares, I had to sit there for awhile starring and drooling. She is allergic to chocolate and cheese so you won't see those two ingredients on her site but you can easily substitute chocolate into this recipe like we did.
Something that we have in common is our love for the show The Chew. I haven't made many recipes from there yet but I religiously watch it everyday and probably borrow techniques more than anything. I have a mad crush on Michael Symon which is upped by being able to watch him five days a week.
Laura and I also love rhubarb and here is her wonderful Rhubarb Crumb Cake. Another recipe I have to try. Wander on over to Pies and Plots and see what she is all about. ENJOY!!!
FUDGY CAROB BROWNIES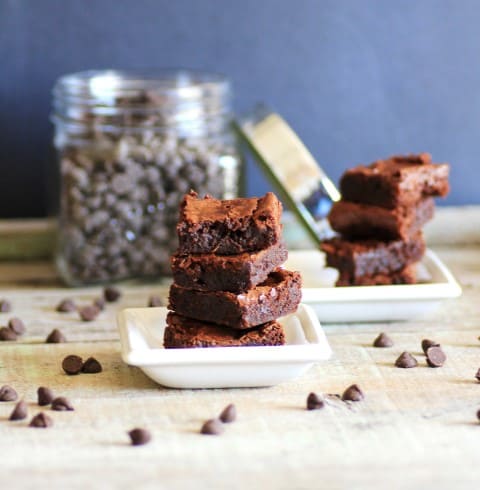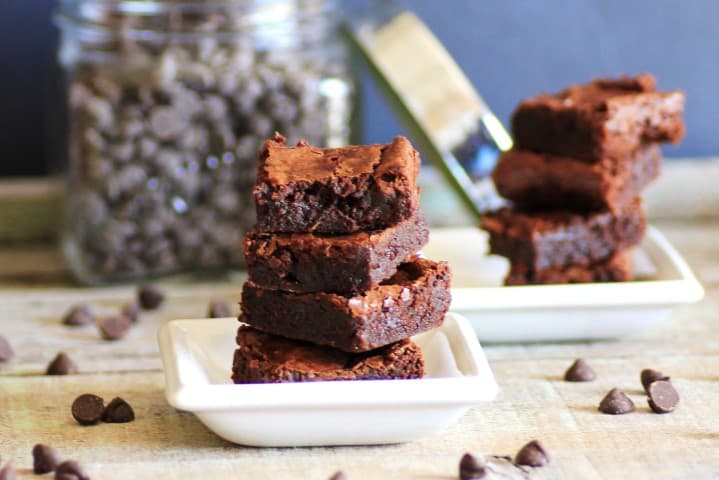 Fudgy Carob Brownies by Pies and Plots
The fudgiest brownie of them all!!
Author:
Laura Dembowski/Tara Noland
Ingredients
1 cup carob chips or semi-sweet chocolate chips (I used chocolate chips)
6 tablespoons unsalted butter, cut into pieces, plus more for the pan
¾ cup lightly packed dark brown sugar
¼ cup granulated sugar
2 large eggs, lightly beaten
2 teaspoons pure vanilla extract
¼ cup all-purpose flour
Instructions
Preheat oven to 350 degrees F. Lightly spray or butter an 8 inch square baking pan. Line pan with parchment paper so that they can be easily removed after baking.
In a large microwave safe bowl, place the chocolate chips and butter. Microwave for 30 second intervals stirring in between until mixture is melted. Stir in the sugars, followed by the eggs and vanilla until fully combined.
Add the flour and fold in using a rubber spatula until it is just mixed in. Do not over mix.
Bake for 25-35 minutes, rotating halfway through if necessary, until the brownies are set and the middle is barely firm to the touch. Cool for about 15 minutes in the pan. Lift out the brownies using the parchment paper and cut into squares. Brownies may be stored in an airtight container at room temperature for up to three days or frozen, wrapped in parchment and foil and placed in a zipper bag for up to three months. Thaw at room temperature for about an hour or in the microwave for about 30 seconds.
Notes
Recipe adapted from Hummingbird High and the New York Times and Pies and Plots