Today for you we have a healthy appetizer, Cantaloupe Pomegranate Salsa, something that everyone will enjoy for the holidays. With all the over indulgence that we have surrounding us over the holidays we love to serve a fresh salsa. It is something that I navigate to with bright and vibrant colors from pomegranate seeds. I love to add them into the holidays as they are little glistening jewels on or in any recipes. Our daughter can't get enough of them at this time of year.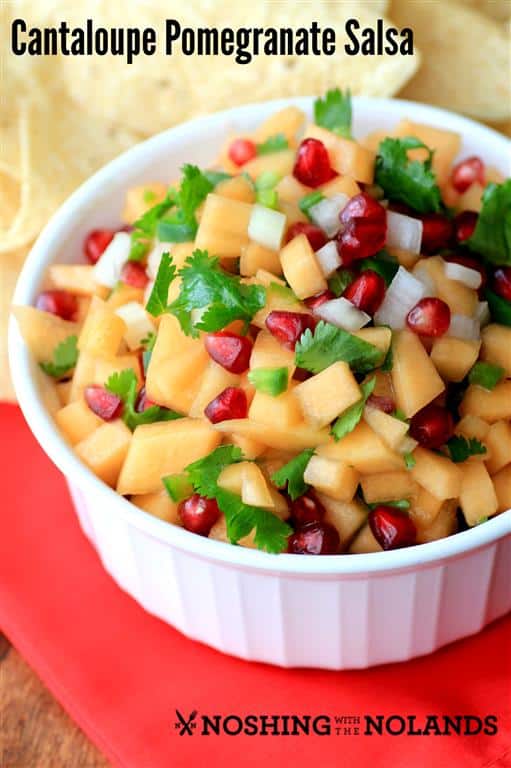 This is a fantastic appetizer but this salsa can also be served with a grilled fish or chicken to add a little pop and flavor to winter months dinners. Loaded with fresh ingredients and vibrant flavors it will be a dish that you will be proud to serve to family or friends over the holidays. It is vegetarian, vegan and gluten free so you don't have to worry who you are serving it to.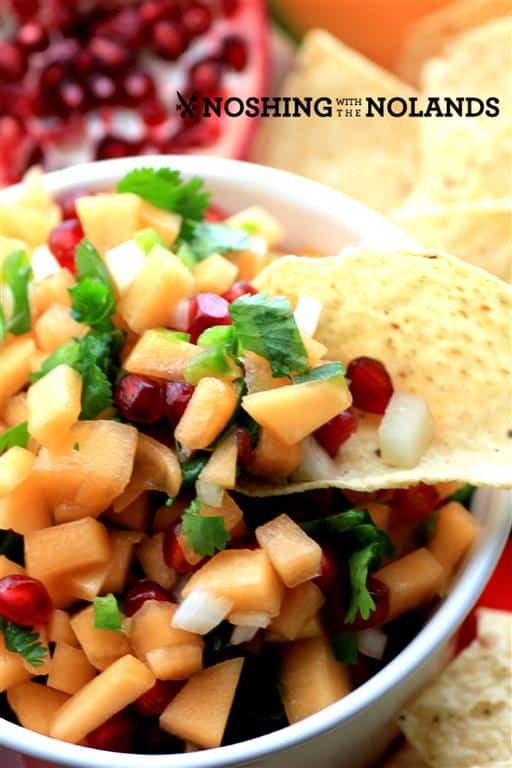 As long as the seeds and veins are removed from the jalapeno it is not hot at all and kids will be diving into to this also. If you want to amp it up leave some of the veins and seeds in. The heat pairs nicely with the sweet fruit. The recipe can be easily doubled for a larger crowd.

Cantaloupe Pomegranate Salsa
A gorgeous and healthy fruit salsa that you will be happy to serve over the holidays!!
Ingredients
½ ripe cantaloupe, diced
½ POM pomegranate, seeded
¼ cup sweet onion, diced
½ large jalapeno, veined, seeded and minced
¼ roughly chopped cilantro
Juice of ½ lime
Drizzle good quality olive oil
Salt to taste
Tortilla chips
Instructions
Toss all the ingredients together. Seve immediately wih tortilla chips.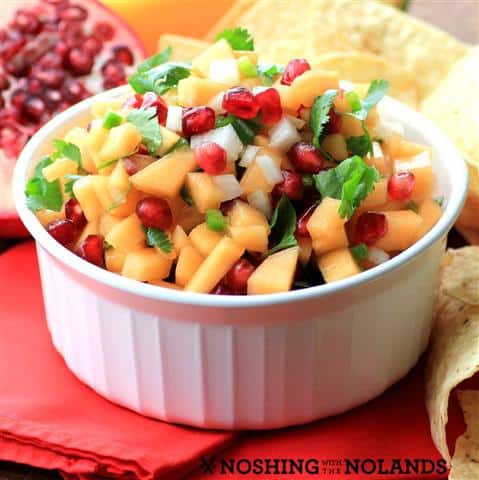 Do you have a family holiday recipe that everyone should try? Take the
#BetterFoodForAll Challenge
with Sobeys and you could win $1,000 in groceries! Or follow the #BetterFoodForAll hashtag on Twitter and Instagram for more holiday recipe inspiration from Canadians.