Eggs Wraps
Day 3 of 5 Days of Egg Dishes. Ken is the Eggman (Beatles tune popped into my head) in this household. He loves making up a delicious breakfast like these Egg Wraps. I am a more grab-and-go kind of gal, as I tend to be in the kitchen for the rest of the day.
I adore his creations and he is at it again with this yummy egg wrap. He is the master with an egg, scrambled, poached, omelet, sunny side up, over easy, he knows them all. Most weekends he is a short-order cook and you can have our eggs any way you like them. Yes, Amber and I are very blessed.
Fluffy scrambled eggs wrapped up with cheese and ham in a tortilla. That is my kind of breakfast, served up hot!!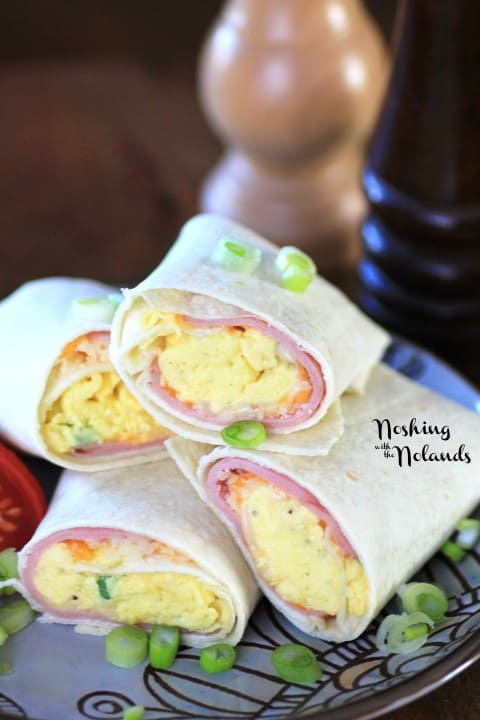 This is a quick, nutritious, and delicious breakfast for kids too!! Scrambled eggs can be nasty if they are not cooked right, rubbery and inedible.
The trick to them is not to overcook them, stop the cooking before they are done, and if you like you can add a little water.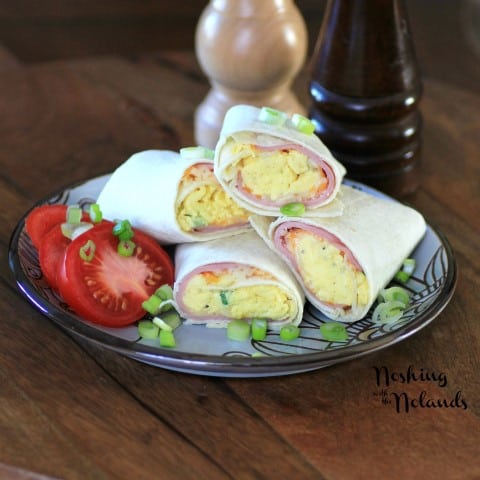 Eggs Wraps
Yield: 2 Servings
Prep Time: 3 minutes
Cook Time: 5 minutes
Total Time: 8 minutes
A quick, healthy egg wrap that everyone will love!!
Ingredients
2 eggs
2 small flour tortillas, 8"
1 green onion, chopped
4 thinly sliced pieces of ham
Salt and pepper
1/4 cup Tex Mex cheese, grated
Instructions
Lightly beat the eggs and add salt and pepper to taste. Add the green onion.
Place 2 slices of ham and 1/2 of the cheese on each tortilla and heat in a toaster oven/oven under broil for 1 minute, until cheese starts to melt, don't toast.
Meanwhile, cook the eggs in a non-stick frypan stirring occasionally until the desired doneness.
Put 1/2 of the scrambled eggs on each tortilla and roll up folding in both ends like a burrito.