Disclosure: I was compensated for this post. All opinions and experiences are my own.
I love summer cooking and entertaining, it can be some of the easiest meals around! I find this even more true when you are grilling! These Grilled Caprese Chicken Little Potato Foil Packs are as easy as it gets but they taste gourmet! For something simple like this it is all about the quality products you use like The Little Potato Company's Creamer potatoes.
Little Potatoes are so simple to use, no washing or peeling needed. Just straight from the bag to whatever you are making. In this incidence they just needed a slice in half, a drizzle of olive oil and a sprinkle of salt and you then have made a bed for the chicken to cook on! It is as easy as that! Before the summer winds down and it is back to school time you want to #AddaLittleSizzle to your grilling!!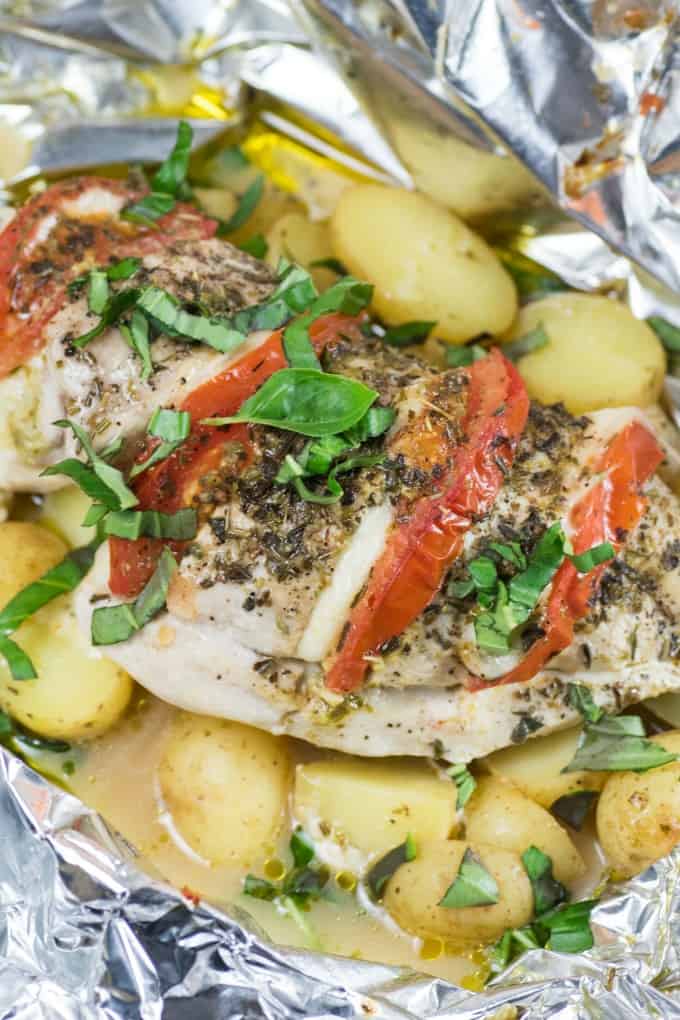 This will also make a perfect back to school meal as it is so easy to pull together. Plus very little dishes go into making this or serving it, which a rushed back to school mom or dad will appreciate for sure. Don't have a BBQ at the ready? Just pop these into the oven at 375F for at least 30-40 min. or until chicken is done to 165F and potatoes are tender.
THE PREP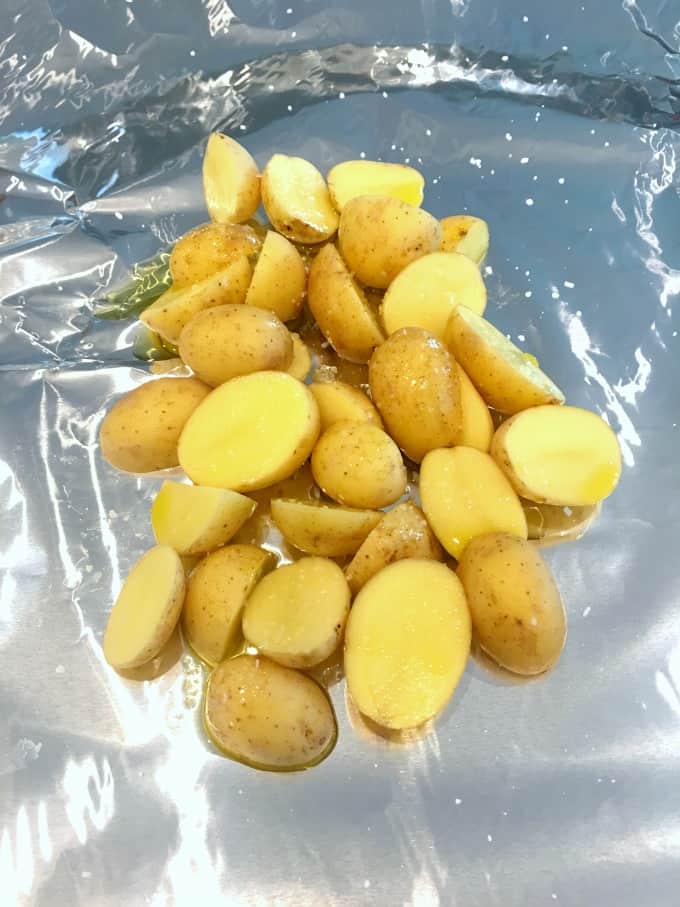 Such an easy prep, just slice, salt and oil the Little Potatoes and they are ready to go! I used a heavy duty foil for these packs. Gives you extra protection from them leaking on you!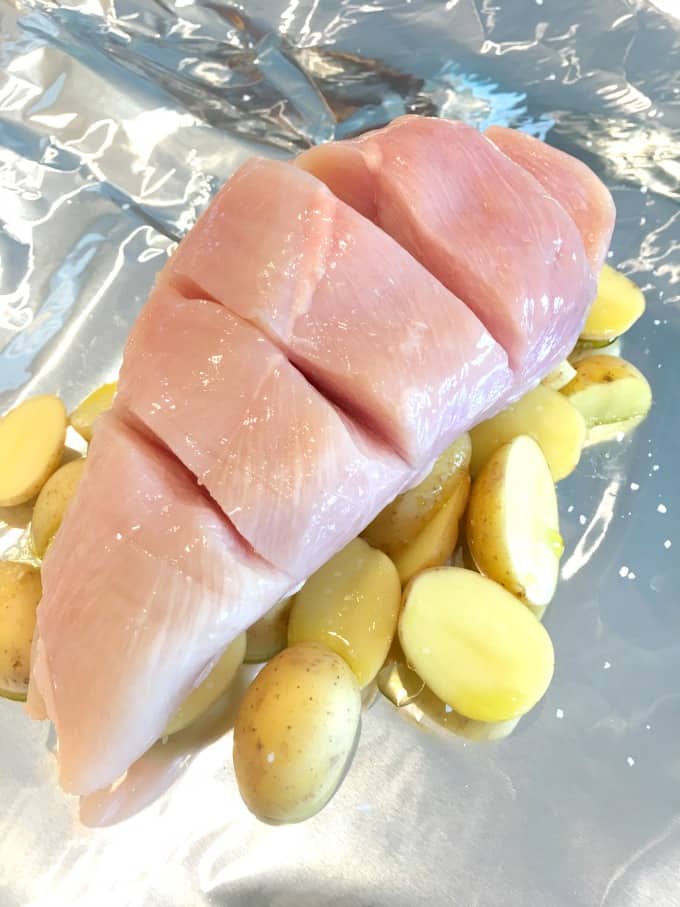 A nice big chicken breast works well for this recipe. Make four slices evenly spaced into the chicken but not all the way through and place them on top of the Little Potatoes.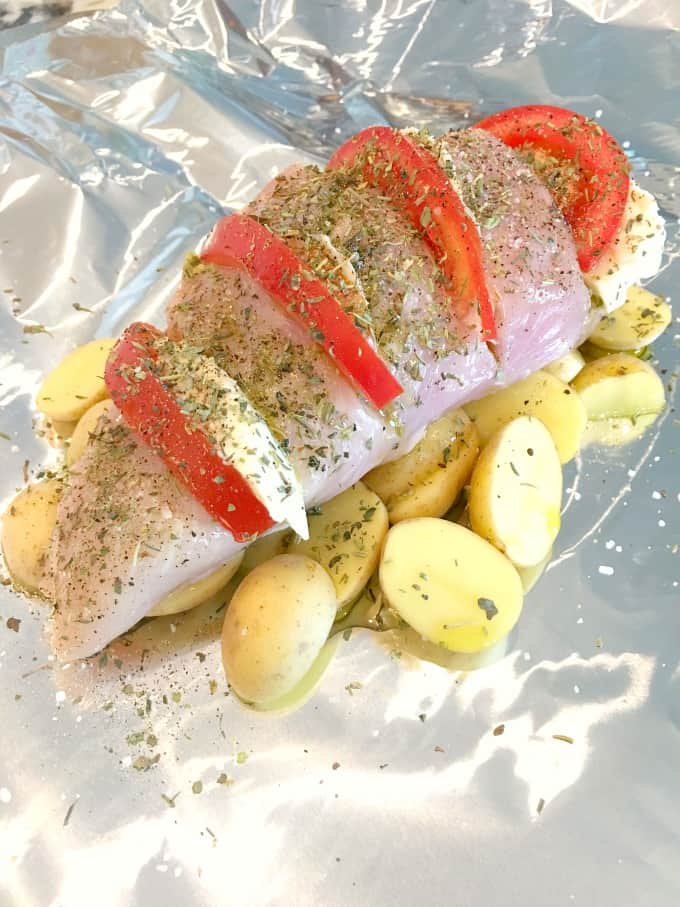 Spread a little pesto into each slice and then wedge in a half tomato and half slice of fresh mozzarella. Top the chicken off with salt, pepper and Italian seasoning.
Finish off with a drizzle of olive oil. Wrap up the chicken well bringing the sides up so they won't leak.

For this recipe I used Boomer Gold Creamer potatoes from The Little Potato Company. They are naturally buttery and went gorgeously with this recipe. You can use any varietal you choose though, they will all work wonderfully.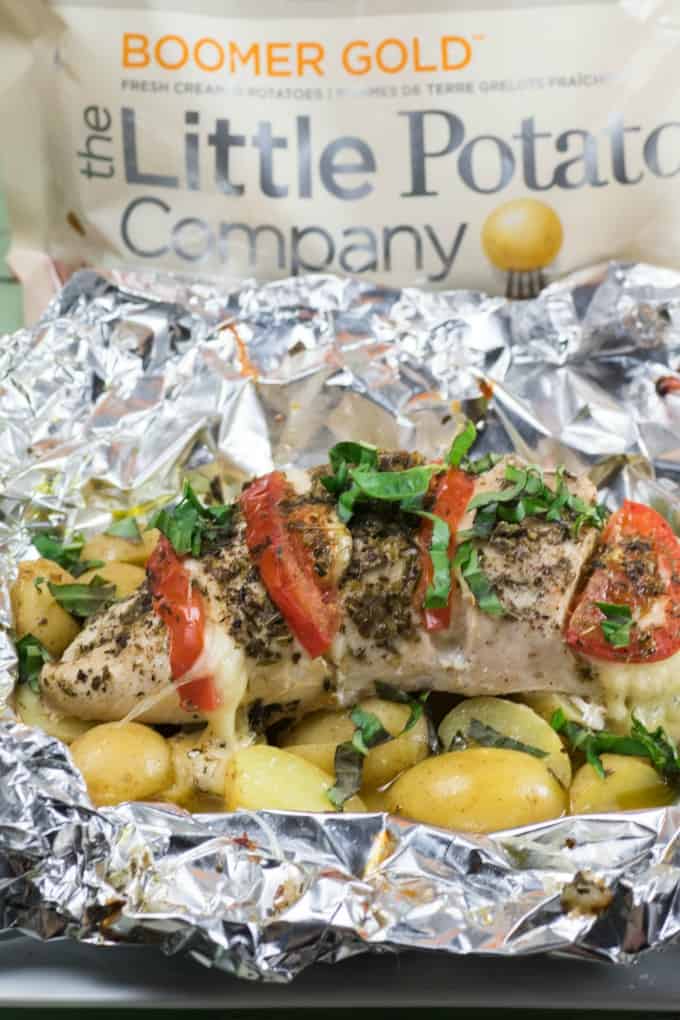 These are fun for the family as they are like a surprise package with a very delicious outcome for all!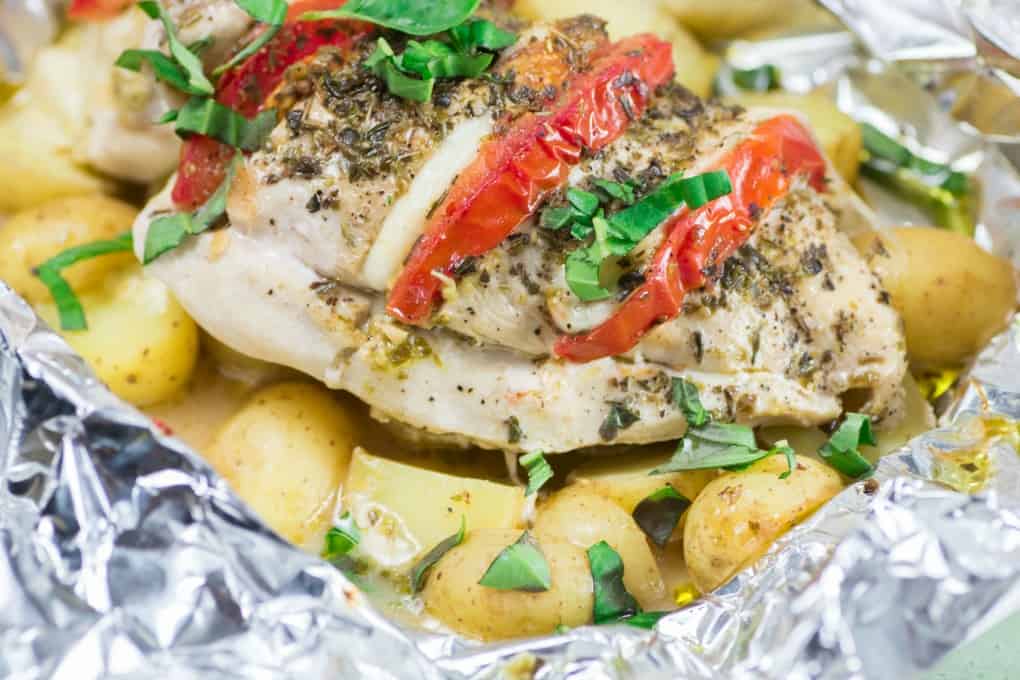 In a short 30 min. time you have the most moist and tender chicken and potatoes that are perfectly seasoned. A real treat that looks like you slaved but comes together in a matter of minutes.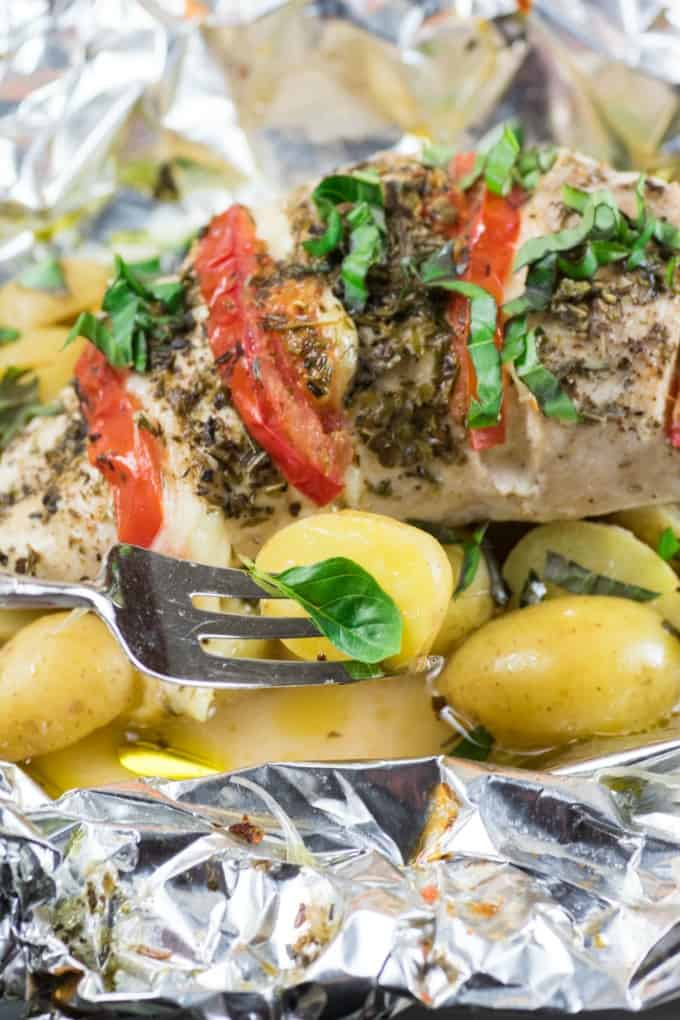 The potatoes are in a wonderful sauce that is created from the juice of the chicken, tomatoes and olive oil. They cook to perfection this way.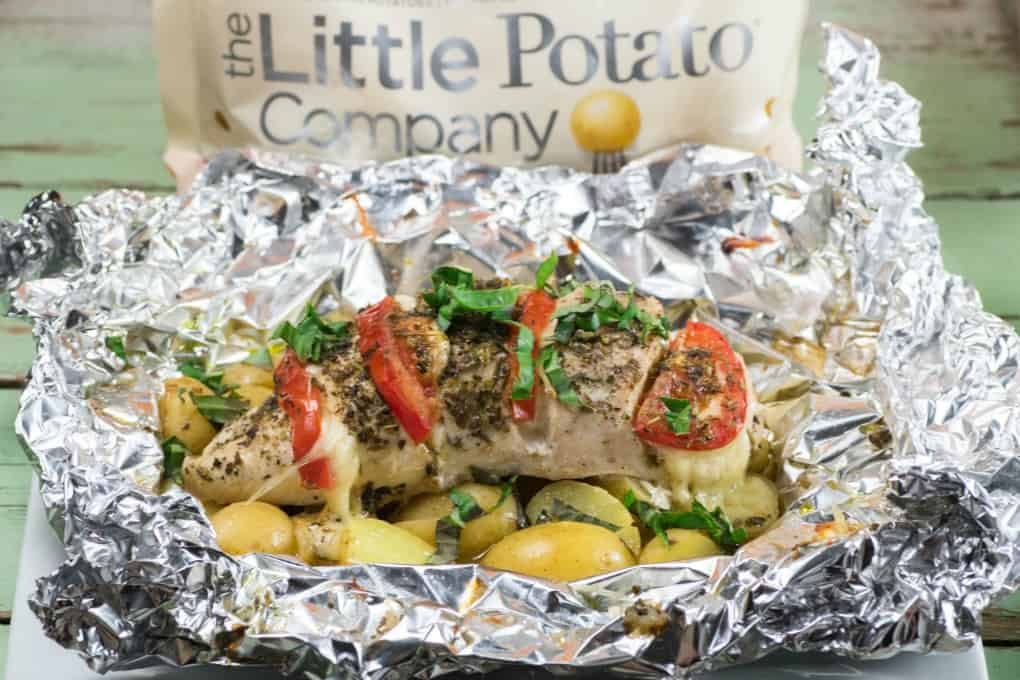 ADD A LITTLE SIZZLE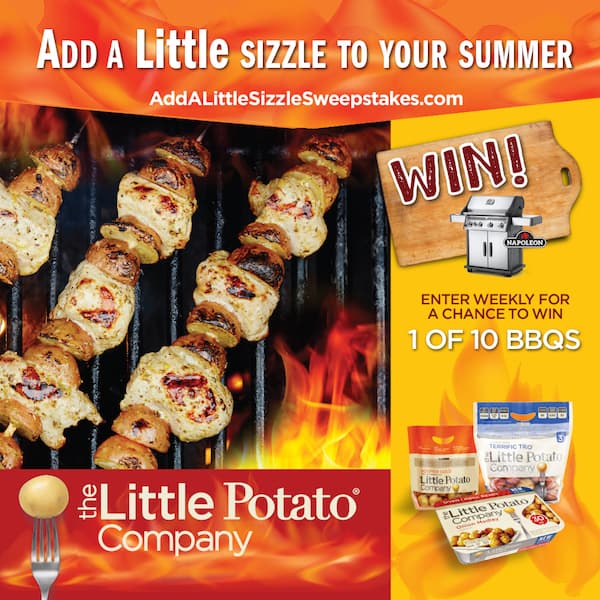 This summer, The Little Potato Company is giving away 10 BBQs to add a Little sizzle to your summer! You can enter to win 1 of 10 BBQ's in the Add a Little Sizzle Sweepstakes. It is easy to enter and do so every week until August 31, 2018. It is open to everyone across the US (except Hawaii and Alaska) and Canada (except Quebec).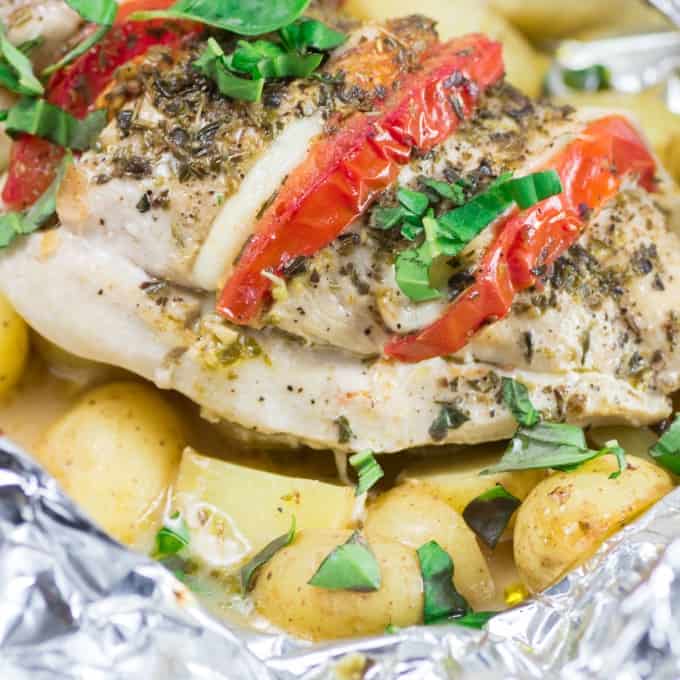 Also, check out our Grilled Little Potato Skins for another fun potato recipe on the BBQ!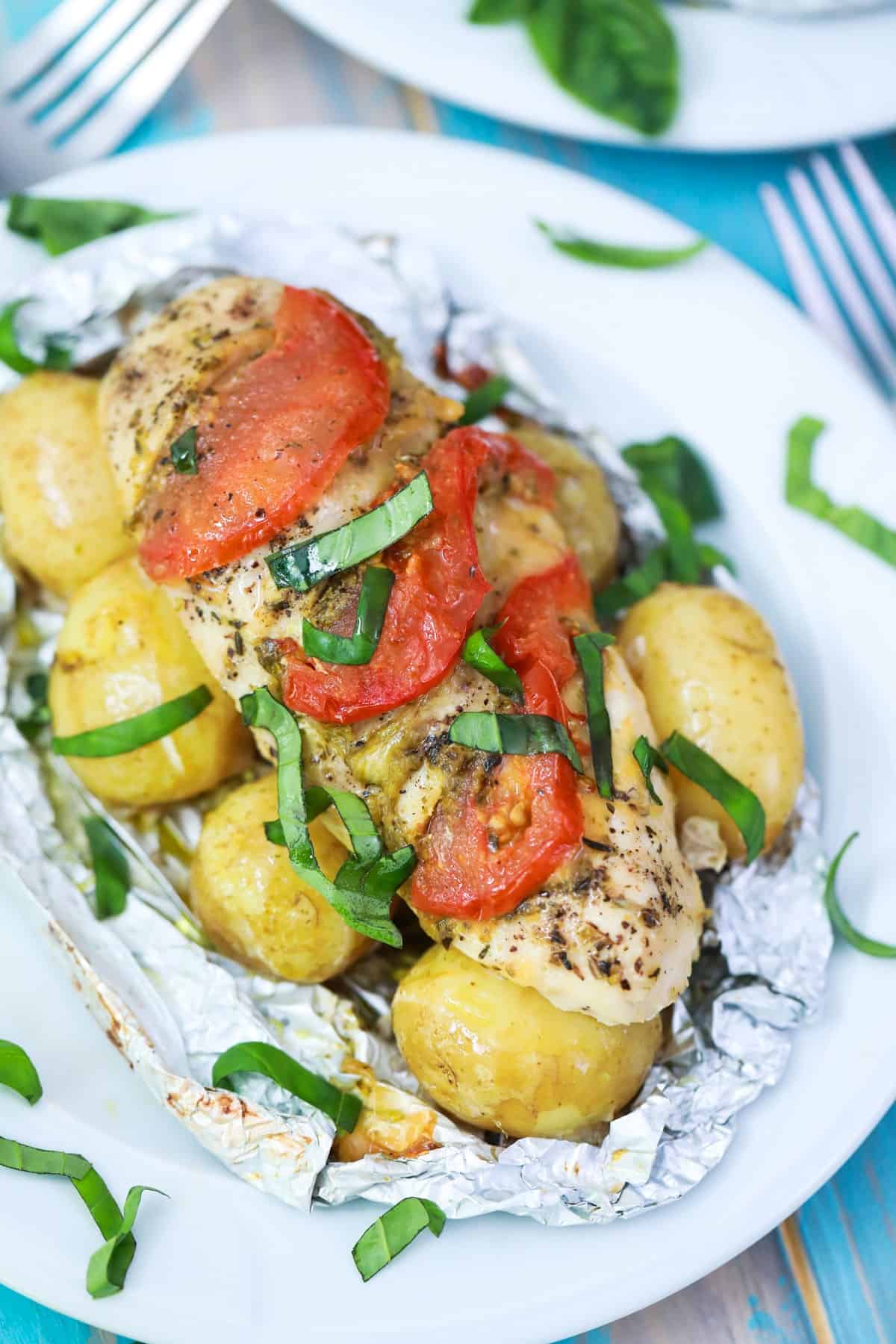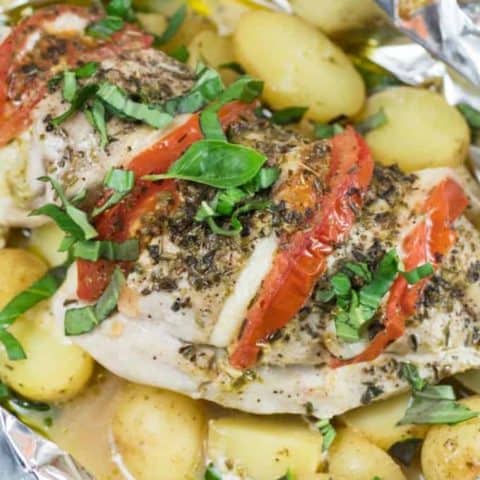 Grilled Caprese Chicken Little Potato Foil Packs
Yield: 4 servings
Prep Time: 15 minutes
Cook Time: 30 minutes
Total Time: 45 minutes
Grilled Caprese Chicken Little Potato Foil Packs are perfect for late summer cooking and back to school rush!
Ingredients
1 1/2 lbs. The Little Potato Company's Boomer Gold
Extra Virgin Olive oil
Kosher salt and pepper
4 large boneless skinless chicken breasts
1/3 cup pesto
8 oz. fresh mozzarella ball, sliced and then cut in half to make 16 pieces
2-3 large roma tomatoes, sliced and then cut in half to make 16 pieces
Italian seasoning, salt and pepper
Fresh basil for garnish
Heavy duty foil
Instructions
Heat grill to medium. Meanwhile cut 4 pieces of foil 18x12" and set aside.
Cut potatoes in half for large ones or leave the small ones whole and place a quarter of them on each piece of foil.
Salt each package and drizzle with olive oil.
Slice the chicken crosswise with four slices evenly, careful not to slice all the way through. Place the chicken on top of the potatoes.
Spoon approx. 1 tsp. of pesto into each slit. Place a slice of mozzarella and tomato into each slit.
Season each breast with salt, pepper and Italian seasoning. Drizzle each breast with olive oil.
Bring the two long ends of the foil up to meet and fold down a few times but not tightly. You want to have air to circulate to cook.
Bring up the side inwards so the packs won't leak.
Place directly on grill for 30 min. of until chicken reads 165F and potatoes are tender.
Remove packs from grill and carefully open as they will be hot.
Sprinkle with freshly cut basil if desired.
Recipe adapted from
Pillsbury
.