Grilled Lemon Pepper Chicken with a Yogurt Dill Sauce and a Greek Salad
This is my first foray into #SundaySuppers and I am so glad to be part of this group of fabulous bloggers with this Grilled Lemon Pepper Chicken with a Yogurt Dill Sauce and a Greek Salad. What a supportive and caring group of individuals. I am very impressed so far.
It has been a bit of a learning curve as there are many avenues of communication with this group and I am enjoying exploring them. The group was founded by Isabel Laessig or also known as Isabel Foodie. She is a keen organizer and has her fingers on the pulse of what is going on out there in the food world. #SundaySupper has a mission to get families back to eating together around the supper table. To enjoy each other's company and the food. I am so happy to be part of it. I would also like to say a thank you to Nicole Humphrey Cook for hosting this week.
This week we are featuring Back to School Meals. I am very blessed to have a child that is very easy to please, to say the least. She eats everything I put in front of her which is how we raised her. This so helps not only with what I can pack in her lunch but what I can serve her for dinner. With the fall coming and back to school we are on the run in the evenings and it is nice to get a meal together in 30 min. or less that is healthy, nutritious and easy. This is the only way I really enjoy chicken breast. They stay nice and moist when cooked quickly. You will be thrilled to add this meal and all the others to your crazy busy weeknight menu. Enjoy!!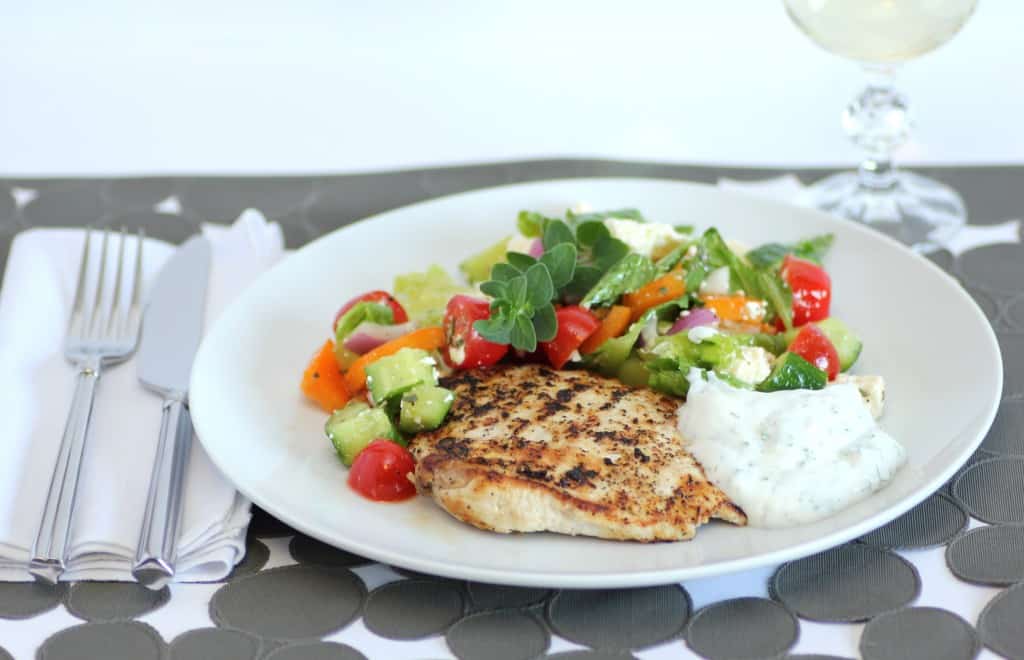 Grilled Lemon Pepper Chicken with a Yogurt Dill Sauce and a Greek Salad/Back to School Meals #SundaySupper
A fast great meal that you can have on the table in 30 min.
Ingredients
4 Chicken Breasts, pounded out thinly
Lemon pepper
Cooking Spray
Yogurt Dill Sauce
1 cup Greek style yogurt or sour cream
2 Tbsp. fresh dill
1 tsp. lemon juice
1 clove garlic, minced
Salt and pepper to taste
Salad dressing
⅓ cup olive oil
3 Tbsp. red wine vinegar
1 sprig oregano, minced
Salt and pepper to taste
Salad
1½ cups grape tomatoes, halved
4 small cucumbers, large diced
6 romaine lettuce leaves torn
1 yellow pepper, large diced
½ red onion, large diced
½ cup crumbled feta
Instructions
Make the yogurt dill sauce first by mixing the yogurt, dill, lemon juice, garlic, salt and pepper together. Refrigerate.
In a jar mix together the olive oil, vinegar, oregano and salt and pepper. Shake well and set aside.
Season pounded out chicken breasts with lemon pepper and grill on a grill pan sprayed with oil heated on medium heat for 4-5 min. aside or until cooked through.
While chicken is cooking toss the veggies in a bowl together with the dressing and the feta.
Serve the salad once the chicken is done with the yogurt dill sauce.
Here is a list of all the wonderful blogger that have joined in this week. Have a look through and enjoy their recipes too!!
If you enjoy live Twitter chat come and join us. We will be sharing great family recipes all day and want you to share yours with us! Join us at 7pm ET for our #SundaySupper Chat. Follow us on twitter by using hashtag #Sundaysupper or using Tweetchat. The subject this Sunday is back to school. Hope to see you there!!