I have a treat for you today!! An excellent Hot German Potato Salad made with Chilean Splash Creamer potatoes from The Little Potato Company. Have you tried this potato salad before? It really is amazing. Warm bacon, potato goodness with just the right sweet tang makes this potato salad delicious!
After you enjoy the post and recipe, scroll all the way down to enter to win one month free potatoes from The Little Potato Company.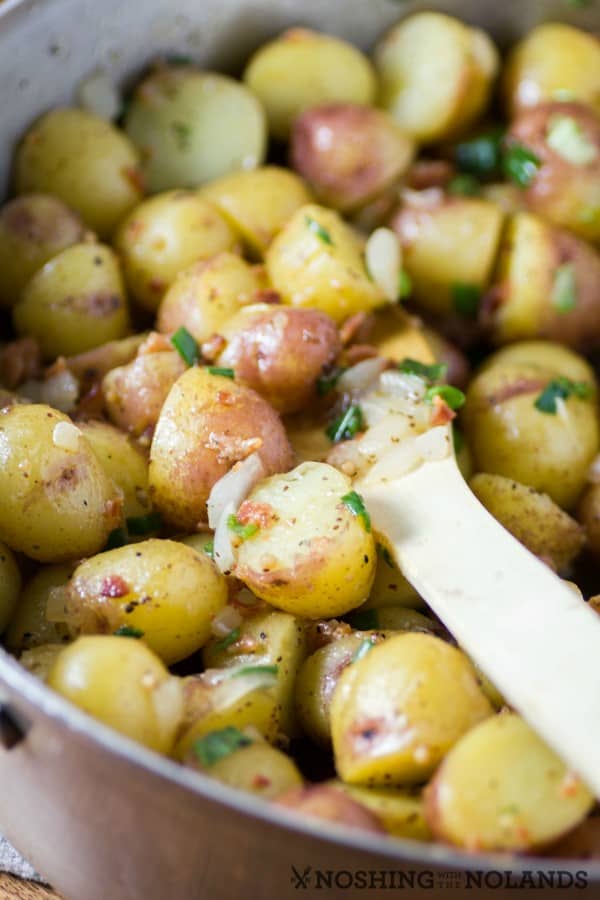 For this scrumptious Hot German Potato Salad I used little Chilean Splash potatoes as mentioned. These potatoes were originally bred in the rugged and fertile steppes of the Chilean Andes. They have a bold, rich, lively complex flavor for a little potato.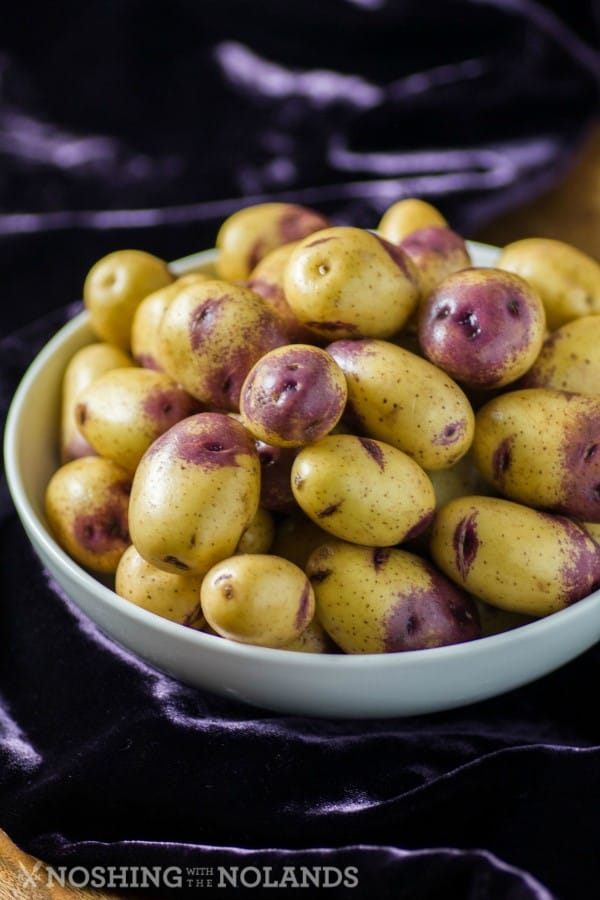 With a lovely splash of purple these Creamer potatoes will not only liven up your taste buds but have a catchy eye appeal too! They have a silky creamy skin and gorgeous yellow interior. These little oblong potatoes are just as versatile as all the other little potatoes in The Little Potato Company's family.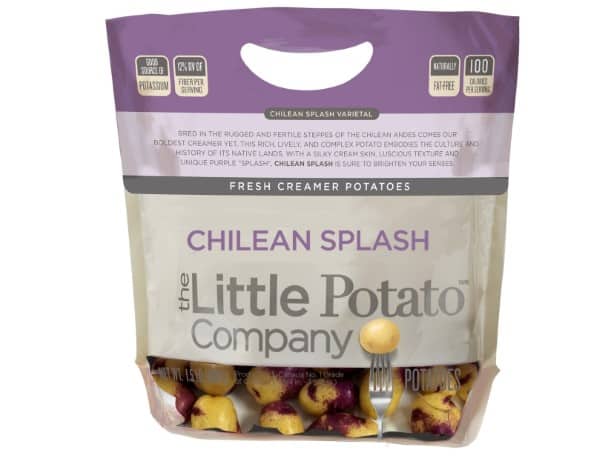 They come prewashed and are super easy to microwave, boil, BBQ, grill or roast. And just like the other members of the family they are a great source of potassium, fibre and only have 100 calories per 148 gm. serving.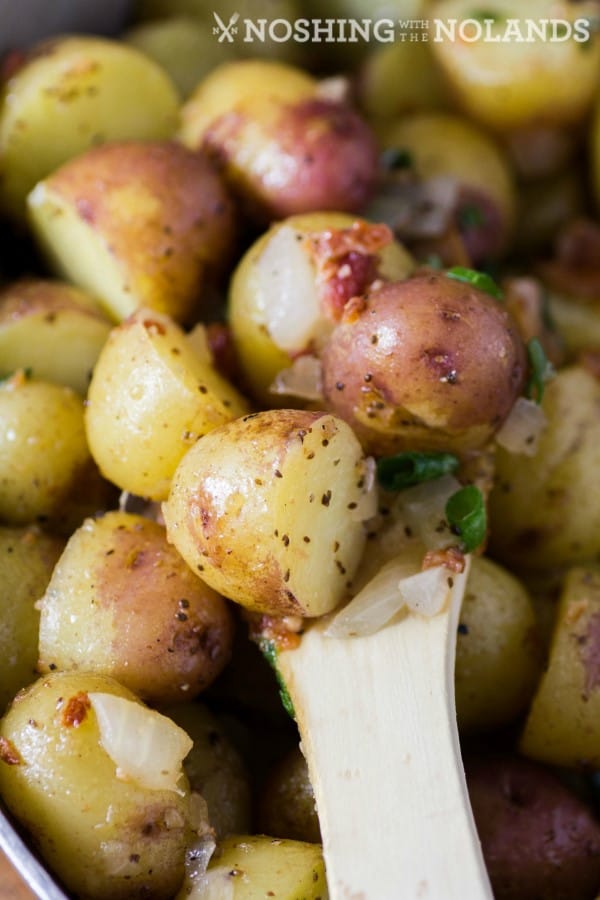 This excellent side dish is easy to pull together. Besides the pot the potatoes are cooked in, you just need a large skillet to cook the rest. Cook up your bacon to crisp and remove and set aside. Then in the same pan with leaving two tablespoons of bacon fat, (yup the good stuff), you saute up your onions and add in the rest of the ingredients. When the little potatoes are cooked (a quick 15 min.) add them into the pan along with the bacon crumbled and some freshly chopped green onion. There you have it and nothing will be better to go with so many dishes.
The Recipe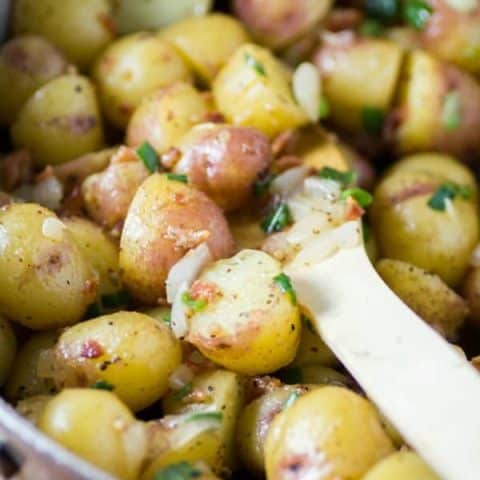 Hot German Potato Salad
Yield: 6-8 servings
Prep Time: 10 minutes
Cook Time: 16 minutes
Total Time: 26 minutes
A traditional Hot German Potato Salad is updated with Chilean Splash Creamer potatoes adding in a more lively flair and taste!
Ingredients
3 lbs. Chilean Splash Creamer potatoes
8 slices bacon
1 medium onion, chopped
2 Tbsp. white sugar
1 tsp. salt
Freshly ground pepper
1/2 tsp. celery seed
1/3 cup white vinegar
1 tsp. grainy mustard
4 green onion, greens chopped only
Instructions
Cut the larger little potatoes in half. In a large pot of salted boiling water add the potatoes and let cook for 15 min. They should be tender but still firm.
Meanwhile cook the bacon until crisp. Remove and set aside. Drain all but 2 Tbsp. of bacon fat from the pan. Cook the onion until translucent. Turn off the heat. Add in the sugar, salt, pepper, celery seed, white vinegar, and mustard. Stir to dissolve the sugar and salt. When the potatoes are done drain and place into the pan with the onions. Turn on the heat to medium and stir to coat the potatoes. Once the mixture has been mostly absorbed into the potatoes add in the bacon and green onions. Toss and heat through and serve.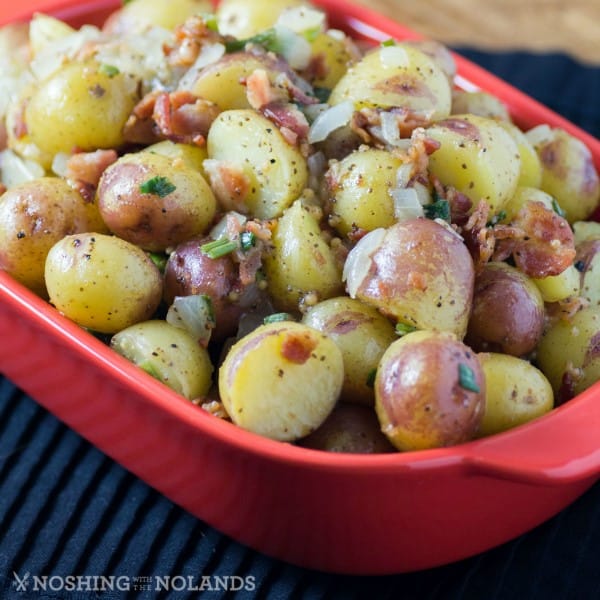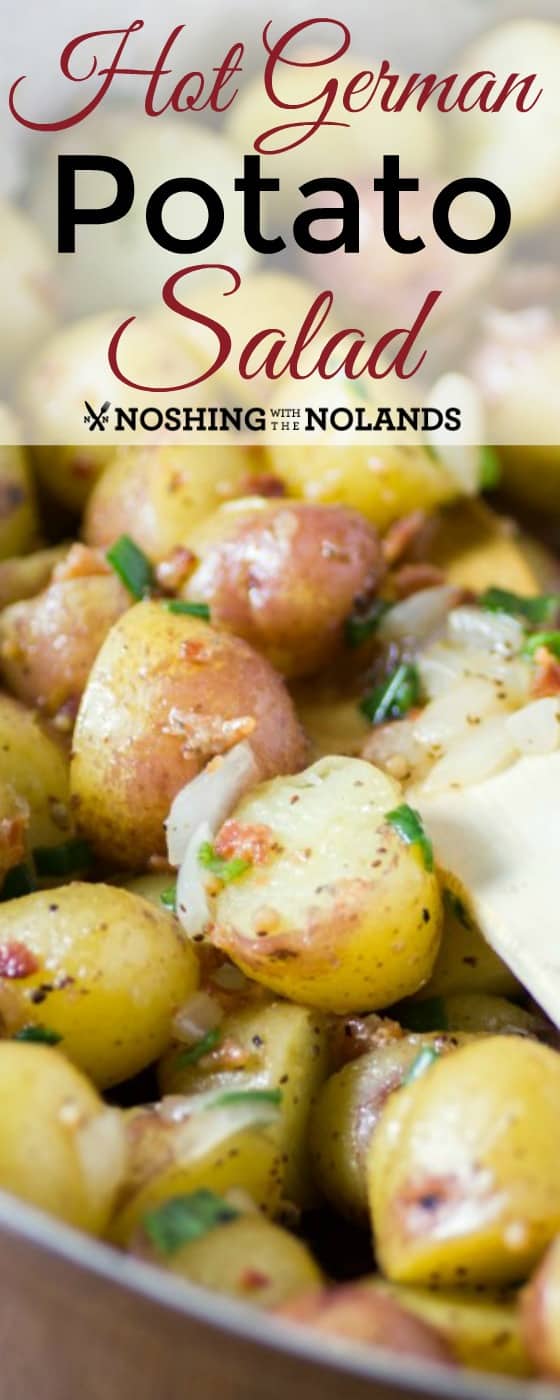 Here is our fun giveaway for one month of free little potatoes. Giveaway available to US and Canada. A random draw will be held on November 19th at 12:00am, which at that time a winner will be chosen. The winner will have 48 hours to respond by email or another winner will be selected. Good luck everyone!