Everyone says fall is the season for soup. I say, if fall is soup season, then winter is broth season! Did you know that you can use broth to help warm the chill, just like a great cup of tea. If you haven't you must and you have to try my Rich and Savory Beef Bone Broth recipe for just that. There is nothing more comforting and nourishing than a steaming cup of beef bone broth now that summer is over.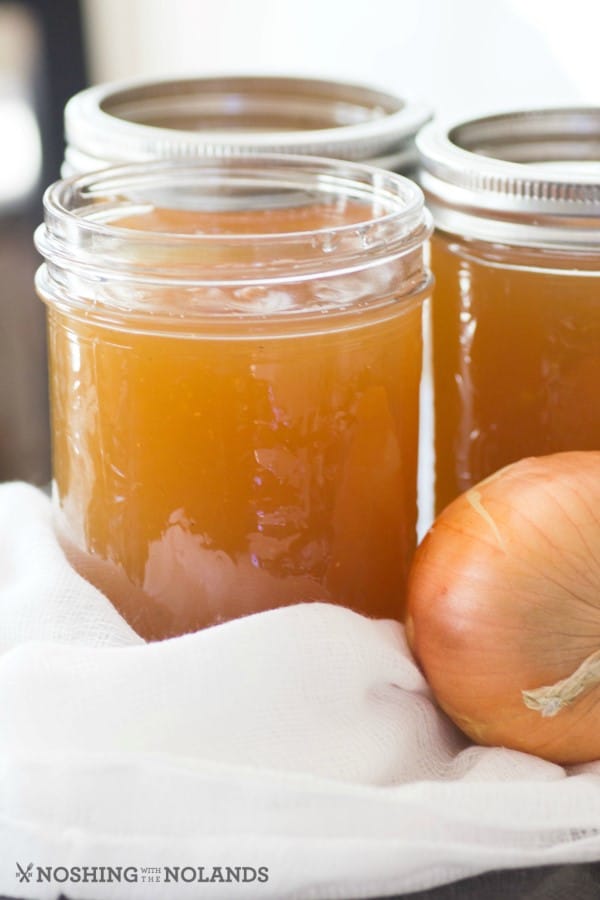 The flavor and richness of bone broth comes from using grass-fed beef bones and simmering the bones for 12-24 hours. It's this long cooking process that makes bone broth different than the normal stock you buy at the grocery store. By cooking the bones for a long time, it breaks down the proteins into gelatin. It's this gelatin that contains many antioxidants and amino acids that help detox your liver, improve your digestive health, and reduce joint inflammation.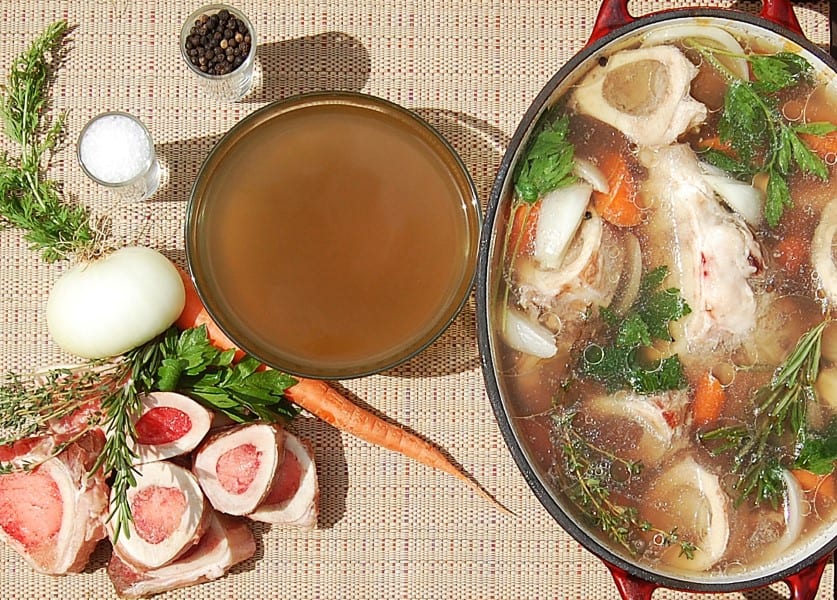 Now it's difficult to always make the time to make your own bone broth, which is why I sometimes purchase pre-made bone broth. There are other brands on the market, but I prefer Kettle & Fire because they use grass-fed beef bones and organic ingredients. They're also the only bone broth product that is non-frozen and shelf stable. You can check out their online store and get 15% off your first order with the promo code "NOSHING15".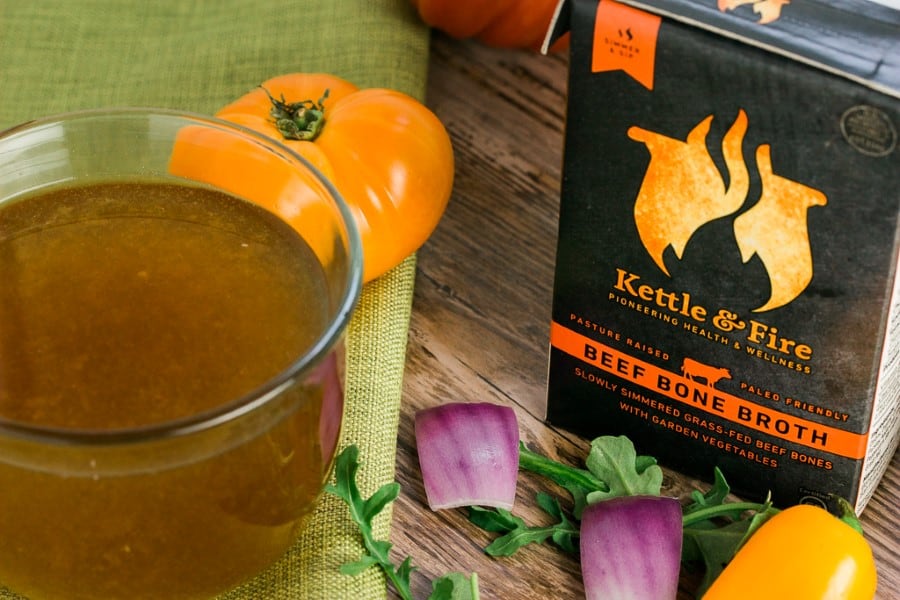 I still like to make my own and the process is simple. You just need a few quality ingredients, stock pot (or crock pot) and some patience.
I recommend roasting the bones first, this gives the broth a deeper and more complex flavor after simmer. If you are short on time, just throw the aromatics and roasted bones in the crock pot and simmer on low while you are at work or out all day.
Give it a try and you'll see I'm not crazy. A cup of beef bone broth really is the perfect thing to warm you up on a winter afternoon.
The Recipe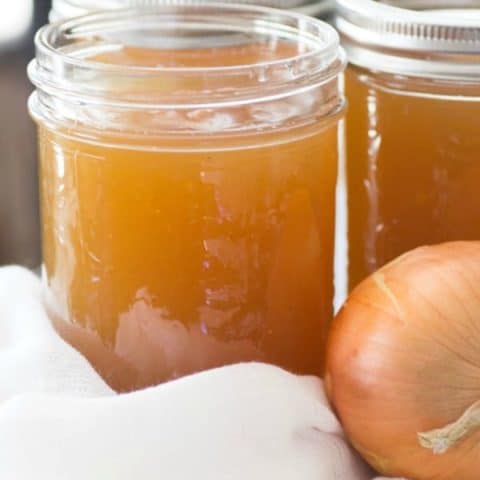 Rich and Savory Beef Bone Broth
Yield: 6-8 cups
Prep Time: 20 minutes
Cook Time: 1 day
Total Time: 1 day 20 minutes
Ingredients
3-4 lbs of mixed beef bones (oxtail, knuckles, neckbones and/or short ribs)
2 medium carrots (coarsely chopped)
3 celery stalks (coarsely chopped)
2 medium onions (coarsely chopped)
1 tablespoon of olive oil
2 tablespoons apple cider vinegar
1 bay leaf
Instructions
Preheat oven to 400 F. Place bones in a single layer on a sheet or roasting pan. Drizzle with olive oil to evenly coat.
Roast for 30 minutes, then, flip each bone over and roast for an additional 30 minutes.
Place roasted bones, chopped vegetables, bay leaf and cider vinegar in a large crock pot or soup pot and completely cover with water. Bring to a high simmer, then reduce heat to low.
Let simmer for 12-24 hours. Add water as needed to keep all the ingredients submerged.
Once the broth has reached a dark rich brown color, remove from heat. Discard the bones, vegetables and bay leaf and strain through a cheesecloth or wire strainer. Cool the pot to room temperature then pour into jars and cool in the refrigerator for at least 1 hour.
To serve, skim the condensed fat off the top of the broth and heat to the desired temperature.