How and Why to Crumb Coat a Cake, let's learn!! If you've ever looked at a cake with smooth buttercream icing or fondant and wondered how they managed to get their icing so perfect, the secret is surprisingly simple – a crumb coat.
Plus, for that naked cake look, you can simply stop there! Add some berries on top and you are done!! If you would like the recipe for this buttercream and cake, go to our Best Vanilla Cake Recipe. You can also try this when you are making our Best Chocolate Layer Cake or our Best Carrot Cake Recipe.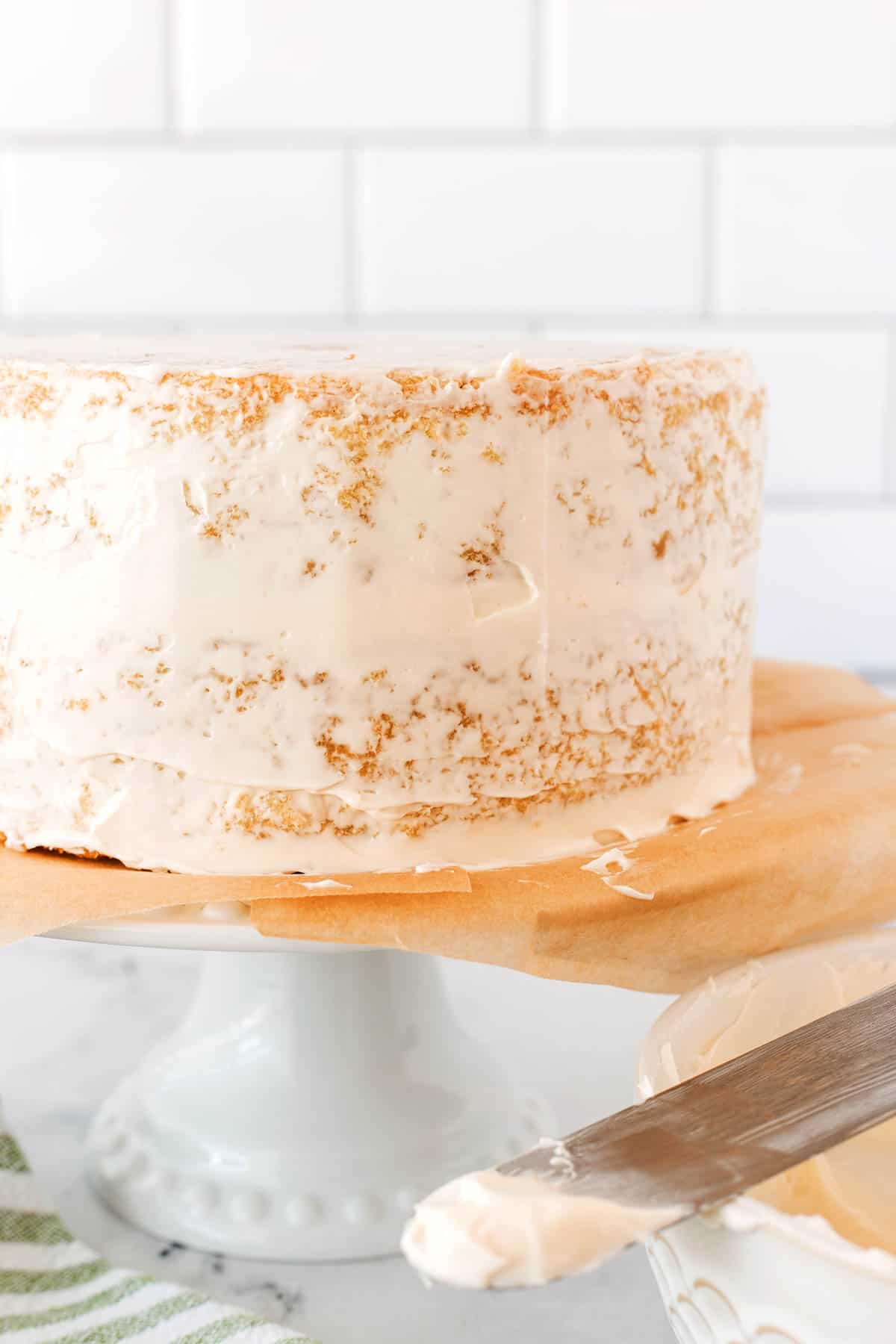 Subscribe To Our Weekly Newsletter
Helpful Items for This Post
This post contains affiliate links. As an Amazon Associate, I earn a small portion from qualifying purchases at no extra charge to you.
What is a crumb coat?
A crumb coat is the thin layer of frosting that is spread over a cake before the outer layer. The reason a crumb coat is so important is that it traps all the crumbs from your cake and seals them in so that your final layer is crumb-free and perfectly smooth.
While it can be tempting to skip the crumb coat because it takes a little bit of time to set, doing so risks the crumbs migrating to the outer frosting and your cake looking less than perfect. No matter what cake recipe you use, there will be some crumbs, and that's what the crumb coat is designed to catch.
It doesn't have to look pretty – it rarely does – and it doesn't need to look good to do its job. It also doesn't need to take a lot of time. A crumb coat can be done in just a few minutes. You have to wait for the cake to be completely cooled, though.
Think of the crumb coat as a primer or base layer. This gives you professional results even if you're not a professional. I'm not an expert baker by any means but the crumb coat followed by a final layer of buttercream frosting hides a lot of my small mistakes.
If the cake is a little crumbly – the crumb coat seals in the moisture and stops the cake from falling apart. If the cake is a little uneven, you simply spread a thicker layer of crumb coating over the imperfection. Then when your final layer goes on, nobody is any the wiser!
What is the Best Way to Crumb Coat a Cake?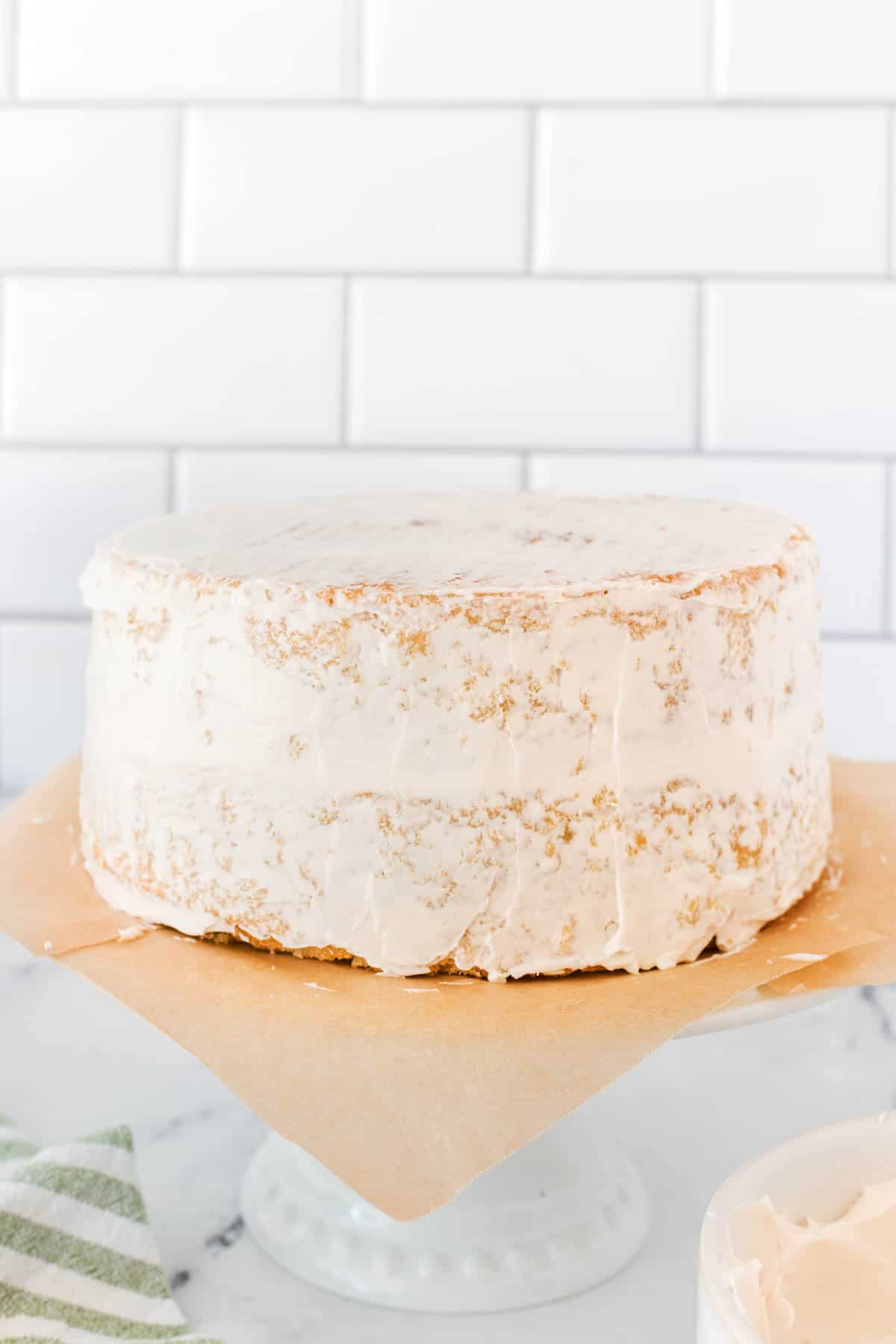 Technique plays a role in crumb coating your cake. You need to let the cake cool completely before you attempt to ice it. This also applies to "naked cakes", which are cakes with only a crumb coat frosting on them for a more rustic look.
If the cake isn't cooled completely, the icing will melt and make a sticky mess. The minimum you should wait is 2 hours. If you don't have 2 hours, carefully put the cake/layers in the freezer for 20 minutes to chill out.
Icing your cake on a turntable is also a great idea, but a cake stand works well too. Turn your stand as opposed to dragging the icing across the cake. This will help not to pull the crumbs off.
If you are making a layer cake, do this before you crumb coat. You'll want to put a generous amount of icing between the layers. This is also the time to level your cake. You don't need to wait between stacking the layers and crumb coating, but you can if you're worried about the layers moving.
Here's How to Crumb Coat a Cake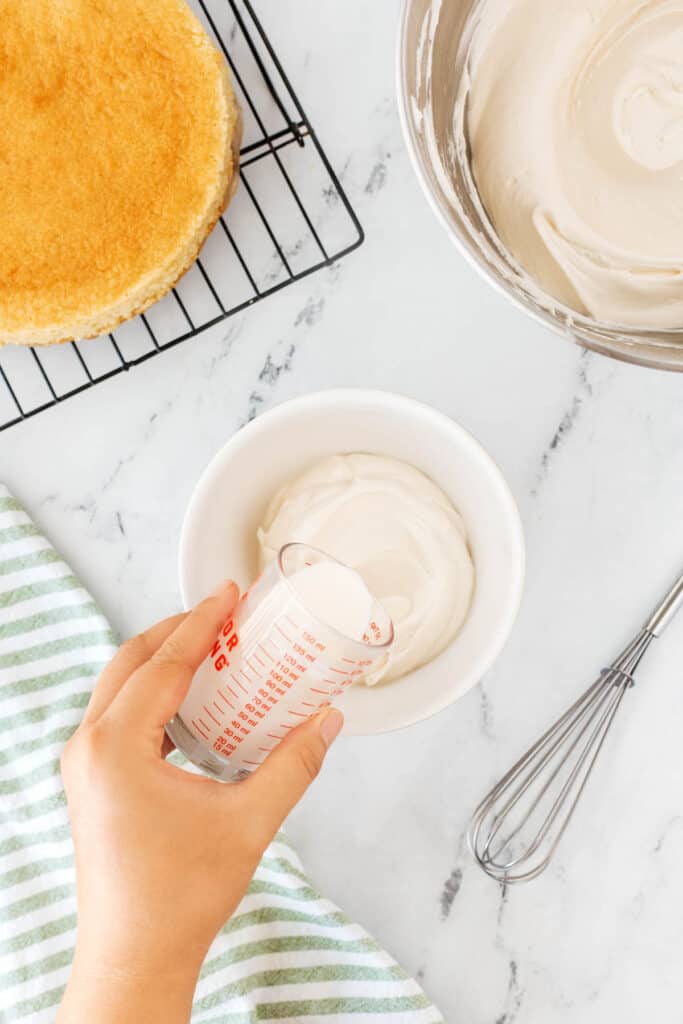 Get your supplies. You will need a large offset spatula or bench scraper, a pastry brush, and a small amount of buttercream frosting in a separate bowl (so you don't get crumbs in the main bowl). I like to thin this icing down just slightly so that you aren't pulling at the crumbs on the cake, and it smooths out easier.
Using the pastry brush, remove any large crumbs from the outside of the cake. This step may not be needed if your cake doesn't have many visible crumbs.
Put on your crumb coat. There are a couple of different ways to do this. You can use the offset spatula and just slather it on (lightly – this is a base coat!). You can also use a piping bag and pipe lines up and down the outside of the cake to smooth with the spatula or bench scraper. It's really up to you.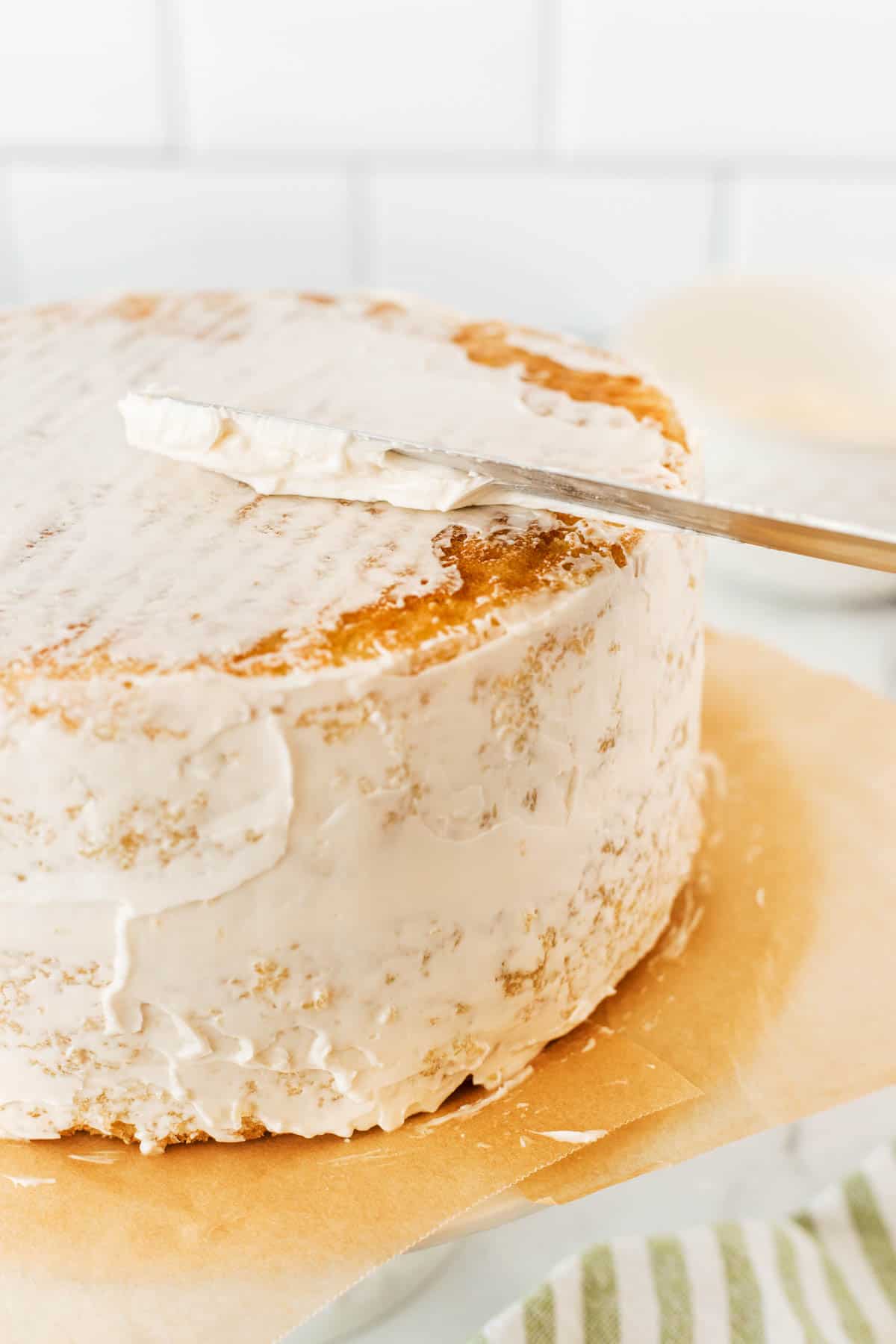 Chill the cake in the fridge for at least 20 – 30 minutes or up to 2 hours. If you are doing fondant icing, you'll need a second, thicker layer of buttercream after so the fondant adheres. If you're using buttercream, you can put it on after the crumb coat.
Crumb coating a cake takes a little bit of time and preparation but very little skill. It adds a touch of professionalism to your finished cake and makes the icing look phenomenal. Do you crumb coat your cakes before icing? Let me know in the comments.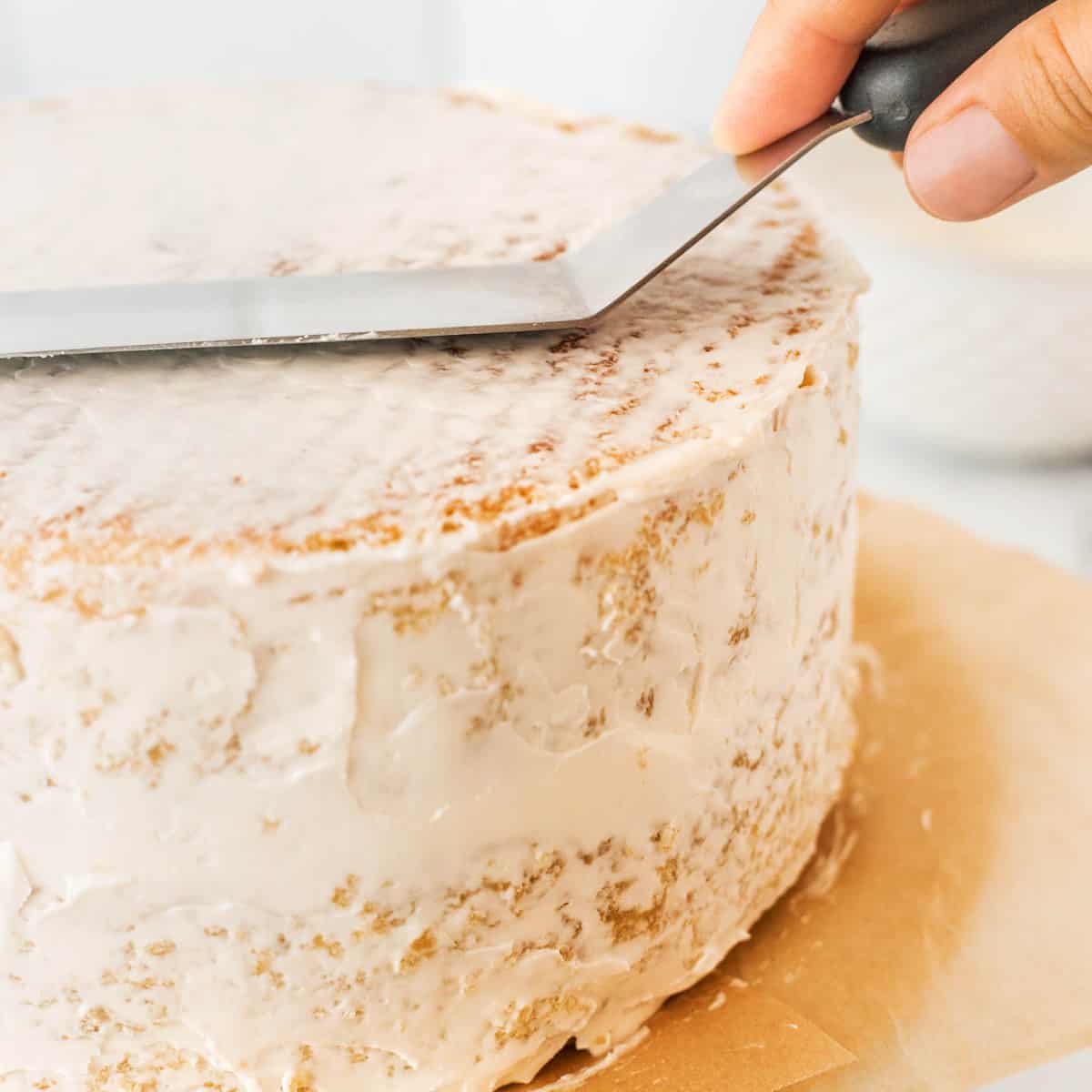 Pin it HERE!!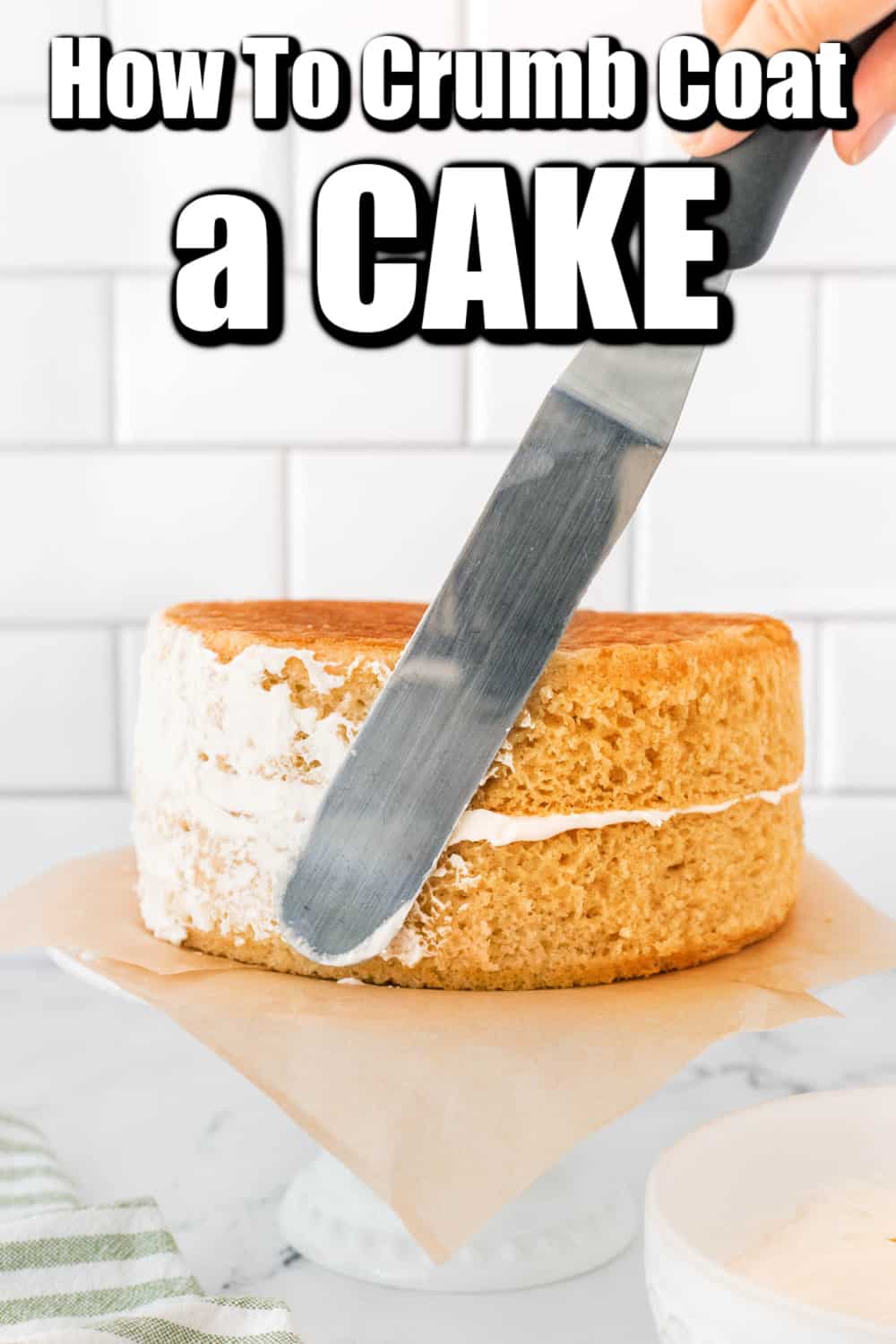 Pin it HERE!!