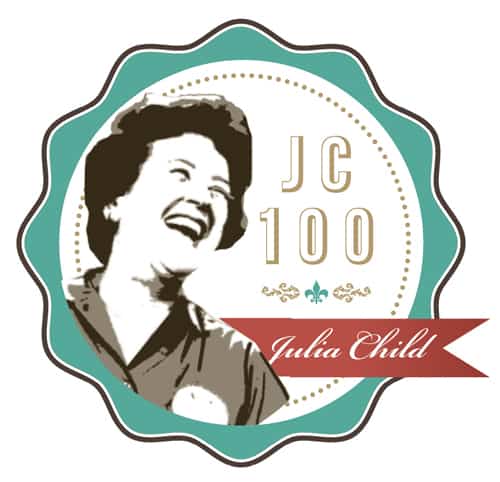 Julia Child's Reine De Saba or Queen of Sheba Cake for JC 100
Well, here we are on week 6 already celebrating JC100. Today We are making Julia Child's Reine De Saba or Queen of Sheba Cake for JC 100. I have never made this cake before but I now will never make another chocolate cake again. Amazing!!
If you follow Julia's instructions and techniques you will always have a foolproof recipe. This one was another example of that. It is moist and dense and simply delicious!! Never mind saying that it is quite the eye-catcher.
Come on and join the celebration and bake this cake soon, you will not be disappointed. A great tip Julia spoke about on her show was to place all your ingredients on a tray so that you will never forget to add something. Great idea!!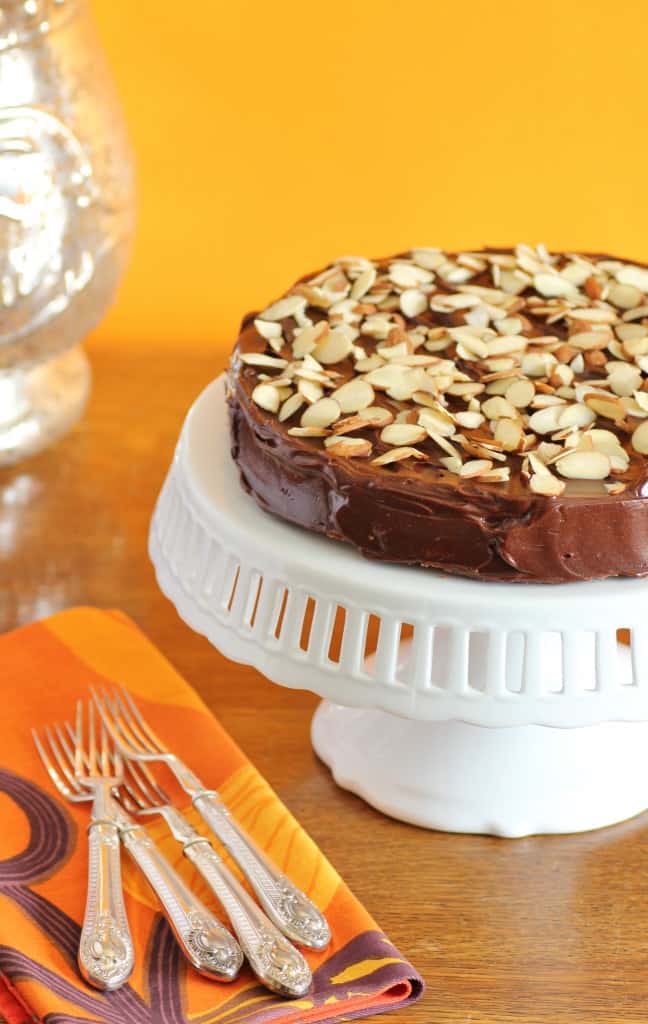 Julia Child's Reine De Saba or Queen of Sheba Cake for JC 100
Yield: 8 Servings
Prep Time: 25 minutes
Cook Time: 25 minutes
Total Time: 50 minutes
Julia Child's Reine De Saba or Queen of Sheba Cake is so good you will never make another chocolate cake again. Amazing!!
Ingredients
4 oz. semi-sweet chocolate or 2/3 cup semi-sweet chocolate chips
2 Tbsp. rum
1/2 cup softened butter
2/3 cup granulated sugar
3 eggs yolks
3 egg whites
1 Tbsp. sugar
1/3 cup pulverized almonds
Pinch of salt
1/4 tsp. almond extract
1/2 cup cake flour
ICING
2 oz. semi-sweet chocolate
2 Tbsp. rum
5 Tbsp. unsalted butter softened
Sliced, skin on, almonds for decoration
Instructions
Preheat oven to 350F.
Butter and flour an 8 inch round pan. Set the chocolate and rum in a small pan and place off heat in a larger pan of almost simmering water; let melt while you proceed with the recipe.
Cream the butter and sugar together for several minutes until they form a pale yellow, fluffy mixture. Beat in the egg yolks until well blended.
Beat the egg whites and salt in a separate bowl until soft peaks are formed; sprinkle on the sugar and beat until stiff peaks are formed.
With a rubber spatula, blend the melted chocolate into the butter and sugar mixture. Then stir in the almonds (my almonds stuck together when a ground them so I added a little half of a cup of flour to get them loose and easy to incorporate) and the almond extract. Immediately stir in 1/4 of the beaten egg whites to lighten up the batter.
Delicately fold in a third of the remaining whites and when partially blended. Sift in one-third of the flour and continue folding. Alternate rapidly with more egg whites and more flour until all the egg whites and flour are incorporated.
Turn the batter into the prepared pan, pushing the batter up to its rim with a rubber spatula. This will prevent the middle from rising too much. Give the pan one light bang on the counter and bake in the middle of the oven for about 25 min.
The cake is done when it has puffed and 2 1/2 -3 inches around the circumference are set so that a toothpick plunged into the area comes out clean; the center should move slightly if the pan is shaken and a needle comes out oily.
Allow the cake to cool in the pan for 10 min. Run a knife around the edge of the pan and reverse cake on a rack. Allow it to cool for an hour or two; it must be thoroughly cooled if it is going to be iced.
Place the chocolate and rum in the small pan again and cover and set in the larger pan of almost simmering water. Remove pans from the heat and let the chocolate melt for 5 min. or so, until perfectly smooth.
Lift the chocolate pan out of the hot water and beat in the butter a tablespoon at a time with a wooden spoon. Then beat over ice and water until the chocolate mixture has cooled to spreading consistency. At once spread it over your cake with a spatula or knife.
Nutrition Information:
Yield: 8
Serving Size: 1
Amount Per Serving:
Calories: 527
Total Fat: 35g
Saturated Fat: 19g
Trans Fat: 0g
Unsaturated Fat: 14g
Cholesterol: 142mg
Sodium: 190mg
Carbohydrates: 50g
Fiber: 3g
Sugar: 38g
Protein: 8g
Recipe calculation was provided by Nutritionix and is estimation only. If you need nutritional calculations for medical reasons, please use a source that you trust.
Excerpted from Mastering the Art of French Cooking by Julia Child. Copyright © 1961 by Alfred A. Knopf. Reprinted with permission from the publisher Alfred A. Knopf, a division of Random House, Inc.