Mr. Mikes Steakhouse Calgary
Mr. Mikes Steakhouse Calgary has moved into a northwest location. I was excited to try this casual dining spot. This restaurant franchise has been around since 1960 originating in British Columbia and staying there for many, many years. As of late they have been moving eastward and are now into Calgary.
Coming into the very friendly atmosphere of this restaurant has you immediately smiling and relaxing. A "come as you are" kind of place that encourages you to put your phone away, grab a game, a drink and some great food.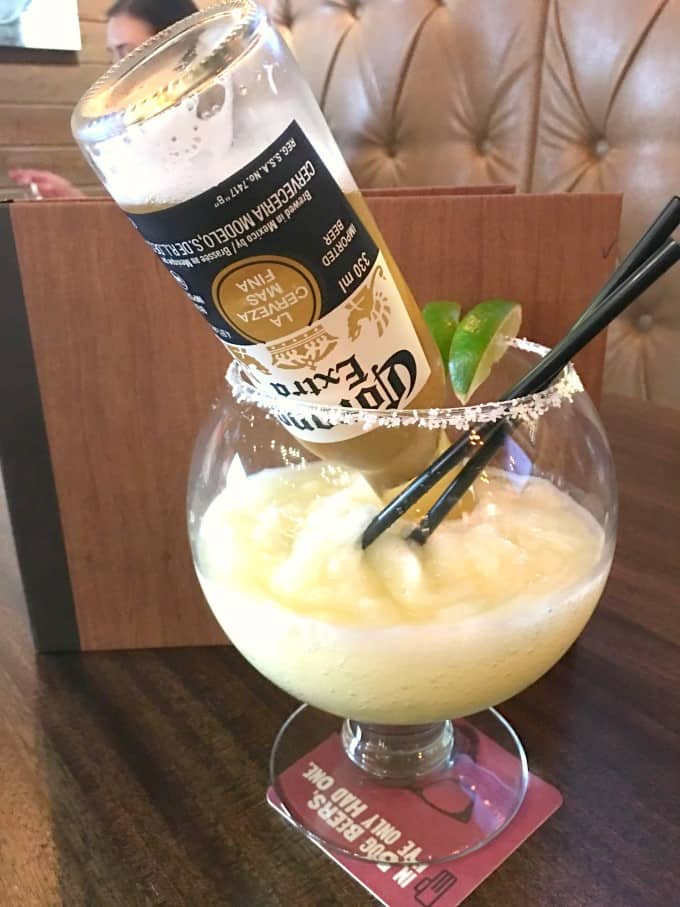 Ken dove into one of Mr. Mike's "SuperBowls" with this Mexican Bulldog. He has never had anything like this before but this is a kind of place you feel like enjoying yourself right away.
Giddy up with Cuervo Gold Tequila and Cointreau blended with fresh lime & orange juices, with an open Corona bottle plunged in head-first for an automatic refill.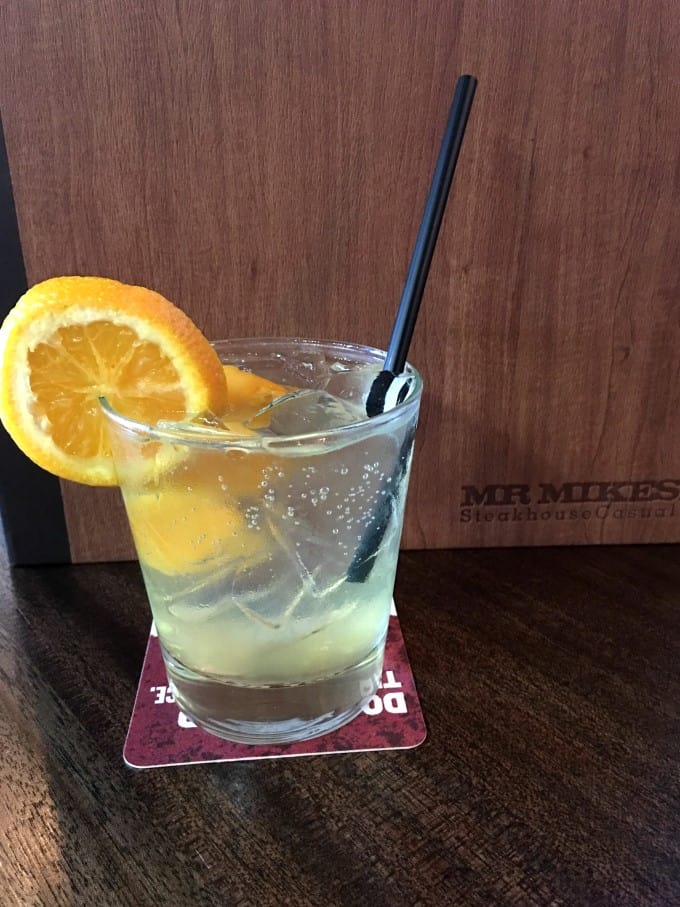 I was a little more refined with my selection as the Peaches & Cream was calling my name.
A delightful summer cocktail of Absolut Apeach Vodka, Galliano, fresh lemon & lime juice and soda. Garnished with mango and an orange slice. This was right up my alley!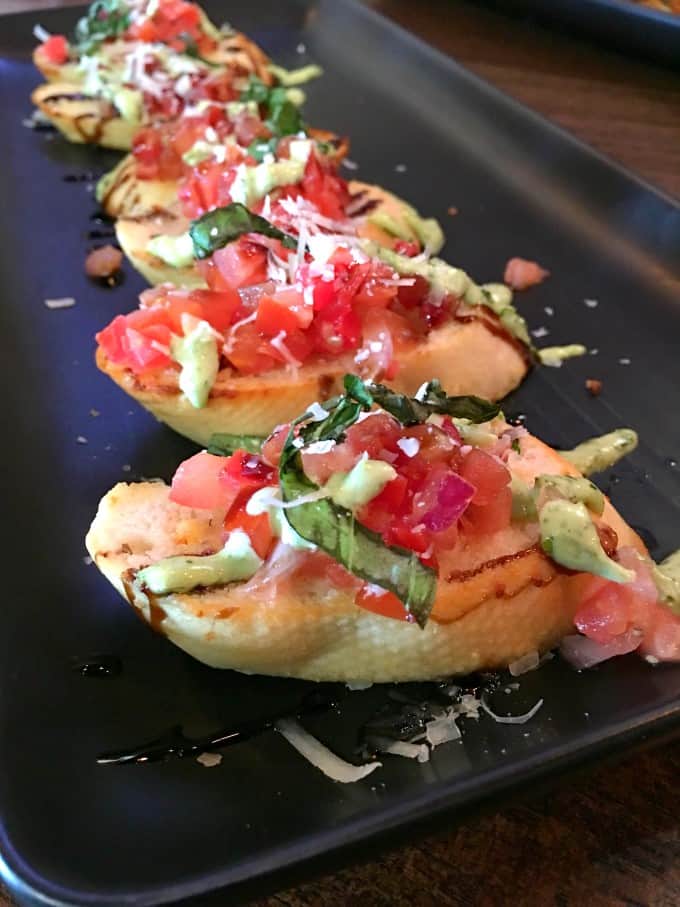 Our waiter Wayne was the very best. So bubbly and friendly and he said, we had to try his favorite when I asked for a suggestion of the new Fresh Tomato Bruschetta.
It was very, very good and I loved the combination of flavors of the toasted garlic rubbed baguette topped with tomato, red onion, fresh basil, herbed aioli, balsamic glaze and parmesan.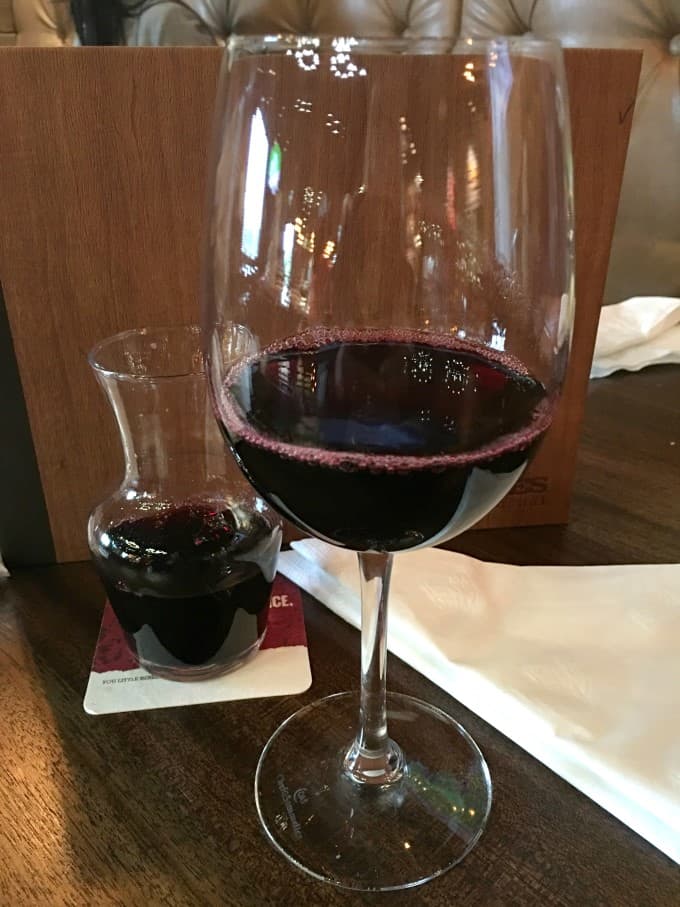 Mr. Mike's has a decent selection of wine and one of my faves for a red is this J Lohr Cabernet Sauvignon. It goes perfectly with a big juicy steak!!
Steaks Done to Your Liking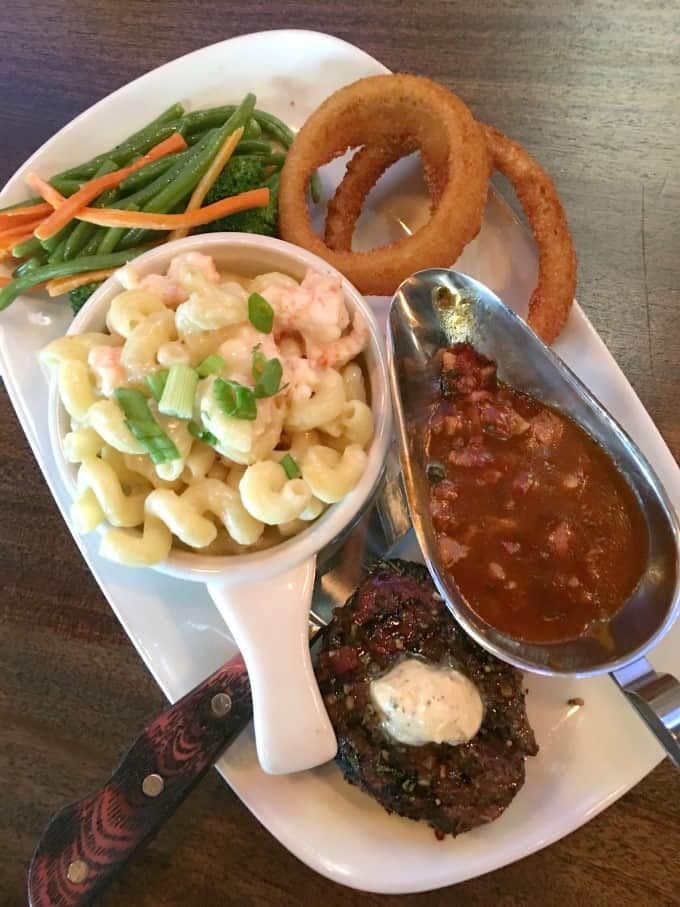 I knew for certain I was after a steak. Calling my name was the Sirloin and Cheesy Lobster Mac but I changed things up slightly as I wanted the Filet Mignon instead.
I also wanted the steak topped with some of their delicious looking garlic herb butter instead of the bacon peppercorn sauce. Well, they are extremely easy to accommodate you with whatever you would like. I even got to try the bacon peppercorn sauce on the side.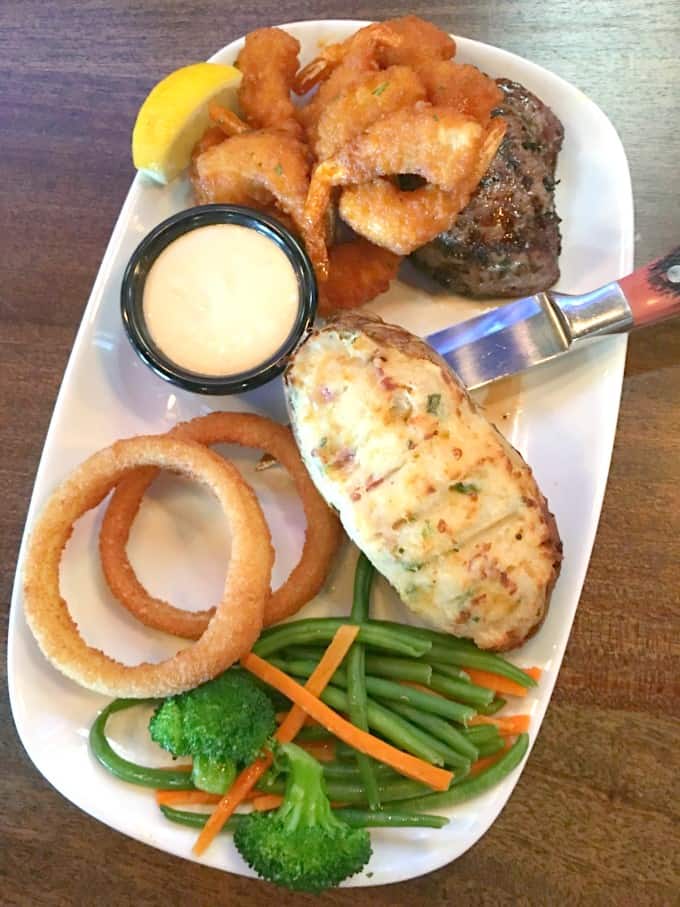 Ken indulged in the Sriracha Shrimpin' Sirloin. The steaks were done to perfection and we both loved our meals. Plus, there was a big doggy bag to take home!!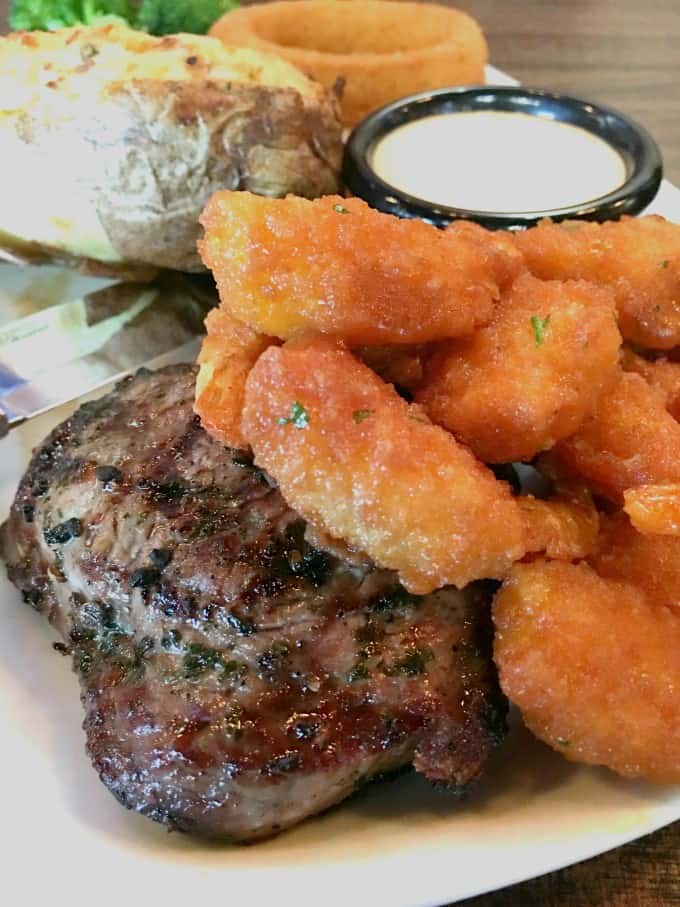 See how juicy that steak is! How tender and crispy looking those shrimp look! It is a mighty yummy meal!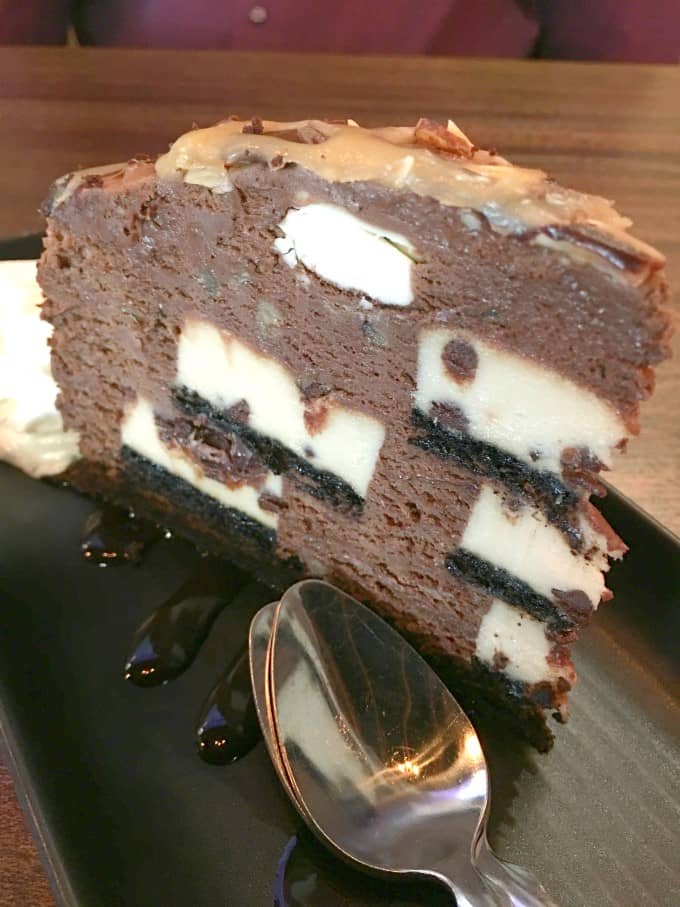 And a little surprise from our waiter was this jaw-dropping Rocky Mountain Madness.
It is turtle and chocolate cheesecake with caramel in a chocolate cake shell with almonds, shaved chocolate, chocolate hazelnut sauce and whipped cream.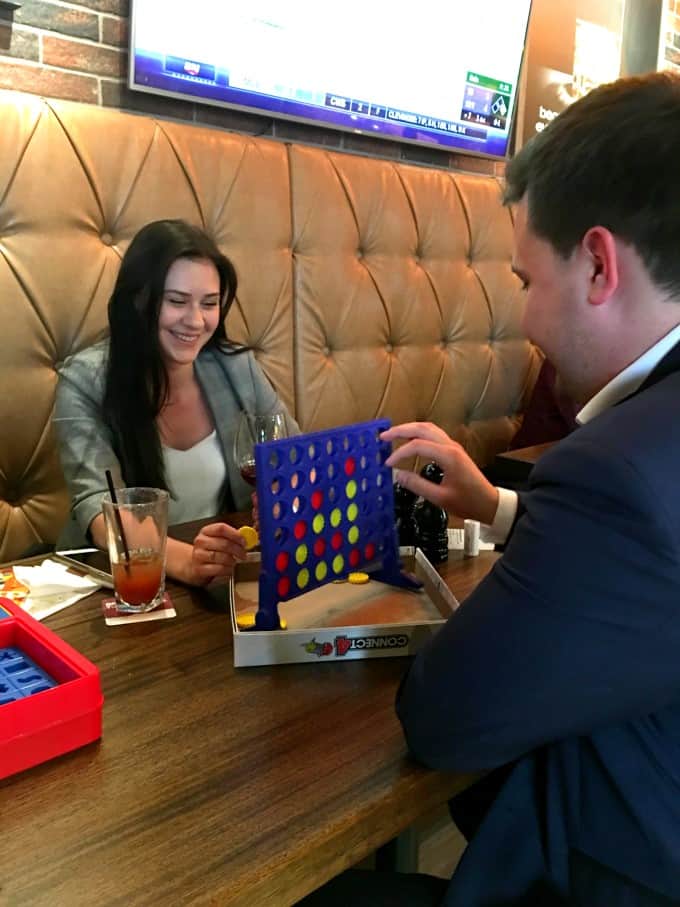 The lovely couple beside us were enjoying a fun game of Connect4 and laughing. Come down to Mr. Mike's so that you can "connect" again with family and friends and enjoy a great meal and drinks.
Come and follow along with the deliciousness and fun on Twitter, Facebook and Instagram.