MWM Cheesy Cauliflower Fennel Casserole
Need a great side dish for the holidays? Maybe try something new that is guaranteed delicious like this MWM Cheesy Cauliflower Fennel Casserole? I dug this out of the archives for you for Mouth Watering Mondays today.
Have you ever tried fennel, or cooked fennel? It is a lovely vegetable that definetly gets overlooked. When cooked and baked it has a very mild anise sweet flavor and is lovely paired with a vegetable like cauliflower. Adding in lots of creamy cheese only makes this casserole even more scrumptious. This side dish will be a welcome new addition to all your other traditional fixings for the holidays whether it is Thanksgiving or Christmas or just a special weekend meal.
Fennel is a flowering plant species of the carrot family. I just popped into Wikipedia and saw this. I did not know this fact myself. The tops or fronds of a fennel can be used as a herb and the bulb bottom as a vegetable. It is a perenial which has its' natural habit on the shores of the Mediterranean but is widely available in our grocery stores now.
Not only is the cheesy sauce rich and delicious with the cauliflower and fennel but the cracker topping is divine too! This is a simple recipe and can be made ahead with the topping separate. At time of baking just sprinkle the topping on top and pop it into the oven. If it has been refrigerated it will require further time to heat through.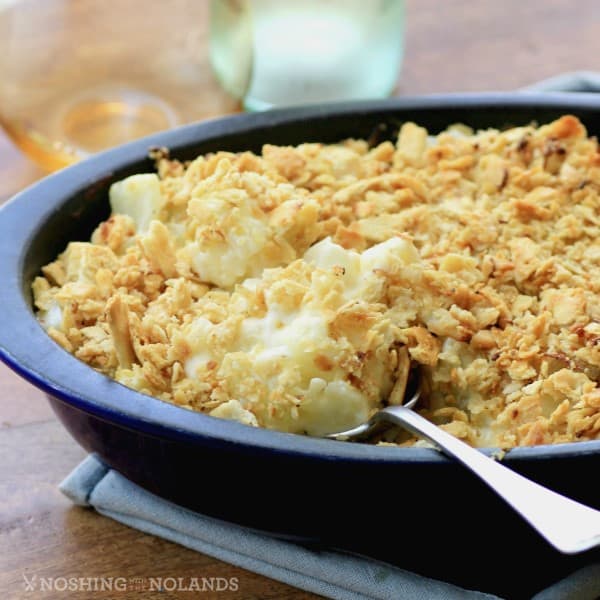 Try some fennel in your dishes you will be surprised with it wonderful flavor addition. For the original post and the RECIPE come on over HERE!! I hope you enjoy this casserole with your friends and family this festive season!!