These Sausage Stuffed Delicata Squash have a little story behind them. I received a couple of sausage kits to sample. They are homemade sausage kits from Hi Mountain Seasoning. I thought Ken would just love them. He adores sausage but has never made any from scratch before. I received them but then realized I don't have a food grinder or sausage stuffer. Well this lead me to KitchenAid. I will be doing a full review of the sausage kits in a couple of days.
I have had one of their standup mixers for so long now, maybe close to 15 years. It is a beauty and sits proudly on my counter top as it is used all the time. I have lots of KitchenAid products. Hmm, our coffee maker, two wall ovens, warming drawer, induction cooktop, dishwasher and I am sure I am missing other small appliances. I love KitchenAid and their products. I have always had good service and couldn't be happier with their great collections of amazing products.
They continued my love affair by offering me the attachments for the standup mixer so I could easily make these sausages or should I say Ken could easily make them, hehe!
Look at how handsome that food grinder looks attached to my lovely KitchenAid standup mixer!!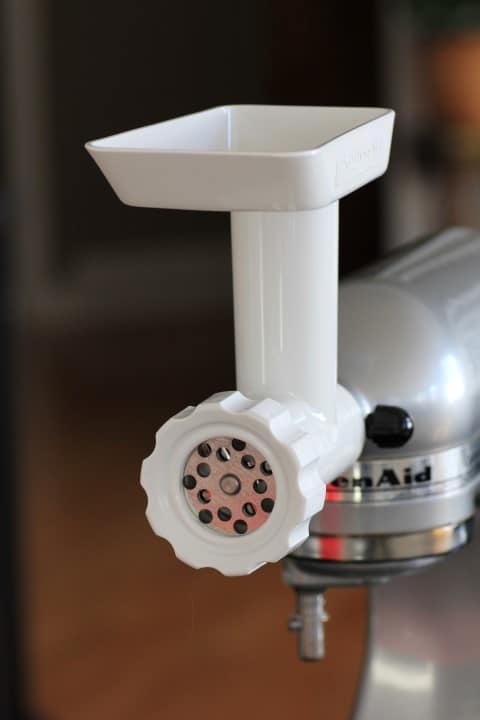 Here is the sausage stuffer attachment, yes, equally as handsome!!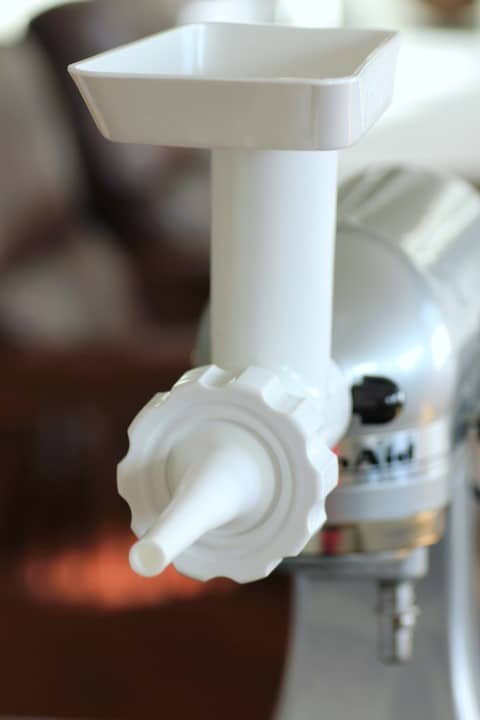 We made a spicy sausage with our kit and I will go into further detail about sausage stuffing with the next post too. All three of us were into it with the easy food grinder. Just pass whole chunks of beef and pork through the food grinder and viola this is what you get!!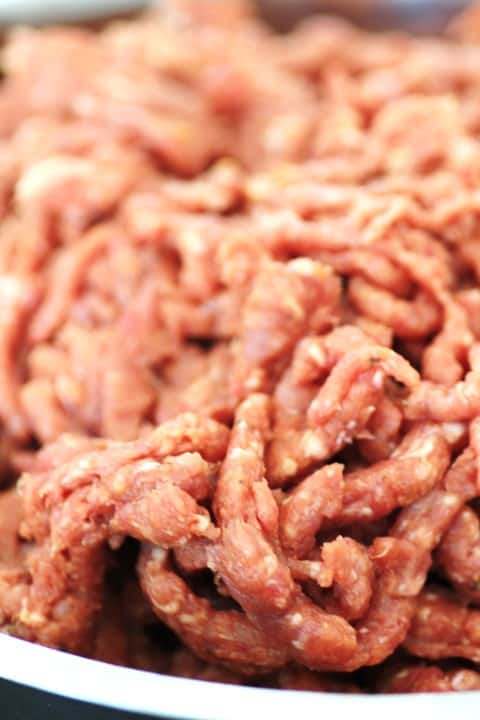 The meat after that is then spiced and is ready for the sausage stuffer, as pictured above and is encased in natural casings. Here is the the final sausages.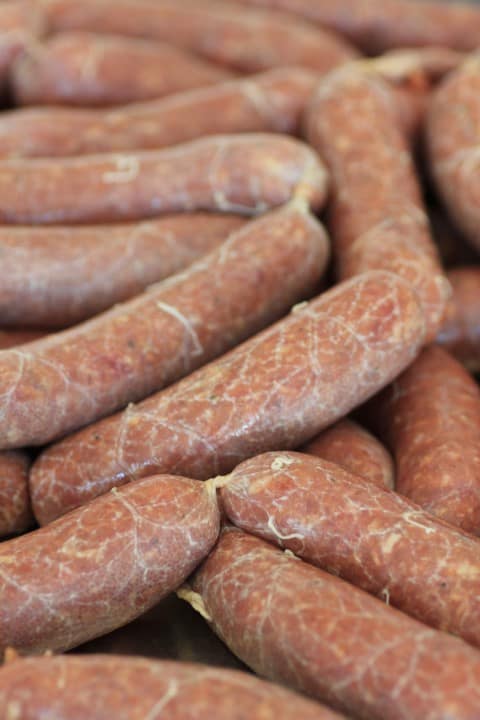 Pretty impressive huh? Not like we have made homemade sausages before. The instructions for the KitchenAid products were easy to follow and the end product turned out great!! These sausages then lead to another meal. I have been seeing these little delicata squash in the grocery stores and really wanted to try some in a recipe. I now give to you, Sausage Stuffed Delicata Squash!!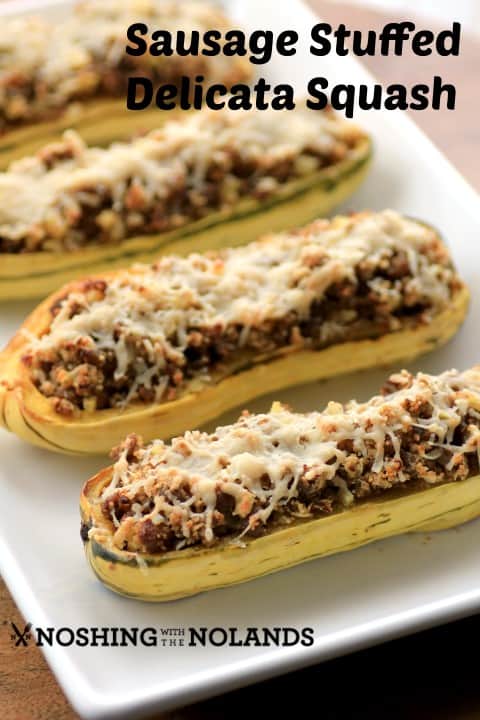 These little stuffed squash make the quintessential fall meal. The sausage was a little crunchy on top with the delicious Parmesan cheese and then soft and yummy with the squash at the bottom. The spice of the sausage was diminished with the sweet apple and squash, pairing the ingredients perfectly together.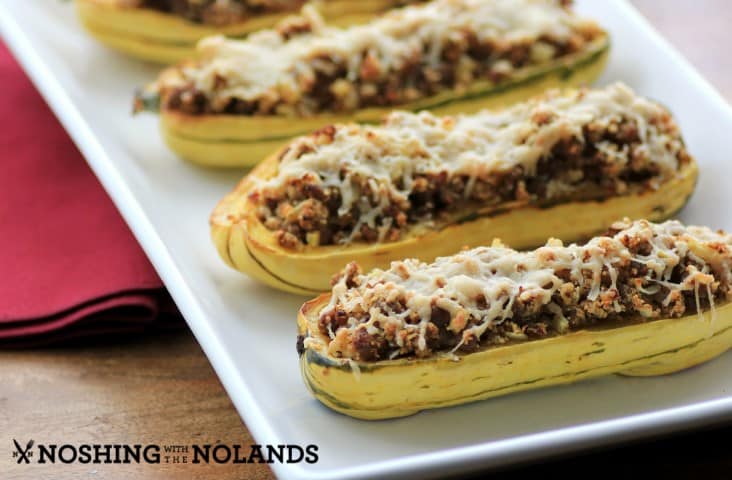 Try this or another squash with sausage, the two of them go so nicely together. Making homemade sausage was fun and easy with the KitchenAid attachments. I would love to try out a pasta attachments next. Keeping my fingers crossed!!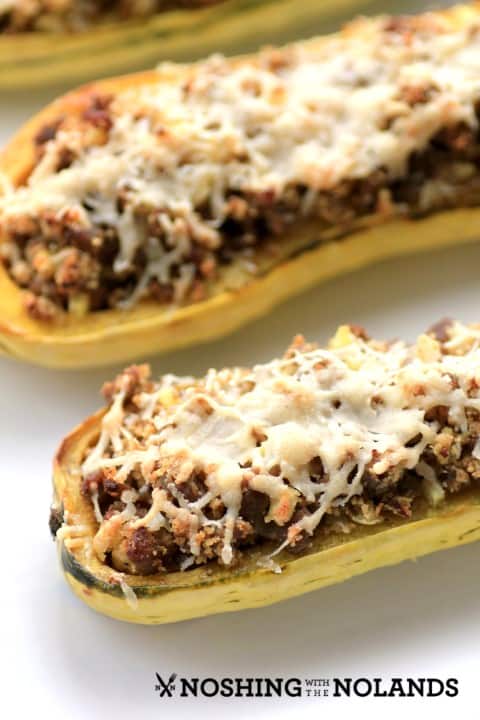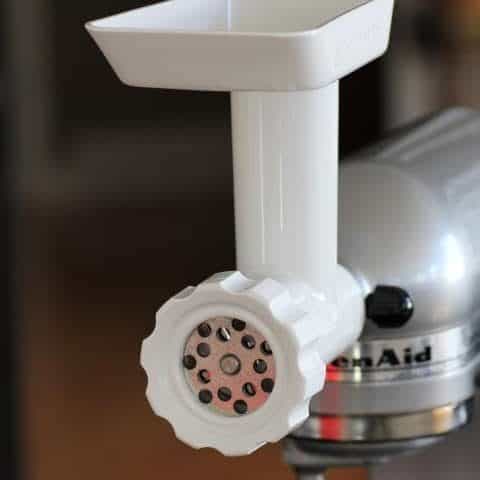 Sausage Stuffed Delicata Squash #KitchenAid
Yield: 4
Prep Time: 20 minutes
Cook Time: 1 hour 5 minutes
Total Time: 1 hour 25 minutes
A quintessential fall entree with sausage, squash and apples.
Ingredients
2/3 cup finely diced apples
1 small onion, finely diced
2 Tbsp. olive oil, divided
Salt and pepper
2 cups spicy sausage, removed from casings and cooked
1/2 cup fine bread crumbs
1 egg, beaten
2 delicata squash
1/2 cup finely grated parmesan
Instructions
Preheat oven to 350F. Slice squash in half lengthwise and clean out the seeds. Lightly brush with 1 Tbsp. olive oil and season with salt and pepper. Bake for 30-35 min. face down, until fork tender. Don't over cook so that the squash is falling apart.
While the squash is cooking, saute the apples and onion in the remaining 1 Tbsp. olive oil and season with salt and pepper. Continue cooking until the onions are transparent. Remove to a bowl and add the egg, bread crumbs and sausage.
When the squash are cooked fill them with the sausage mixture, pressing in slightly to fill well. Top with the Parmesan cheese and bake for another 20 min. until the cheese is melted.