Want a fun cookie that is more of a craft than a recipe? Then try these Polar Bear Cookies I have for you today. I originally saw this cookie on Pinterest and followed it over to Everyday Dishes last year.
Amber and I were all set up to do this fun cookie. We tried it but for the life of me, I could not get the little marshmallows to work for the ears. The cookies kept breaking and the ears kept falling out. Our project was kind of ruined sadly until Amber came up with an ingenious idea to use the candy-coated chocolates as ears also.
That worked so much better for us but we were almost done when she thought up this suggestion, so we packed it in for the year. If you would like another fun fall edible craft try our fun Thanksgiving Turkey Leg Candy or our Snowman Cake Pops. Or if you want to bake some cuteness try our Reindeer Linzer Cookies.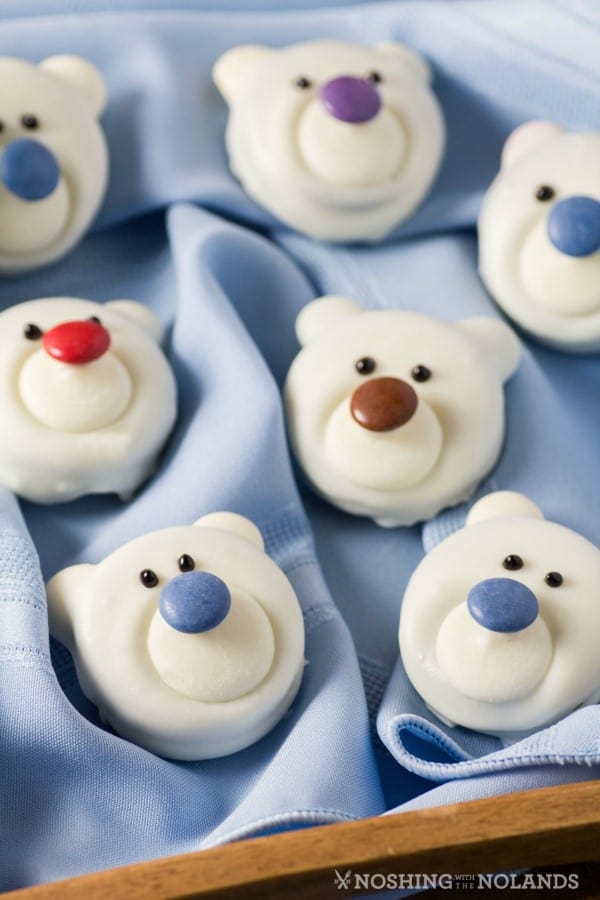 This year I wanted to try again, so we assembled all of the ingredients and went back at it. Please go over to the original post to see what Everyday Dishes did.
You may have better luck than I did with the little marshmallow ears. They are white and would work well colour wise for sure. We used the paler coloured candy-coated chocolates to use for the ears and then the red, blue, purple and brown for the nose. The orange ones………..we ate!!
Helpful Items for This Recipe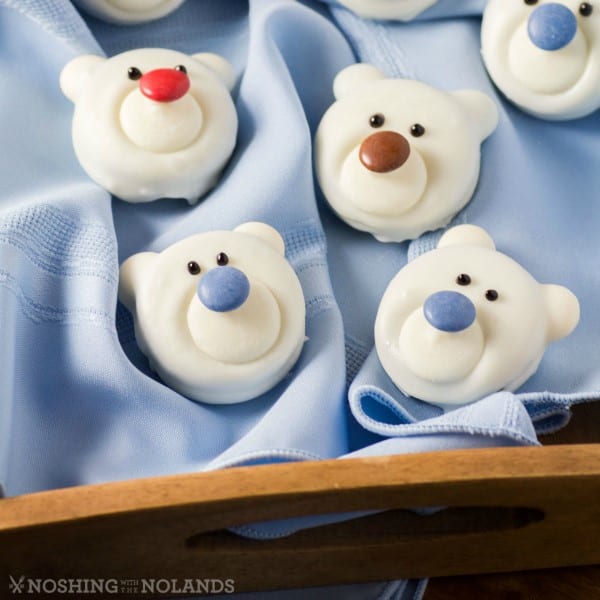 Aren't they adorable? You don't have to make many of these to liven up your cookie tray for the holidays. They are pretty sweet anyway so the kids will be after them for sure. The recipe makes 12, which I think is just the right amount.
Another thing that I would change up is to use black icing in a tube as opposed to the decorator gel. It doesn't dry so the cookies are hard to pack away without smearing. These little guys are still a work in progress for us but I had to share them with you now.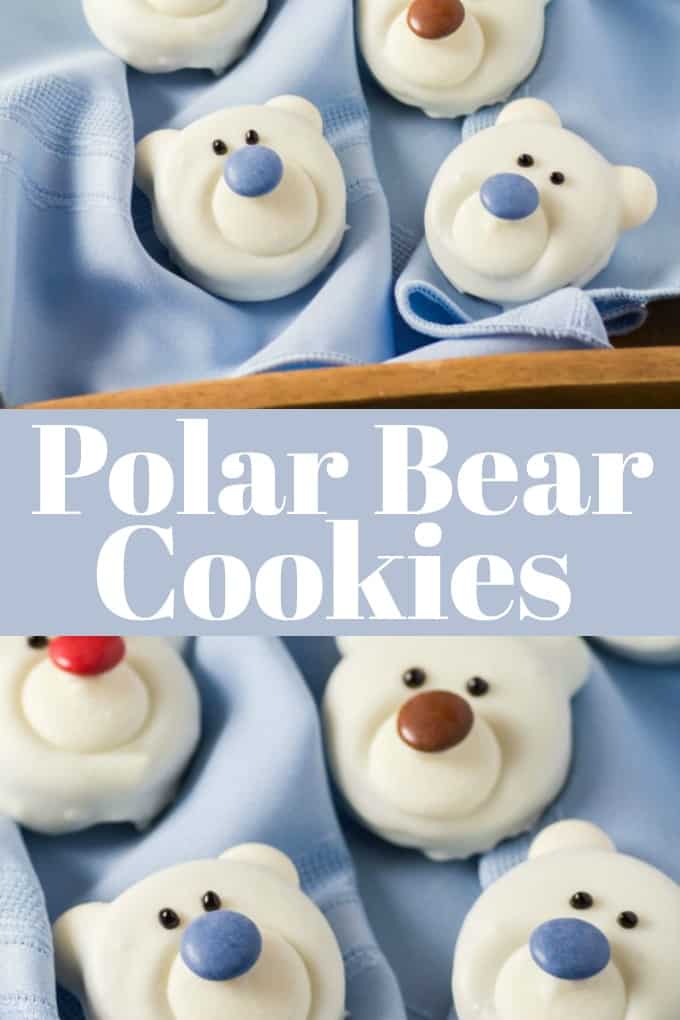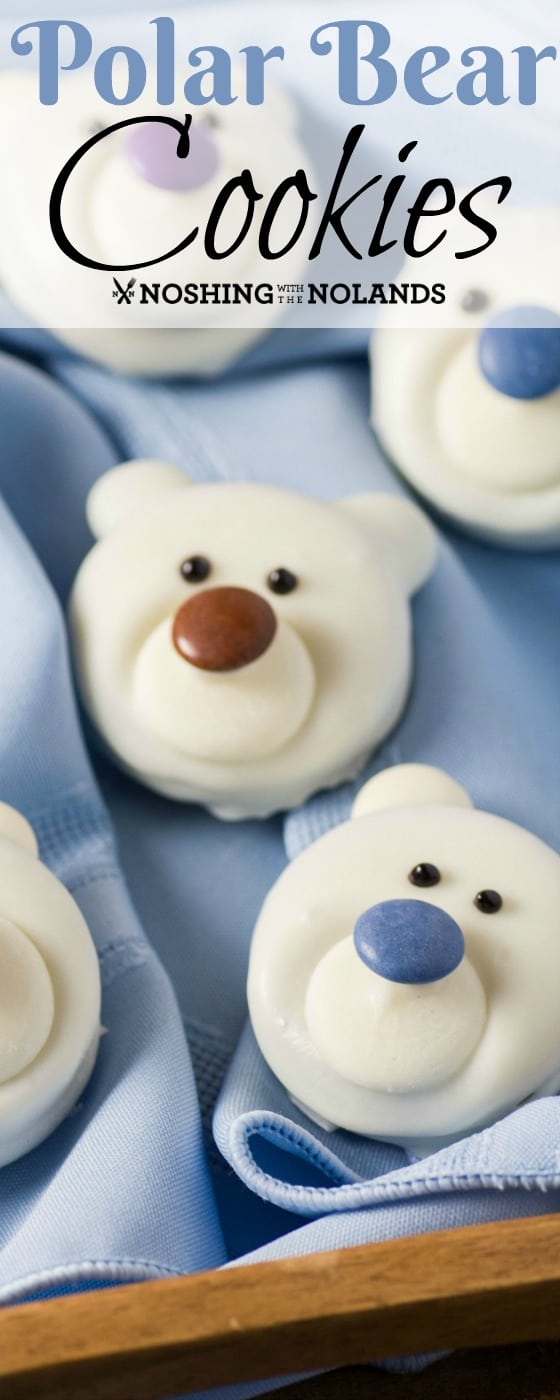 Polar Bear Cookies Recipe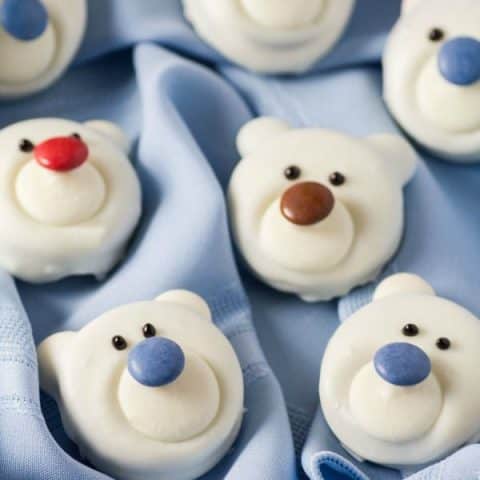 Polar Bear Cookies
Yield: 12 cookies
Prep Time: 30 minutes
Total Time: 30 minutes
These no-bake Polar Bear Cookies make a great craft to do with the kids for the holidays.
Ingredients
12 double stuffed sandwich cookies
36 different coloured candy coated chocolates
12 oz. bag white candy melts
1 tube black icing
Instructions
Lay out a sheet of parchment or wax paper to lay the cookies on once dipped.
Choose lighter coloured candy coated chocolates for the ears and fun brighter, blue, brown, red and purple for the noses.
Select 12 nice looking white candy melts for the muzzle and set aside. Melt the rest of the package.
Slide the "ears" into place in between the cookies into the filling and dip the cookies in the melted white candy. Using a fork lift the cookie out and gently bang the side of the bowl to remove excess chocolate. Lay the cookie on the parchment. Place the candy melt on as the muzzle and press in gently to form a ridge around the muzzle. Paint a small amount of the white chocolate candy melts onto the "nose" and place it higher up on the muzzle. When the cookies are dried, use the black icing to dot on the eyes. Let dry completely before storing in a sealed container.
Recommended Products
As an Amazon Associate and member of other affiliate programs, I earn from qualifying purchases.
Nutrition Information:
Yield: 12
Serving Size: 1
Amount Per Serving:
Calories: 218
Total Fat: 1g
Saturated Fat: 0g
Trans Fat: 0g
Unsaturated Fat: 1g
Cholesterol: 0mg
Sodium: 54mg
Carbohydrates: 51g
Fiber: 0g
Sugar: 32g
Protein: 1g
Recipe calculation was provided by Nutritionix and is an estimation only. If you need nutritional calculations for medical reasons, please use a source that you trust.