I love creating cocktails and this Refreshing Peach Basil Cocktail is a winner, winner of a porch sipper!! You can have it with gin or vodka and it is refreshing and cooling on a hot summer day!! I added whole slices of frozen peaches to keep your libation ultra cool. Once the peaches thaw they are a booze soaked treat to indulge in!! The basil rounds out the sweetness giving the cocktail that added freshness.
This is an easy cocktail to have all summer long. Keep a bag of frozen peaches in the freezer and the peaches are waiting and ready for you. Grab a live basil plant and stick it on the balcony. You then have basil for this cocktail and more!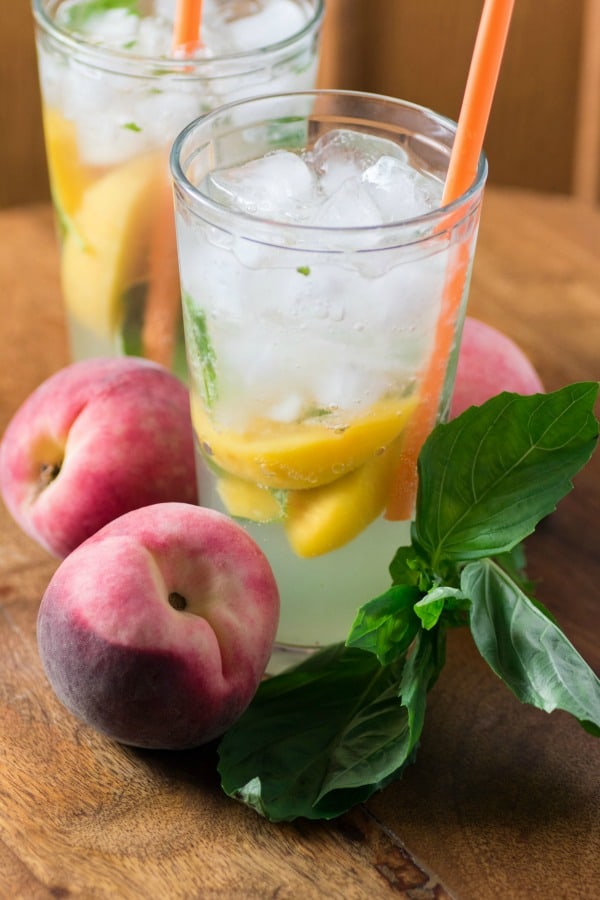 I have sampled this cocktail now a couple of times. Yup, working hard here for you!! The first time I put a little too much gin in with 1 1/2 oz., the next time I made it we cut that back to 1 oz. and thought that was a better balance. This drink is also wonderful with vodka.
I love a cocktail with fruit in it. You get to snack along the way. The peaches are slippery so you may want a fork or enjoy the challenge of getting it out with your straw!!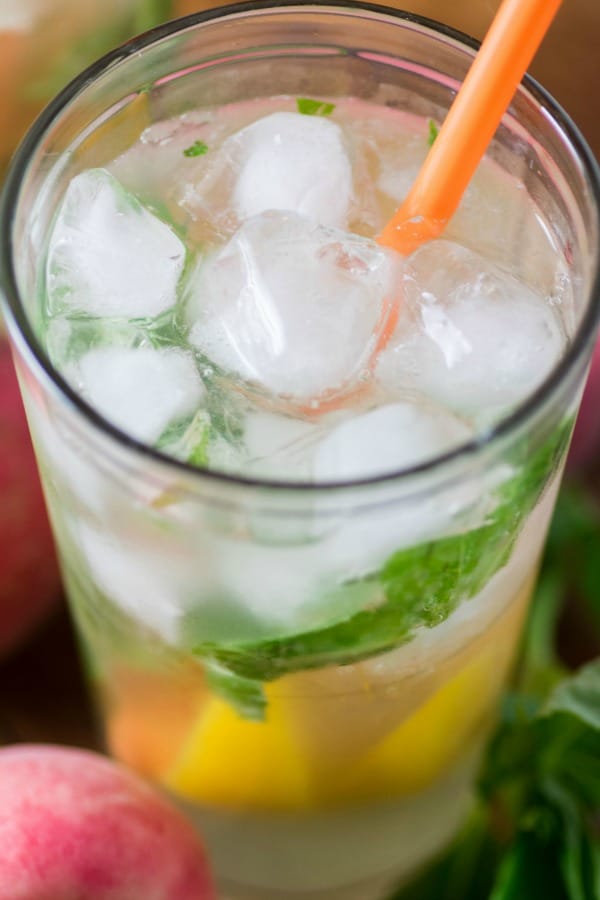 Do you have peach schnapps lying around from days of yore?? Grab it and you will be inspired to use it here and in other cocktails too. It works perfectly for summer!! If you don't want to use frozen peaches you can muddle some fresh peach slices too! Adding in a big beautiful juicy peach is only going to make the drink explode with flavor!
The Recipe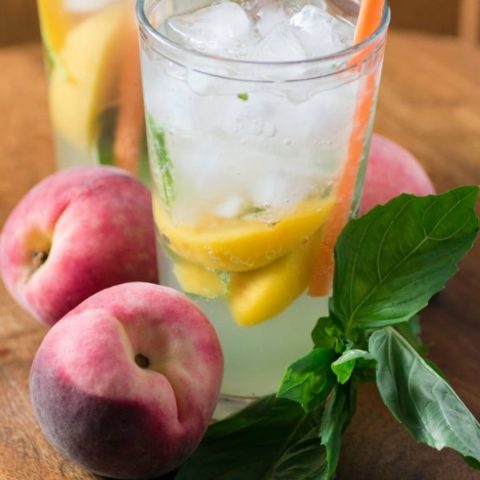 Refreshing Peach Basil Cocktail
Yield: 1 cocktail
Prep Time: 5 minutes
Total Time: 5 minutes
This Refreshing Peach Basil Cocktail is the perfect porch sipper on a hot summer day. The frozen peaches are a great snack to keep you cool too!
Ingredients
3-4 basil leaves, torn
1 tsp. sugar
1/2 ounce lemon juice
1 oz. gin or vodka
1 1/2 oz. peach schnapps
3 frozen or fresh peaches
Ice
Club Soda
Instructions
Muddle the sugar, lemon juice and basil in the bottom of a tall glass. Add in the gin or vodka and the peach schnapps. Top with the frozen peaches! Add in ice and top with club soda. Enjoy!