Crunchy Chickpea Peanut Thai Salad
Disclosure: I was compensated for this post by Alberta Pulse Growers. All opinions and experiences are my own.
Are you tired of the same old salads? Why not try a delicious Crunchy Chickpea Peanut Thai Salad. The ingredients are familiar but the taste is something different and delicious. Refreshing, crunchy, healthy and nutritious!! This salad will go great for any summer meal, be it a BBQ, picnic, potluck or just a family dinner.
This salad is made with two pulses! Do you know what pulses are? They are good for you food! Good for you and good for our planet!! Alberta Pulse Growers represent over 6,000 growers of field pea, dry bean, lentil, chickpea, faba bean and soybean in Alberta. Peanuts are a legume but not in the pulse family.
Want more chickpea recipes? Try our Coconut Chickpea Curry, so delicious!!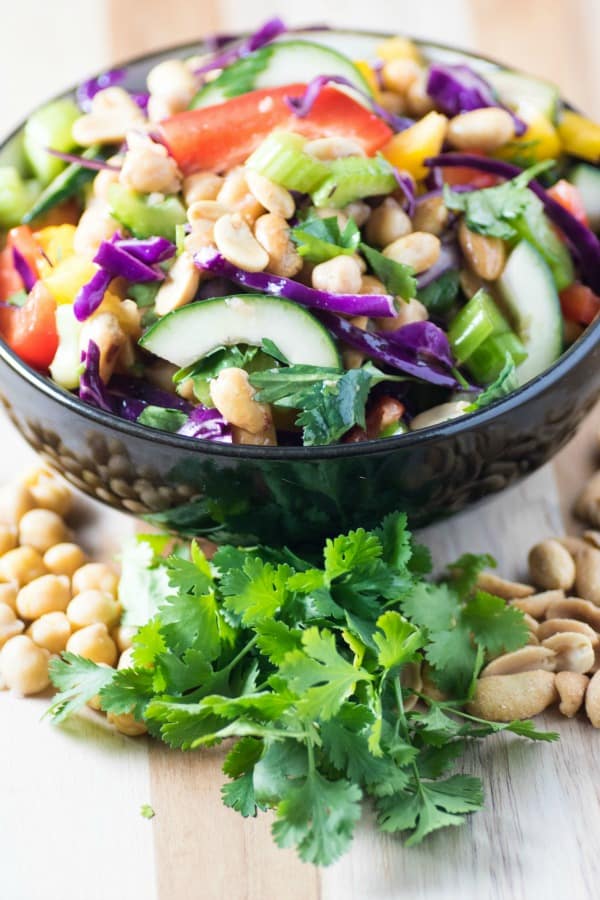 CHICKPEAS
The little chickpea I am in love with lately. They are so easy to add to dishes. Canned chickpeas only need a quick rinse and you just toss them in! Did you know they are also called garbanzo beans? I like saying that sounding like Grover from Sesame Street, try it, it is fun, LOL!
Kabuli chickpeas are the ones that are grown in southern Alberta. Pulses are high in nutrients including protein, fibre, iron, folate, and potassium. They are low in fat and cholesterol-free, making them a healthy option as both a meat and starch alternative.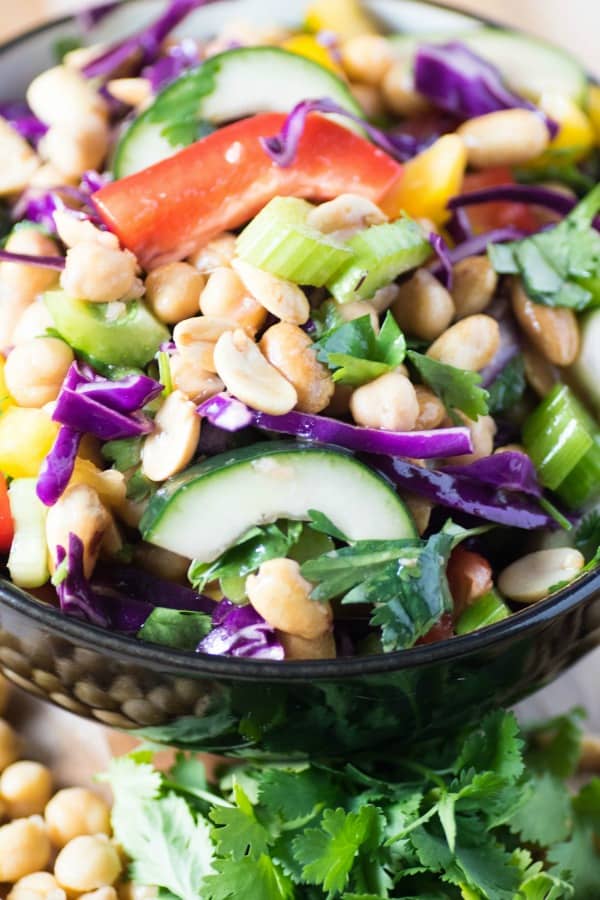 Peanuts and chickpeas go so wonderfully together in this colorful summer salad. Adding in the Thai dressing just boosts the flavor profile to a new level. The salad is a complete meal on its own or served over top of grilled chicken, fish or steak it is stunning too. That is how I love to eat in the summer. Simple and scrumptious!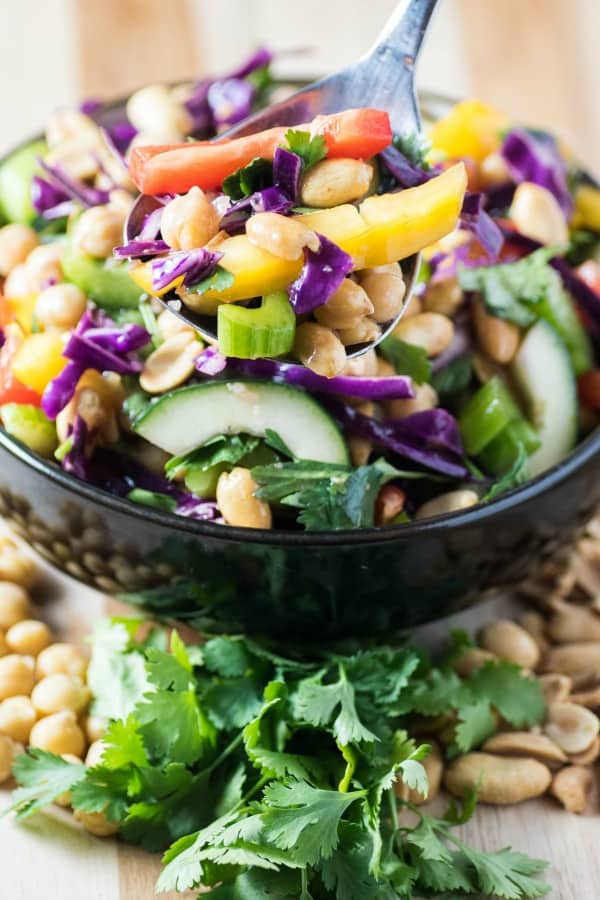 Finally, I encourage you to check out the recipe section that Alberta Pulse Growers has. It is so user friendly and will help you to incorporate more amazing pulses into your diet.
The Recipe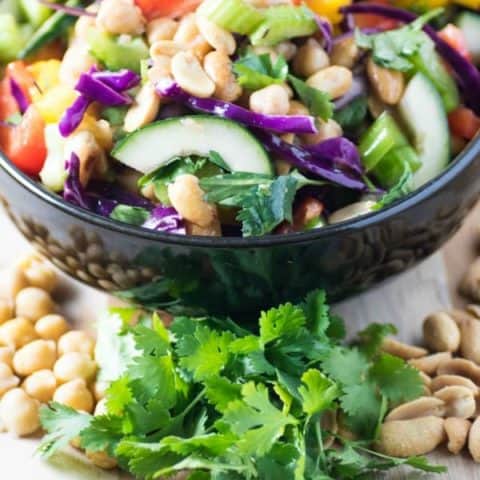 Crunchy Chickpea Peanut Thai Salad
Yield: 4-6 servings
Prep Time: 15 minutes
Total Time: 15 minutes
A simple summer Crunchy Chickpea Peanut Thai Salad is perfect on its own or over chicken, fish or steak. Also a great salad to take to a potluck or BBQ this summer.
Ingredients
Salad
1 cup chickpeas, drained and rinsed, picked over for loose skins
2 celery stalks, sliced
1/2 cucumber, seeded and sliced
1/2 red pepper, sliced and cut in half
1/2 yellow pepper, sliced and cut in half
2 cups purple cabbage, sliced
1/2 cup salted peanuts
Dressing
2 Tbsp. fresh lime juice
3 Tbsp. canola oil
1 Tbsp. sesame oil
1/2 Tbsp. soy sauce, low sodium
1 tsp. sugar
1/2 Tbsp. ginger, minced
Pinch of salt
Instructions
Toss the salad ingredients together in a medium sized bowl.
Mix all the dressing ingredients together in a jar or shaker. Shake well and pour over the salad.
Serve at once.
If making ahead, toss in the peanuts at the end and pour over the dressing.