Grilling up chicken in the summer is one of the best pleasures out there! I am all about the little thighs crisped up with a delicious bbq sauce. Have you ever made your own homemade bbq sauce? It is easy. This recipe for Grilled Chicken with Homemade BBQ Sauce actually has some bottled bbq sauce in it but you then bring it to a new level with lots of other additions!!
Crispy chicken slathered in a sweet yet flavorful hickory bbq sauce is like a little slice of heaven on a warm summer day!! It just sings summer to me!!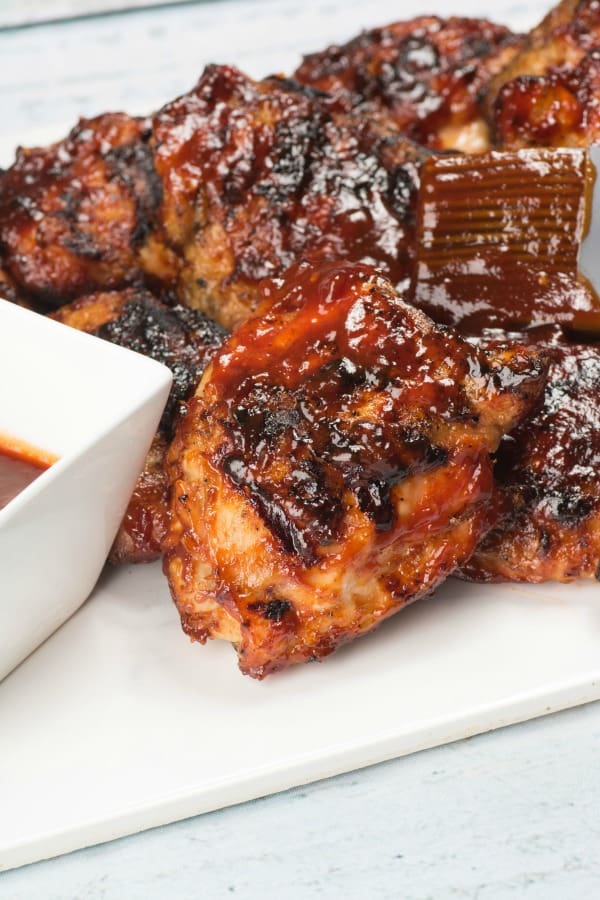 Don't you just want to reach in and grab one! Careful they are hot off the barbecue!!
Simple grilled veggies on the barbee goes great with chicken or a mean potato salad like this Crab Boil Potato Salad would be perfect!!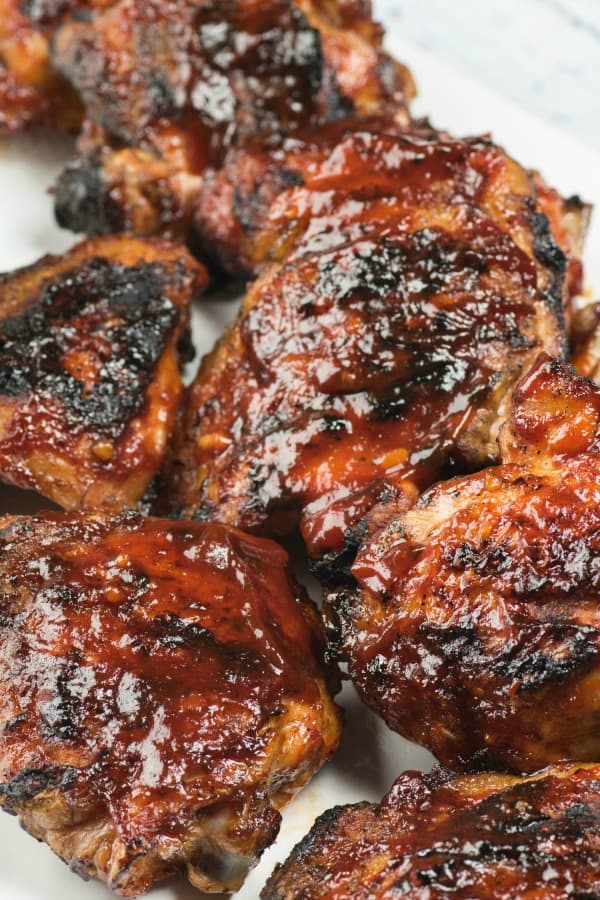 Have you dusted off the grill yet? Brought out the little hibachi? Bought some new briquettes or filled the propane tank?
If not we are crouching right upon summer and you need to get that grill fired up!! What are you waiting for?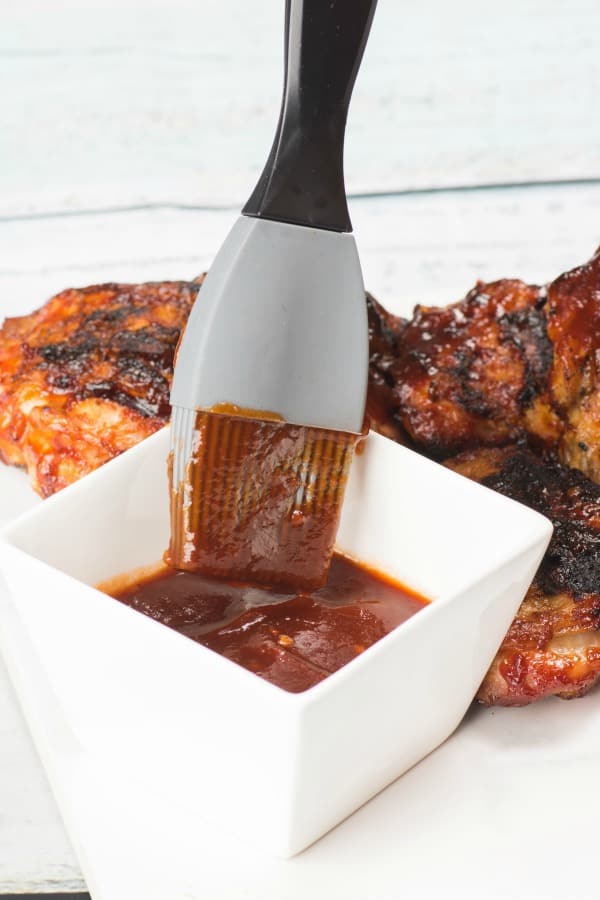 The homemade barbecue sauce is easy to pull together, you probably have everything you need at home already.
Plus, trust me this is so much better than off the shelf sauce that you grab in the grocery store. Everyone will be wanting the recipe for this sauce!!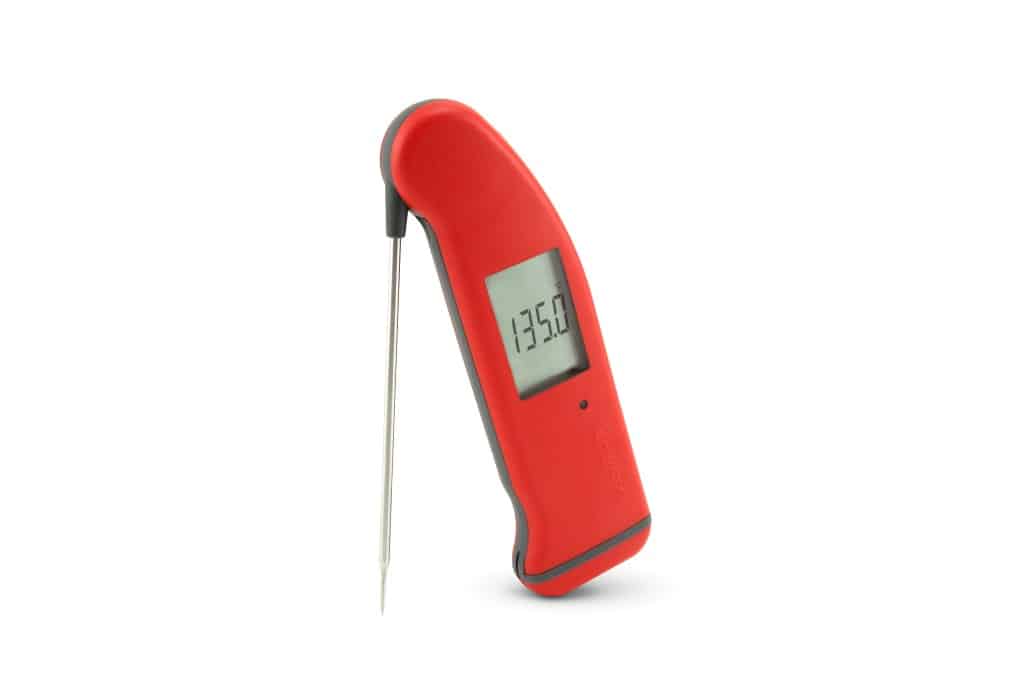 How do you check to see if it is done perfectly? I use my easy read Thermapen, it gives you a very accurate instant temperature. To cook chicken perfectly you need to be at 165F. It is so easy to check with the Thermapen.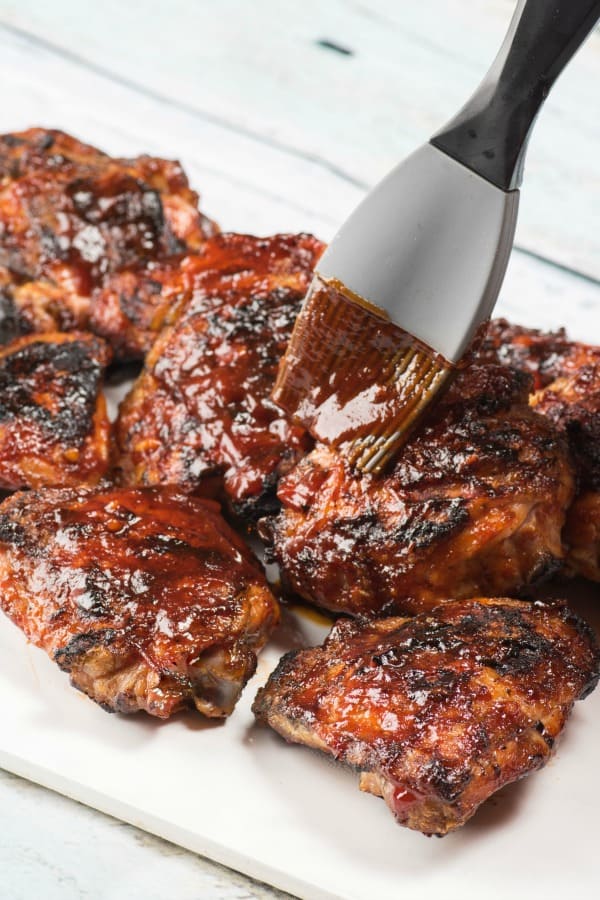 Be generous with the sauce, put some on at the end of grilling the chicken but also serve some up for dipping or brushing on afterwards. You can never had too much BBQ sauce in my opinion!
The Recipe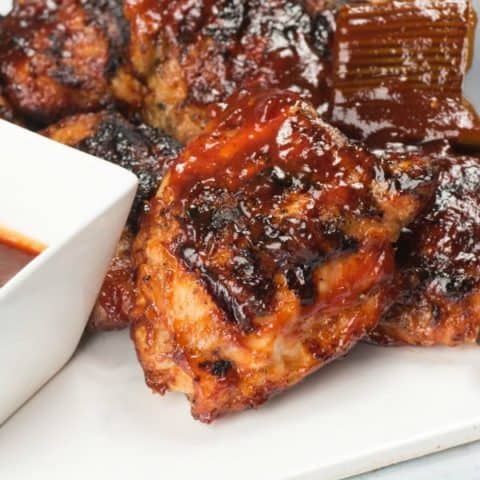 Grilled Chicken with Homemade BBQ Sauce
Yield: 6-8 servings
Prep Time: 10 minutes
Cook Time: 30 minutes
Total Time: 40 minutes
Grilled Chicken with Homemade BBQ Sauce will have you feeling like summer is here to stay. Crispy chicken thighs slathered with an easy but decadent BBQ sauce will have you loving this recipe!!
Ingredients
BBQ Sauce
1/4 cup soy sauce
1/4 cup ketchup
1/2 cup chili sauce
1/2 cup hickory-flavor BBQ sauce
2 Tbsp. honey
2 tsp. Worshetershire sauce
3 cloves garlic, minced
1 1/2 tsp. onion powder
1 tsp. hot sauce
1/2 tsp. dry mustard
Chicken
16 chicken thighs
Salt and pepper
Instructions
Place all the BBQ Sauce ingredients in a medium saucepan. Whisk and bring up to a simmer. Cook for 10 min. Then let cool. Can be made ahead of time and refrigerated for one week.
Heat up the grill to medium-high heat. Place chicken on the grill and cook about 8 min. per side. Brush chicken with the BBQ sauce and cook 2 min. per side. reserving some sauce. Serve with remaining BBQ sauce.