Roasted Sweet Potato Medallion Casserole
Today I have for you, Roasted Sweet Potato Medallion Casserole for Half Your Plate Canada. They are behind making you aware to include more fruits and vegetables into your diet and to fill half your plate with them! We love our fruits and veggies here and find loads of ways to add them into our daily meals. One of our favorite ways to serve sweet potatoes in the summer is to slice them into medallions and brush them with butter, brown sugar and cinnamon for the BBQ. I took that idea and transformed in into the oven. On the BBQ you get those lovely charred outsides but you can achieve that too in your oven.
For us it is really easy to fill half our plate with veggies when we have something as easy and delicious as these Roasted Sweet Potato Medallions.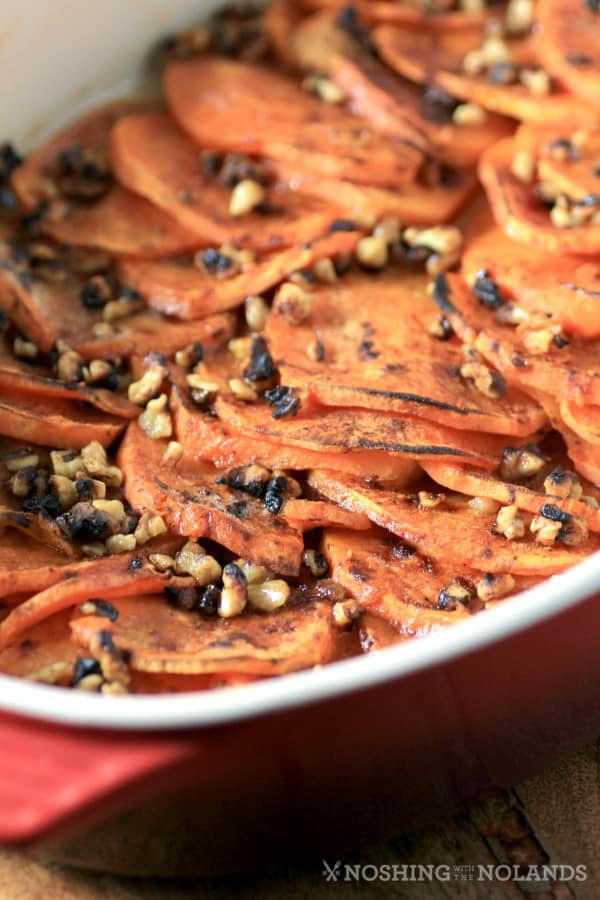 You won't believe how easy this dish is to pull together. The charred flavor to the nuts and sweet potatoes adds so much to the dish. Watch them carefully as not to take them to the next level when using the broiler so that they get burnt. If you don't like the nuts being charred just add them at the end before serving.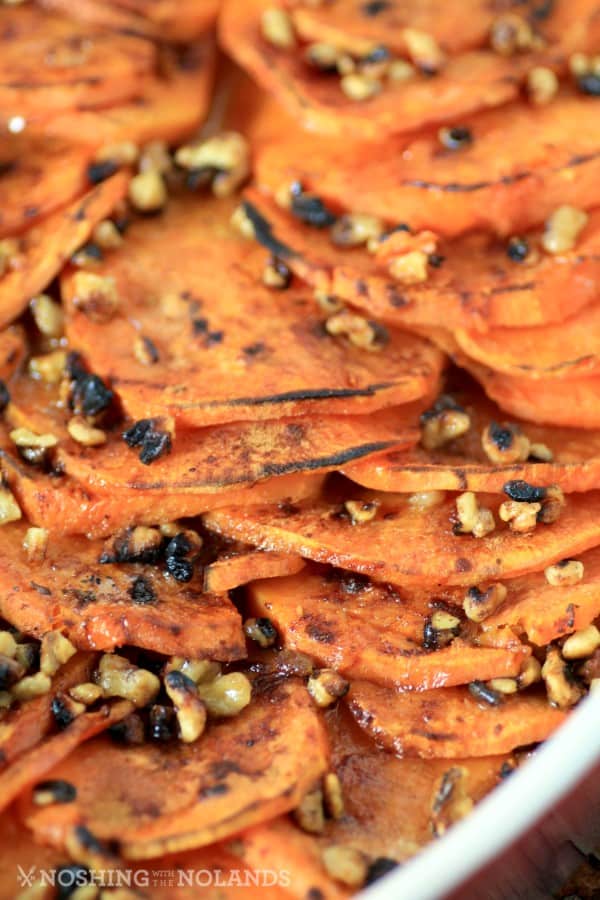 Nutty, sweet, buttery with all the wonderful wholesome benefits of sweet potatoes. You will want to load your half your plate with just these but add some greens in too, to balance it all off. Sweet potatoes go with a variety of wonderful meats and veggies and are a great earthy vegetable for winter.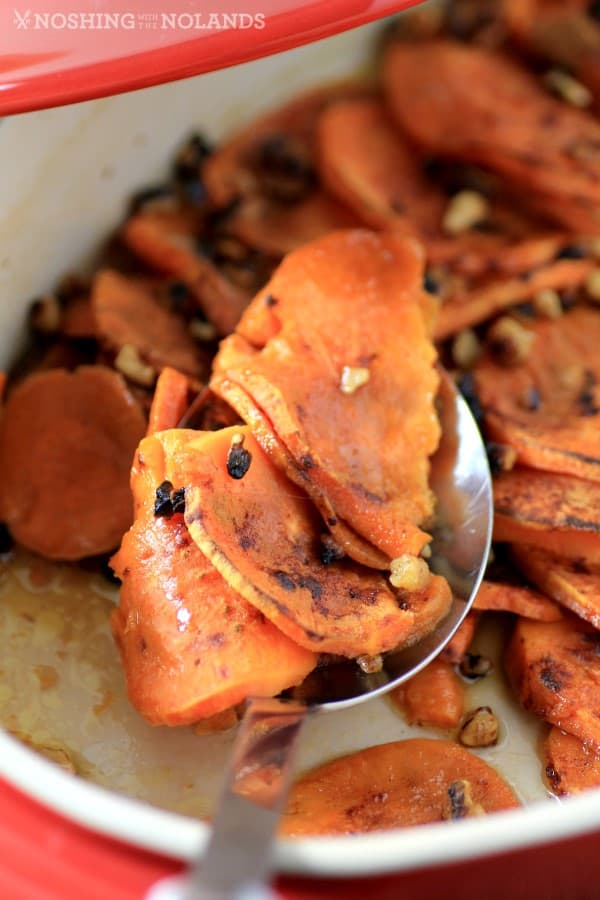 Don't leave dishes like this for just the holidays when there are so many benefits to the amazing nutrition that sweet potatoes and lots of other winter vegetables can provide. Check out all these great recipes that Half Your Plate has!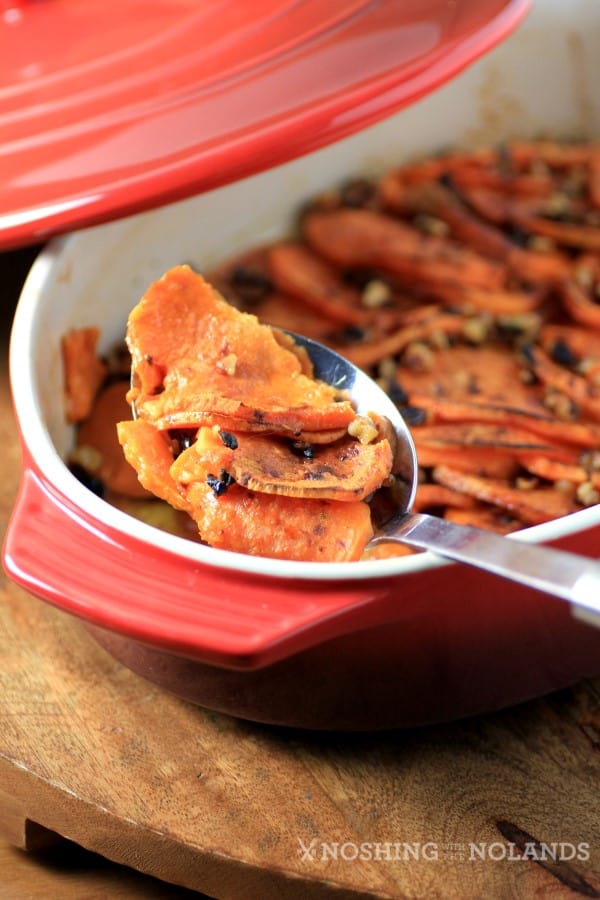 You only need one really large sweet potato to get a lot of servings. I added a little sprinkle of cinnamon at the end just before broiling for another added boost of flavor. You will be amazed how delicious these potatoes are with very little effort.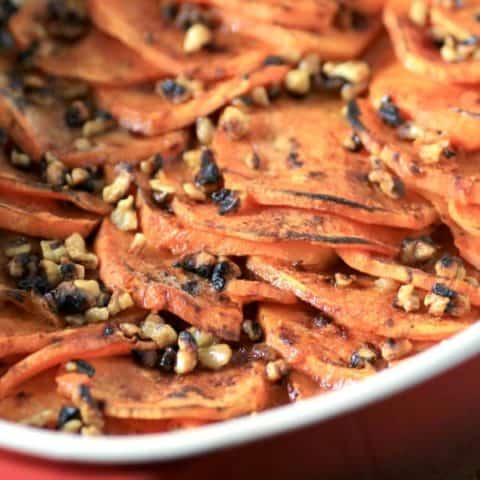 Roasted Sweet Potato Medallion Casserole
Yield: 4 servings
Prep Time: 10 minutes
Cook Time: 45 minutes
Total Time: 55 minutes
A simple roasted sweet potato cut into medallions makes a nutritious and delicious casserole for a side dish any night of the week.
Ingredients
I very large sweet potato, washed, peeled and sliced into medallions
3 Tbsp. butter
3 Tbsp. brown sugar
2-3 Tbsp. finely chopped walnuts or pecans
1 tsp. cinnamon
Instructions
Preheat oven to 350F. Place sweet potatoes into a lightly buttered baking dish, over lapping. Dot 2 Tbsp. of butter on top and sprinkle with nuts (if you don't like them charred, sprinkle them on just before serving) and brown sugar. Cover and bake for 30 min., remove cover and bake 15 min. more or until potatoes are very tender. Dot with the last Tbsp. of butter and sprinkle on cinnamon. Broil, watching carefully until just charred. Serve immediately.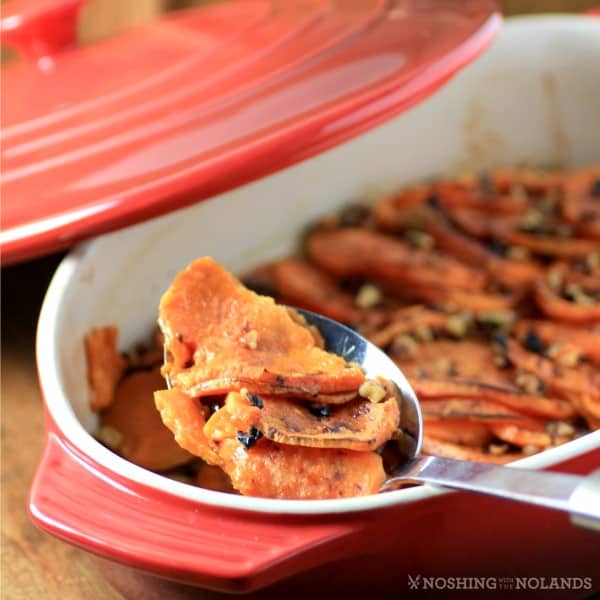 This post is sponsored by Half Your Plate and I have been compensated by Half Your Plate.