Smoked Mashed Potatoes
Ken loves using his smoker as you all know and he is up to it again with these amazing Smoked Mashed Potatoes. A perfect side for any BBQ. We loved how creamy and full of flavor these potatoes where. Using a smoker just ups the flavor of so many foods. It is an easy summertime fix to not having the oven on and heating up the house.
We seldom have potatoes in this house and these are a real treat! Nothing better than having a big feast on a Sunday with all the fixins. You can sit back and relax while these slowly smoke away in the smoker. Flip a steak on the BBQ, grill some veggies and you have a magnificent meal with little work. ENJOY!!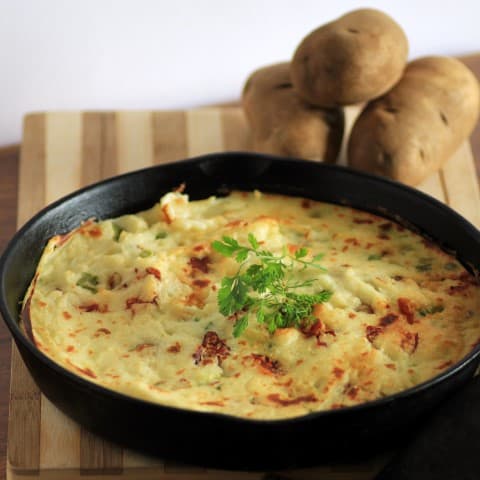 Yield: 6
Smoked Mashed Potatoes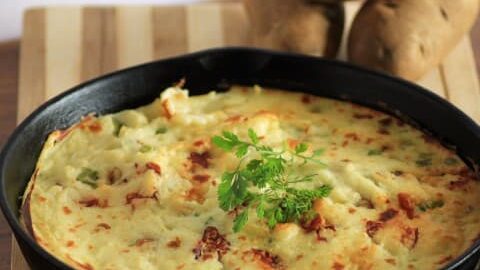 A fabulous side dish that goes with so many wonderful BBQ'd meats!!
Cook Time
1 hour
30 minutes
Total Time
2 hours
15 minutes
Ingredients
2 1/2 lb. hot cooked potatoes
1/2 cup homo milk
3 Tbsp. butter
3 green onions, chopped
1/2 lb. bacon, cooked, not too crisp
Butter infused olive oil or olive oil
Instructions
Mash the potatoes with the butter and milk until creamy. Mix in the onions and bacon. Place in a cast iron pan or foil container. Drizzle with the olive oil and cover loosely with foil.
Smoke at 225-250F for 1-1 1/2 hours, use apple or other fruit wood. Before serving broil for 1 min. to brown. Serve hot.