I haven't been with this group for a bit, such a crazy busy summer. If you follow along with us with #BreadBakers you know that Ken is the bread bakers in this family and with us being so busy he just didn't have a chance until now to bake bread.
I am so enamored with his selection this month though, Tomato Onion Parmesan Focaccia doesn't get any better than this for a Summer Bounty bread, which is our theme for this month. Thank you so much Pavani from Cook's Hideout for this wonderful theme and for hosting this event.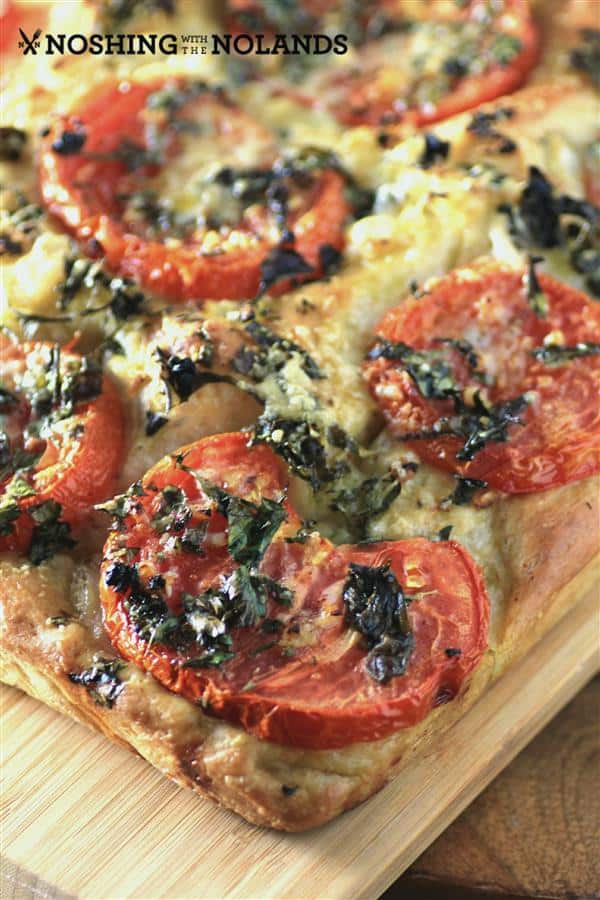 Fresh tomatoes and onions from your garden make this Tomato Onion Parmesan Focaccia a complete meal. A nice bright crunchy salad is all you need to accompany this gorgeous vegetarian lunch or dinner.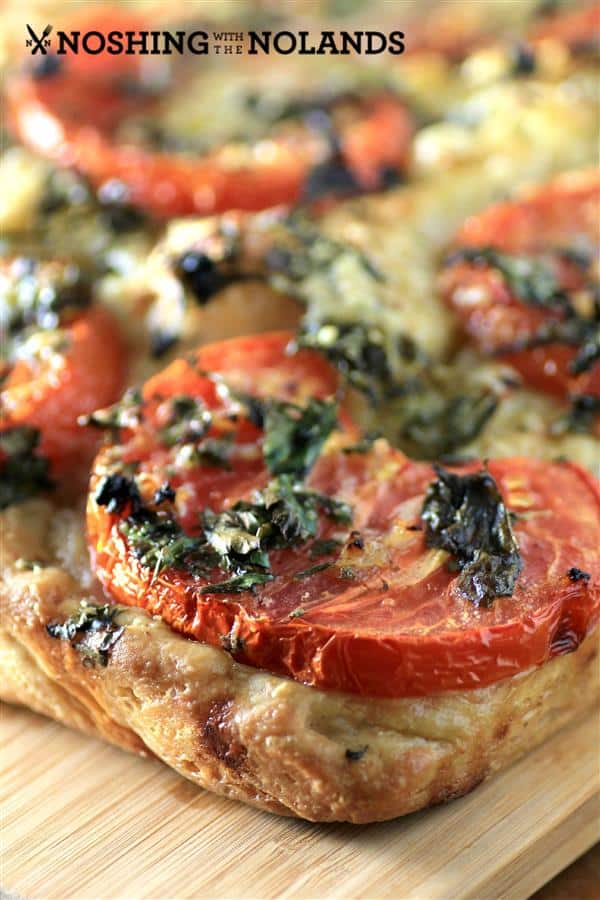 This focaccia is a deliciously crispy crust on the outside, tender bread on the inside with loads of great flavor from fresh tomatoes, herbs, onions, and cheese.
I love biting into a warm juicy flavor-filled summer tomato like this, they seem even better when they are cooked, bringing out more of their sweetness.
Come and enjoy even more summer bounty with all the other #BreadBakers this month. We have lots to share with you below!!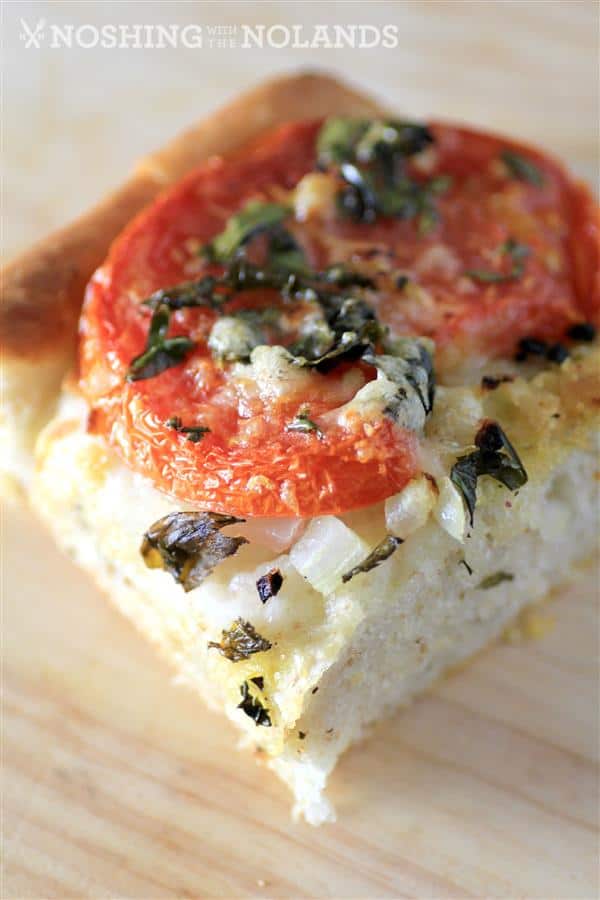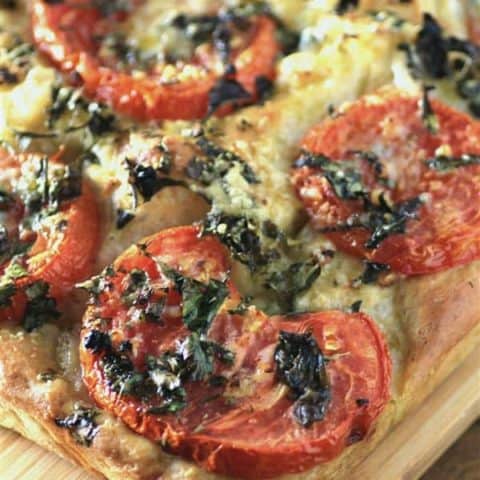 Tomato Onion Parmesan Focaccia
Yield: Makes one large 18x13" focaccia
Cook Time: 45 minutes
Total Time: 45 minutes
Ingredients
Focaccia
1 1/2 tsp. dried yeast
2 2/3 cup warm water
3/4 cup whole wheat flour
4 1/2 cups flour, plus 1/2 to 1 cup for rolling or if it is too sticky
3 1/2 tsp. fine sea salt
1-2 Tbsp. olive oil
1 Tbsp. coarse Kosher salt
Toppings
3 large tomatoes, sliced 1/4 inch thick
1 medium onion, diced into 1/4 inch pieces
2 Tbsp. of basil and parsley
1 1/2 tsp. rosemary
2 cloves of garlic, minced
2 1/2 Tbsp. extra virgin olive oil
Salt and freshly ground pepper
1/4 cup Parmigiano Reggiano cheese, grated
Instructions
Start the focaccia the day before. In a large bowl of a stand up mixer, dissolve the yeast in 1/3 cup of water along with 1 Tbsp. of whole wheat flour, allow to bubble for at least 5 minutes. Using the paddle attachment beat in remaining 2 1/3 cups of water, remaining whole wheat flour, 4 1/2 cups white flour and the sea salt. Mix on medium-low for approximately 5 minutes until the dough is soft, sticky, and very elastic. Switch to the dough hook and knead for 10 minutes adding 1/2 to 3/4 cups white flour until the dough cleans the side of the bowl, add a little more flour if needed until it is soft and just a little sticky. Place in a large oiled bowl, cover with plastic wrap and refrigerate for 8 to 12 hours.
Turn the dough out on a lightly floured surface and knead a few times. Return the dough to the bowl and let rise at room temperature for about 4 hours, the dough should almost triple in bulk. Knead the dough with floured hands. Oil an 18 x 13 inch sheet pan and stretch the dough to fill the sheet, the dough should be approx 1/2" thick. Cover with a towel and allow to rise at room temperature for 1 1/2 to 1 3/4 hours.
Preheat the oven to 400F, arrange the tomato slices on the focaccia dough. Top with the chopped onions, herbs and garlic. Drizzle with olive oil and sprinkle with salt and pepper. Bake 40 minutes or until the dough is a rich golden brown, the tomatoes and onions should appear slightly withered.
Using a large spatula, take the bread out of the pan sprinkle with cheese and place back in the oven, directly on the oven rack and bake for another 5 - 10 minutes, until the loaf sounds hollow when tapped on the underside.
Serve warm or at room temperature.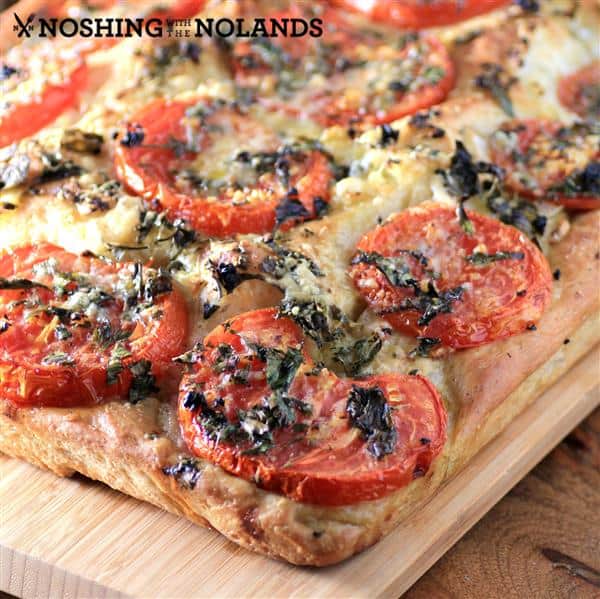 #BreadBakers is a group of bread loving bakers who get together once a month to bake bread with a common ingredient or theme. Follow our Pinterest board right here.
Links are also updated each month on this home page. We take turns hosting each month and choosing the theme/ingredient.
If you are a food blogger and would like to join us, just send Stacy an email with your blog URL to [email protected].
Now come and see all the wonderful Summer Bounty bread for you to choose from:
Bread using Summer Bounty: