Potato and Corn Toss
I was thinking and thinking of a side dish for this post, something that is easy and summertime friendly. Can't believe Potato and Corn Toss didn't come to me sooner as I have been making this all summer long, DOH! Sometimes I try to get ahead of myself.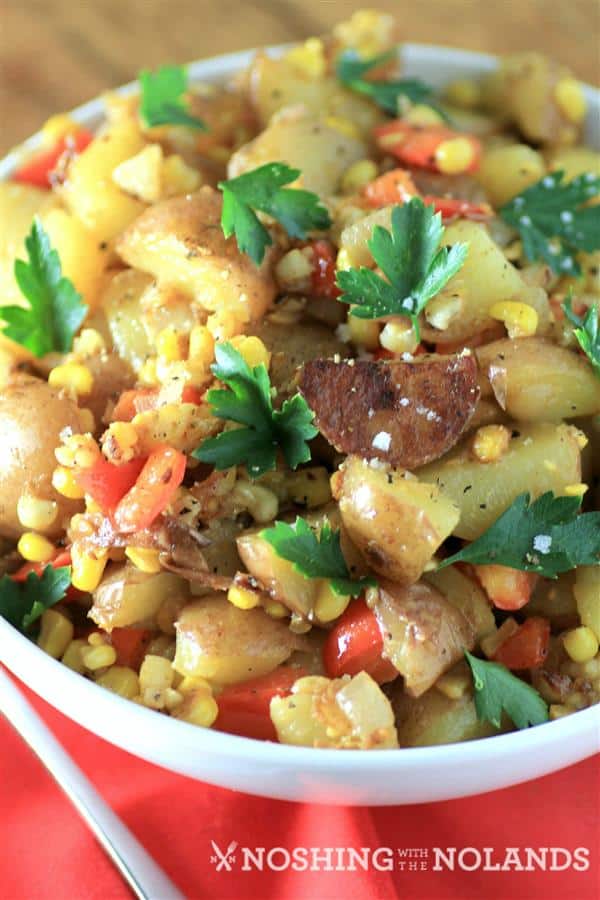 When I am boiling little potatoes and corn I cook some extra so we can have this very easy side dish for another meal the next day. It can be for breakfast with an egg on top, for lunch tossed up in a bowl or for dinner as a great side for a BBQ's meal. Leftover grilled veggies would go fantastic in this dish also.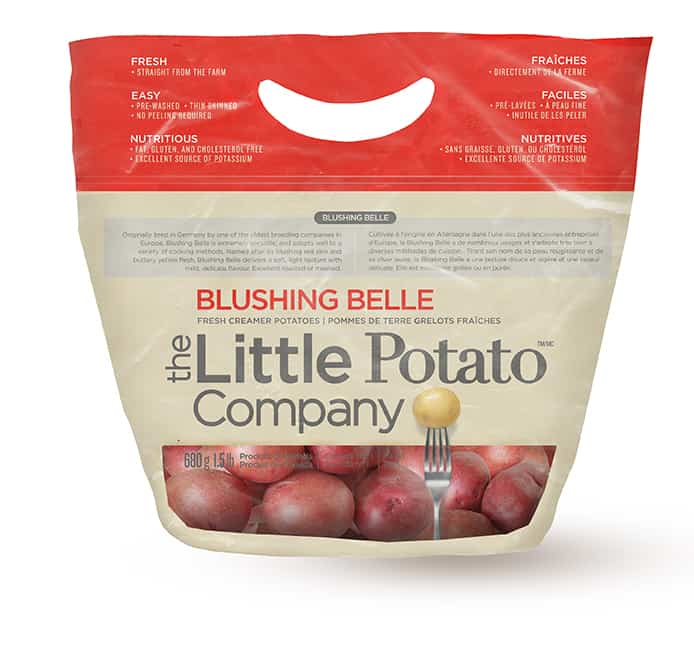 For all my potato dishes I use the Little Potato Company potatoes, they are so convenient as they are already washed and ready to go. They boil up in 15 min., roast on the BBQ or in the oven in 30 min. They have lots of different kind of potatoes and even very handy BBQ and oven ready kits. I keep my fridge well stocked with those for easy summer entertaining!!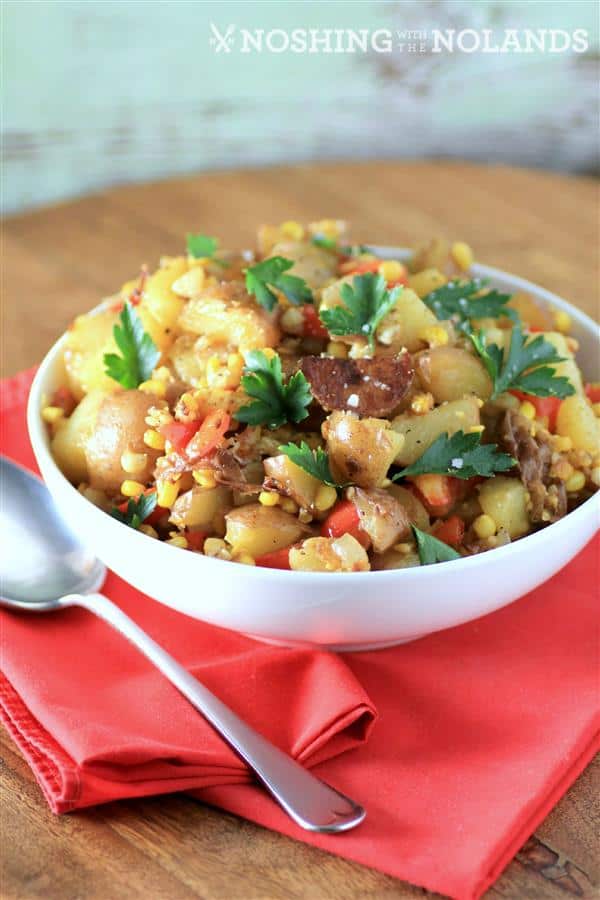 Little potatoes are so easy to work with and there are endless recipes to create with them. Summertime is only one season to have ample amount of these little gems at the ready in your refrigerator.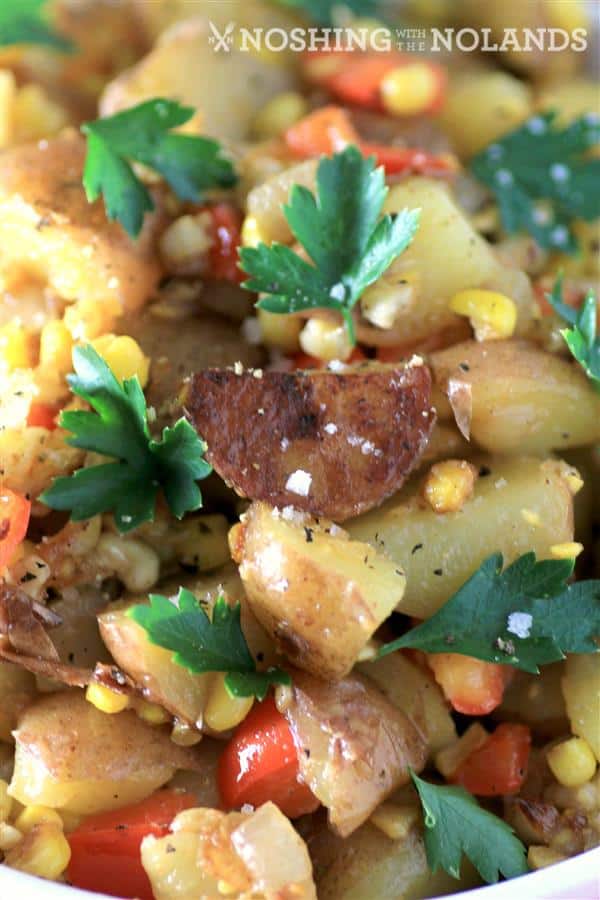 I have an induction cooktop and can't use a non-stick pan or haven't found one yet that is non-stick. This toss though can be made in both. To get those delicious crispy bit off the bottom of the pan on a regular pan I add a tablespoon or two of water, if you are adding meat to this toss you can add more water and it makes it own gravy for you, simply delicious!!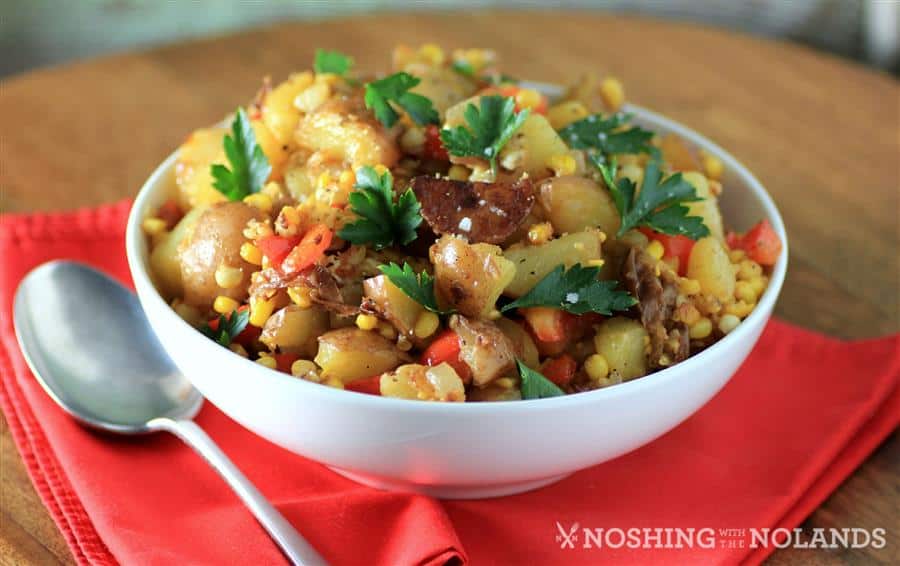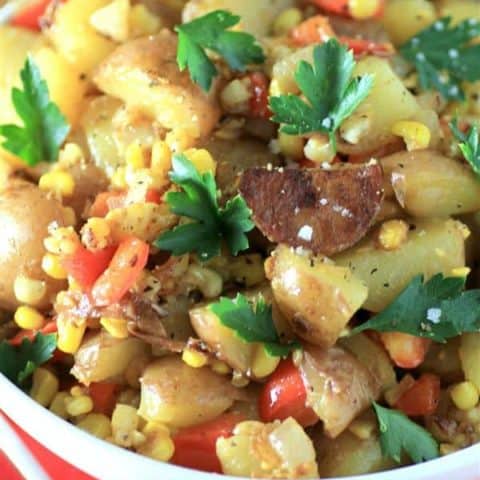 Potato and Corn Toss
Yield: 4 servings
Prep Time: 15 minutes
Cook Time: 15 minutes
Total Time: 30 minutes
A great way to use leftover potatoes and corn this summer. Makes a great meal from breakfast thru to dinner using little potatoes!
Ingredients
2 lbs. Little Potatoes Company potatoes, cooked and cooled
2 ears corn, cooked, cooled and removed from husk
1 1/2 Tbsp. canola oil
1 onion, diced
1 red pepper, diced
Salt and pepper to taste
Parsley to garnish, optional
Instructions
Use leftover cooked potatoes and corn or cook extra the night before. Let cool to room temperature and then refrigerate until ready to use.
Heat the oil in a large skillet over medium high heat and cook the onions and peppers until the onions are translucent. Add the potatoes and corn and continue to cook until lightly browned. Don't stir too often. If desired to get the browned bits off the bottom add a tablespoon or two of water. This works well for regular pans, shouldn't need to for non-stick. Salt and pepper to taste. Serve immediately with parsley to garnish if desired.