What is Daikon Radish? How Do I Eat It? A long-standing star of Asian cuisines, the Daikon Radish is increasingly finding its way onto North American dinner plates. Two decades ago, it was all but impossible to find a daikon unless you were in a city with a dedicated Asian grocery store. Now, you can find it in most grocery stores, at farmer's markets, and of course, in Asian specialty stores.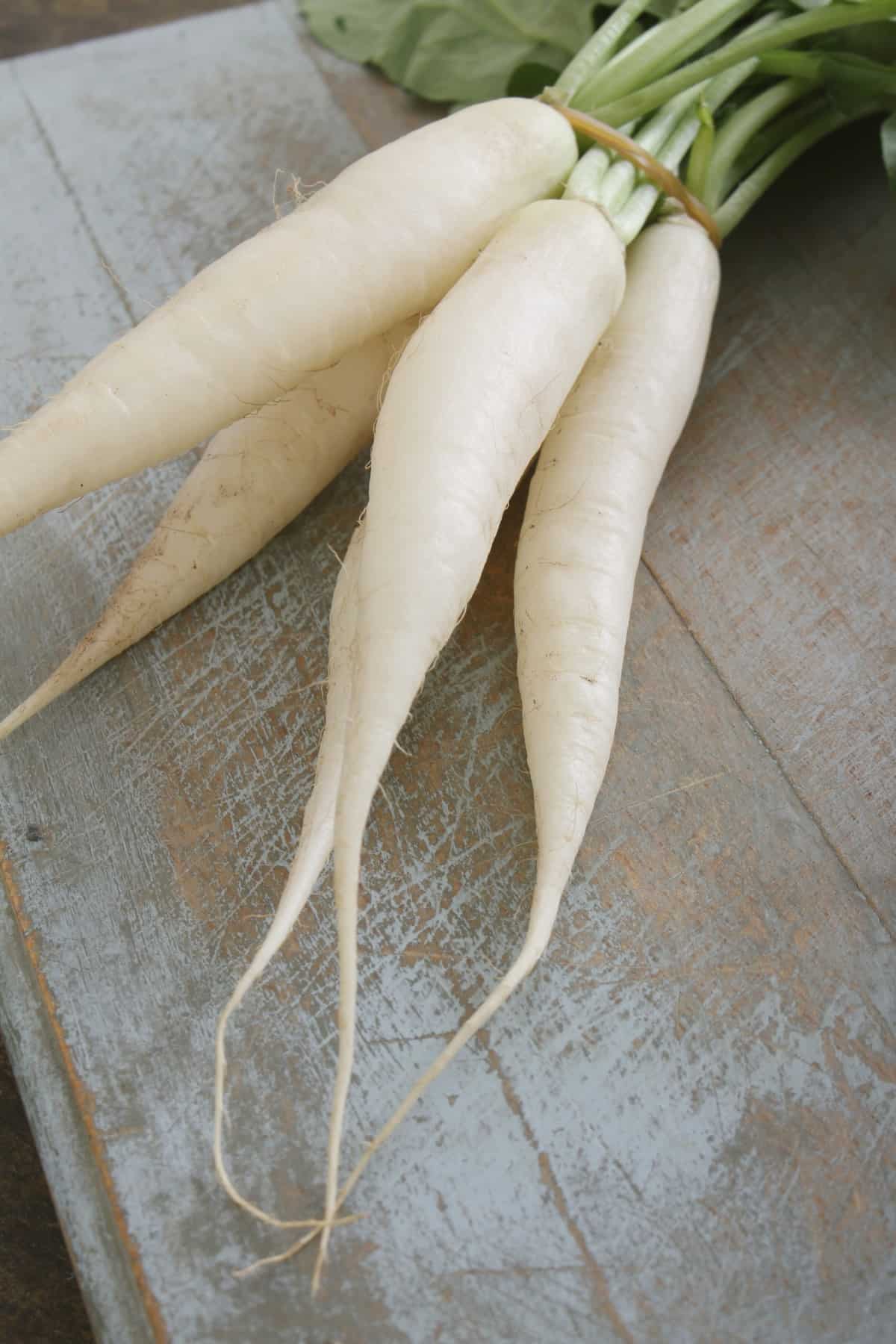 Daikon radishes go by a lot of other names – white radish, Japanese Radish, Chinese radish, winter radish, oriental radish, and mooli. The name daikon radish comes to English from the Japanese dai meaning big or large and kon meaning root. In appearance, they look like a large carrot.
It's a really apt name since long white daikons have been known to grow up to 3 feet long and weigh over 40 pounds! However, just like you'll never see the prize-winning giant pumpkins in your local grocery store, the average daikon sold for use is closer to a kilogram.
What is Daikon Radish Used For?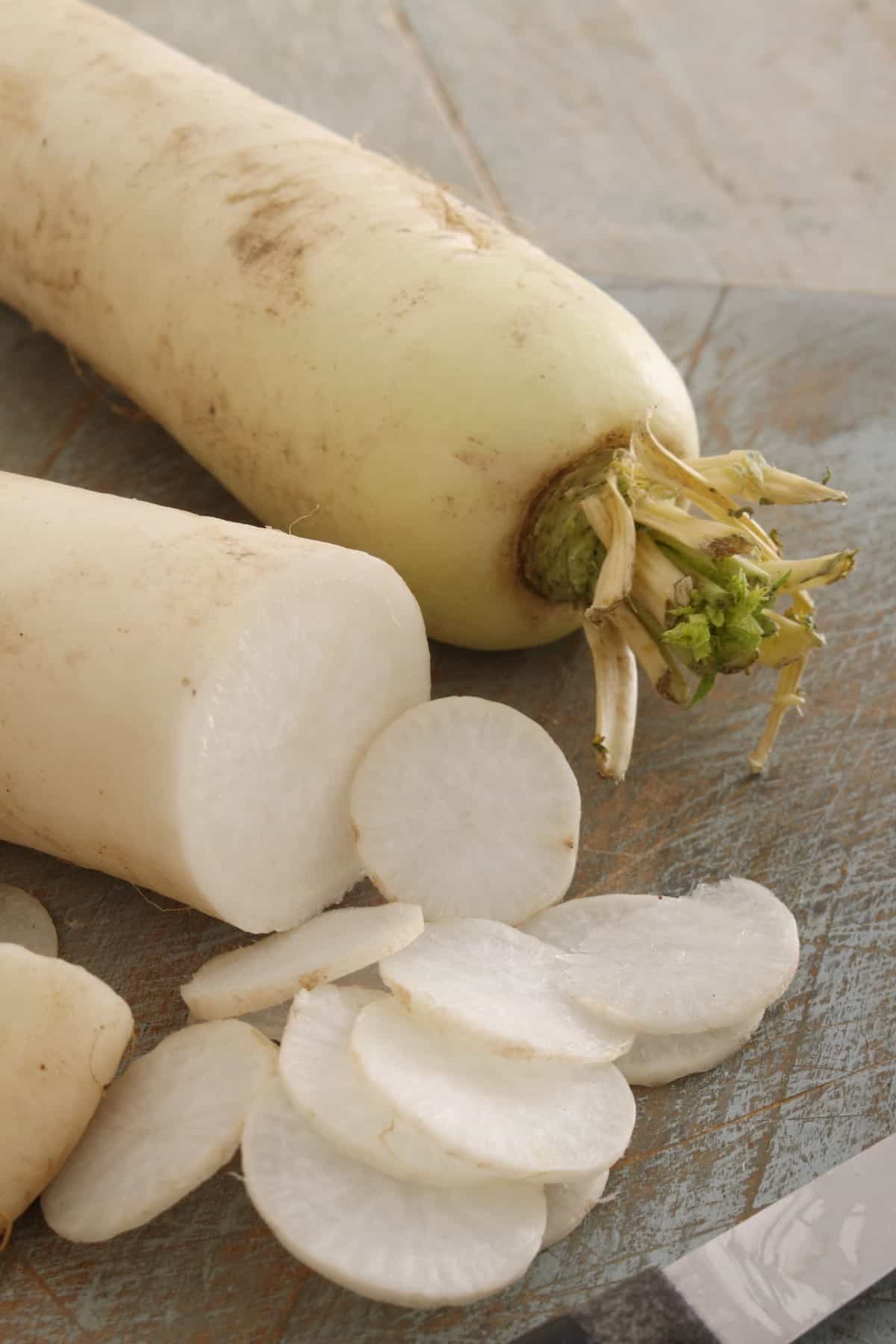 As the name implies, daikon radishes are root vegetables and, like many other root vegetables, daikon radishes are extremely versatile in your kitchen. In Asian cooking, all of the daikon is used – the greens can be used for salads and stir-fries, and the big root itself is eaten raw, cooked, or even pickled!
Pickled daikon is often found in Vietnamese cuisine as a topping for banh mi sandwiches. You can substitute daikon for radishes in any recipe that calls for them without changing the flavor profile much.
Sliced thinly, raw daikon radish becomes garnishes for salads and main dishes alike. Grated, daikon shines in coleslaw or can be used in baking. Cut into cubes or chunks, you might find daikon on its own as a cooked side dish or, it could be combined with other root vegetables.
Because they're white, daikon radishes look magnificent cooked and served alongside dark red beets and bright orange squash for fall flavors that can't be beat. The greens are often added to salads.
Daikon radishes are the most commonly eaten vegetable in Japan, and you'd be hard-pressed to find a restaurant there that doesn't have them on their menu in some shape or form.
Varieties of Daikon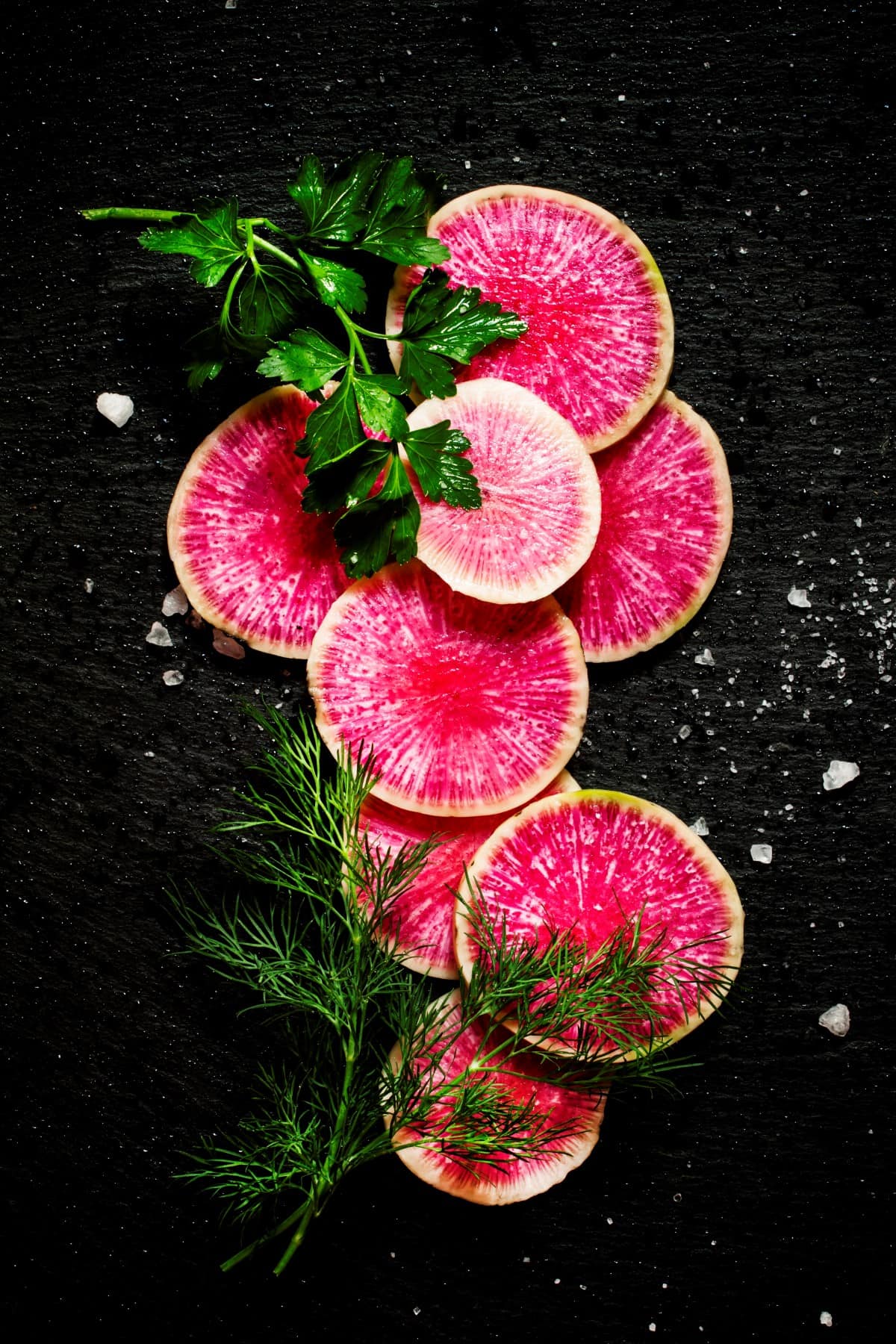 There are a few different varieties of daikon. The most common is the white radish that you will see in your grocery store.
There is also a Cantonese Lobak or lo pak, which is lighter green at the top. Also, a Korean one called Mu, which has a similar coloring but is rounder and shorter. Both of these are spicier than the more common white daikon.
Also found is a watermelon radish, which is colorful Chinese daikon. This pretty daikon has a light green exterior and a bright pink interior. It is mainly served raw and sliced to show off its pretty coloring.
What does Daikon Radish Taste Like?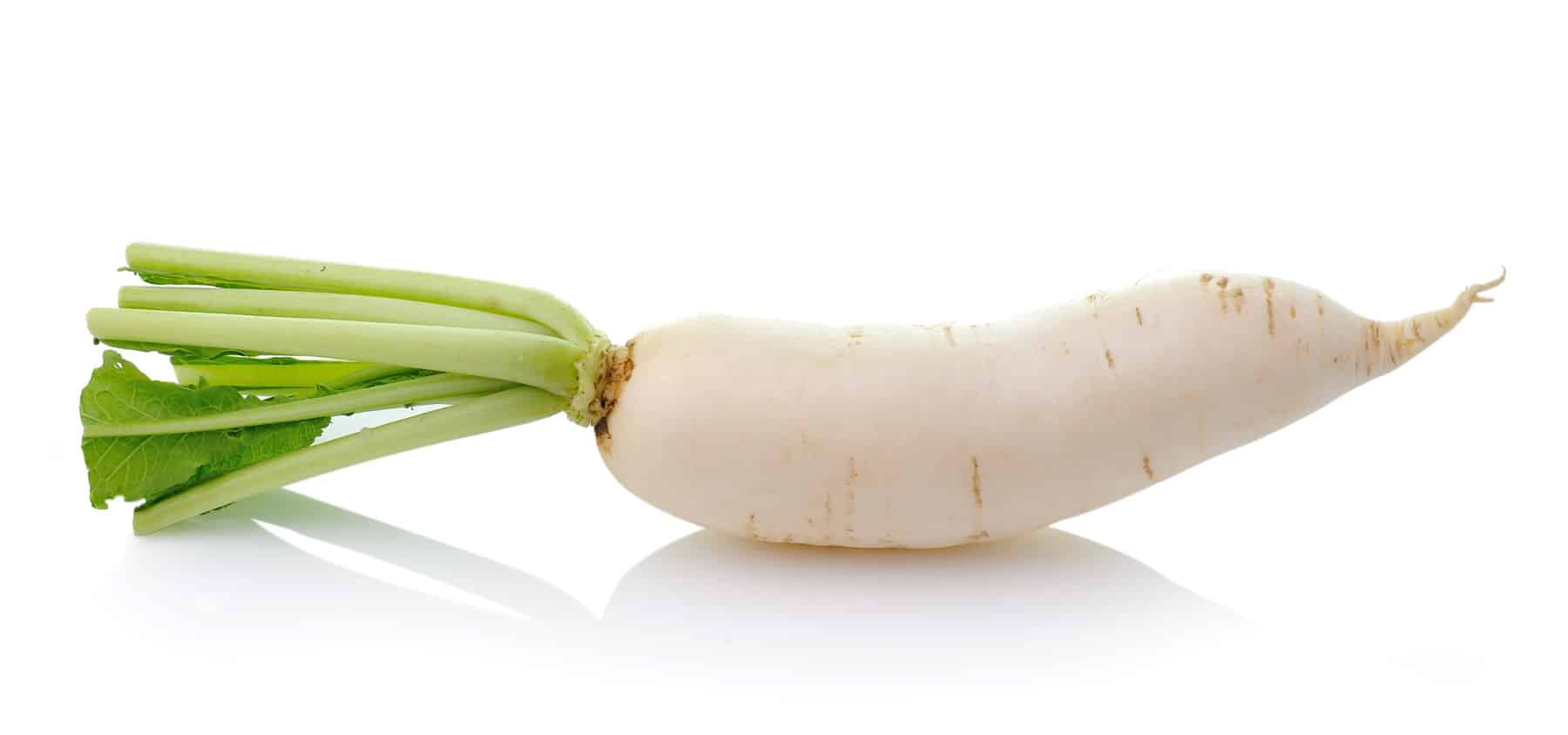 Compared to the red radishes we're used to in North America, daikon radish roots have a milder spicy-sweet flavor. The flesh is juicy while also being crunchy, like a big white carrot. When cooked, it gets milder and sweeter and becomes tender – similar to cooked turnips or rutabaga. The greens are very peppery and have a strong flavor – you can't miss them in your salad!
In Asian cultures, daikon is often served as a side dish for deep-fried foods and other heavier meals. Partly because of its light, crisp texture and partly because it has enzymes that aid in digestion and improve circulation. Both important factors after a heavy meal.
Daikon radishes are a low-calorie, high fiber (comparatively to some other root vegetables) food that is commonly used for weight loss diets. It also contains potassium and vitamin C.
Unwashed daikon radishes should be stored with the greens removed, wrapped in plastic, in the crisper drawer of your fridge. They will keep for up to two weeks this way.
Once sliced though, you'll want to use up the leftovers within a week. The leaves will start to wilt after only a couple of days, so plan to use them soon after purchase.
Overall, daikon is a great addition to soups and stews. It can be served raw in salads or on its own for snacking.
Have you had daikon radish before? Will you try it now?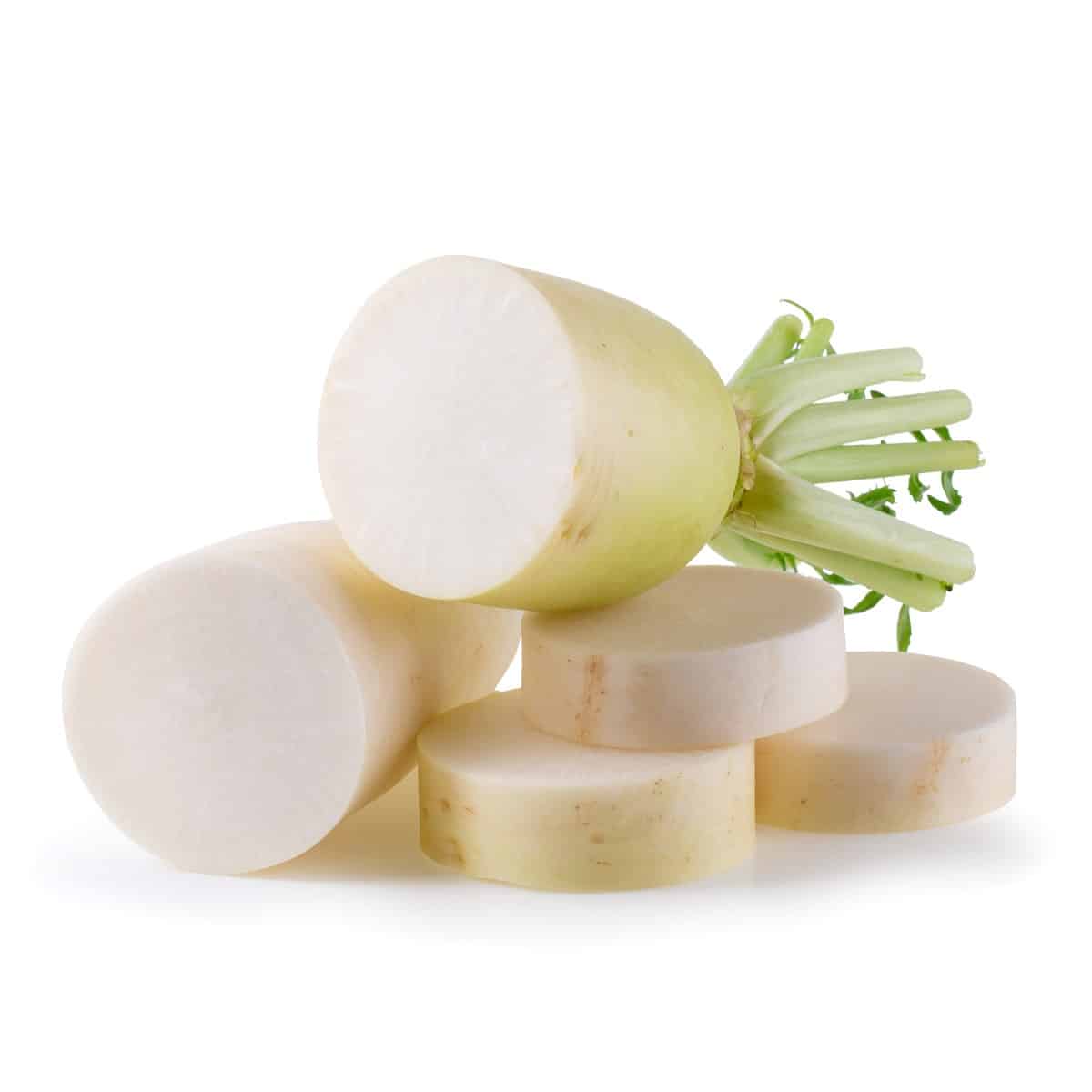 Pin it HERE!!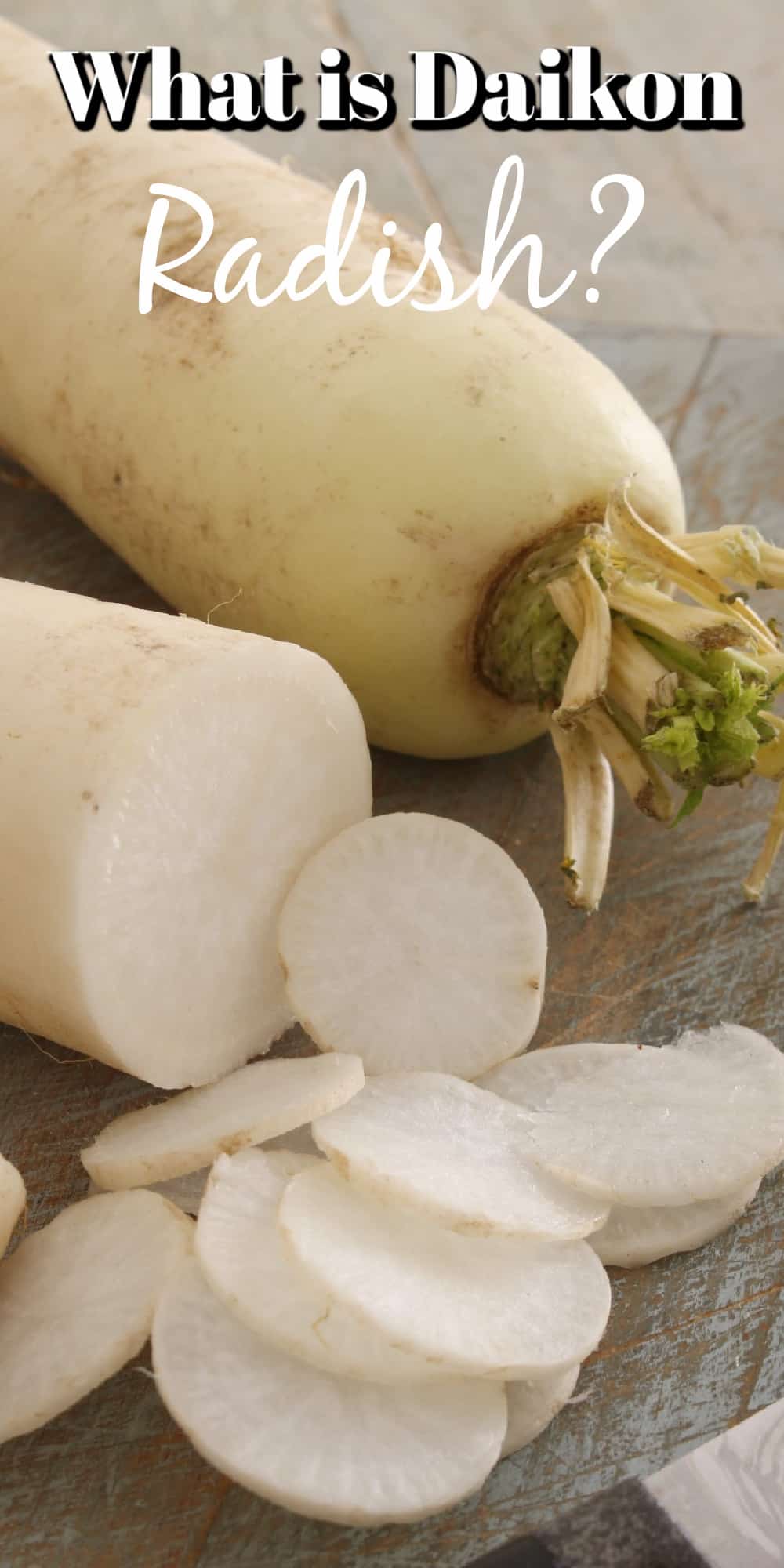 Pin it HERE!!