It is Halloween time at Creative Cookie Exchange and I am sharing a fun recipe with you, Headless Gingerbread Men. One that I have made many times for Halloween. They are fun and kids, young and old love them. I don't think I have ever made traditional gingerbread men. I am always doctoring them up some how, like in these reindeer cookies. I also have an image now in my head that gingerbread men have no heads. I have distorted the picture of the famous Christmas treat but that is okay as these are totally fun for Halloween.
I played around with some ghoulish effects for you for the cookies today. I have to say I could do that forever, so much fun on Pic Monkey right now with all their wonderful special effects for Halloween.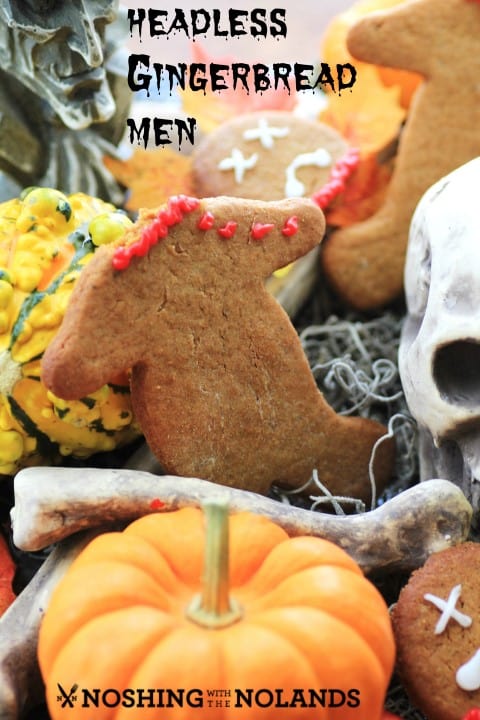 Gorgeously spiced gingerbread cookies are a great cookie for this time of year with all their earthy goodness. We love them in this household!!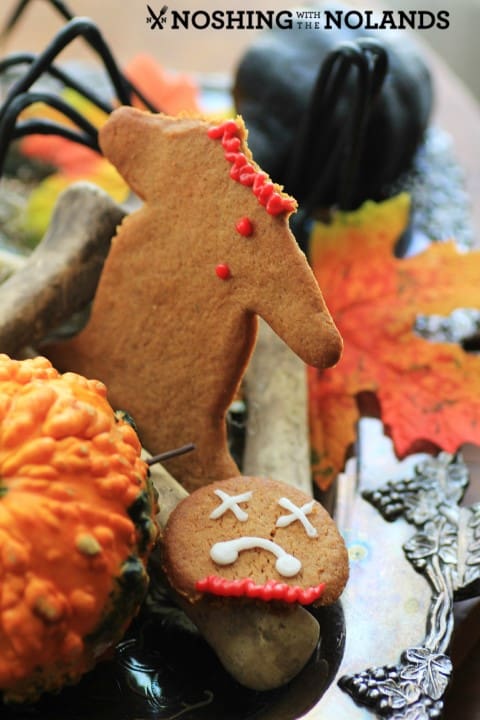 Are they a little macabre, well sure, but that is what Halloween is all about. You then don't have to worry about biting their heads off as it is already done for you, LOL!! With this picture I added a little effect with the lighting. Just makes it a bit more dastardly!!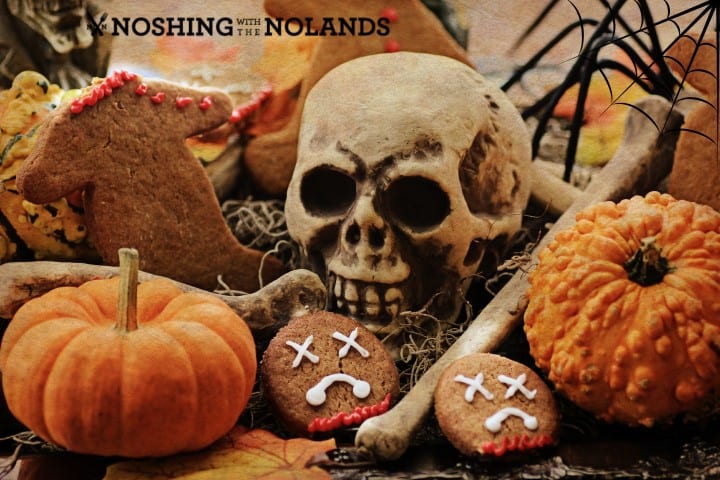 Have fun with your Halloween with these great Headless Gingerbread Men. They are easy to make and are delicious!!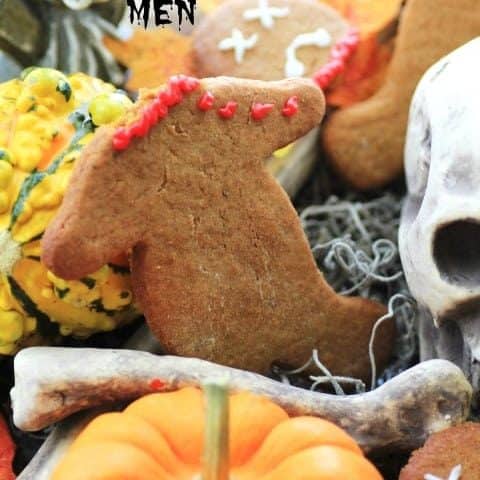 Headless Gingerbread Men
Yield: 4 dozen
Prep Time: 30 minutes
Cook Time: 8 minutes
Total Time: 38 minutes
Ingredients
2¼ cups flour
½ cup sugar
½ cup butter, softened
½ cup molasses
1 egg
1½ tsp. ground cinnamon
1 tsp. baking powder
1 tsp. ground ginger
½ tsp. ground cloves
½ tsp. grated or ground nutmeg
½ tsp. baking soda
½ tsp. salt
White tube icing
Red tube icing
Instructions
In a large bowl of a stand up mixer with a paddle attachment add all the ingredients and mix well together (I know that is weird but it works just fine, everyone in the pool!!) Transfer dough to plastic wrap and place in the refrigerator for at least one hour.
Preheat oven to 350F. Grease cookie sheets and set aside. On a lightly floured surface and working with half the dough roll out to 1/4" thick. With floured cookie cutters cut out gingerbread men and lay carefully onto the prepared sheets. Reform dough into a ball and continue to roll out and cut out gingerbread men. Bake 8 min. until lightly browned. Remove from pan and let cool on racks.
Break the heads off and make bloody necks on the body and head with the red icing. Make x's for the eyes and create a sad mouth. Let the cookies dry before storing.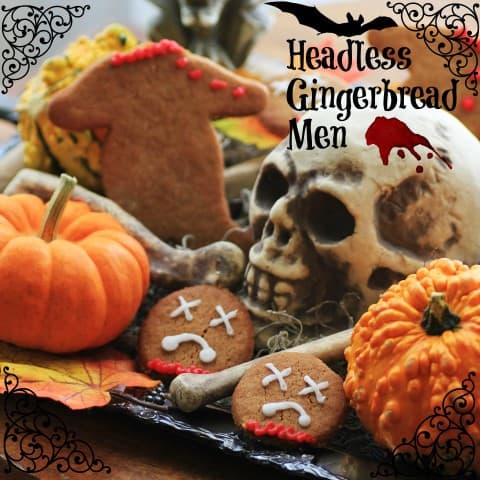 I could play with those effects all day but I have cooking to do!! Have a happy and safe Halloween!!
The theme this month is Halloween! Spooky, silly, creepy, we've got it all! If you are a blogger and want to join in the fun, contact Laura at thespicedlife AT gmail DOT com and she will get you added to our Facebook group, where we discuss our cookies and share links.
You can also just use us as a great resource for cookie recipes–be sure to check out our Pinterest Board and our monthly posts (you can find all of them here at The Spiced Life). You will be able to find them the first Tuesday after the 15th of each month! Also, if you are looking for inspiration to get in the kitchen and start baking, check out what all of the hosting bloggers have made: