Italian Stuffed Meat Rolls in Mott's Clamato
What a versatile drink Mott's Clamato is. I created these Italian Stuffed Meat Rolls in Mott's Clamato. I never knew how easily I could incorporate it into so many dishes. Ken, Amber and I absolutely loved this. Using the extra spicy doesn't give you lots of heat but lots of flavors!! I stuffed rouladen meat with cheese and the only complaint I had with this recipe is that the cheese oozed out. Maybe if you used a different cheese that doesn't easily melt it would be better. It just ends up in the sauce which is not a bad thing anyway. Quick, easy and great make-ahead meal, as I did this in the afternoon and just cooked the pasta in the evening and rewarmed the rolls. Try some Mott's Clamato today instead of your tomato sauce, it works great!!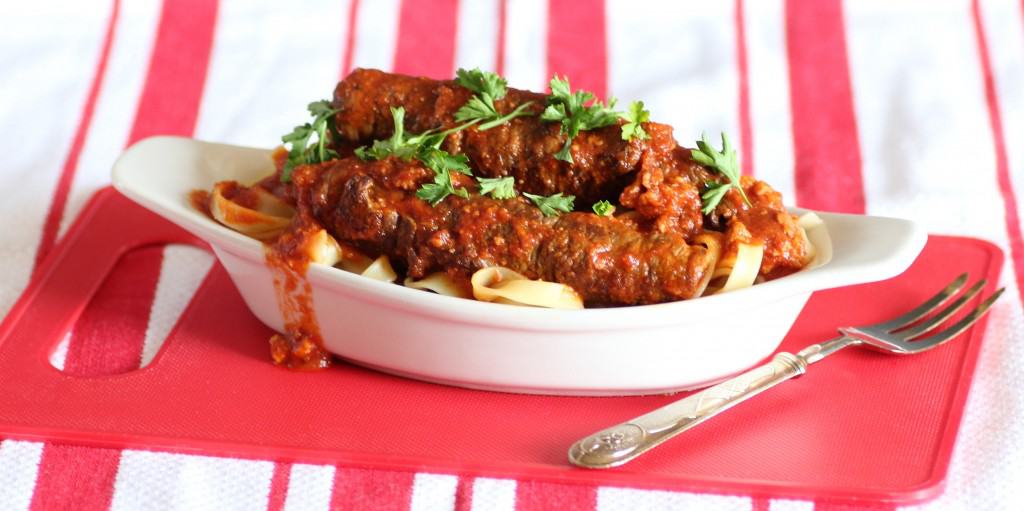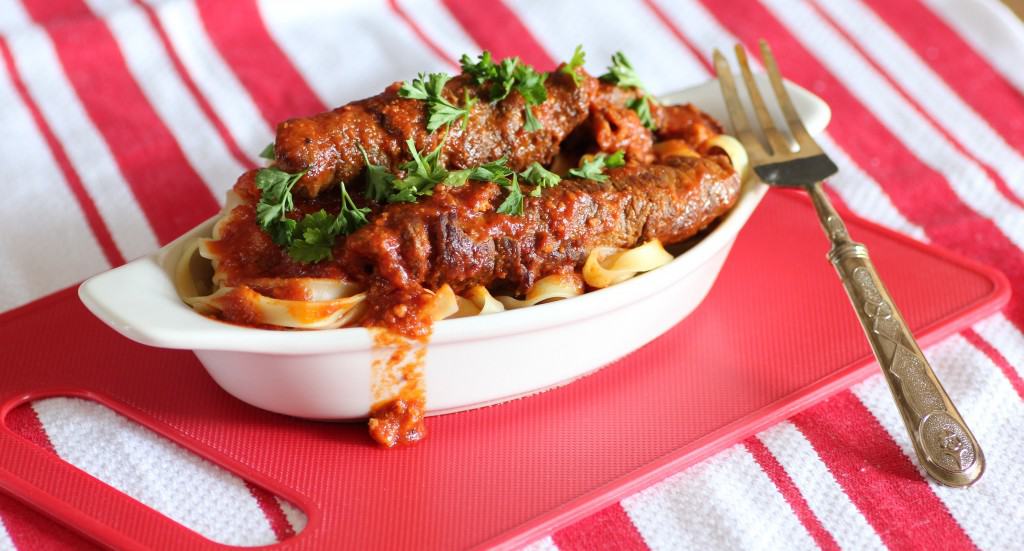 Recipe
Italian Stuffed Meat Rolls in Mott's Clamato
So full of flavor!!
Ingredients
8 slices beef rouladen
8 Mozzarella sticks
½ cup freshly grated Parmesan
Garlic powder
Salt and pepper
2 Tbsp. olive oil
3 cups extra spicy Mott's Clamato
1 156 ml. tomato paste
Tagliatelle, 2-3 nests per person
Instructions
Lay two rouladen out and season with salt, pepper and garlic. Turn over and lay one mozzarella stick at the wide end, sprinkle with some parmesan and roll up. Repeat with remaining slices of rouladen. Tie each roll with two strings. Heat olive oil in a large saute pan and brown rolls quickly. Meanwhile add tomato paste to a large bowl and slowly incorporate the Clamato with a wooden spoon or whisk. Add to the saucepan and let simmer for 2 hours, covered.
Boil pasta until al dente. Serve the rolls with sauce over top.