I love recipes like this, they remind me of Michael Symon's 5 in 5 recipes. Fast, simple, and full of flavor. If you have everything organized you can have these Korean Pork Medallions on the table in no time, maybe not five minutes but fast, probably 30 min. including marinating time!!!
Ken was the chef behind this meal and we all thoroughly enjoyed it.
Fine Cooking is where this recipe originated from, they have a bevy of fantastic recipes, scrumptious and perfect.
I like to remove something from a FULL plate of dinner, sometimes it is the meat, sometimes, like in this case, the carb.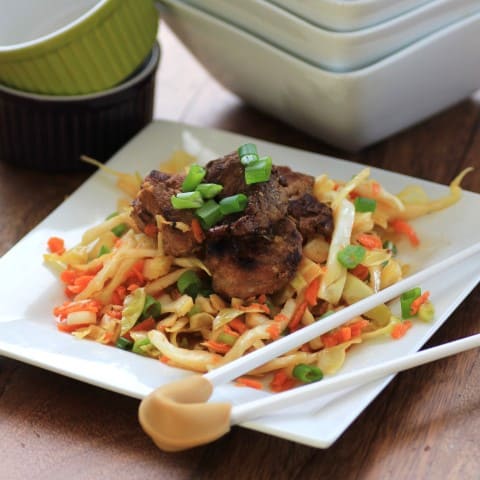 I love the delicious pork tenderloin with all of it's Asian flavors over the crunch of a fresh Asian slaw. All the ingredients are there, garlic, ginger, sesame oil, Sriacha, sugar, vinegar!!!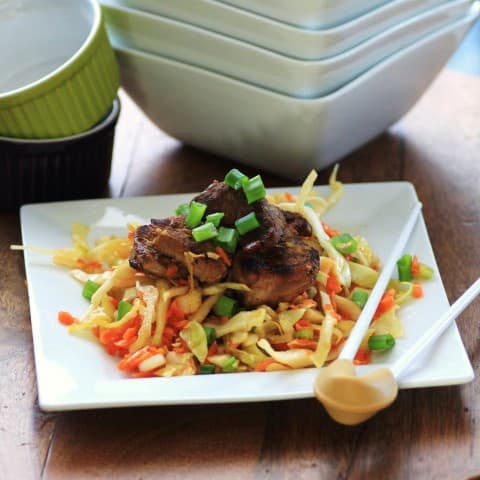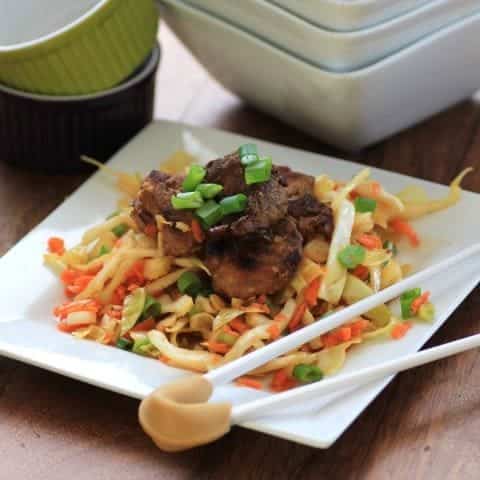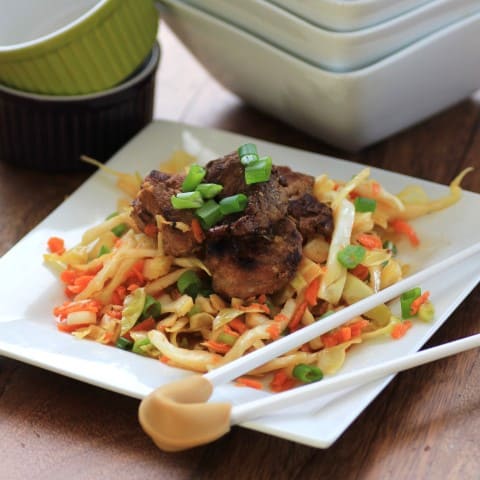 Korean Pork Tenderloin Medallions
Yield: 6 Servings
Prep Time: 25 minutes
Cook Time: 15 minutes
Inactive Time: 25 minutes
Total Time: 1 hour 5 minutes
A fast and delicious dinner you can have for your family in no time!!!
Ingredients
I large pork tenderloin or two small
1/3 cup light soy sauce, gluten-free if needed
2 Tbsp. rice vinegar
2 Tbsp. brown sugar
2 medium cloves garlic, minced
1 1/2 Tbsp. jarred fresh ginger
1/2 Tbsp. sesame oil
2 tsp. Sriracha
1 lb. napa or regular cabbage, thinly sliced
2 medium carrots, grated
2 green onions, chopped
3-4 Tbsp. canola oil
Kosher salt to taste
Dressing
1Tbsp. canola oil
1 tsp. salt
2 Tbsp. rice vinegar
1 Tbsp. brown sugar
1/2 Tbsp. sesame oil
1 tsp. Sriracha
Instructions
Clean the pork by trimming it of any excess fat and silver skin. Cut into 1/2 inch medallions on the diagonal.
In a small bowl, whisk together the soy sauce, 2 Tbsp. rice vinegar, 2 Tbsp. brown sugar, garlic, ginger, 1/2 Tbsp. sesame oil, 2 tsp. Sriracha. Add 1/2 cup of the sauce to the pork medallions in a large bowl.
Massage into the meat. Reserve the other half for a sauce. Let the pork stand for 25 min. or in the refrigerator for up to 2 hours.
While the pork is marinating, toss the cabbage with the carrot and half the green onions.
In a small bowl whisk together 1 Tbsp. canola oil, 1 tsp. salt and 2 Tbsp. rice vinegar, 1 Tbsp. brown sugar, 1/2 Tbsp. sesame oil and 1 tsp. Sriracha.
Toss the slaw with the dressing and serve on a large platter or keep in the bowl to serve on individual plates.
Heat 2 Tbsp. canola oil in a large nonstick frypan over medium-high heat. When the pan is very hot add the pork after taking it out of the marinade and shaking off excess.
Cook the pork in 2 or 3 batches so as not to crowd the frying pan adding more oil as needed. Let the pork cook without moving until very brown about 2-3 min., flip the pork and cook for another 2-3 min. until the pork is cooked through. Check by slicing into a piece.
Serve the pork on top of the slaw on a serving platter or individual plates drizzled with the reserved sauce and sprinkled with the reserved green onions.
Nutrition Information:
Yield: 6
Serving Size: 1
Amount Per Serving:
Calories: 391
Total Fat: 34g
Saturated Fat: 3g
Trans Fat: 0g
Unsaturated Fat: 30g
Cholesterol: 21mg
Sodium: 1546mg
Carbohydrates: 13g
Fiber: 2g
Sugar: 9g
Protein: 10g
Recipe calculation was provided by Nutritionix and is estimation only. If you need nutritional calculations for medical reasons, please use a source that you trust.
Easy, delicious, low cal, gluten-free and quick!! You can't beat a recipe like this one!!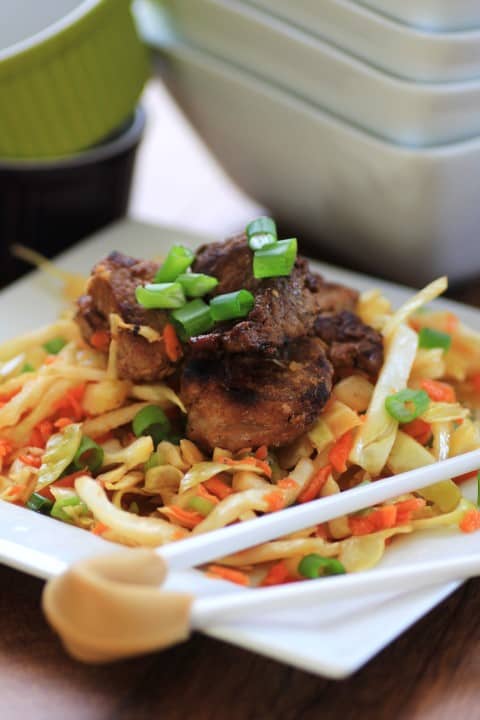 Adapted from Fine Cooking Spicy Korean-Style Medallions with Asian Slaw