Meringue Hearts
Today we are with #CreativeCookieExchange sharing cookies with the theme of HEARTS!! I decided to make Meringue Hearts, which are perfect for Valentine's Day that is soon approaching!! Our daughter loves meringues and is always asking me to buy them for her. She was very happy to have these cute little hearts! They are light as air and really quite easy to make, very few ingredients. Also, try our Cinnamon Meringue Cookies, they would be perfect for Valentine's Day too!!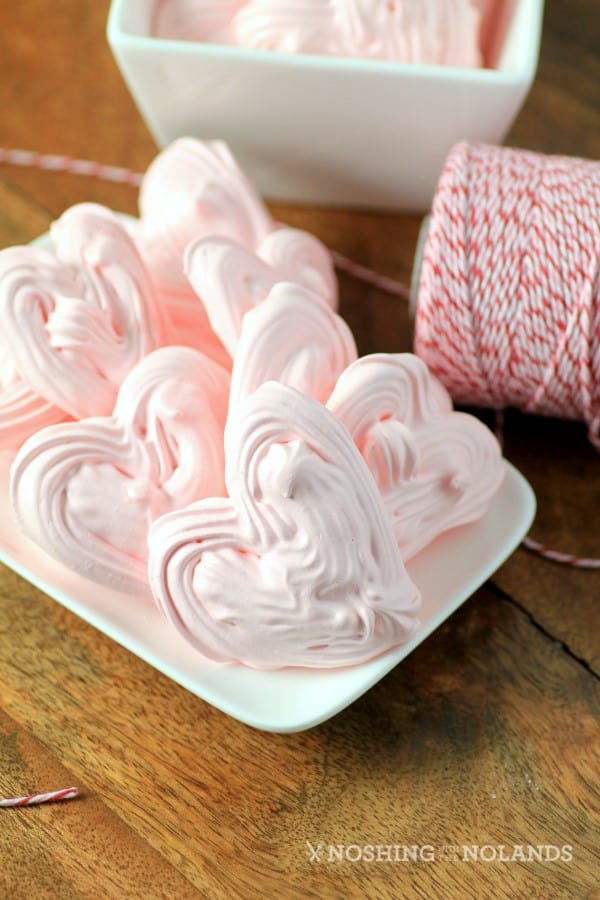 Meringues are slightly more difficult at higher elevations, at least I believe they are. We are at >3500 feet here in Calgary. What I find is that I have to beat the egg white mixture much longer for it to stay at stiff peaks, so that I can pipe it out of a bag. I find that if I beat it to the directions or a normal recipe it falls too quickly back to soft peaks.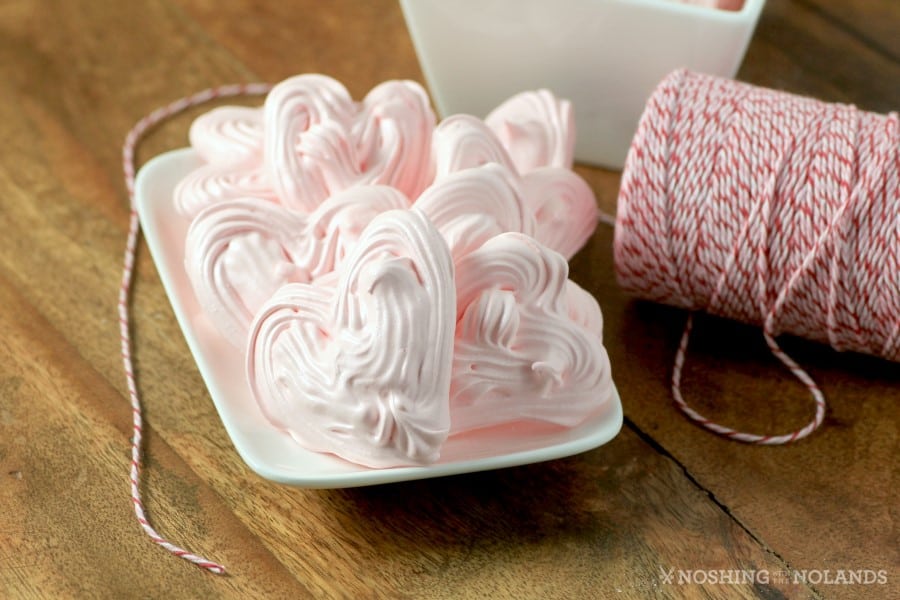 The only thing with beating the egg whites too long is that they may dry out. That honestly has never happened to me though. The meringues with a longer whipping time turned out perfectly. I also like to bake them in a lower temperature oven, at 200F. I find this dries them out nicely without having any signs of browning.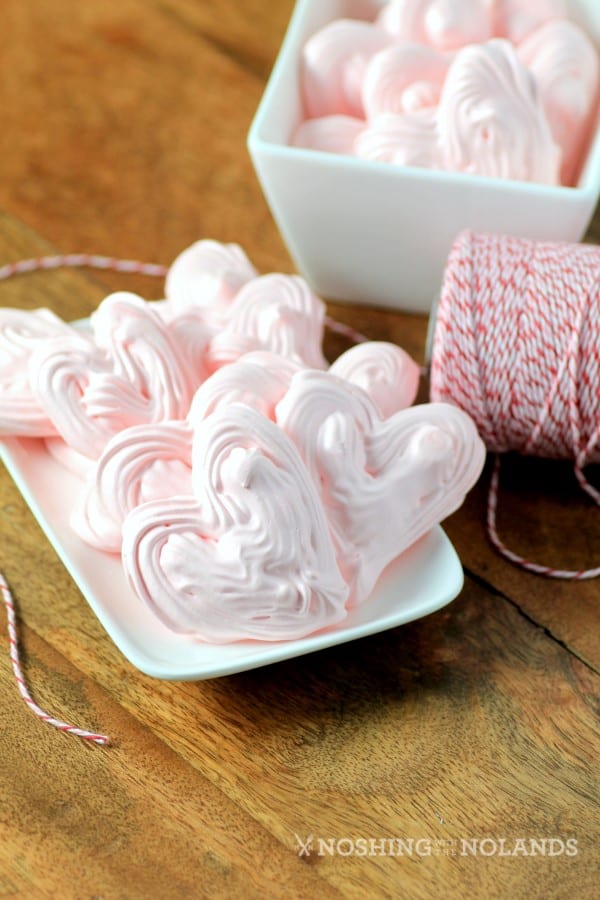 The little heart meringues are light as air. They also last well in a sealed container for days, keeping their lovely light crispy texture. To get the pink colour I added a little bit of gel food colouring, just to get them to a pretty light pink colour. You can easily adjust that to how you like it.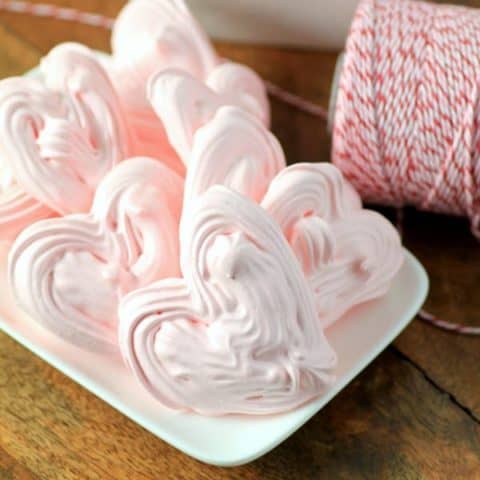 Meringue Hearts #CreativeCookieExchange
Prep Time: 10 minutes
Cook Time: 2 hours
Total Time: 2 hours 10 minutes
A light as air Valentine's Day Meringue Heart that your loved ones will so appreciate!
Ingredients
4 large egg whites
1/2 tsp. cream of tartar
1 cup superfine sugar
Red gel for colouring
Instructions
Line two baking sheets with parchment paper.
In the bowl of a standup mixer add the egg whites and beat on medium low speed until foamy. Add the cream of tartar and continue to beat until soft peaks. Add the sugar a little at a time and continue to beat until the meringue hold stiff peaks and when the mixture is rubbed between your fingers it is not at all gritty. Depending on your altitude to get it to stiff peaks that will stay you may require longer beating than 7 min. Add red gel to desired colour. Mix well.
Preheat oven to 200F.
Transfer the meringue to a pastry bag and desired tip. I used a closed star tip. Hold the parchment down to the cookie sheet with a little meringue in the corners. Pipe the meringue into heart shapes on the prepared sheets. You can leave the center empty if desired or fill it in with more meringue. A finger dabbed in water can be used to flattened out the spike at the end of piping or just leave it. Make your hearts to desired size, 1", 2" or more.
Bake for 90-120 min. depending on size. They can be easily checked to see if they are dried out enough but they do dry also with cooling. Let cool on the baking sheets and then remove to an airtight container.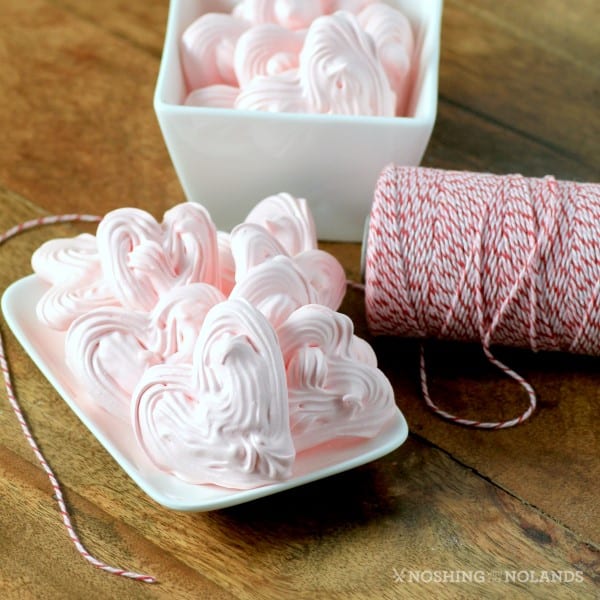 It is late January guys and you know what that means! Soon love will be in the air! Too corny? OK fine, but we all know Valentine's Day is about to start trending, and we have the perfect cookies! Hearts, love, anything symbolizing hearts and love, we have it all! Check out our hearts and love cookies below and maybe make them for your loved ones!
You can also use us as a great resource for cookie recipes. Be sure to check out our Pinterest Board and our monthly posts (you can find all of them here at The Spiced Life). You will be able to find them the first Tuesday after the 15th of each month! Also, if you are looking for inspiration to get in the kitchen and start baking, check out what all of the hosting bloggers have made: