I received this big beautiful hardcover book for review. A book entirely on the craft of curing meats and fish. On every menu when dining out these days you see a lovely charcuterie. Something that I really love to share. It brings you together and instantly starts a convo of "'ahhh, did you try that one with the mustard or that meat is so good with that little bit of cheese" etc. The recipe that we selected, Queso en Aceite is a perfect match for any charcuterie and something that is so easy to make!!
There are 100 recipes in this book but it is so much more than that. It is a detailed explanation of the butchering and traditional meat-curing techniques of the Iberian pennisula. The photography in the book is astounding, page after page of gorgeous photos!!!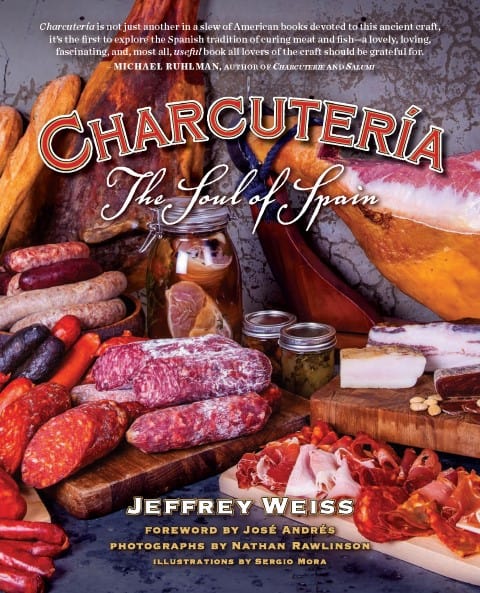 I wasn't about to start a curing chamber to review this cookbook but that is actually not what it is all about anyway. If that is your thing go for it, but this book also celebrates the world of Spain and it is gorgeous recipe, after gorgeous recipe. Hubby and myself fought over which one to try. There will be many made from this cookbook in the future!! The one that we decided on was something that we had tried in the past and loved, a Queso en Aceite. So easy to make and so delicious. I will be making this for dinner parties again!!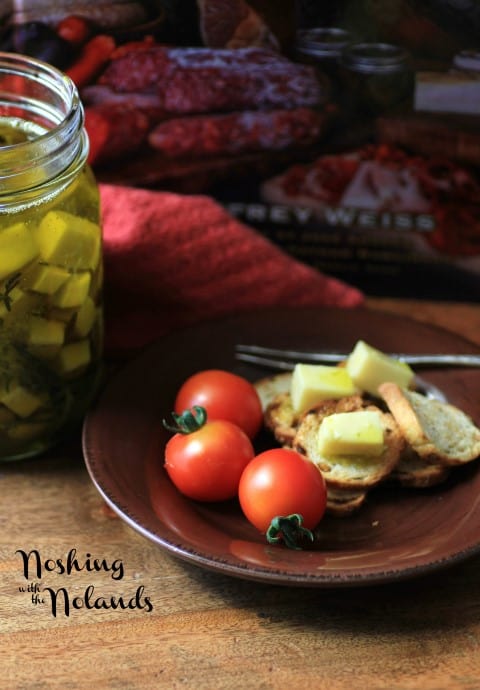 What singles out charcuterie of Spain? Well, all of the countries that cure meat have the same components, meat + salt + time but, what do you think of when you think of Spanish meat, CHORIZO!! Spanish flavors are bolder and full of pimenton and garlic where as the French and Italian historically are sweeter with spices like allspice, nutmeg and others.
The Spaniards love the pig, it is on political banners, it is a symbol of prosperity!! Cured meats like chorizo and ham are deeply part of the Spanish culture.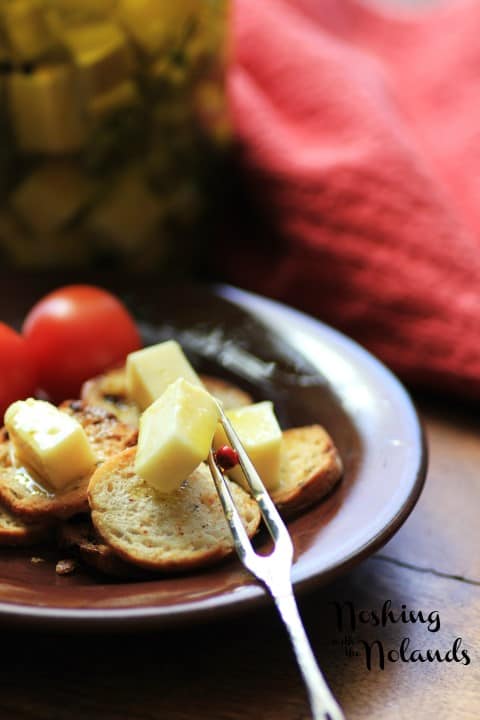 There are so many fabulous recipes in this cookbook, not only for curing meats but to accompany a charcuterie like the one we choose. The author writes that he is a fan of eating this cheese right out of the jar with some good bread and a glass of wine. That is exactly what I did!! He said, why make something so delicious difficult!! I love that!!
Take the jar out of the fridge so the olive oil clears again, it sort of clouds when cold. Then indulge!!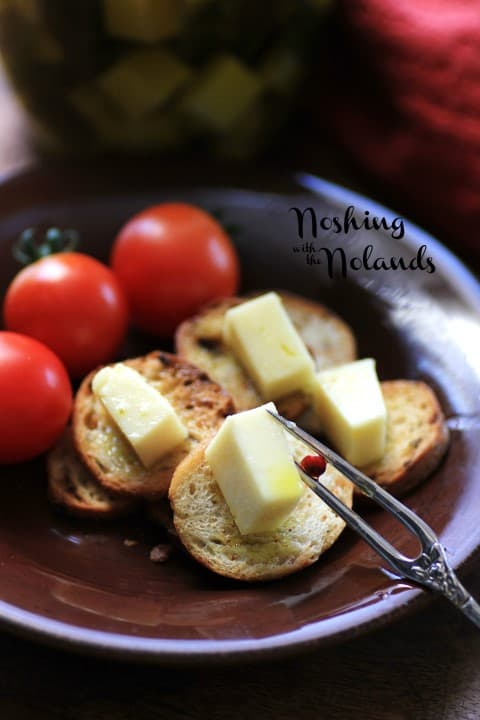 The author of the is book is Jeffrey Weiss, a professional chef. Jeffrey has more than 15 years of experience cooking with top chefs like Jose Andres, Dani Garcia, Adolfo Munoz and April Bloomfield. He is one of very few to receive the prestigious ICEX culinary scholarship. With this scholarship he is able to travel to Spain to live, to learn the regional cuisines and to cook in the top kitchens in Spain. The foreword in this book is by James Beard Award-winning chef Jose Andres. Nathan Rawlinson is a James Beard nominated photographer and Sergio Mora did the illustrations and is based in Barcelona.
Queso en Aceite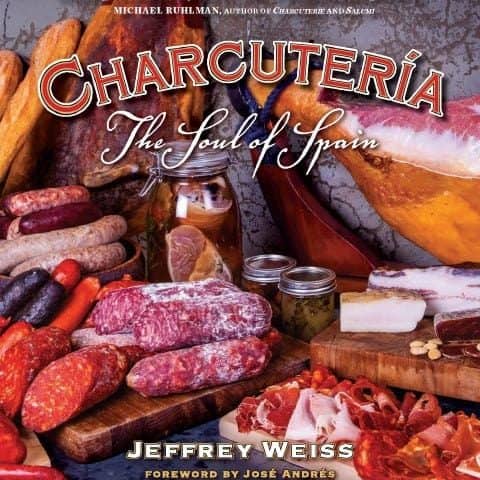 Queso en Aceite
A cheese that is cured in olive oil is so very simple and so rustic and sexy too!!
Ingredients
1.1 lbs. fresh, semisoft or semifirm goat's or sheep's milk cheese, such as Manchego or Queso de Cabra (we used Manchego)
5 sprigs fresh thyme
3 sprigs fresh rosemary
2 sprigs fresh marjoram
2 whole garlic cloves, peeled and destemmed
10 black peppercorns
High-quality extra virgin olive oil (preferably a Spanish varietal, like Arbequina or Cornicabra), to cover
Instructions
Sterilize some Mason jars if you plan to store the cheese for longer than 1 month. Otherwise, a small storage container will do.
If using a semifirm cheese, like Manchego, cut it into bite-sized pieces. If using a soft cheese, like goat cheese, form it into discs or balls that will fit into the container.
Place the cheese pieces, herbs, and spices into the storage container. Cover with the oil.
Close the container and hold in the refrigerator for up to 1 month to age the cheese in the oil. (If holding for longer, use the Mason jars).