We went to the farmer's market a couple of weeks ago. Not for anything in particular but to nose around. We love doing that for an afternoon. Our daughter always finds things to buy in all the little booths that display clothes and jewelery. Ken and I are always on the hunt for the latest yummy find. For me this time it was a small bag of three different kinds of cauliflower, white, orange and purple. That was the basis for my creation, the Farmer's Market Cauliflower Salad!!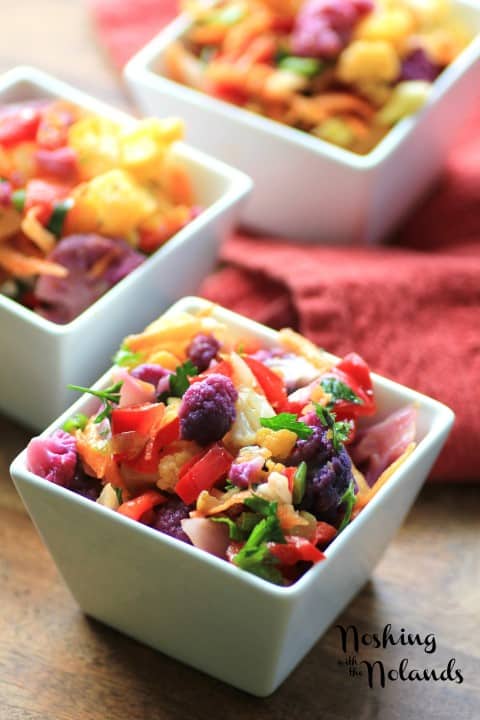 I wanted to add more colors to the gorgeous cauliflower, so I grabbed green onion, huge farmer's market carrots, and long unusually shaped sweet red peppers. I knew I had flat leaf parsley growing in my herb garden and knew that it would be great with this salad. Off home we went with all sorts of the usual produce and with my great farmers market find!!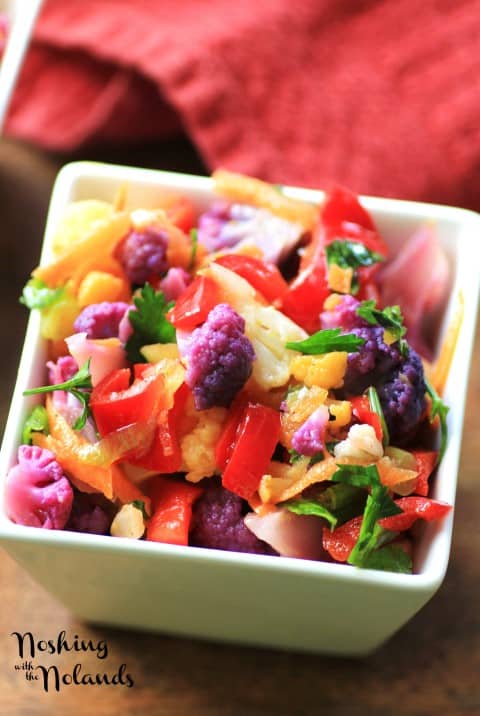 This was a quick recipe too, the cauliflower was steamed slightly to absorb the dressing better. Then everything was tossed together and chilled until ready to serve. Crunchy, delicious and super healthy was this find from the farmer's market!!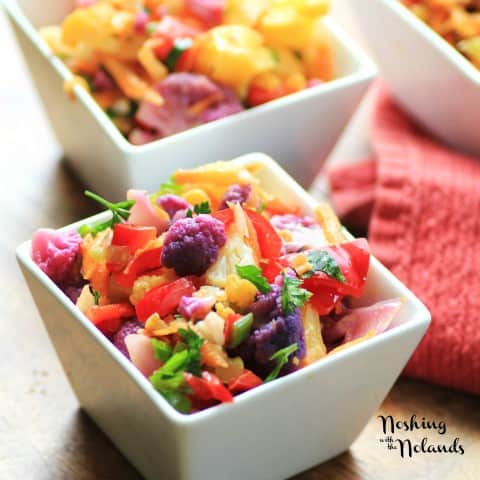 Farmer's Market Cauliflower Salad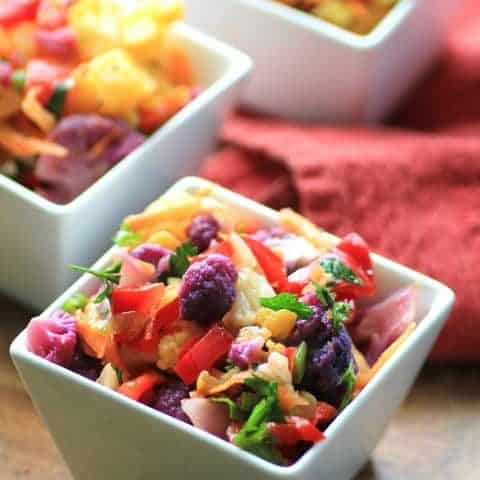 Farmer's Market Cauliflower Salad
Yield: 3-4
Prep Time: 10 minutes
Cook Time: 5 minutes
Total Time: 15 minutes
A delicious find of veggies from our local farmers market made up this fabulous salad.
Ingredients
3 cups mixed cauliflower, chopped and steamed until just tender, cooled slightly
2 green onions, chopped
1/2 cup carrot, shredded
1/2 cup sweet red pepper, diced
2 Tbsp. flat leaf parsley, chopped
Dressing
1 Tbsp. red wine vinegar
3 Tbsp. extra virgin olive oil
Celery salt and garlic salt to taste
Fresh ground pepper to taste
Instructions
Whisk the dressing together. Toss the veggies together in a bowl and drizzle on the dressing. Mix well. Chill and serve.