We love to celebrate St. Patrick's Day here but not with crazy parties or get-togethers but something to note the day like these very cute Shamrock Cookies. Amber made these for you! She has a talent with her sugar cookie designs but these are very simple. To ice you do a piped edge with a slightly thicker icing and then flooding a thinner icing into the middle.
These would finish off a meal of corned beef and cabbage like no other and put smiles on everyone's face. We make up a big batch of sugar cookies and they are shared over many holidays like Valentine's Day, St. Patrick's Day, Easter, birthdays and more. Sugar cookies freeze very well before or after icing. So you can have something for every occasion!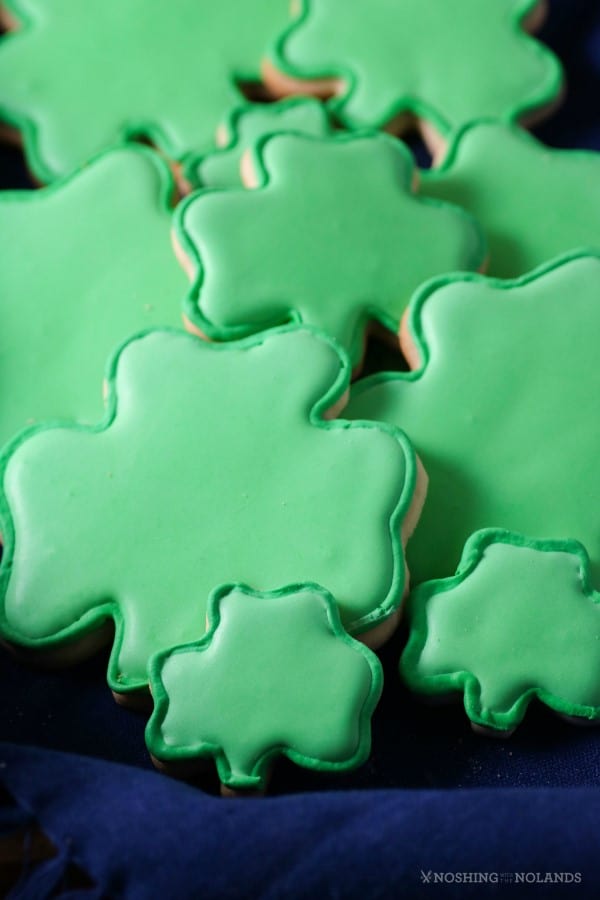 Aren't these the cutest? I have a huge bag of cookie cutters that I have collected throughout the years but they are very easy to find at any local craft store or online. The little ones are fun to put into a lunchbox! Our daughter Amber is a teenager now but I think she loves her sugar cookies even more than when she was little as she loves to decorate them now!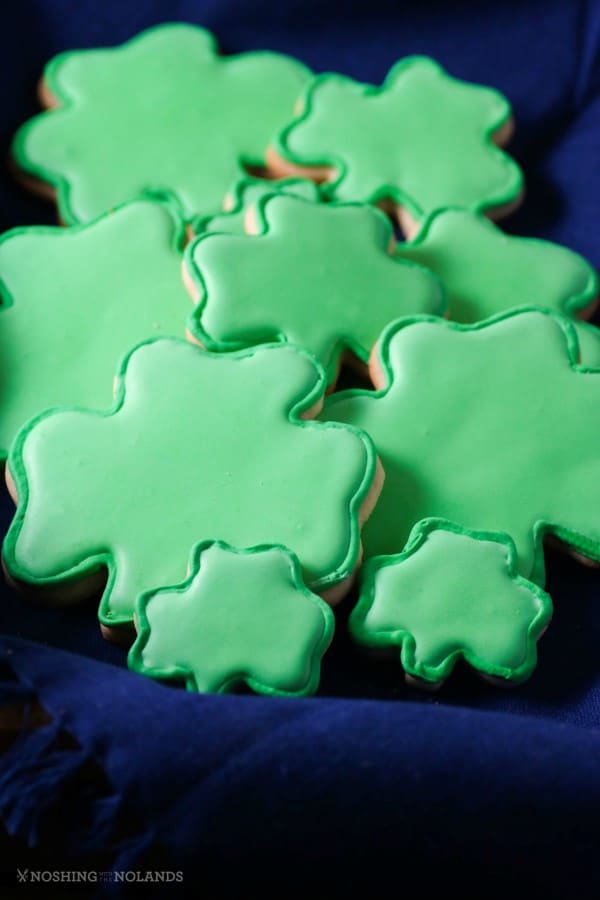 Flooding is a simple technique that everyone can have fun with. Come over to Amber's Valentine's Day Sugar Cookies post to see all the details of flooding. She has a tutorial on this previous post.
Enjoy St. Patrick's Day and celebrate the Irish in you, even if there may only be a smidge! For more recipes to celebrate St. Paddy's Day check out 15 Dreamy Irish Recipes.
The Recipe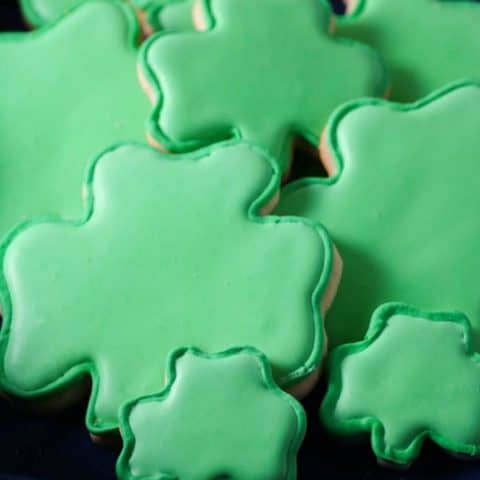 Shamrock Cookies
Cook Time: 10 minutes
Total Time: 10 minutes
Fun sugar cookies are transformed into Shamrock Cookies easily and perfect to celebrate St. Patrick's Day with!
Ingredients
Sugar Cookies
½ cup brown sugar
½ cup white sugar
1 cup butter, softened
2 eggs
1 tsp. vanilla
½ cup white corn syrup
pinch of salt
2 tsp. baking powder
3¼ cups flour
Icing
4 cups confectioners' sugar
3 Tbsp. meringue powder
5-6 Tbsp. water, plus more to thin
Food colouring, liquid or gel
Instructions
For the sugar cookies, in a stand up mixer cream butter and sugars together and then beat in eggs until well mixed. Add vanilla and syrup and mix well. Whisk together dry ingredients and add slowly, mixing well until all is incorporated. Chill the dough well, best if done overnight. Roll out dough onto a well floured surface and cut into various shapes. Bake at 325F for 8-10 min. on a lightly greased cookie sheet. Let cool 5 min. on the tray and then remove to further cool on a cooling rack.
For the icing, add the ingredients to a standup mixer with a paddle attachment and mix for 5-7 min. until soft and glossy, if too thick add more water. Add additional water to thin to a toothpaste consistency. Take out about ½ cup for piping the outside, depending on the size and shape of cookies you may want more. Thin the rest of the icing sugar to a corn syrup consistency, continuing to beat. Place in piping bags with plain tips. Cover any remaining icing with a damp towel.
Outline cookies with the thicker frosting and flood with the thinner, use a toothpick to guide the icing right up to the border or use the tip of the icing bag itself to come in closer and finish off any tiny areas with a toothpick.
Let cookies dry for 1-2 days before storing. Cookies freeze well and also last in a sealed container for a couple of weeks.
Tip: This recipe makes a lot, you can make other shapes for different holidays and have them ready in the freezer to ice for later if desired.