Mozzarella Stuffed Arancini
Here is a treat for you! Mozzarella Stuffed Arancini are traditionally a Sicilian dish and means "little orange" from their shape and colour. I have had them plain but stuffing them with mozzarella is even more divine. The risotto is full of wonderful flavor, the interior, ooey, gooey and delicious and the outside crisp and browned. This makes an amazing appetizer or a main course onto itself with fresh made salad.
In Italy there are a number of regional variants for arancini from making them cone shaped, egg shaped and round. You can stuff them with a ragu, mozzarella or peas. Arancini have been known to originate in Sicily in the 10th century. These little lovelies have been around for a long time!!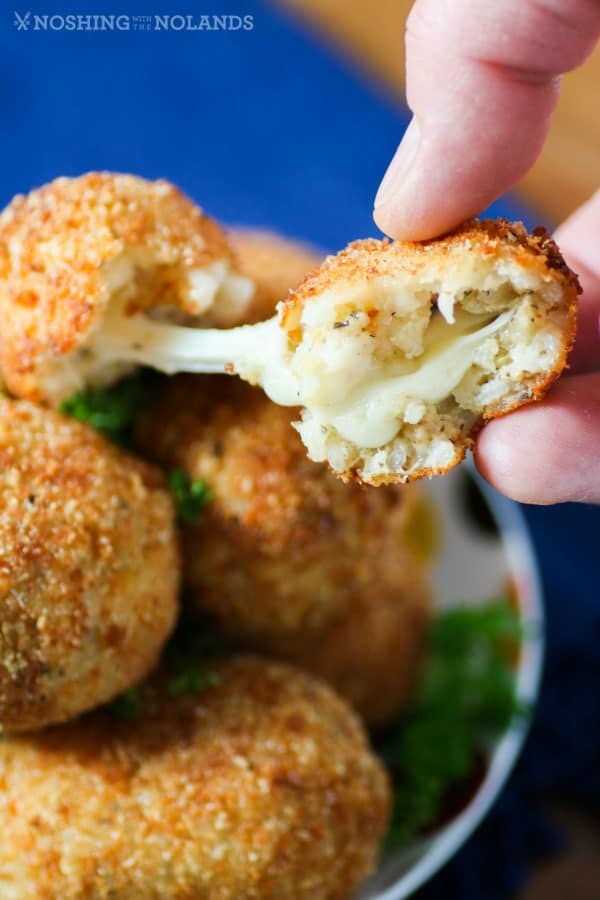 The interior gets perfectly melty when they are being deep fried. Ken made this stunning creation and played around with the sizes. I like the little one the best. Just a perfect couple of yummy bites. Ken has made arancini a few times now and previously made these incredible Italian Arancini Prosciutto Eggs. We all raved over that recipe and was very happy to see him back making arancini again!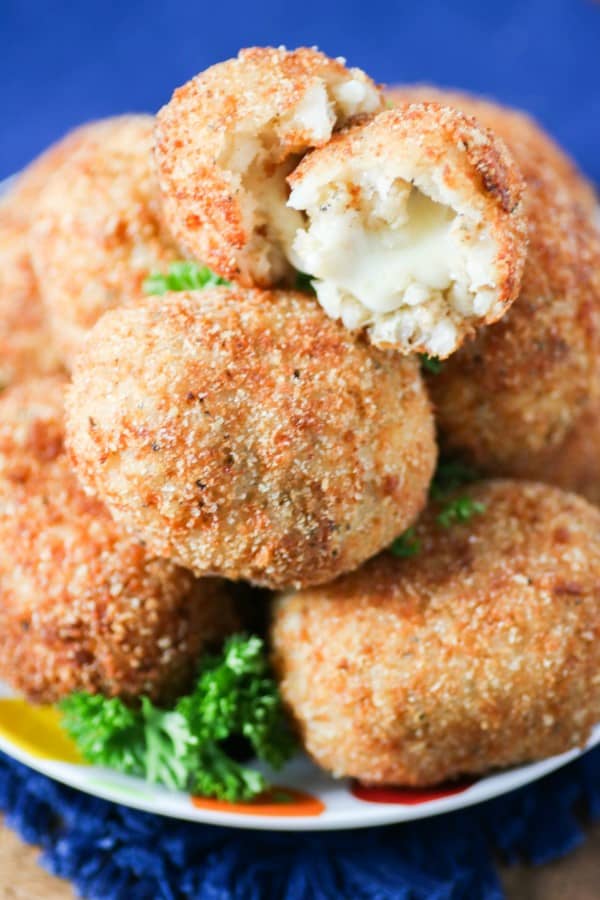 Rice is not a huge staple in Italy unless you are making these or risotto. Another rice recipe I came up with is an Italian Fried Rice, fusing Chinese and Italian together. Try these arancini or make just the risotto, you will be loving the flavor and something new to add to your Italian repertoire instead of just pasta!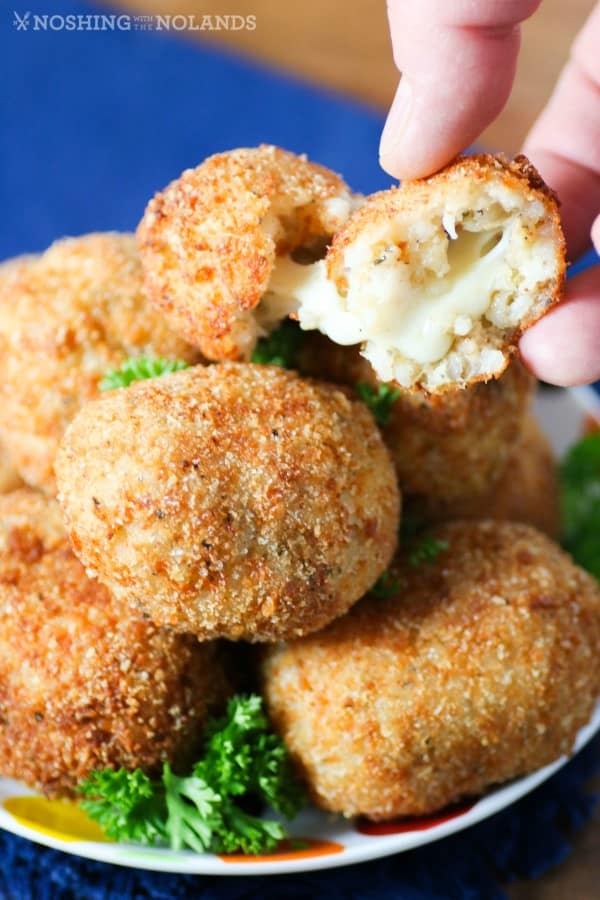 The Recipe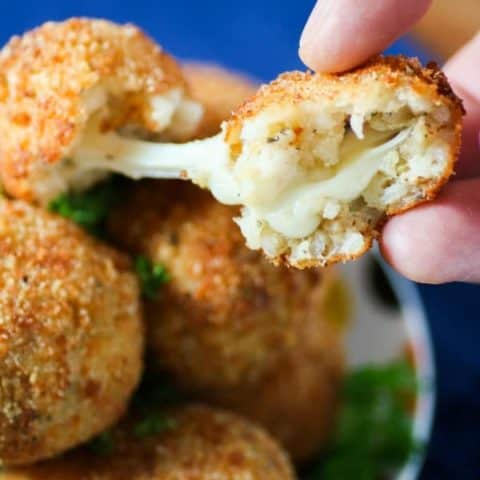 Mozzarella Stuffed Arancini
Yield: 10-12 balls
Prep Time: 40 minutes
Cook Time: 20 minutes
Total Time: 1 hour
Ingredients
Risotto
2 cups no sodium chicken broth
3 Tbsp. butter, softened
½ small onion, finely chopped
¾ cup Arborio rice
¼ cup white wine
¼ cup Parmesan cheese, finely grated
Salt and pepper to taste
Arancini Balls
2 cups cooled risotto
½ cup bread crumbs
½ cup Parmesan cheese, finely grated
¼ cup fresh basil, finely chopped
2 eggs, room temperature, beaten
Salt and pepper to taste
Breading and Stuffing
Canola oil for frying
1 cup bread crumbs for breading
Mozzarella, cut into 1/2" cubes
Salt to taste after frying
Marinara sauce, optional
Instructions
To make the risotto, add the broth to a medium saucepan and bring to a simmer, reduce heat and keep hot.
In the meantime in a large sauce pan, saute the onion in 2 Tbsp. butter and cook until tender but not browned. Add the rice and stir until coated. Add the wine and cook until almost evaporated. Add 1/2 a cup of the broth and cook until almost evaporated, about 2 min. stirring constantly. Continue to add broth in 1/2 cup increments, allowing it to evaporate after each addition and constantly stirring. Continue until the rice is still firm with a bite to it but creamy, about 20 min. Take off the heat and add the remaining butter, Parmesan, salt and pepper and stir. Let cool, can be refrigerated overnight. If it is too cold microwave for 30 - 45 seconds to make it easier to work with.
To make the arancini, in a medium bowl add the cooled risotto, bread crumbs, Parmesan cheese, basil, eggs, salt and pepper. Shape into balls to the desired size and place one mozzarella cube in the center. Coat with the bread crumbs. Heat oil to 350F in a large saucepan about 1/3 way up the pan. In batches fry the arancini balls until golden brown, about 4-5 min. Drain on paper towels and salt immediately. Serve with your favorite marinara sauce if desired.
Recipe adapted from Giada De Laurentiis.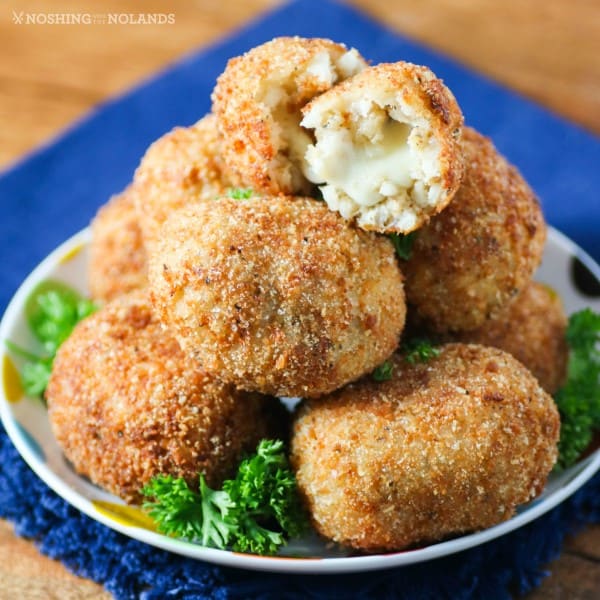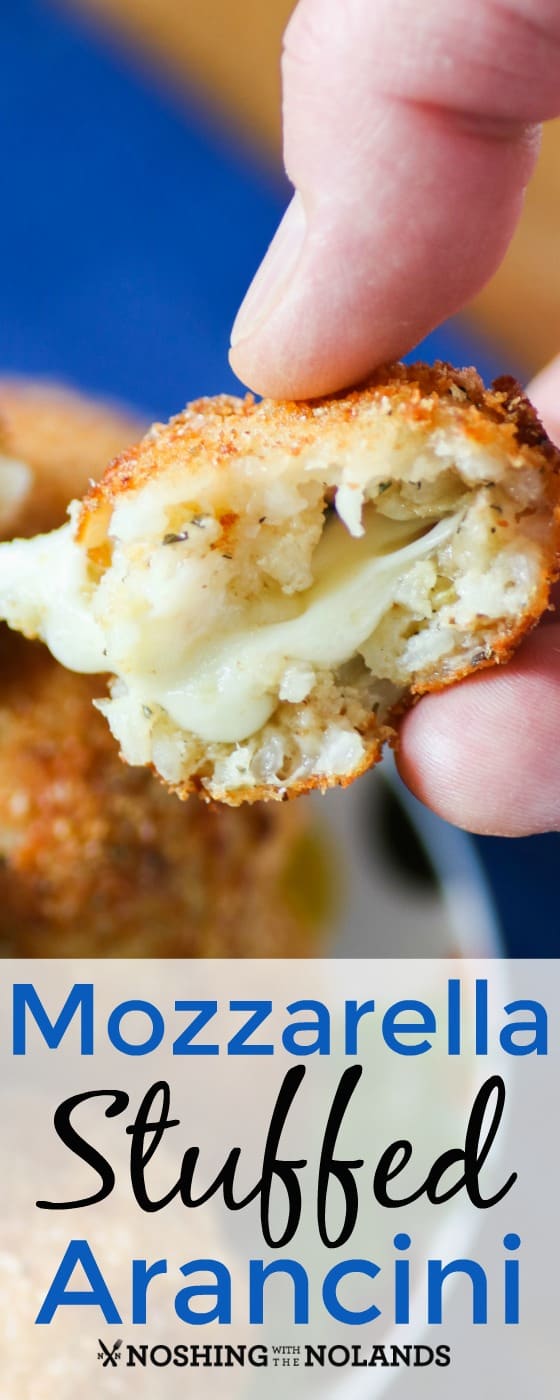 Here are the Italian Arancini Prosciutto Eggs!!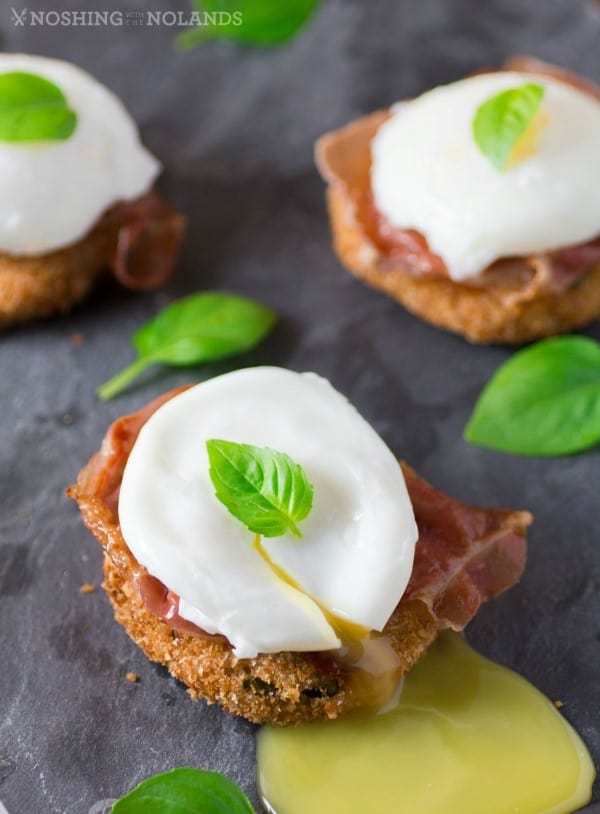 And the scrumptious Italian Fried Rice!