Truffle Cheese Fondue Little Potatoes
There is a new little potato in town from the rugged and fertile land of the Chilean Andes and they are called Chilean Splash. A new, rich and lively potato from The Little Potato Company. These little guys have some great plate appeal with their fun purple colour on half of the potato.
They have a silky cream skin with a luscious inner texture. The uniqueness though is their fun purple "splash" of colour that are guaranteed to heighten your senses. I have been indulging in a little poutine of late but I wanted to take these potatoes to a whole new level with Truffle Cheese Fondue Little Potatoes.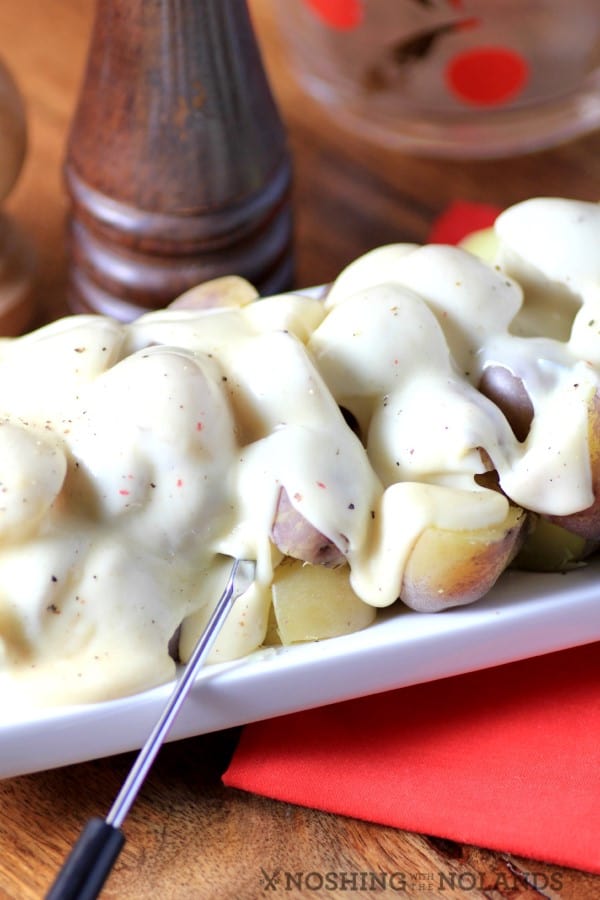 This appetizer is quick and easy and is made in the time that the Chilean Splash take to boil, which is 15 min. While they cook, a quick fondue is created and then the little guys are sliced in half and drizzled with a wonderful cheese fondue with a hint of truffle oil. Magnificent I say, and so does my family!!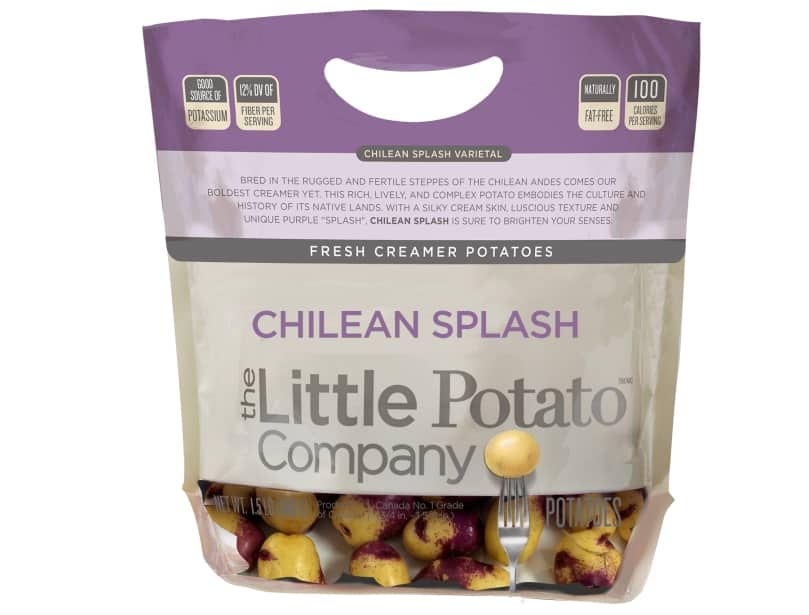 See the fun half purple, half yellow of these great little potatoes. They are not only beautiful but they are a great source of potasium and fibre. They also come pre-washed and require no peeling!! Gotta love how easy that is!!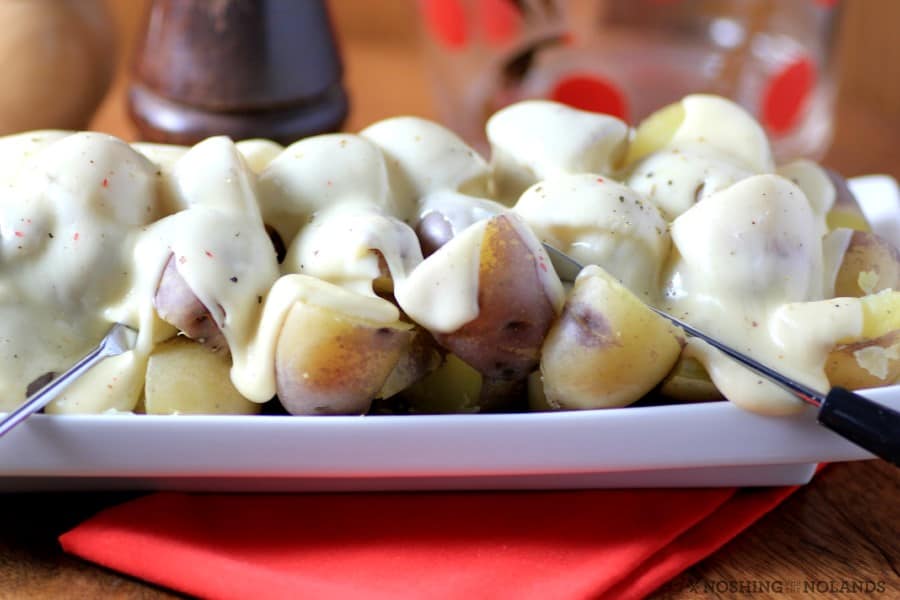 Ooey gooey cheesy potatoes will have everyone wanting more of these little guys. They make an appetizer that has the wow factor, that your family and friends will be loving for the holidays!!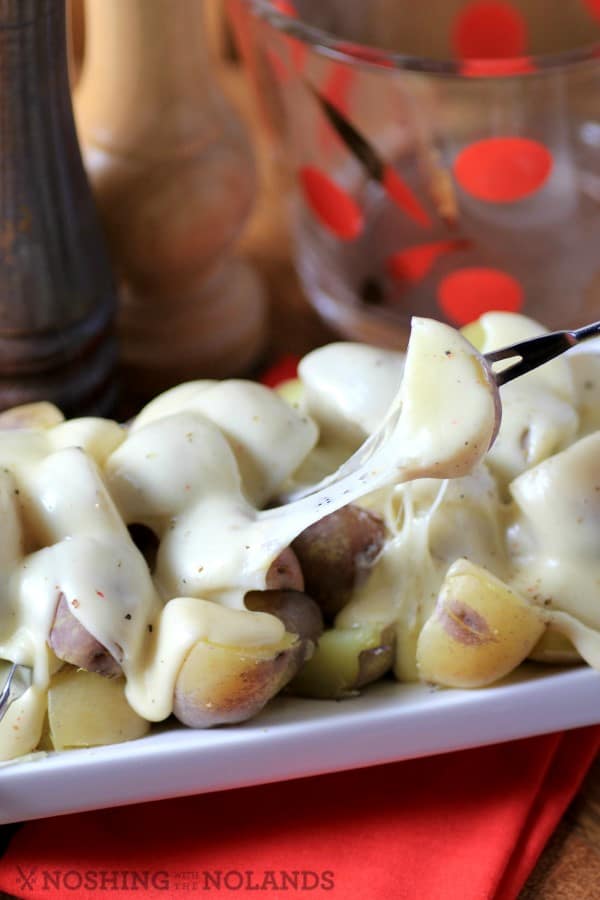 These were a delicious indulgence and could also be served as a side with a great steak dinner but I love them as a new appetizer, one that I know will be a sure hit. I only added a small amount of truffle oil so not to be overpowering, it just adds that right flavor without being in the forefront.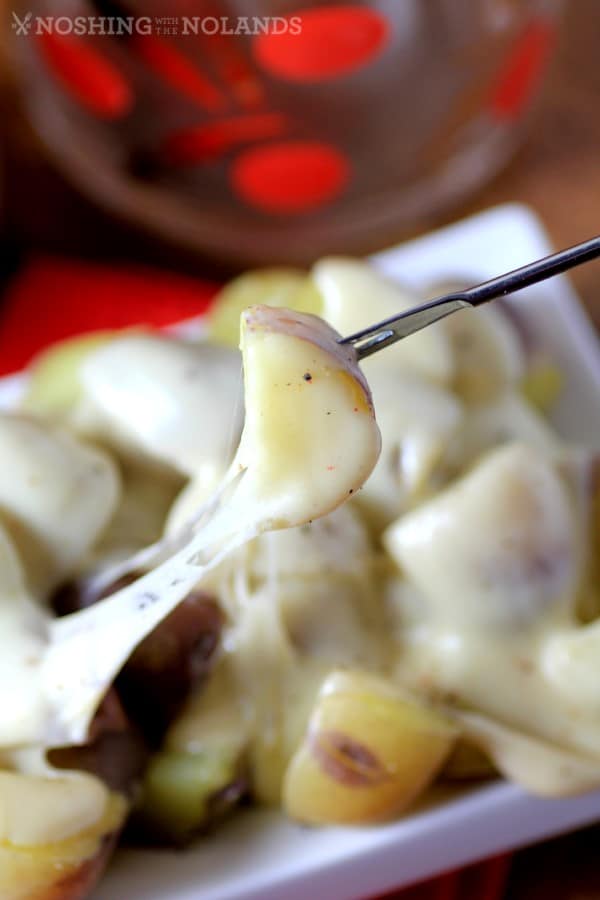 Grab some of these new little potatoes, they are on store shelves starting November 30, 2015.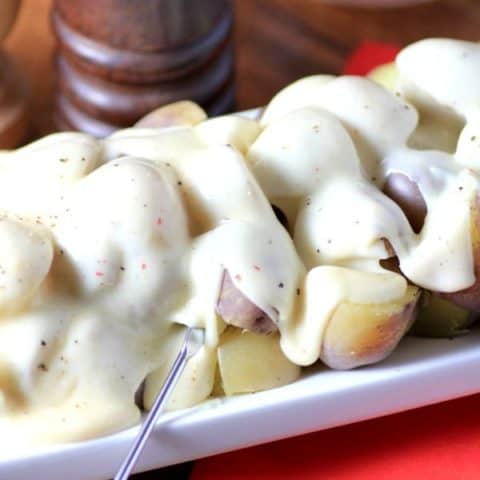 Truffle Cheese Fondue Little Potatoes
Yield: 4 servings
Prep Time: 15 minutes
Cook Time: 15 minutes
Total Time: 30 minutes
A truffle cheese fondue douses little potatoes to create a fast and indulgent holiday appetizer!!
Ingredients
1 1/2 lbs. The Little Potato Company Chilean Splash Potatoes
1 garlic clove, sliced in half
1/2 cup dry white wine
6 oz. gruyere cheese, grated
2 oz. fontina cheese, grated
1/2 Tbsp. cornstarch
1/2 tsp. black truffle oil
Truffle salt
White pepper
Fresh nutmeg
Freshly ground pepper and salt
Instructions
Place potatoes in a medium pot and fill with water to just cover, salt to taste. Boil for 15 min. or until fork tender.
Meanwhile, mix the grated cheese with the cornstarch and set aside. Rub the garlic in a small saucepan and then discard. Add the wine and bring to a boil. Reduce heat to medium low and in handfuls, add the cheese while stirring continuously with a wooden spoon. Continue until all cheese is melted. Add the truffle oil, pinch of truffle salt, pinch of white pepper and a grating of fresh nutmeg to taste.
When the potatoes are done, drain. Slice in half or quarters, depending on the size, using a tea towel if needed as they are hot. Place on a serving platter. Pour the fondue over the top and season with a fresh grating of pepper. Serve immeditately.