Cranberry Turkey Pinwheels
I did a post recently for Ham Havarti Pinwheels and wanted to share with you another. Amber, our daughter is a big fan of turkey and cranberry together, one of her favorites. So I made these with her in mind, Cranberry Turkey Pinwheels!
We took these on a picnic with the other pinwheels I made and they were a complete hit! These pinwheels would be great at anytime though and would be a party smash around the holidays!!
Dried cranberries add tons of flavor and tang and of course are so easy to use. Rolled up with turkey, cream cheese and chives they make the perfect combination of flavors. These would also make a great lunch box sandwich and a couple of rolls go a long way.
They can be made the night before and wrapped well in plastic wrap, then sliced and placed in a lunch box or served up on a platter.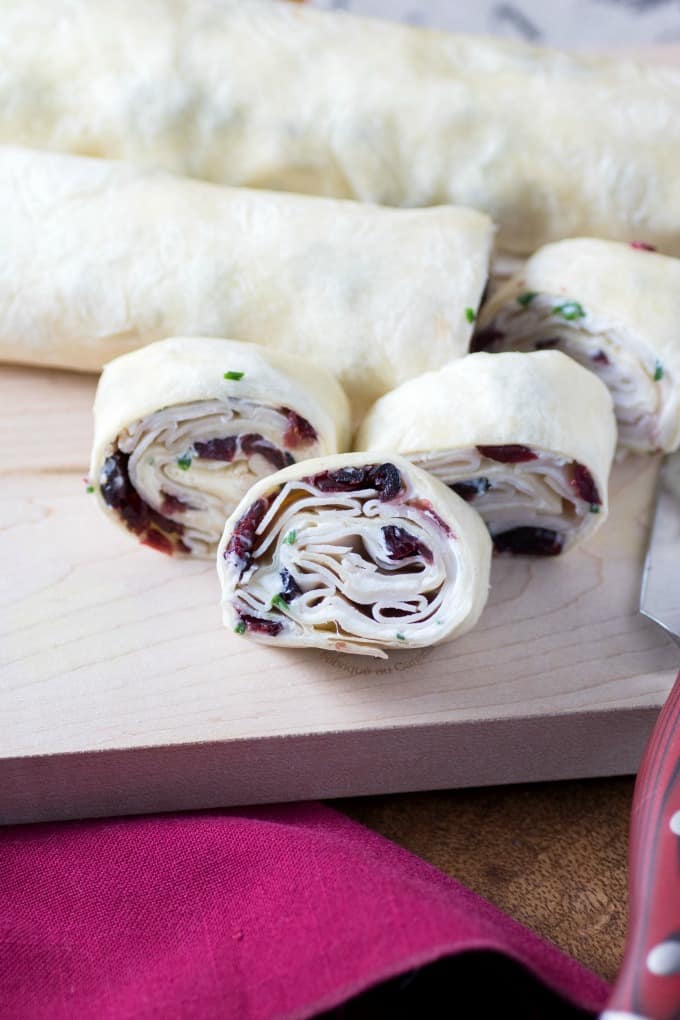 These cranberry turkey pinwheels will be gobbled down in no time. This recipe can be easily doubled or more for a crowd.
They make a great appetizer to serve and everyone loves them too. Serving them over Thanksgiving and Christmas would be ideal and they are festive with their red and green colors.
But they go wonderfully on a hot summer day also, very versatile.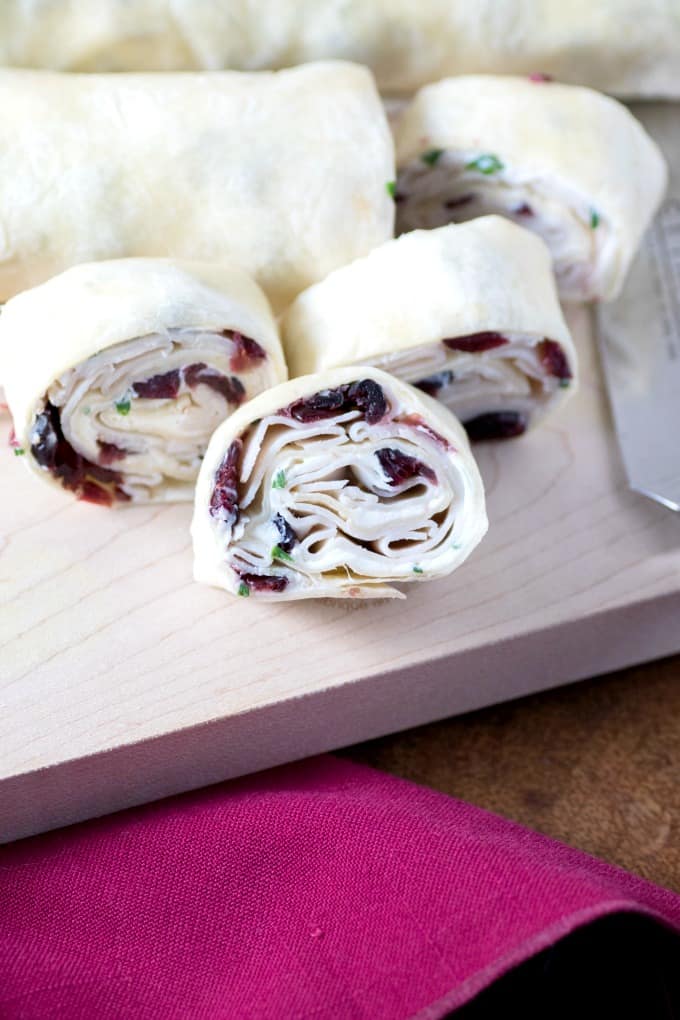 So when is comes to an easy dinner, lunch, appetizer, snack, or event these pinwheels can't be beat. They would work just as well for game day too. Have a couple wrapped up and on hand to just slice and serve! They take only 5 ingredients and no effort but everyone will be impressed! I love that! So easy and you get all the credit. 
The Recipe
Cranberry Turkey Pinwheels
Cranberry Turkey Pinwheels Recipe Type : Entree Cuisine: American Author: Tara Noland Prep time: 10 mins Total time: 10 mins Serves: 4 servings These Cranberry Turkey Pinwheels work fantastic for a picnic, or a lunch box hit or a holiday appetizer! They are great to make ahead and are easy to create with only 5 ingredients.
Ingredients
2 flour tortillas, 12"
½ (8 oz.) tub spreadable light cream cheese
1 Tbsp. chives, chopped
½ cup dried cranberries
6 oz. thinly sliced turkey
Instructions
Mix the cream cheese with the chives and spread over the two flour tortillas leaving about ½" from the edge. Sprinkle on the cranberries dividing between the two tortillas. Top with sliced turkey keeping 1½ inches from the one edge. Roll towards that edge. Refrigerate for at least 30 min. wrapped well in plastic wrap and then slice into 1" pinwheels.