Mexicali Dip is a deliciously fresh and spicy no-bake cheese dip with the perfect blend of southwestern flavors and Mexi-Cali flair. It's super easy to make and even easier to eat. This is an amazing edible creation you really do need in your life this summer!
Apparently, Mexicali Dip has long been a favorite grocery store dip to grab with your chips, but it's a new discovery for me. I love being able to whip this up at home, with just a handful of ingredients, and add fresh toppings to dress it up. It's gluten-free, it doesn't need to be heated, and it's deliciously addicting.
Mexicali Dip is the best southwestern flavored appetizer for game day, potlucks, and for just delicious snacking any old time. Also, try our easy make-ahead Cucumber Hummus Bites, French Onion Dip, or Everything Bagel Dip for other ideas! Perfect any time!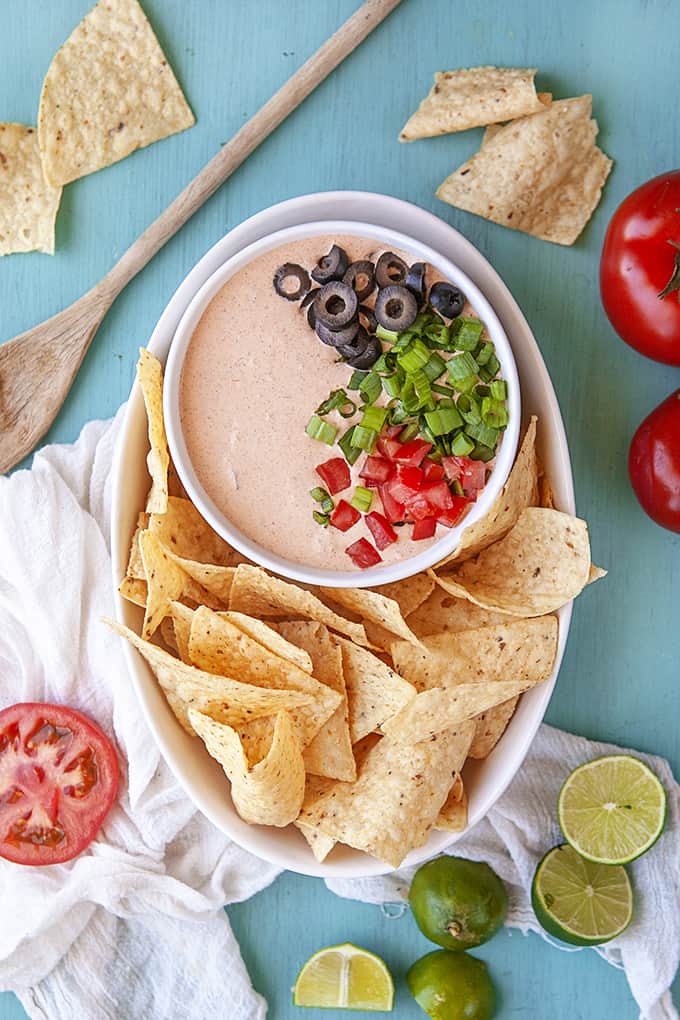 Hello again, I'm Allison popping back in here from Some the Wiser. I have lived in New Mexico for most of my life, so I'm a huge fan of all things with a southwestern flavor like this dip. If you're a fan too, check out a couple more of my New Mexican style recipes like my favorite Chile Relleno Casserole, or this tasty Chicken Enchilada Dip.
Helpful Items for This Recipe
This post contains affiliate links. As an Amazon Associate, I earn a small portion from qualifying purchases at no extra charge for you.
How to Make Mexicali Dip
Mexicali Dip is a cinch to make! At any given moment, you're just a few ingredients away from a really delicious snack.
The base of the dip is easy; you just combine cream cheese, sour cream, and shredded cheese, I like to use Monterey Jack. You can use light products if you desire. I always use a light sour cream and light cream cheese but don't really like fat-free.
Then, to give it its signature flavor, you add in Picante salsa, taco seasoning, and if you're really feeling brave, you can also add jalapenos or green chile for a little extra pizzazz. I also add fresh tomatoes, green onions, and olives which not only make the dip heartier, they also keep it feeling fresh.
When you make your own Mexicali dip at home, you can control the spice level too. When I'm making it for my family, I skip the extra jalapenos and use medium salsa so my kids can enjoy it too.
To keep it really simple, you can use a taco seasoning packet from the grocery store. If you're feeling a little more ambitious, or just want to control your sodium intake, you can also use your own homemade taco seasoning to flavor the dip.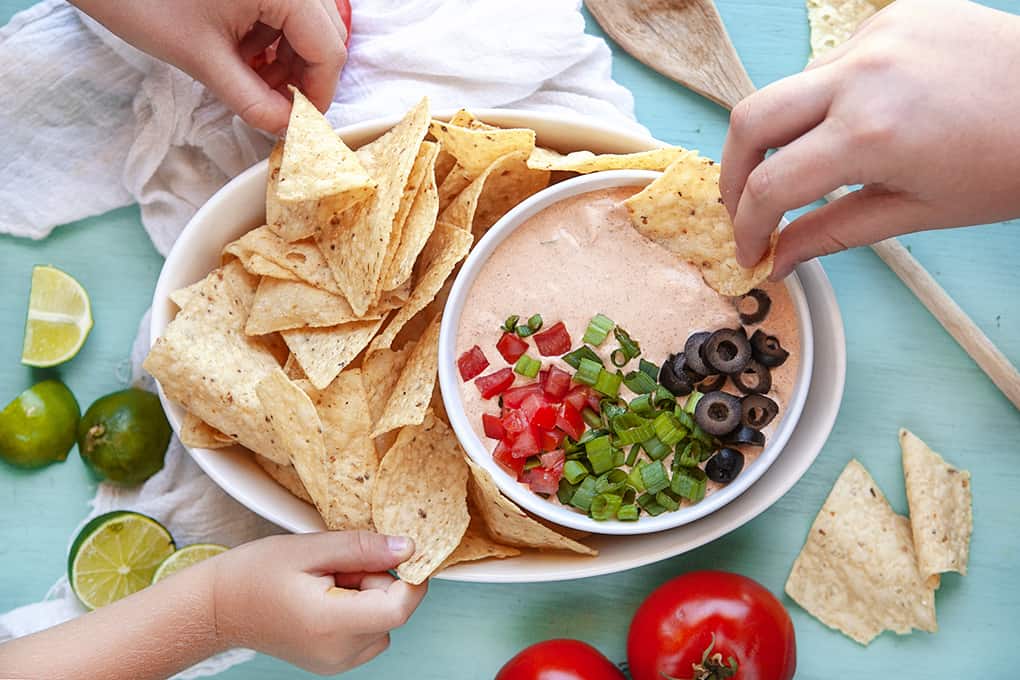 What to Eat with Mexicali Dip
Mexicali Dip is obviously delicious to eat with salty, crunchy tortilla chips. In fact, it's downright addicting once you get munching. However, it's also a great dip to serve with veggies. All your crunchy veggies like carrots, bell peppers, cauliflower, broccoli, etc. are great companions for Mexicali Dip.
Dips make great snacks and party food, but they're also a fun addition to a dinner menu too. I like to serve Mexicali Dip + chips and vegetables with tacos, grilled chicken or fish, and even hamburgers. It even tastes pretty amazing with grilled corn on the cob!
It's a fun side dish with a lot of flavor, so it can make a boring piece of chicken or even a handful of broccoli more exciting than you could have imagined.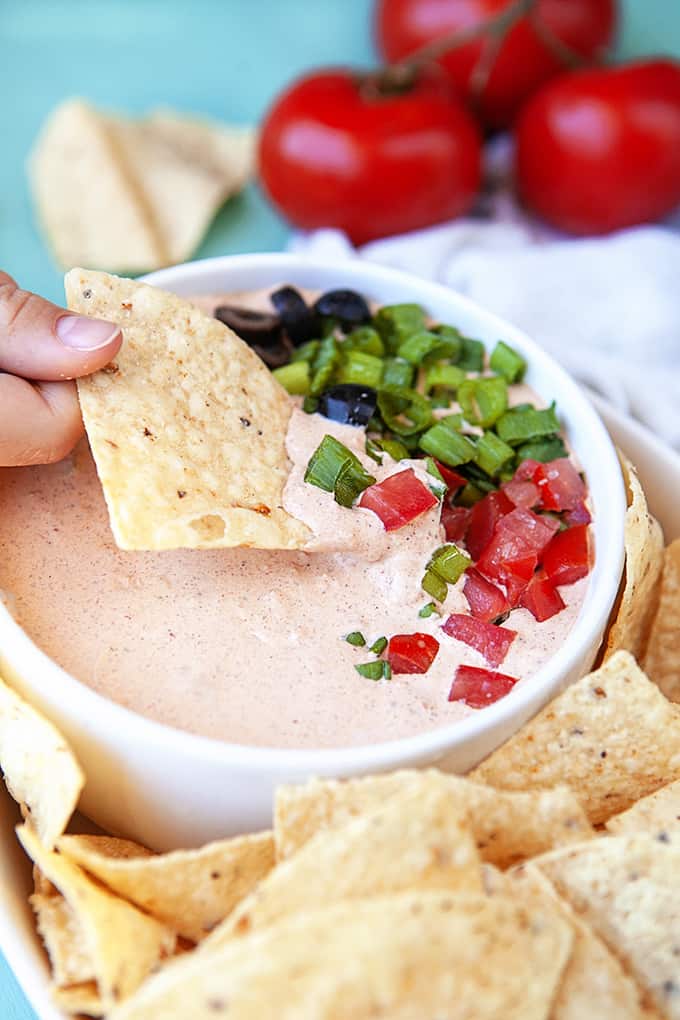 Tips for Making Mexicali Dip
To ensure that you have a smooth and creamy base for your dip, use softened cream cheese. If you remember ahead of time, you can set the cream cheese out on the counter and bring it to room temperature. When you're short on time, just stick it in the microwave for one minute.
Should Mexicali Dip be heated? Nope! This is a no-bake dip that you chill before serving.
How long is Mexicali Dip good for? You can keep it in the fridge for up to five days, but it doesn't freeze well.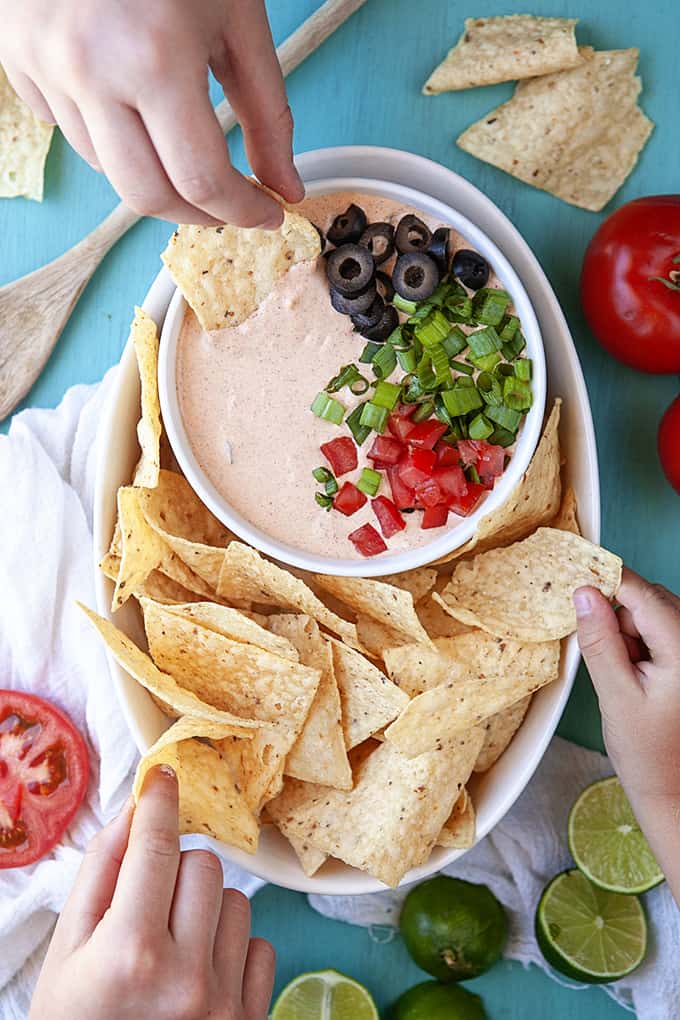 Just talking about this Mexicali Dip is making me hungry. It's time to whip up another batch!
Pin it HERE!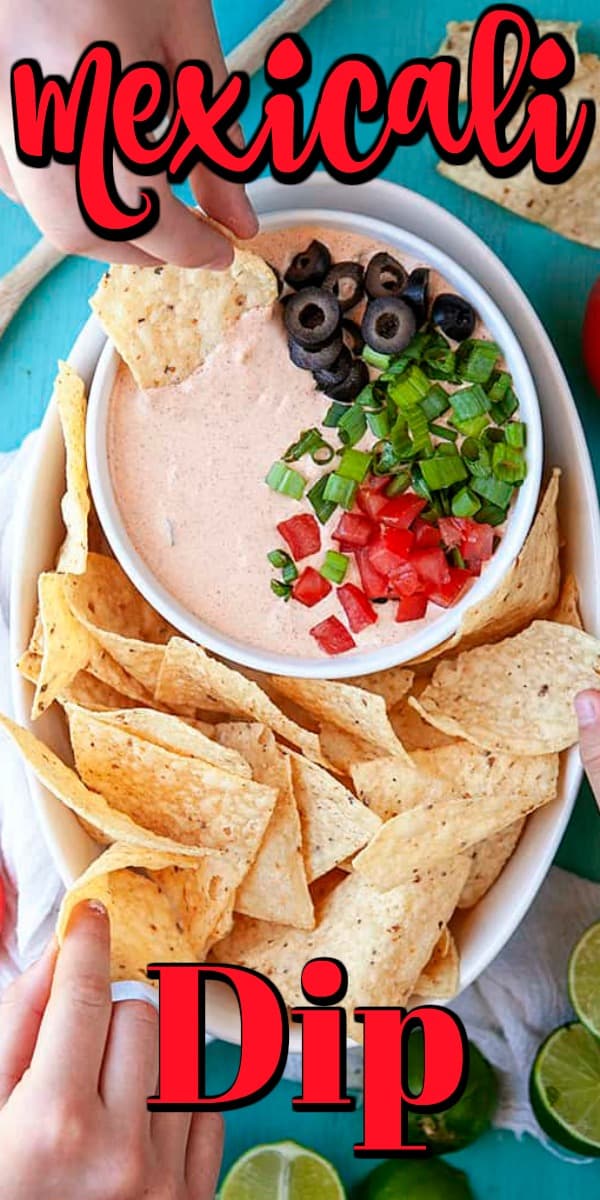 Pin it HERE!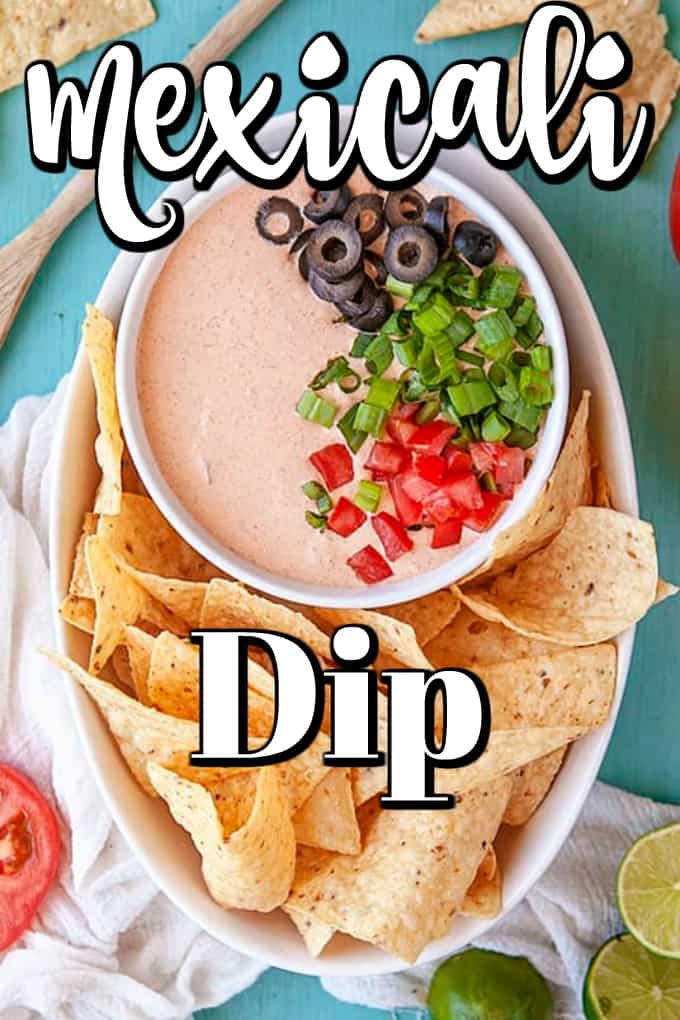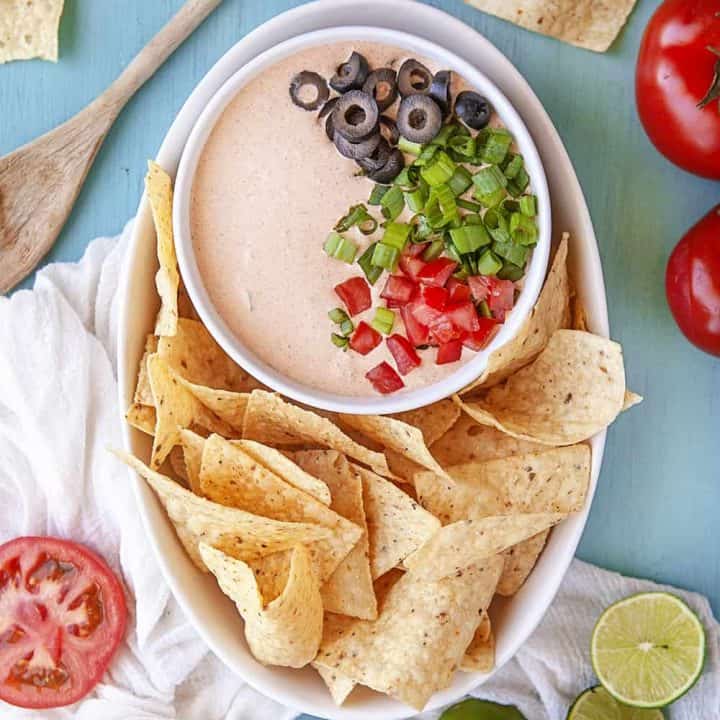 Mexicali Dip
Yield: 10 to 12 servings
Prep Time: 15 minutes
Additional Time: 30 minutes
Total Time: 45 minutes
Mexicali Dip is a deliciously fresh and spicy no-bake cheese dip with the perfect blend of southwestern flavors and Mexi-Cali flair. It's super easy to make and even easier to eat. This is an amazing edible creation you really do need in your life this summer!
Ingredients
1 (8 oz) block cream cheese, softened
2/3 cup sour cream
1/2 cup picante salsa
1 (1 oz) packet taco seasoning (or 2 tablespoons homemade taco seasoning)
1/2 cup shredded Monterey Jack cheese
1/3 cup green onions, divided
1/3 cup chopped black olives, divided
1/3 cup chopped fresh tomato, divided
1 to 2 tablespoons canned jalapeno or green chile chopped (optional)
Instructions
Combine cream cheese, sour cream, salsa, and taco seasoning in a food processor. Pulse until smooth and creamy. Pour into a medium bowl
Stir in the shredded cheese.
Reserve 1 tablespoon each of the green onions, olives, and tomato for the garnish. Stir in the remaining olives, tomato, and onions, and jalapeno or green chile if using. Add garnish to the top, as pictured above.
Refrigerate for at least 30 minutes, and up to a day, before serving. Serve with chips and/or veggies.
Notes
You can substitute lower-fat cream cheese and sour cream for a lighter recipe, but I don't always recommend using fat-free. If you want a spicier dip, use a spicy Picante salsa and add in the extra jalapeno or green chile. You can totally control the spice level as you go and make it just how you like it!
Recommended Products
As an Amazon Associate and member of other affiliate programs, I earn from qualifying purchases.
Nutrition Information:
Yield: 12
Serving Size: 1
Amount Per Serving:
Calories: 64
Total Fat: 5g
Saturated Fat: 3g
Trans Fat: 0g
Unsaturated Fat: 2g
Cholesterol: 14mg
Sodium: 228mg
Carbohydrates: 3g
Fiber: 1g
Sugar: 2g
Protein: 2g
Recipe calculation was provided by Nutritionix and is an estimation only. If you need nutritional calculations for medical reasons, please use a source that you trust.