First off I want to say, aren't you excited that it is Christmas Eve!!!! Still, last-minute wrapping, shopping, groceries to be done. Pick up these ingredients for a quick and delicious meal for tonight. It is basically a one dish meal except for the roasting of the asparagus.
I am so happy that Peter from Feed Your Soul Too brought this dish for you today. You will be happy if you follow Peter on Facebook, Twitter and Pinterest to see what he is always up to. Here he is to explain this scrumptious pasta to you.
Hey, I am Peter from Feed Your Soul Too and am so pleased to be asked by Tara to do a guest post. Tara and I started this blogging adventure at about the same time a couple of years ago. She has been so helpful to me in helping me navigate the blogging world. I am so excited for Tara and all the success she has had blogging. I hope you enjoy my post of Mexican Pasta.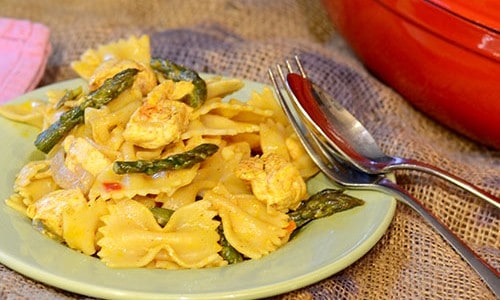 This Mexican Pasta is another invention of what's in the refrigerator. I guess I play my own game of the Food Networks Chopped more often than I realize. Am I creative or do I hate to throw things away. Please don't ask my wife for this answer. Let's go with both. All kidding aside, using what you have in the fridge really allows for some different dishes. Now I don't mean that I got carried away because the ingredients left in the fridge are pretty regular but it gives me a chance to do a spin on a regular old recipe.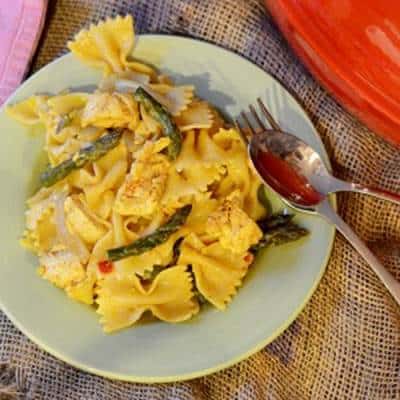 The genesis for this idea was the leftover queso sour cream dip I had bought. I thought this ingredient would make a good base for a creamy pasta. With this queso as a base, I grabbed my Mexican spice from my spice racked and I was off to the stove.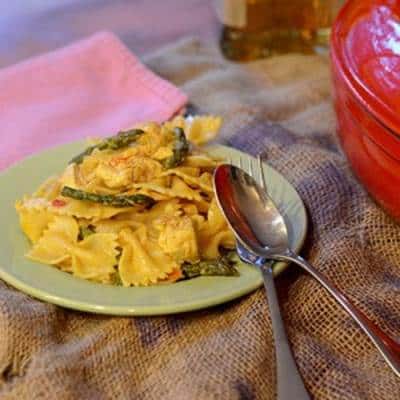 Ingredients:
· 6 – 8 oz chicken tenders
· 2 tbsp canola oil
· 1/4 or a red onion, sliced
· 1 + tbsp achiote molido powder
· salt & pepper
· 1/4 cup of queso sour cream dip
· 1/4 cup of chicken stock
· 3 oz cojita cheese
· 8 – 10 asparagus spears
· 1 lb bow tie pasta
· 2 oz Parmesan cheese
Directions:
In a pot of boiling water (salt added), add the pasta and cook until al dente and drain. In a saute pan, add the oil and the spices and heat for 1 minute. Add in the chicken and cook on both sides for 2 -3 minutes.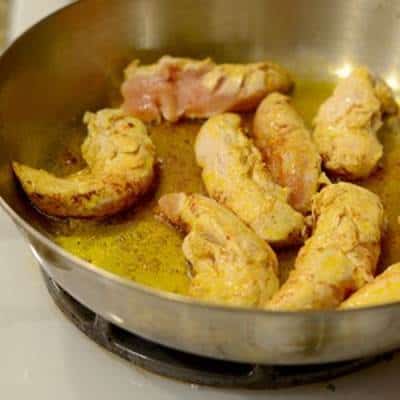 Be sure to let the chicken soak up the spice. Remove the chicken from the pan and slice into bite size chunks. Add the red onion to the pan using the oil and juice from the chicken to marinade. Cook for 3 minutes to soften.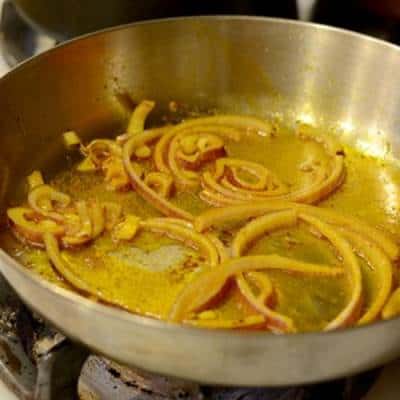 Add in the queso in mix to incorporate.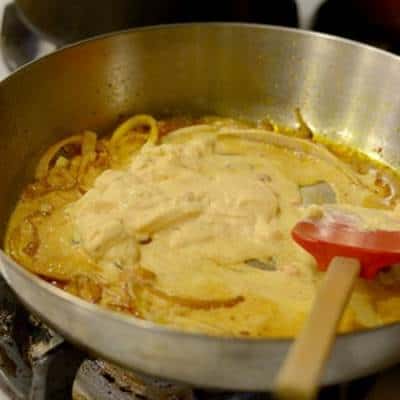 Once incorporated, add in the stock to thin out the sauce.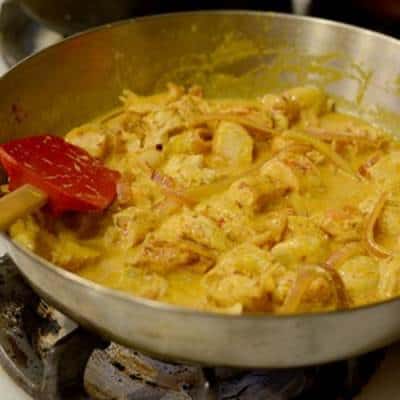 When fully combined, add the bite size chicken back in and cook for 3 minutes. Next add the cojita cheese and cook until it melts.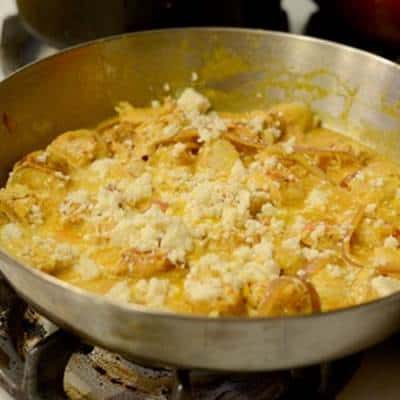 The last ingredient to add is the asparagus. I first baked the asparagus in a 325 degree oven with a little olive oil and kosher salt for 6 – 8 minutes. Essentially, this is cooking them most of the way through but leaving the final cooking for in the pan. After taking the asparagus out of the oven, I cut them into little pieces and added them to my saute pan.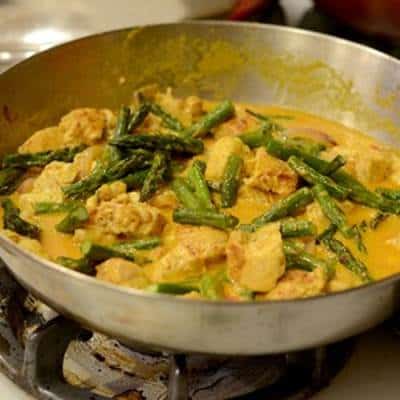 I cooked these with the other ingredients for maybe 2 minutes to allow the flavors to finish melding. Finish by tossing in the bow tie pasta and top with Parmesan.