These cookies are a huge hit with kids. I like that they are so low in fat and they are nut free. Any easy cookie to take to school that the kids will scream for more. I like to make them in small little mounds, so this recipe then makes a lot. They look like little puffed clouds. You have to have you oven on for a long time to make meringue so you might as well make it worth it.
Try these cookies with your family, they will become a new household favorite! Happy Holidays!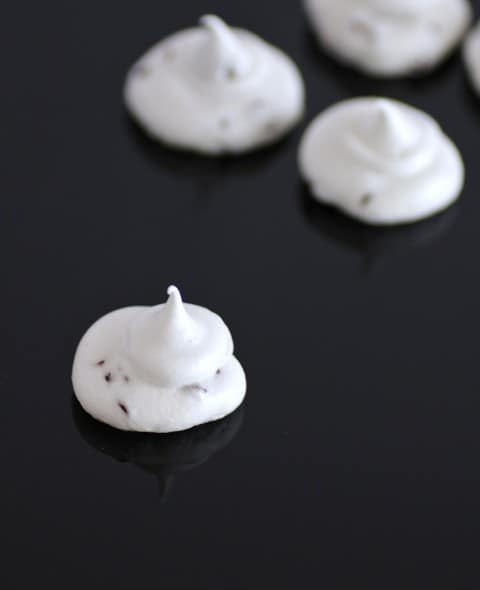 Mini Chocolate Chip Meringue Cookies
A delicious little cookie that is not only elegant but they kids love them!!
Ingredients
6 large egg whites
1¼ cups super fine sugar
2 cups mini semi sweet chocolate chips
Instructions
Preheat oven to 175F. Line two baking sheets with parchment paper or Silpats and set aside.
In the bowl of a standup mixer with a whisk attachment beat egg whites until soft peaks form.. Add a few Tbsp. of the sugar in and whisk on low speed.
Increase speed and gradually add the sugar in one spoonful at a time. Continue until the egg whites have a glossy finish and hold stiff peaks. Remove bowl from the mixer and fold in the chocolate chips.
Using a very large pastry bag or in two batches with a plain tip, fill the bag with the meringue. Pipe small mounds about 1½" onto the prepared baking sheets about 1" apart.
Bake meringues until completely dried out, be careful not to brown them. You may want to rotate the baking pans to prevent this. Bake for 2½-3 hours.
Transfer to a cooling rack and cool completely. Store in an air tight container for up to 1 week.
Adapted from Martha Stewart