Red Velvet Halloween Cupcakes with whipped cream cheese frosting are sure to give all the little ghouls and goblins a sugary fright at home or for a Halloween party.
At NWTN we go all out on All Hallow's Eve. Dark garlands are strewn about, cobwebs are scattered amongst macabre tombstones and the Embalming Fluid Cocktails or Dracula's Kiss are flowing.
We love all the sweet treats and scary good savories. Check out our roundup of 38 Frightfully Good Halloween Recipes or our Mummy Rice Krispie Treats, Halloween Bat Cupcakes, and Meringue Ghosts for more ideas…if you dare!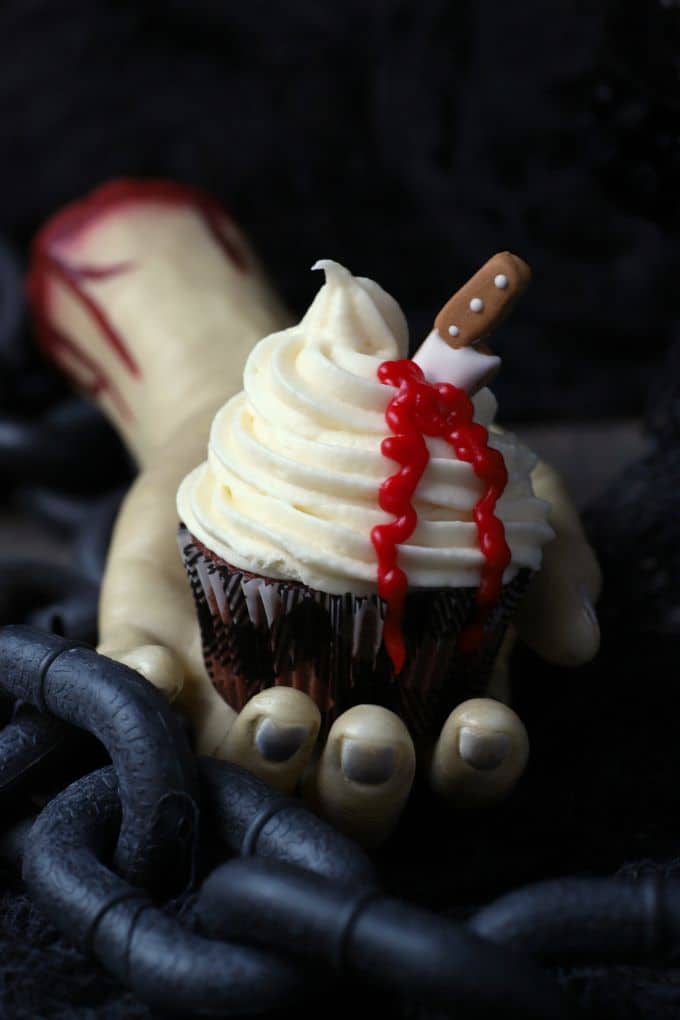 Helpful Items for This Recipe
This post contains affiliate links. As an Amazon Associate, I earn a small portion from qualifying purchases at no extra charge for you.
Red Velvet Halloween Cupcakes
Who can resist a perfect baked sweet, yet slightly macabre bloody knife cupcakes for Halloween? This Red Velvet Cupcakes recipe has a lovely airy tender crumb with a hint of chocolate flavouring from the cocoa.
To top it all off, the dreamy frosting is made with butter along with cream cheese. The cream cheese helps tame the sweetness and plays nicely with the red velvet cocoa flavouring.
If you prefer, chocolate cupcakes or cake mix cupcakes would also work well for this fun Halloween cupcake idea.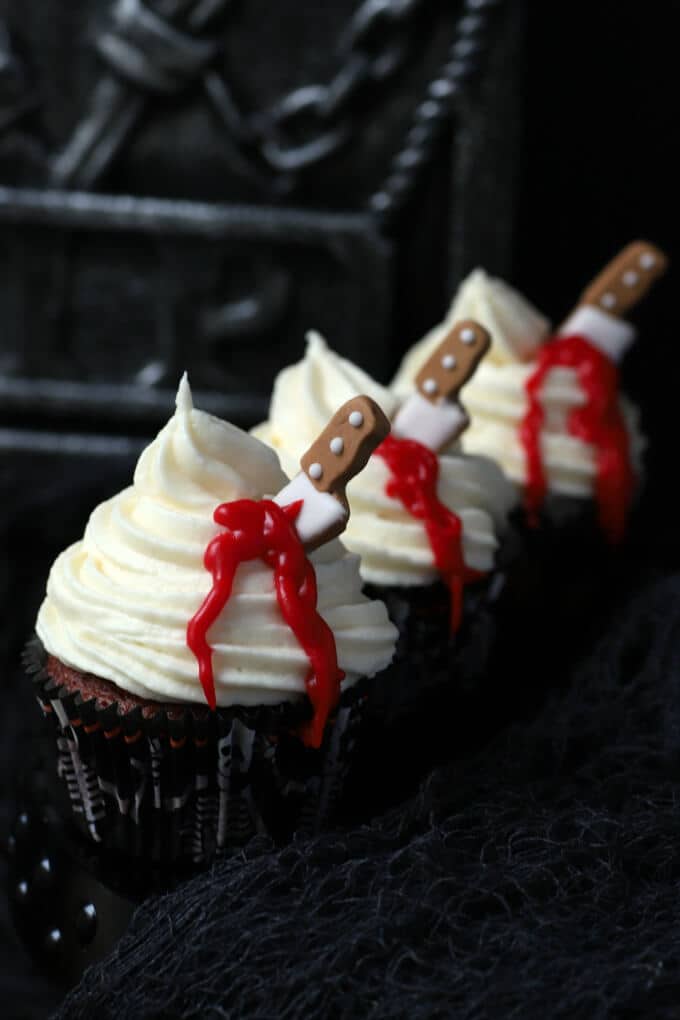 Greetings, NWTN readers! It is I, Bernice from Dish 'n' the Kitchen, here to bring you these sweet Halloween Cupcakes treats! Mwahahahaha!
I had a lot of fun baking them (the vinegar/baking soda reminds me of a cake I made as a beginner baker) and even more fun snapping spooky photos!
Chocolate and cream cheese are one of my favourite baking combinations. Their flavours really play well together. Every year for Superbowl I make these super simple Black Bottom Cupcakes along with a super cheesy Seven Layer Dip. It's always a great idea to have a few crowd-pleasing go-to recipes you can fall back on.
How to Take Something Delicious and Make it Scary!
Spooky fun is all around and sometimes all it takes is a little inspiration to alter delicious everyday foods into ghoulish treats.
Look for creepy candies or tiny props at your nearest dollar store. Sometimes all it takes is a tiny knife and a little red tube icing to turn a regular cupcake into something spooktacular.
Search social media platforms for easy Halloween treats; look for witch cupcakes, ghost cupcakes, jack o lanterns for cupcake decorations. Pinterest, Instagram, and Foodgawker often have many simple ideas for baked or embellished Halloween appetizers, cocktails, and treats.
Take a trip through the Halloween section at stores or dig through your Halloween decorations to find inspiration. Pick a theme and go with it! Some themes could include Mad Scientist, Murder Scene, Vampire, Monsters, Fairyland, Ghosts, or Zombies, just to name a few.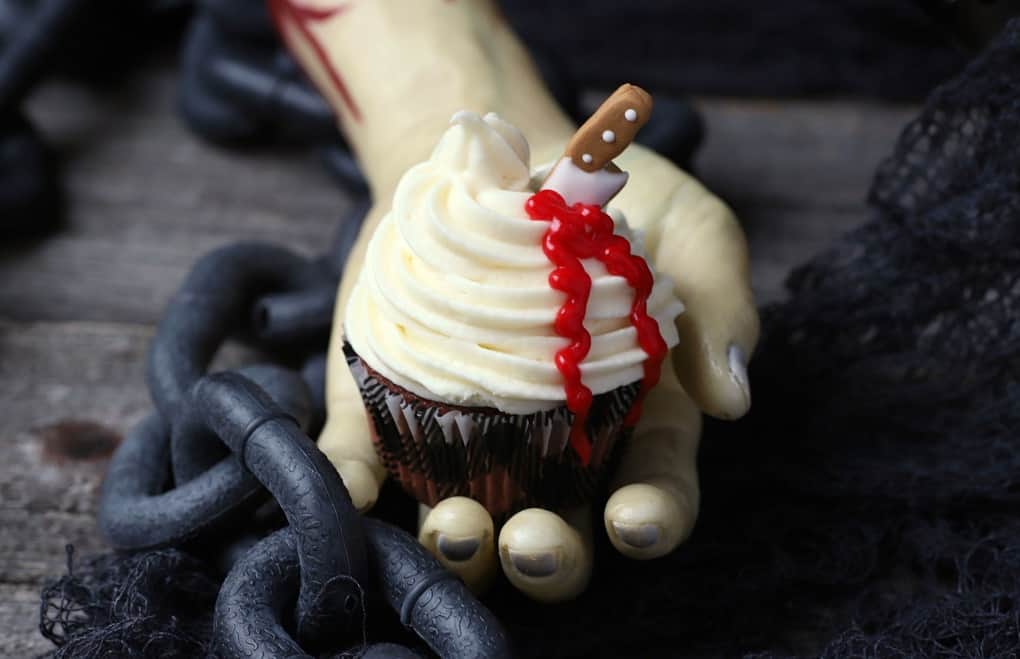 What is in Red Velvet Halloween Cupcakes?
Flour
Cocoa Powder
Salt
Sugar
Vegetable Oil
Eggs
Red Gel
Vanilla Extract
Buttermilk
Baking Soda
White Vinegar
Unsalted Butter
Cream Cheese
Confectioner's Sugar (Icing Sugar)
Key Ingredients and How they Affect Baking
Flour is the single most important structural ingredient in baking. It's found in everything from cookies, to cupcakes and yes, even cakes.
Flour contains proteins which form gluten when they interact with liquids. The gluten strands then trap expanding leavening gases, causing the baked product to rise.
Sugar is used primarily in baking to add sweetness but it also creates tenderness and locks in moisture by forming a special bond with water.
Vegetable Oil adds richness and tenderness in a way that is different than butter. Since it is liquid at room temperature (while butter is a solid) it produces fluffier baked goods with a more even crumb.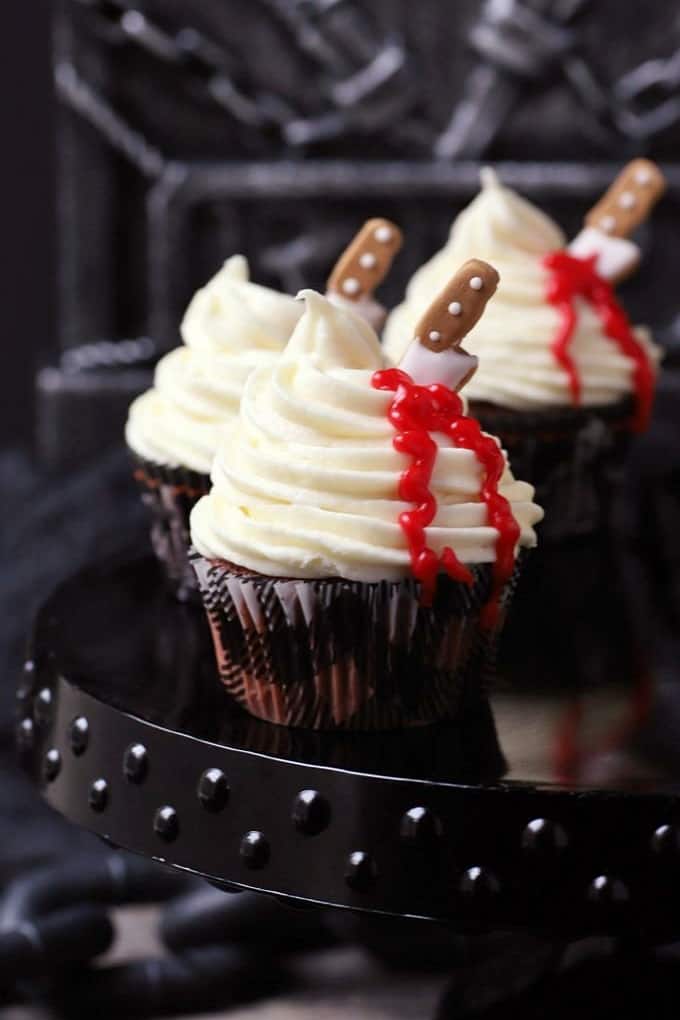 Leavening Ingredients
There are multiple reasons to use Eggs in baking. First and foremost, they help add structure to baked goods while also acting as a leavening agent and adding moisture.
Baking Soda, White Vinegar, and Buttermilk all work together to create lightness and tenderness in baked goods. Additionally, the lactic acids in buttermilk neutralize the metallic taste that baking soda sometimes has.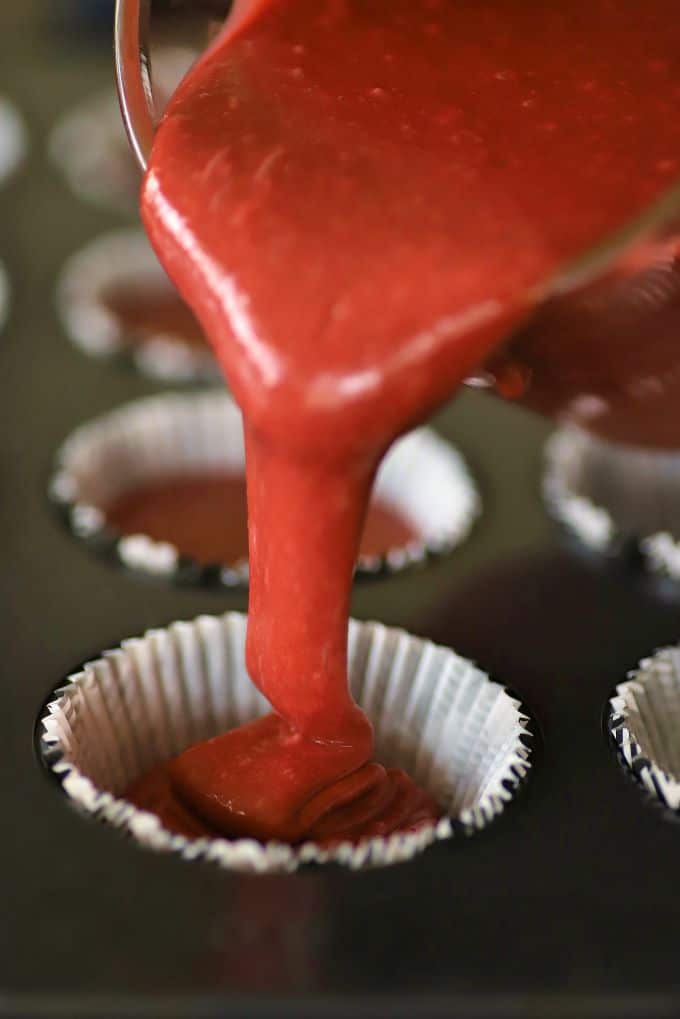 How to Bake Perfect Red Velvet Cupcakes
As always, smart bakers begin a baking project by preheating their oven and preparing pans. In this case, the oven should be preheated to 350 F and the cupcake tin with paper liners.
The easiest way to mix up the cupcake batter is to use a stand mixer. However, a handheld mixer will work too.
Place the oil and sugar to the bowl of a stand mixer and combine well. Add the eggs one at a time with the mixer running and make sure they are incorporated well. Don't forget the vanilla extract and food coloring!
Next, sift the flour, cocoa, and salt together in a medium bowl. Sifting the dry ingredients helps to break up any hard lumps in the cocoa and adds lift.
The process of adding the dry ingredients to the wet ingredients, combined with the buttermilk additions, ensures that everything gets mixed really well. Always begin and end the additions with the dry ingredients!
Finally, the baking soda/vinegar addition also serves to add more lift to the batter…these cupcakes are so incredibly airy. Ten minutes seems like a long time to mix the batter, but no one wants to eat a mouthful of baking soda!
Fill the cupcake liners 3/4 full then bake both trays at the same time, if possible. Rotating the trays partway through baking ensures the cupcakes bake evenly. Once an inserted cake tester comes out clean, the cupcakes are done.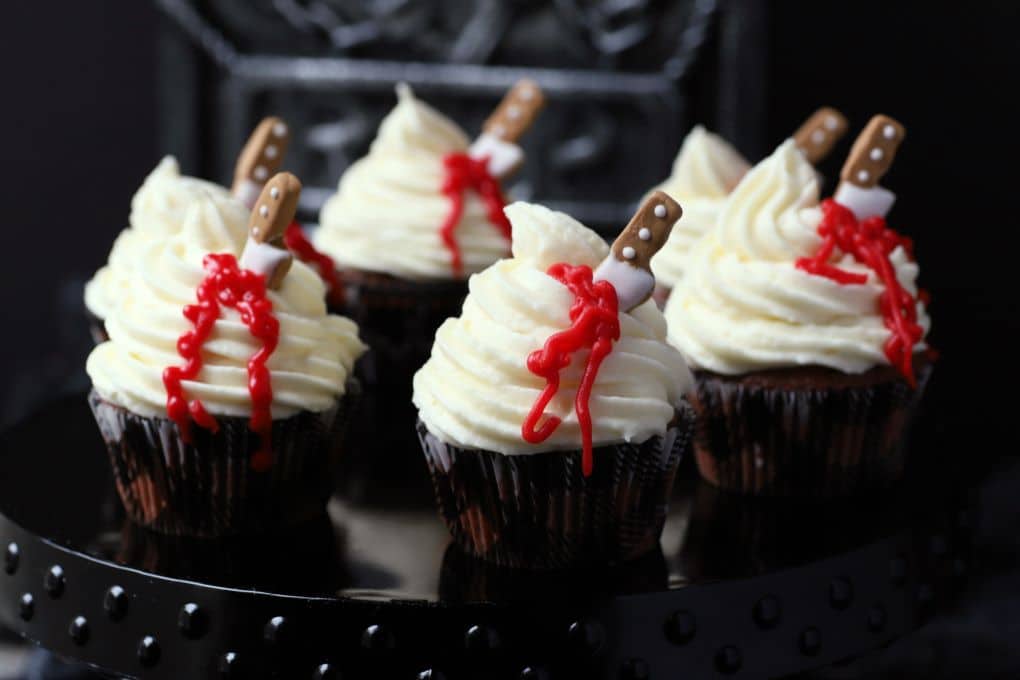 How to Make Cream Cheese Frosting
While the cupcakes are baking, whip up the frosting beginning with room temperature butter and softened cream cheese.
After the mixture becomes light and airy, begin adding the confectioner's sugar 1/2 cup at a time until the consistency is light, but stable.
Place half of the frosting in a piping bag fitted with your preferred decorating tip and keep it in the fridge until the cupcakes have cooled to room temperature.
How to Store Cupcakes
Store Halloween Cupcakes in an airtight container on the counter overnight. If they must be kept longer, keep them in the fridge for up to 4 more days.
Unfrosted cupcakes freeze well and are perfect for making ahead of time. Additionally, the Cream Cheese Frosting can be made and stored in the fridge for up to a week in advance.
Always store in an airtight container to keep them from drying out or absorbing any fridge or freezer aromas.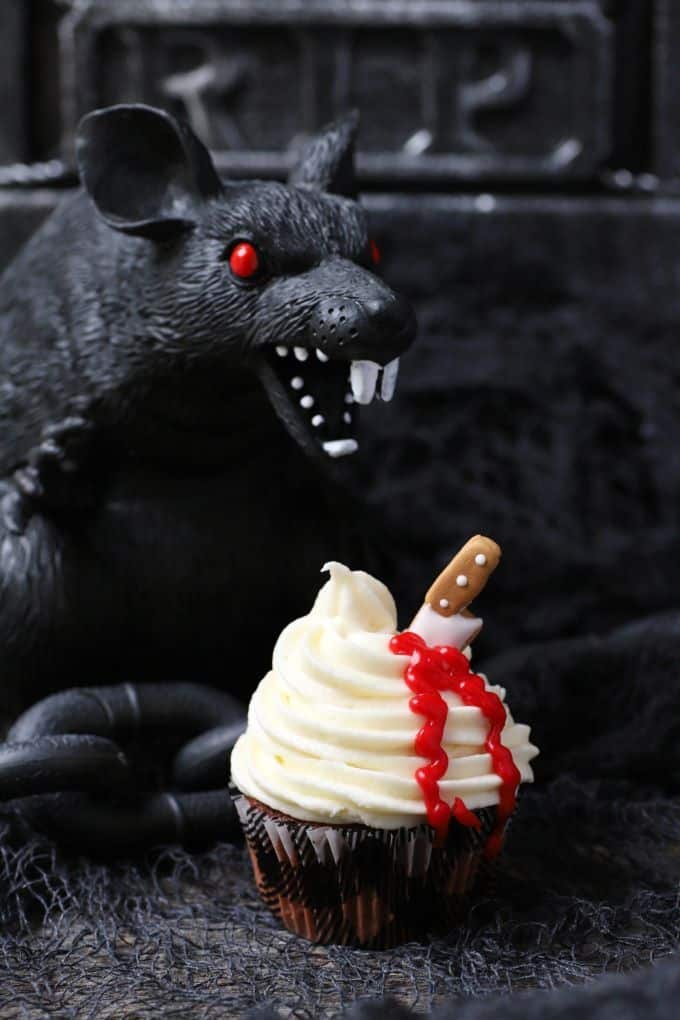 Other Ideas for Scary Halloween Cupcakes
There are many ways to spook up a simple cupcake. Another simple idea is to place two chocolate chips on the frosting in the form of vampire bite marks, then use the red icing to show blood flowing out of the bite.
Alternatively, you could use the cupcakes and set up an entire scene using a Zombie Cupcake kit such as the one we did here.
Sometimes all it takes is a Reese's Peanut Butter Cup, some candy eyeballs, and chocolate wafers to create cute Bat Cupcake Toppers or giant gummy eyeballs and some colored tube frosting to make frightful Monster Cupcakes.
Pin it HERE!!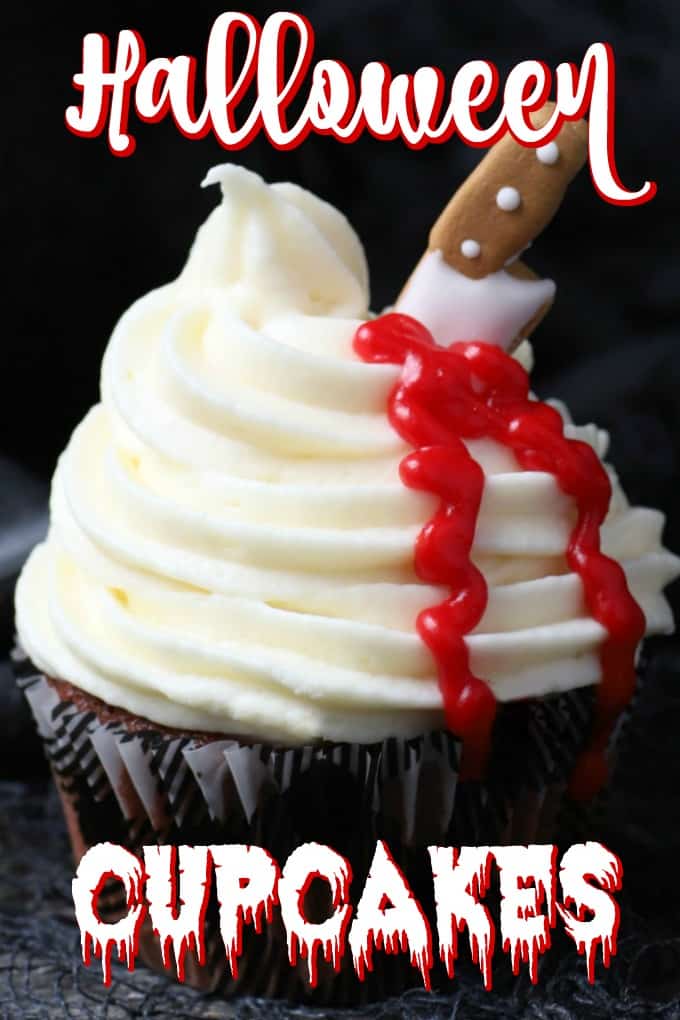 Pin it HERE!!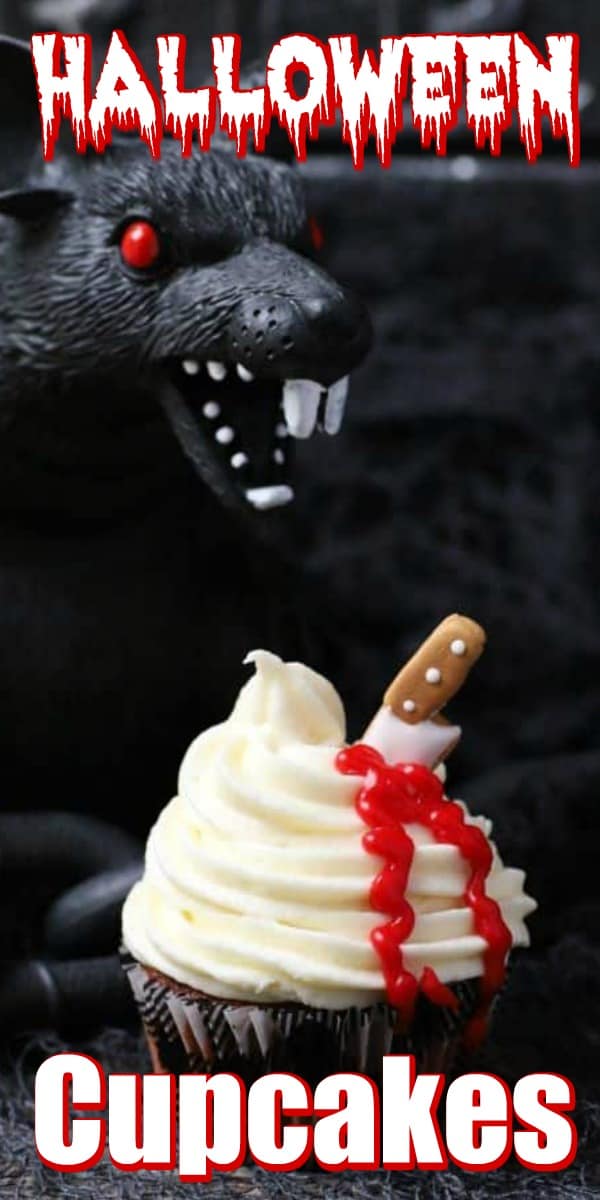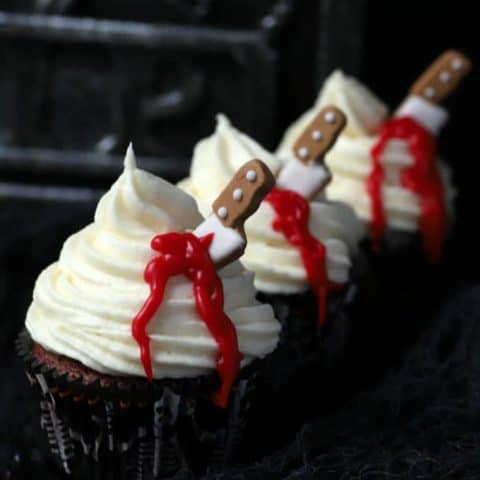 Red Velvet Halloween Cupcakes
Yield: 24 cupcakes
Prep Time: 40 minutes
Cook Time: 20 minutes
Additional Time: 40 minutes
Total Time: 1 hour 40 minutes
Red Velvet Halloween Cupcakes with whipped cream cheese frosting are sure to give all the little ghouls and goblins a sugary fright.
Ingredients
2 1/2 cups flour
2 tbsp good quality cocoa powder
1 tsp salt
1 1/2 cups sugar
1 1/2 cups vegetable oil
2 eggs; room temperature
1/2 tsp Wilton's red colouring gel
1 tsp vanilla extract
1 cup buttermilk
1 1/2 tsp baking soda
2 tsp white vinegar
FOR THE CREAM CHEESE FROSTING
2 oz cream cheese
8 oz unsalted butter
1 tsp vanilla extract
2-3 cups powdered (icing) sugar
Instructions
Preheat oven to 350 F. Line two cupcake pans with liners.
Sift the flour, cocoa and salt together in a medium bowl.
Using a stand mixer, beat together the sugar and the oil until combined.
Add eggs one at a time, beating until each is fully mixed in.
Beat in vanilla and red food colouring gel.
Reduce the speed to low and add 1/3 of the flour mixture in 3 batches, then half of the buttermilk. Mix well then repeat until the final addition is 1/3 dry flour mixture.
In a small cup or bowl, combine the baking soda and vinegar. Add mixture to the batter, and mix all together for about 10 minutes.
Pour batter into cupcake liners, filling each about 3/4 of the way.
Bake in oven for 10 mins, then turn tray around and bake for another 10-12 minutes, or until a skewer comes out clean. Allow to cool completely before frosting.

FOR THE CREAM CHEESE FROSTING
Beat the softened butter and cream cheese together until they become pale and creamy, about 2-3 minutes.
Gradually add the icing sugar to taste, 1/2 cup at a time until it reaches your desired consistency. It should be soft enough to pipe from a piping bag yet firm enough to keep its shape.
Lastly, beat in the vanilla.
Notes
Recommended Products
As an Amazon Associate and member of other affiliate programs, I earn from qualifying purchases.
Nutrition Information:
Yield: 24
Serving Size: 1
Amount Per Serving:
Calories: 305
Total Fat: 23g
Saturated Fat: 6g
Trans Fat: 0g
Unsaturated Fat: 15g
Cholesterol: 39mg
Sodium: 210mg
Carbohydrates: 23g
Fiber: 0g
Sugar: 13g
Protein: 3g