I have a post for Little Potato Company for you today. Almost every hearty stew or soup that I make has potatoes in it. It wouldn't be the same with out them, so in making this scrumptious Slow Cooker Goulash Soup with Dumplings I added in lots of Little Potato Company's potatoes. They are so easy to work with as they are already washed and so easy to cut up into little chunks as opposed to their large potato cousins! I love working with them for so many dishes.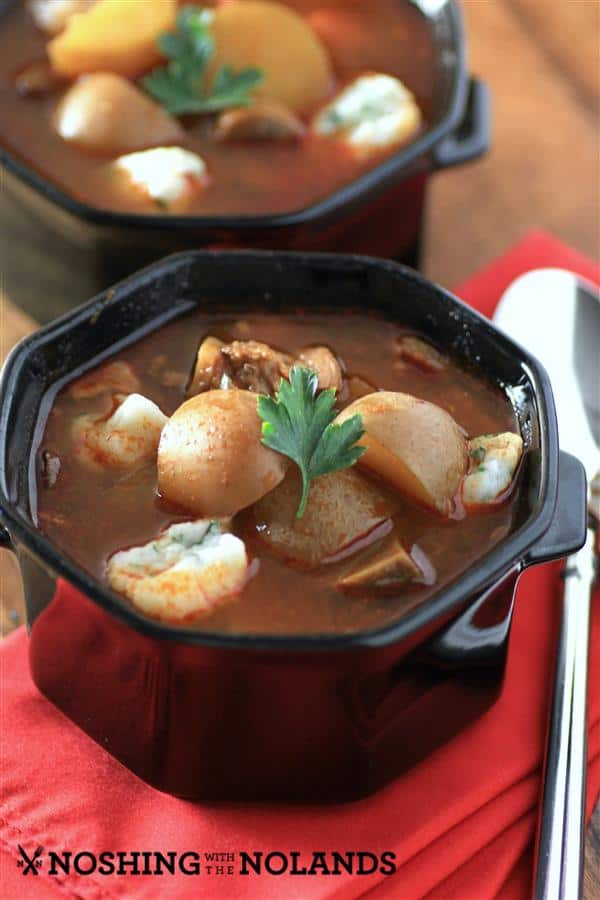 This soup is full on flavor, besides loads of Little Potato Company potatoes there is beef, onion, garlic, lots of paprika, tomatoes, beef stock, oregano, carrots, red pepper, mushrooms and more! All topped off with little floating herb dumplings. The potatoes make it a hearty meal for me. Something that will keep you full all evening and not wanting to grab a snack later either. Everyone in your family will love this for a great fall and winter meal that is done easily in the slow cooker.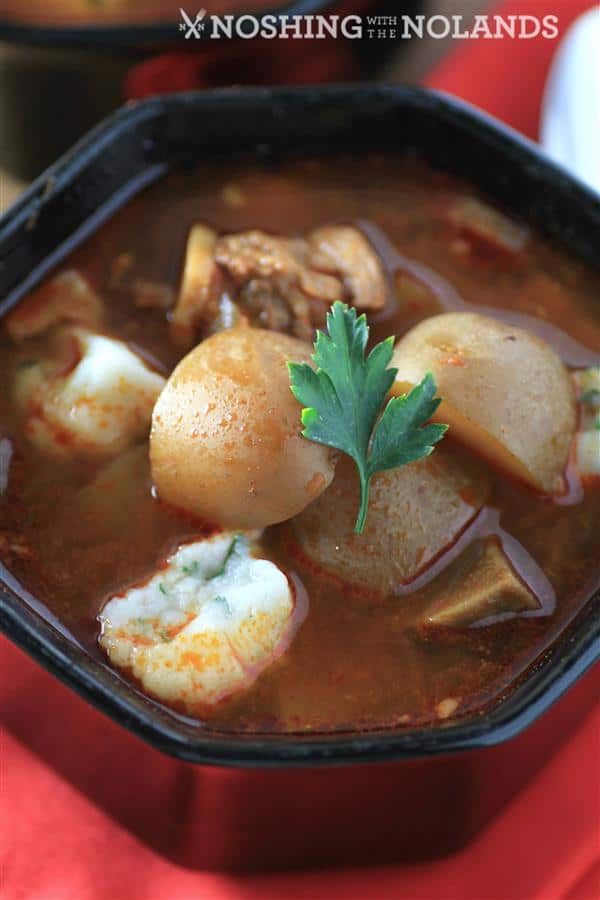 Creamer potatoes are a deliciously healthy way to add to add hardiness to any soup. They are plenty of reasons to add little potatoes to you diet as they have 0 grams of sodium, cholesterol or fat. One serving has more potassium than a banana. They have 10% of your daily Vitamin C requirements per serving and are naturally gluten free. They kind of get forgotten as a vegetable so here is a cute little video to remind you!
Slow cooking is my favorite way to make a soup or stew and this couldn't be easier. It makes a great weeknight or weekend meal. The little dumplings add another fun dimension to the dish too!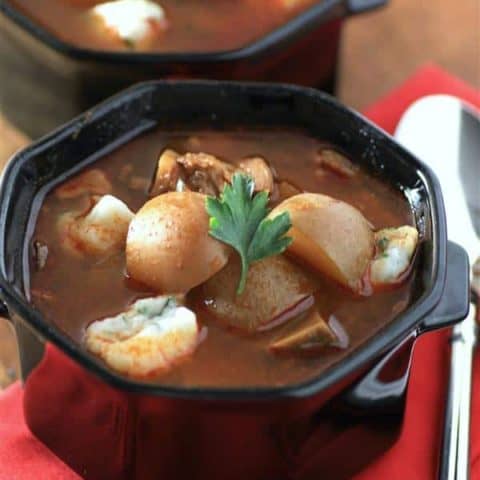 Slow Cooker Goulash Soup with Dumplings
Yield: 8 servings
Prep Time: 30 minutes
Cook Time: 8 hours
Total Time: 8 hours 30 minutes
An easy Hungarian Goulash Soup made in the slow cooker, filled with gorgeous little potatoes and little dumplings on top!
Ingredients
2 Tbsp. olive oil
1 1/2 lbs. stewing beef, fat removed and cut into small cubes
1 medium onion, diced
2 tsp. garlic minced
3 Tbsp. sweet paprika
1 Tbsp. tomato paste
2 cups pureed tomatoes
50 oz. beef broth
Large sprig oregano
4 carrots, diced
1 red pepper, diced
1 1/2 lbs. Blushing Belle Little Potato Company potatoes
10 mushrooms, large diced
Salt and pepper to taste
Dumplings
1 cup flour plus more for rolling
1 egg, lightly beaten
1/4 cup milk
2 Tbsp. chopped parsley
Sea salt, to taste plus more for water
Instructions
Saute meat until browned in the olive oil in a large saute pan. Season with salt and pepper. Add to the slow cooker along with the onion, garlic, paprika, and tomato paste. Stir well to coat the meat. Add in the rest of the ingredients and cook on low for 7-8 hours. Adjust seasoning.
To make the dumplings, mix all the ingredients well in a bowl to form a firm dough. Gently roll out into 3/4" rope and cut into 1/2" lengths. Boil in salted water for 10 min. Add a few to each soup bowl when serving.
Recipe Adapted from Great Homemade Soups by Paul Gayler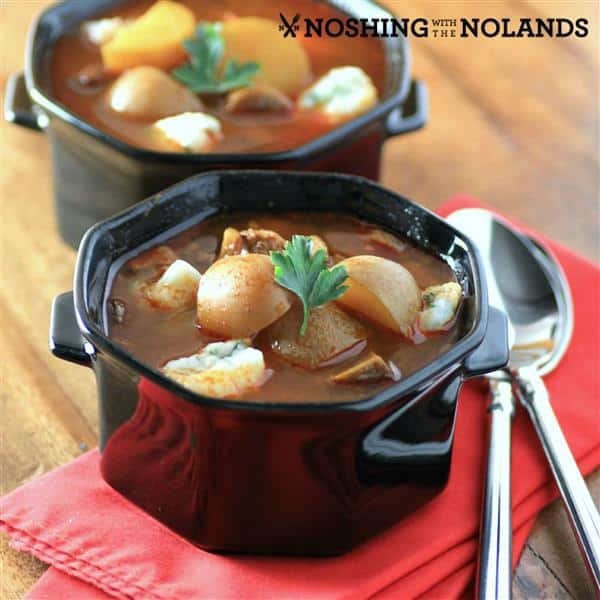 Here is another lovely soup made with the amazing Creamer potatoes, a
Cheesy Potato Soup
! This soups whips up in 30 minutes, another home run of a soup!