This is my third post as a Brand Ambassador for The Little Potato Co. I have been thrilled to have participated as I love potatoes and in particular Creamer potatoes. They are wonderful in so many dishes or just boiled up on their own and served with salt, pepper and butter, mmmmmm, love them!! Today's recipe is a magnificent and easy Cheesy Potato Soup. I lightened it up a bit, not making the broth too thick and rich for a nice spring/summer soup. We love having homemade soup all year round.
In the summer months produce is fresher and local and you can do lots of soups with Little Potato Co. Creamer potatoes like a Garden Harvest Soup, Summer Chicken Corn Chowder or a Lobster Roasted Corn Chowder, or today's addition Cheesy Potato Soup.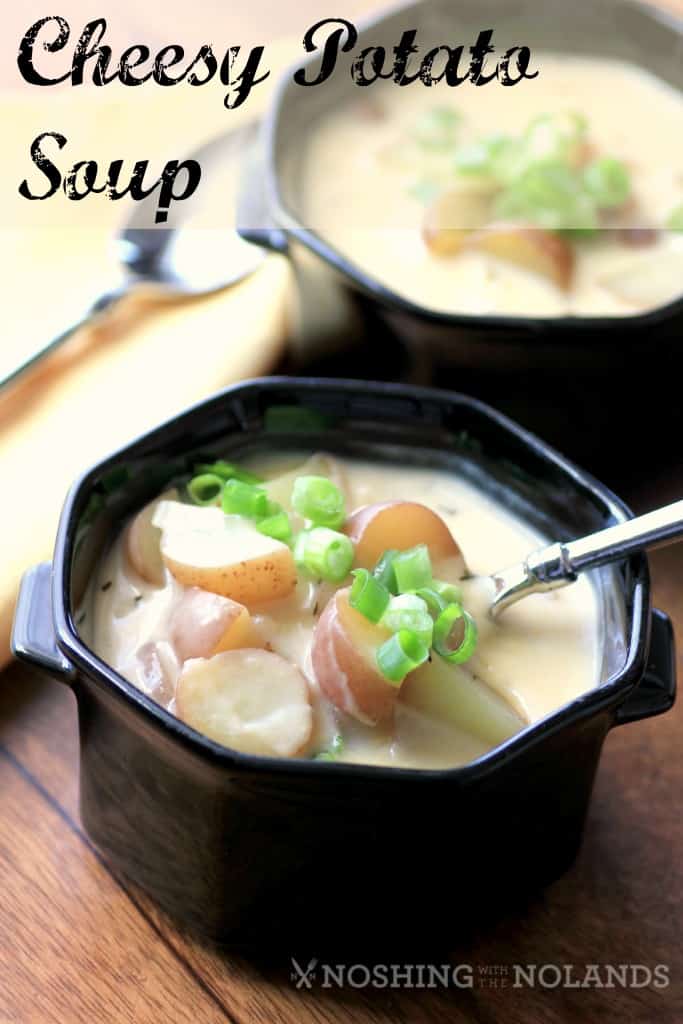 Look at those tender little potatoes. They are so full of magnificent flavor and the light and perfectly creamy, cheesy broth works wonderfully with them. This soup is made with Creamer potatoes, they aren't baby, new, immature or small potatoes. They are full grown potatoes!! Also did you know that little potatoes are loaded with nutrition. They have more potassium than a banana. They are higher in nutrition overall, than many traditional green veggies. Plus they only have 90 calories per serving.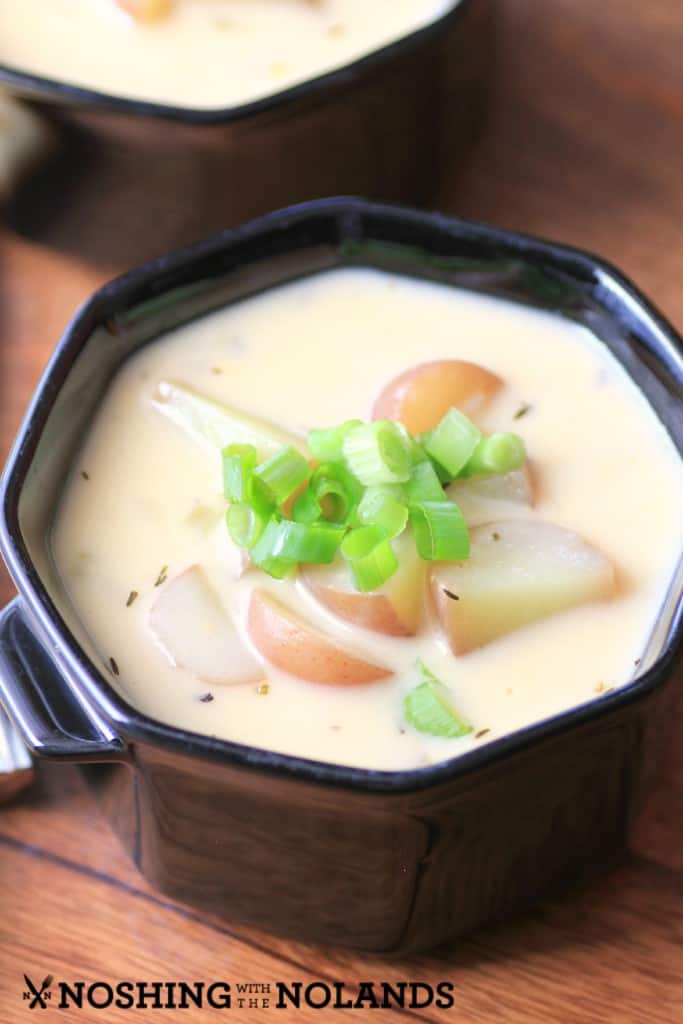 I know you are going to want to make this soup really soon. It is so simple and has very simple ingredients. I think it is one of the best soups I have ever made and my family raved about it.

Cheesy Potato Soup #LittlePotatoes
You can make this easy soup for any night of the week and get rave reviews from your family.
Ingredients
3 Tbsp. butter
1 cup shallots, finely diced
1 rib celery, finely diced
1 tsp. minced garlic
¼ cup flour
900 ml. (30 oz.) sodium reduced chicken or vegetable broth
1 tsp. thyme
Salt and pepper to taste
1.5 lbs Little Potato Co. blushing belles, quartered
1½ cups 2% milk
1 cup sharp cheddar cheese, grated
2 Tbsp. green onion, chopped
Instructions
Melt butter in a large saucepan. Add the shallots and celery and saute until almost done, about 4 min. Add in the garlic and saute another 1 min. Add the flour and cook for 1 min. stirring. Add in the broth slowly and whisk constantly until all is incorporated and smooth. Add in the potatoes, thyme, salt and pepper, bring to a simmer and cover. Cook for 15 min. or until potatoes are fork tender. Add in the milk and bring back up to a simmer. Add in the cheese and stir. Season again if needed with salt and pepper. Serve, topping each bowl with some green onion.

These are the little beauties I used for this Cheesy Potato Soup recipe. They are the Blushing Belle varietal. They are pre-washed and all ready to roll when you are!! Couldn't be easier!!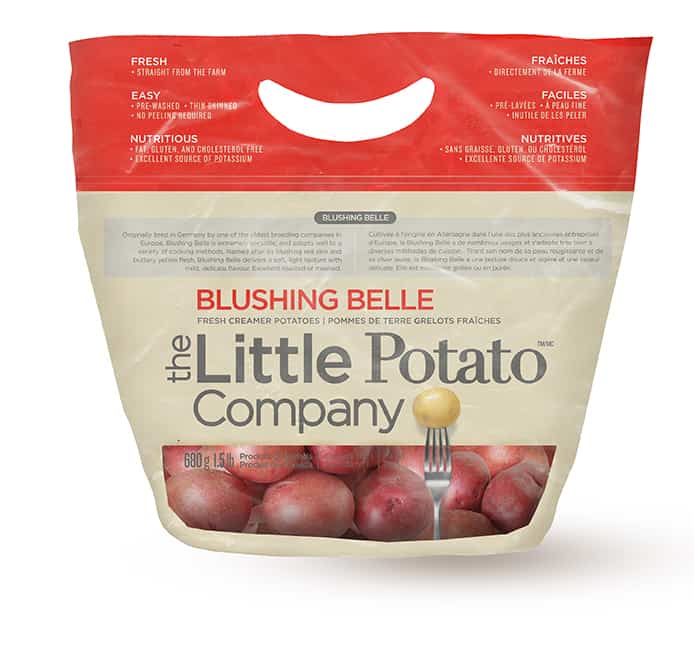 Grab a bag today and whip up this soup, you can thank me later!! ENJOY!!