Cheesy Potato Soup #LittlePotatoes
This is my third post as a Brand Ambassador for The Little Potato Co. I have been thrilled to have participated as I love potatoes and, in particular, Creamer potatoes. They are wonderful in so many dishes like in this Cheesy Potato Soup or just boiled up on their own and served with salt, pepper, and butter, mmmmmm, love them!!
Today's recipe is a magnificent and easy Cheesy Potato Soup. I lightened it up a bit, not making the broth too thick and rich for a nice spring/summer soup. We love having homemade soup all year round.
In the summer months produce is fresher and local and you can do lots of soups with Little Potato Co. Creamer potatoes like a Garden Harvest Soup, Summer Chicken Corn Chowder or a Lobster Roasted Corn Chowder.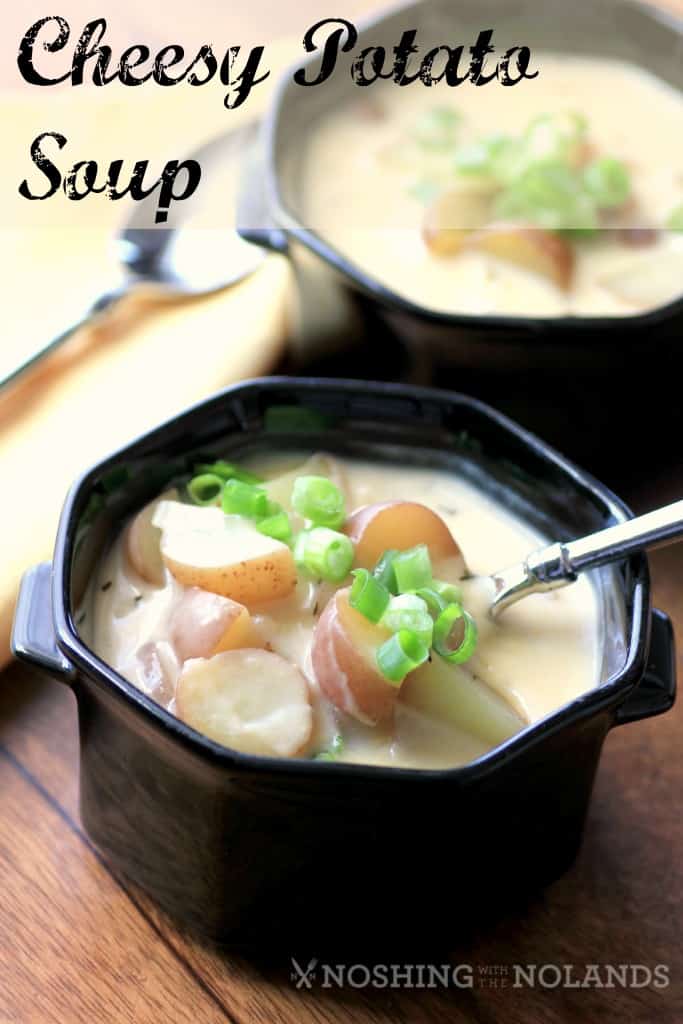 Which Potatoes are Best for Soup?
I love using Creamer potatoes for soup. Not only are they conveniently pre-washed but the size of them is perfect!! Look at those tender little potatoes. They are so full of magnificent flavor and the light and perfectly creamy, cheesy broth works wonderfully with them.
This soup is made with Creamer potatoes, they aren't baby, new, immature or small potatoes. They are full-grown potatoes!!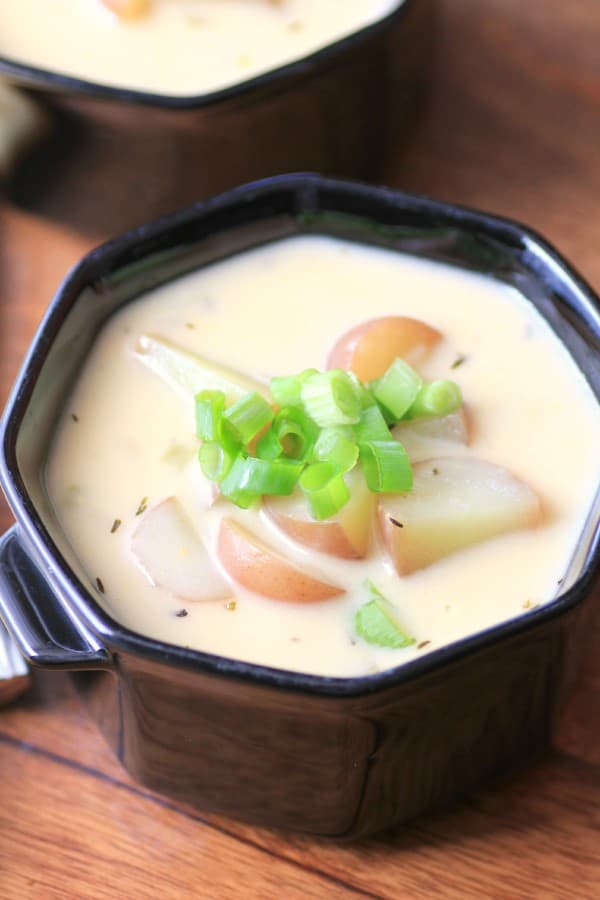 Also, did you know that little potatoes are loaded with nutrition? They have more potassium than a banana. They are higher in nutrition overall than many traditional green veggies. Plus they only have 90 calories per serving.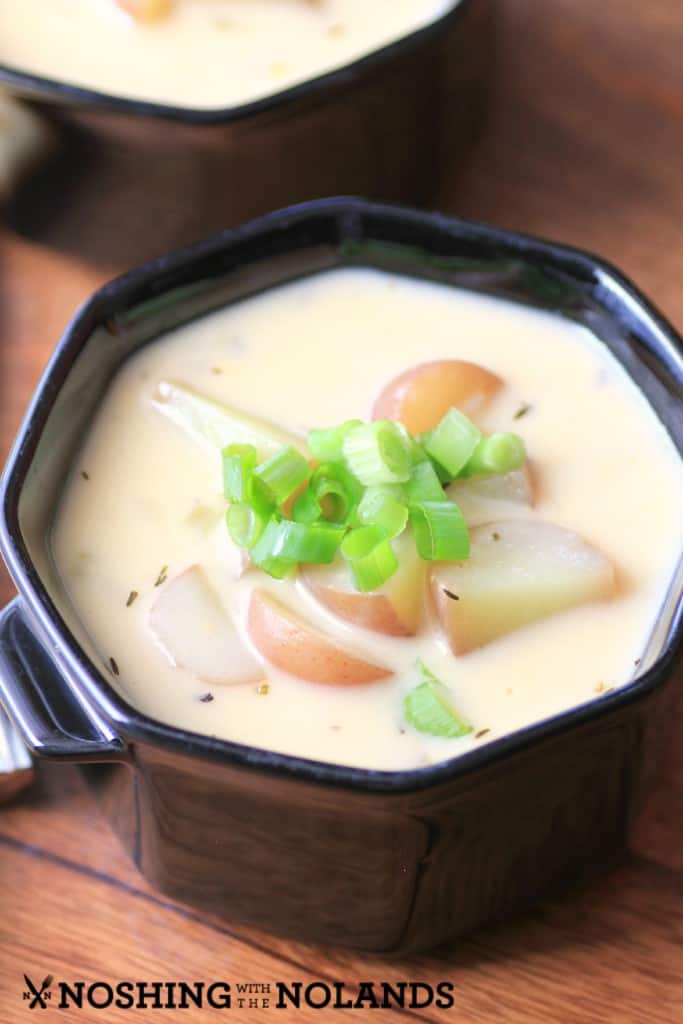 How do You Keep Potatoes From Getting Mushy in Soup?
To keep potatoes from going mushy or being overcooked, just cook them to the exact time that is needed, like in this recipe. The potatoes are cooked for 15 min. only, this also makes for a quick dinner.
I know you are going to want to make this soup really soon. It is so simple and has very simple ingredients. I think it is one of the best soups I have ever made and my family raved about it.
You don't need to pull out the slow cooker, dutch oven or instant pot for this recipe. It is all pulled together in just over 15 min. in a pot on the stove over medium heat.
Once the veggies have cooked for a minute and the flour has been added then all you need to do is whisk in the chicken broth and add the potatoes. Bring to a boil and they are cooked in just 15 minutes.
Finally, the milk is added and brought back to a simmer, then the cheese is added along with salt and pepper. The soup is ladled into bowls and just before serving a final garnish of green onion.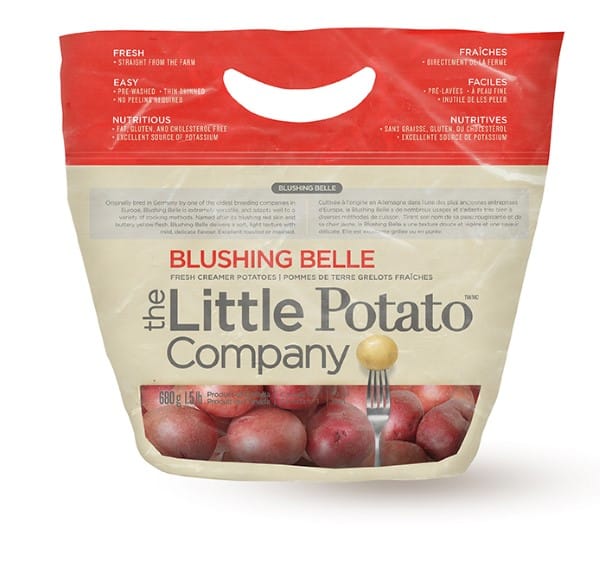 These are the little beauties I used for this Cheesy Potato Soup recipe. They are the Blushing Belle varietal which are a delicious little red potato. They are pre-washed and all ready to roll when you are!! It couldn't be easier!!
Grab a bag today and whip up this soup, you can thank me later!! ENJOY!!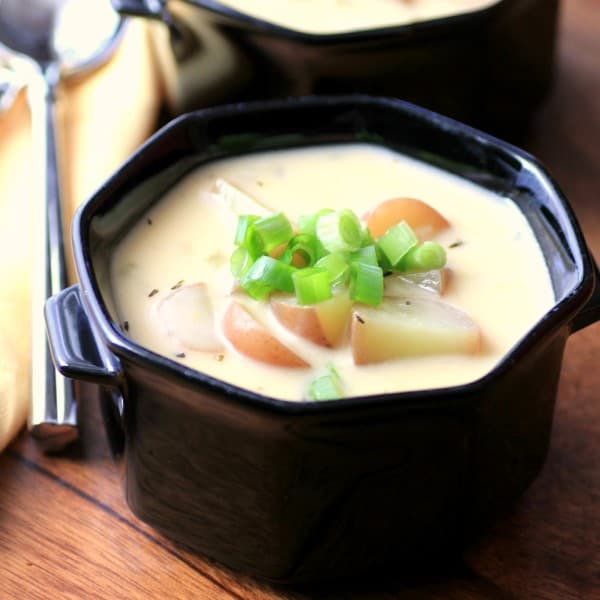 How Many Calories are in Cheesy Potato Soup?
I have tried to keep this soup lightened up with 2% milk instead of cream and only 1 cup of cheddar cheese. Therefore this soup only has just over 600 calories.
Having this soup with a nice salad is a very filling meal and one that can also be vegetarian if you use vegetable broth instead of chicken broth. We like to make a vegetarian meal at least once per week.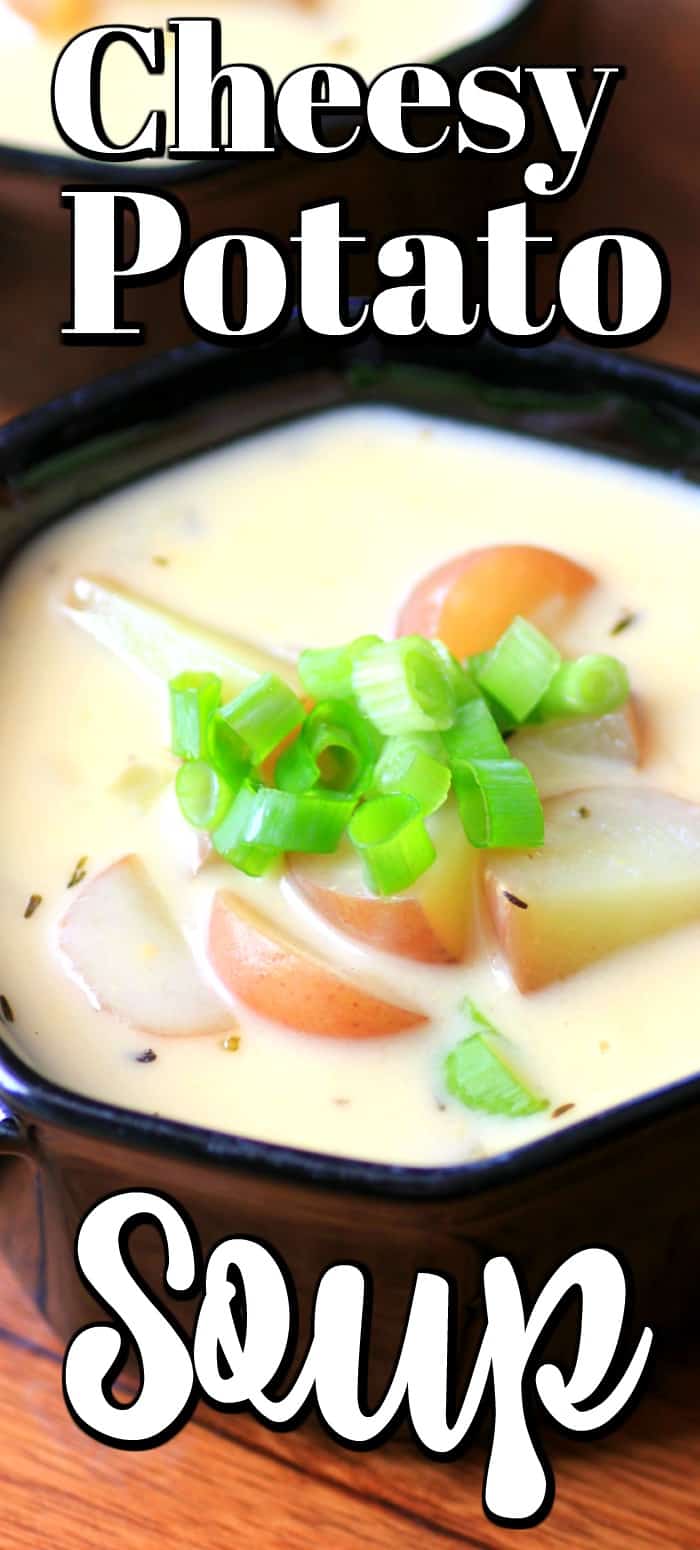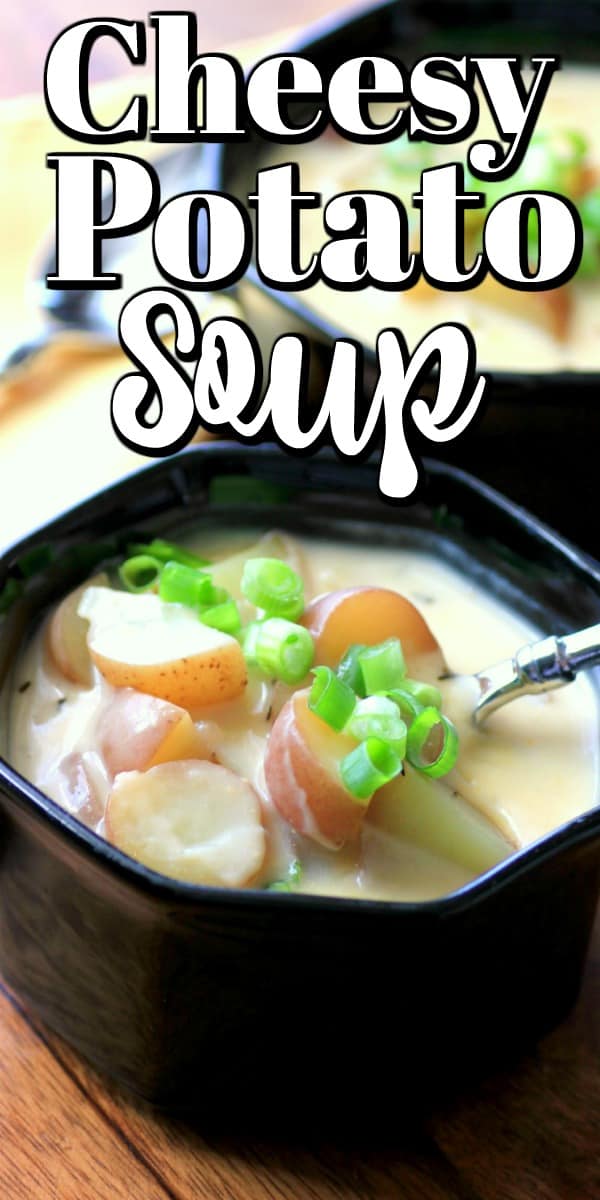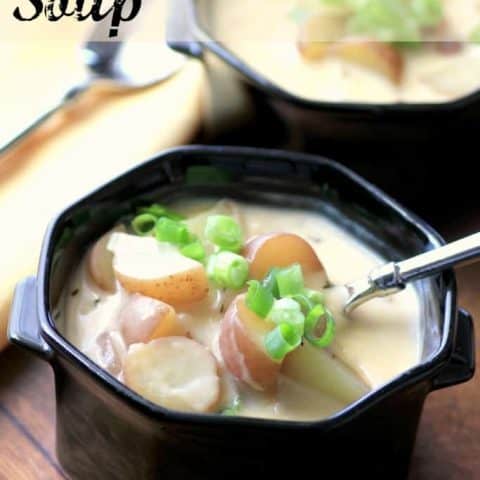 Cheesy Potato Soup #LittlePotatoes
Yield: 4-6 servings
Prep Time: 10 minutes
Cook Time: 25 minutes
Total Time: 35 minutes
You can make this easy Cheesy Potato Soup for any night of the week and get rave reviews from your family.
Ingredients
3 Tbsp. butter
1 cup shallots, finely diced
celery, 1 rib, finely diced
1 tsp. minced garlic
1/4 cup flour
30 oz. sodium-reduced chicken or vegetable broth
1 tsp. thyme
Salt and pepper to taste
1 1/2 lbs. Little Potato Co. blushing belles, quartered
1 1/2 cups 2% milk
1 cup sharp cheddar cheese, grated
2 Tbsp. green onion, chopped
Instructions
Melt butter in a large saucepan. Add the shallots and celery and saute until almost done about 4 min. Next in goes the garlic and it is sauteed for another minute. Then, add the flour and cook for 1 min. stirring. Add in the broth slowly and whisk constantly until all is incorporated and smooth.
Add in the potatoes, thyme, salt, and pepper, bring to a simmer and cover. Cook for 15 min. or until potatoes are fork-tender.
Add in the milk and bring back up to a simmer. Add in the cheese and stir. Season again if needed with salt and pepper. Serve, topping each bowl with some green onion.
Nutrition Information:
Yield: 6
Serving Size: 1
Amount Per Serving:
Calories: 639
Total Fat: 34g
Saturated Fat: 14g
Trans Fat: 0g
Unsaturated Fat: 16g
Cholesterol: 178mg
Sodium: 484mg
Carbohydrates: 37g
Fiber: 4g
Sugar: 7g
Protein: 46g
Recipe calculation was provided by Nutritionix and is an estimation only. If you need nutritional calculations for medical reasons, please use a source that you trust.